Hay que terminar la desastrosa actuación de Estados Unidos en Siria
NUEVA YORK – La matanza que devastó Siria en los últimos siete años se debe en gran medida a las acciones de Estados Unidos y sus aliados en Medio Oriente. Ahora, frente a un riesgo alarmante de una nueva escalada de combates, es hora de que el Consejo de Seguridad de las Naciones Unidas intervenga para poner fin al derramamiento de sangre, sobre la base de un nuevo marco acordado por los miembros permanentes del Consejo.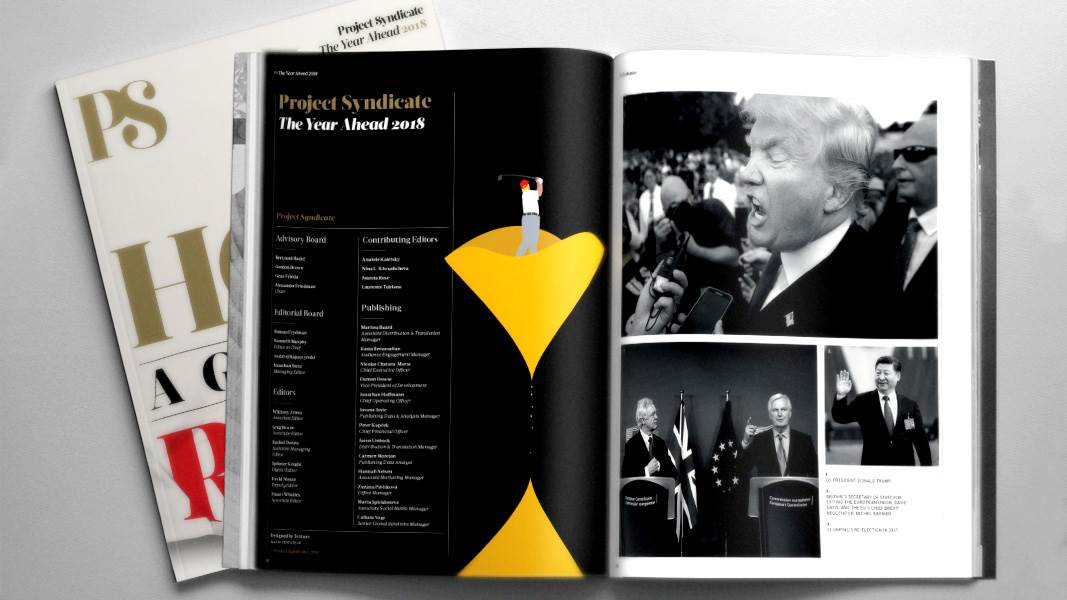 The Year Ahead 2018
The world's leading thinkers and policymakers examine what's come apart in the past year, and anticipate what will define the year ahead.
La situación en resumen es esta. En 2011, en el contexto de la Primavera Árabe, el gobierno estadounidense, en conjunto con los de Arabia Saudita, Qatar, Turquía e Israel, decidió deponer al régimen del presidente sirio Bashar al-Assad (pese a que el derrocamiento del gobierno de otro país es una violación flagrante del derecho internacional). Sabemos que en 2012 (o tal vez antes) el presidente Barack Obama autorizó a la CIA a cooperar con los aliados de Estados Unidos para dar apoyo a las fuerzas rebeldes compuestas por sirios opuestos al régimen y combatientes no sirios. Es evidente que las autoridades estadounidenses esperaban que Assad cayera en poco tiempo, como les ocurrió a los gobiernos de Túnez y Egipto en los primeros meses de la Primavera Árabe.
El de Assad es básicamente un régimen controlado por la secta shiita minoritaria de los alahuitas, que sólo componen un 10% de la población del país, de la que el 75% son musulmanes sunitas, 10% cristianos y 5% otros, incluidos drusos. Las potencias regionales que respaldan al régimen de Assad incluyen a Irán y Rusia (que tiene una base naval en la costa siria del Mediterráneo).
El principal motivo de Estados Unidos para tratar de derribar a Assad fue debilitar la influencia iraní y rusa; el de Turquía al principio fue expandir su influencia en tierras que pertenecieron al imperio otomano, y después, contrarrestar las ambiciones kurdas de autonomía territorial (o creación de un estado propio) en Siria e Irak. Arabia Saudita quería reducir la influencia iraní en Siria y aumentar la propia; Israel también buscaba contrarrestar a Irán, que lo amenaza a través de Hezbollah en Líbano, de Siria en el área de las Alturas del Golán, y de Hamás en Gaza. Qatar, por su parte, quería imponer un régimen islamista sunnita.
Las milicias a las que Estados Unidos y sus aliados dieron apoyo desde 2011 se reunieron bajo la bandera del Ejército Libre Sirio, pero en realidad no había un ejército único, sino grupos armados competidores, con distintos patrocinadores, ideologías y objetivos, que incluían desde sirios disidentes y kurdos autonomistas hasta yihadistas sunnitas apoyados por Arabia Saudita y Qatar.
Pese a la cantidad ingente de recursos aplicados, el intento de derribar a Assad fracasó, pero no sin antes causar un enorme derramamiento de sangre y el desplazamiento de millones de sirios. Muchos huyeron a Europa, lo que fomentó allí la crisis de refugiados y una oleada de apoyo político a la extrema derecha xenófoba europea.
Las causas principales del fracaso en el intento de derribar a Assad fueron cuatro. En primer lugar, el régimen de Assad tuvo respaldo no sólo de los alahuitas, sino también de los cristianos sirios y otras minorías, por temor a un régimen islamista sunnita represivo. En segundo lugar, frente a la coalición liderada por Estados Unidos se alzaron Irán y Rusia. En tercer lugar, cuando una facción de los yihadistas se separó del resto para formar Estado Islámico (ISIS), Estados Unidos desvió, para derrotarlos, una cantidad considerable de los recursos destinados a derribar a Assad. Finalmente, las fuerzas contrarias a Assad han estado profunda y crónicamente divididas; por ejemplo, Turquía está en abierto conflicto con los combatientes kurdos apoyados por Estados Unidos.
Todas estas razones del fracaso se mantienen. La guerra está en un punto muerto; sólo el derramamiento de sangre continúa.
El relato oficial estadounidense trató de ocultar la magnitud y las calamitosas consecuencias del intento de derribar a Assad en clara violación del derecho internacional y de la Carta de las Naciones Unidas. Mientras denuncia con vehemencia la influencia rusa e iraní en Siria, Washington, con sus aliados, ha violado una y otra vez la soberanía siria. Lo que el gobierno de Estados Unidos presenta erróneamente como una guerra civil entre sirios es en realidad una guerra por intermediarios, que involucra a Estados Unidos, Israel, Rusia, Arabia Saudita, Irán y Qatar.
En julio de 2017, el presidente estadounidense Donald Trump anunció que la CIA dejaba de apoyar a los rebeldes sirios. Pero en la práctica, Estados Unidos sigue involucrado, aunque ahora el objetivo sería debilitar a Assad más que derrocarlo. En el contexto de la guerra continua que libra Washington, el Pentágono anunció en diciembre que las fuerzas estadounidenses permanecerán en Siria por tiempo indefinido, con el objetivo declarado de apoyar a las fuerzas rebeldes contrarias a Assad en áreas recuperadas de ISIS (por supuesto, sin la anuencia del gobierno sirio).
En la práctica, hoy hay riesgo de una nueva escalada bélica. Cuando hace poco el régimen de Assad lanzó un ataque sobre fuerzas rebeldes, la coalición estadounidense respondió con bombardeos aéreos que mataron a unos cien soldados sirios y a una cantidad no precisada de combatientes rusos. Después de esta exhibición de fuerza, el secretario de defensa de los Estados Unidos, Jim Mattis, declaró con fingida ingenuidad: "Obviamente, no nos estamos involucrando en la guerra civil siria". En tanto, hace poco Israel atacó posiciones iraníes en Siria.
Estados Unidos y sus aliados deben enfrentar la realidad y aceptar la persistencia del régimen de Assad, por despreciable que sea. El Consejo de Seguridad de la ONU, con el apoyo de Estados Unidos, Rusia y las otras grandes potencias, debe intervenir con fuerzas de pacificación para restaurar la soberanía siria y los servicios públicos indispensables, y evitar que el régimen de Assad tome represalias con los excombatientes rebeldes o sus simpatizantes civiles.
Es verdad que esto implica la continuidad del régimen de Assad y de la influencia iraní y rusa en el país. Pero pondría fin al delirio oficial estadounidense, que consiste en creer que Estados Unidos puede decidir quién gobernará en Siria y con qué aliados. Hace ya tiempo tendría que haberse adoptado una estrategia mucho más realista, en la que el Consejo de Seguridad obligue a Arabia Saudita, Turquía, Irán e Israel a aceptar un acuerdo de paz pragmático que ponga fin al derramamiento de sangre y permita al pueblo sirio retomar sus vidas.
Traducción: Esteban Flamini