Die katastrophale Rolle der USA in Syrien muss ein Ende finden
NEW YORK – Das Vorgehen der Vereinigten Staaten und ihrer Verbündeten im Nahen Osten ist in hohem Maße für die blutige Gewalt verantwortlich, von der Syrien in den letzten sieben Jahren heimgesucht wurde. Angesichts der derzeit drohenden Gefahr einer erneuten Eskalation der Kämpfe, ist es für den Sicherheitsrat der Vereinten Nationen jetzt an der Zeit einzugreifen, um das Blutvergießen zu beenden, basierend auf einer neuen Rahmenvereinbarung, auf die sich die ständigen Mitglieder des Sicherheitsrates verständigen.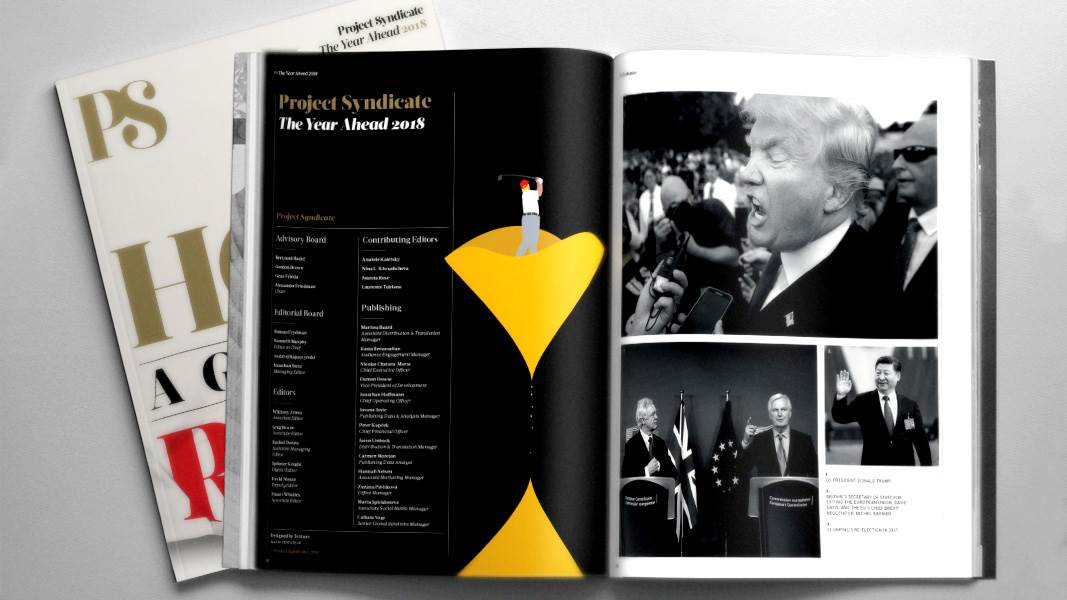 The Year Ahead 2018
The world's leading thinkers and policymakers examine what's come apart in the past year, and anticipate what will define the year ahead.
Vor dem Hintergrund des Arabischen Frühlings hat die US-Regierung 2011, gemeinsam mit den Regierungen von Saudi-Arabien, Katar, der Türkei und Israel, beschlossen das Regime des syrischen Präsidenten Bashar al-Assad zu stürzen, obwohl der Sturz der Regierung eines anderen Landes einen eklatanten Verstoß gegen das Völkerrecht darstellt. Wir wissen, dass Präsident Barack Obama die CIA 2012, wenn nicht früher, autorisiert hat, die Rebellen, die sowohl aus unzufriedenen Syrern als auch ausländischen Kämpfern bestehen, gemeinsam mit Amerikas Verbündeten zu unterstützen. Politische Entscheidungsträger in den USA gingen offenbar von einem schnellen Sturz des Assad-Regimes aus, wie bei den Regierungen in Tunesien und Ägypten in den ersten Monaten des Arabischen Frühlings.  
Das Assad-Regime wird von der schiitischen Glaubensgemeinschaft der Alawiten angeführt, die mit lediglich 10% der Bevölkerung in Syrien in der Minderheit sind. 75% der Bevölkerung sind sunnitische Muslime, 10% Christen und 5% andere religiöse Gemeinschaften, unter anderem Drusen. Zu den regionalen Mächten hinter Assads Regime gehören Iran und Russland, das einen Marinestützpunkt an der syrischen Mittelmeerküste unterhält.
Während Amerika mit dem Versuch Assad zu Fall zu bringen vor allem das Ziel verfolgt hat, den Einfluss Irans und Russlands zurückzudrängen, wollte die Türkei ihren Einfluss in einst osmanischen Gebieten ausbauen und, in jüngerer Zeit, kurdischen Autonomiebestrebungen, wenn nicht gar dem Wunsch nach Eigenstaatlichkeit, in Syrien und Irak entgegentreten. Saudi-Arabien wollte Irans Einfluss in Syrien schwächen und seinen eigenen zugleich vergrößern, während Israel ebenfalls Iran entgegentritt, das Israel durch die Hisbollah im Libanon und nahe der Golanhöhen in Syrien und durch die Hamas in Gaza bedroht. Katar ist unterdessen daran gelegen, ein sunnitisch-islamistisches Regime an die Macht zu bringen.
Die bewaffneten Gruppierungen, die seit 2011 von den USA und ihren Verbündeten unterstützt werden, wurden unter dem Banner der Freien Syrischen Armee versammelt. Genau genommen gab es keine einheitliche Armee, sondern eher konkurrierende bewaffnete Gruppierungen mit unterschiedlichen Unterstützern, Ideologien und Zielen. Das Spektrum der Kämpfer erstreckte sich von regimekritischen Syrern und nach Autonomie strebenden Kurden bis zu sunnitischen Dschihadisten, die von Saudi-Arabien und Katar unterstützt werden.
Obwohl enorme Ressourcen bereitgestellt wurden, um Assad zu stürzen, ist das Vorhaben letztlich gescheitert, allerdings erst nachdem es zu massiven blutigen Auseinandersetzungen und der Vertreibung von Millionen Syrern geführt hat. Viele flohen nach Europa, das seither eine Flüchtlingskrise und wachsende Unterstützung für einwandererfeindliche rechtsextreme Parteien erlebt hat.
Es gibt vier Hauptgründe, warum der Sturz Assads gescheitert ist. Erstens: Das Regime Assad ist nicht nur von Alawiten, sondern auch von syrischen Christen und anderen Minderheiten unterstützt worden, die ein repressives sunnitisch-islamistisches Regime befürchten. Zweitens: Der von den USA angeführten Koalition standen Iran und Russland gegenüber. Drittens: Als es zur Abspaltung einer dschihadistischen Splittergruppe vom sogenannten Islamischen Staat kam, setzten die USA beträchtliche Ressourcen für deren Niederschlagung anstatt für den Umsturz von Assad ein. Und viertens sind die Kräfte, die gegen Assad vorgehen, schon lange und zutiefst gespalten: Die Türkei etwa befindet sich im offenen Konflikt mit kurdischen Kämpfern, die von den USA unterstützt werden.
All diese Gründe sind auch heute noch zutreffend. Die Situation in Syrien ist festgefahren. Nur das Blutvergießen geht weiter.
Amerikas offizielles Narrativ soll das Ausmaß und die katastrophalen Konsequenzen der US-Bemühungen verschleiern, Assad – völkerrechtswidrig und unter Missachtung der Charta der Vereinten Nationen – zu stürzen. Während sich die USA vehement über den russischen und iranischen Einfluss in Syrien beschweren, haben Amerika und seine Verbündeten wiederholt Syriens Souveränität verletzt. Die US-Regierung stellt den Krieg fälschlicherweise als Bürgerkrieg unter Syrern dar, und nicht als Stellvertreterkrieg, in den die USA, Israel, Russland, Saudi-Arabien, Iran und Katar involviert sind.
Im Juli 2017 hat US-Präsident Donald Trump die Unterstützung der syrischen Rebellen durch die CIA für beendet erklärt. In der Praxis setzen die USA ihr Engagement fort, auch wenn es zurzeit offenbar eher darauf abzielt Assad zu schwächen und nicht zu stürzen. Teil der fortgesetzten Kriegsführung der USA war die Ankündigung des Pentagons vom Dezember, dass US-Truppen auf unbestimmte Zeit in Syrien stationiert bleiben werden, angeblich zur Unterstützung von Anti-Assad-Rebellen in ehemals IS-kontrollierten Gebieten und natürlich ohne Zustimmung der syrischen Regierung.
Tatsächlich droht der Krieg erneut zu eskalieren. Nachdem das Assad-Regime unlängst Anti-Assad-Rebellen attackiert hat, hat die US-Koalition Luftangriffe geflogen, bei denen rund 100 Kämpfer der syrischen Regierung und eine unbekannte Anzahl russischer Akteure getötet wurden. Im Anschluss an diese Machtdemonstration hat US-Verteidigungsminister Jim Mattis diese unaufrichtige Erklärung abgegeben: "Wir schalten uns nicht in den syrischen Bürgerkrieg ein". Hinzukommt, dass Israel unlängst iranische Stellungen in Syrien angegriffen hat.
Die USA und ihre Verbündeten sollten der Realität ins Auge sehen und den Fortbestand des Assad-Regimes akzeptieren, so verabscheuungswürdig es sein mag. Der UN-Sicherheitsrat sollte mit Unterstützung der USA, Russlands und der anderen Großmächte UN-Friedenstruppen einsetzen, um die Souveränität Syriens und die dringend benötigte Versorgung der Bevölkerung wiederherzustellen, sowie Versuche des Assad-Regimes verhindern, Vergeltung an ehemaligen Rebellen oder ihren Anhänger aus der Bevölkerung zu üben.
Ja, das Assad-Regime würde an der Macht bleiben und Iran und Russland würden ihren Einfluss in Syrien aufrechterhalten. Aber die Täuschung seitens der US-Regierung hätte ein Ende, Amerika könne bestimmen, was in Syrien geschieht, indem es aussucht, wer das Land mit welchen Verbündeten regiert. Ein weitaus realistischerer Ansatz ist längst überfällig, im Rahmen dessen der Sicherheitsrat Saudi-Arabien, die Türkei, Iran und Israel zu einem an den realen Bedingungen und Möglichkeiten orientierten Frieden drängt, der dem Blutvergießen ein Ende setzt und den Menschen in Syrien wieder ein normales Leben und den Aufbau neuer Existenzen ermöglicht.
Aus dem Englischen von Sandra Pontow.