Intensificar a parceria entre a UE e África
BRUXELAS – Lar de mais de mil milhões de pessoas, África pode-se gabar de ter a classe média mais jovem e de crescimento mais rápido do mundo. Com uma idade média de 14 anos mais jovem do que qualquer outro continente, África está à beira de uma profunda transformação política, económica e social. Cerca de 20 milhões de candidatos a emprego entram no mercado de trabalho todos os anos na África Subsariana. Se estes jovens puderem ser integrados na economia, poderão contribuir de forma decisiva para o desenvolvimento e crescimento da região.
Para ajudar África a concretizar este dividendo demográfico, as instituições financeiras e os bancos de desenvolvimento têm de investir na transformação que se aproxima. Isso significa promover o setor privado – o motor da criação de empregos – e mudar a forma como agimos.
Em todas as áreas de desenvolvimento económico, investir no futuro de África representa um panorama em que todos ganham, porque muitos dos maiores desafios do continente são, na verdade, problemas mundiais que afetarão a todos nós. A COVID-19 deixou isso bem claro, dando um alerta sobre o que nos espera numa era de alterações climáticas. Para que a Europa evite os piores efeitos do aquecimento global, ela tem de se envolver com outros países, em todo o lado, para ajudá-los a alcançarem a sustentabilidade e a resiliência climática.
Embora África seja abençoada com uma grande riqueza natural, fatores políticos e históricos deixaram-na devastada com altas taxas de pobreza. Nove dos dez países com as taxas de pobreza mais altas estão na África Subsariana e estima-se que as consequências económicas da pandemia tenham adicionado mais 32 milhões ao total.
Ainda assim, as perspetivas do continente estão a mudar. Os seus setores de petróleo e exploração mineira correspondem agora a uma minoria dos afluxos de capital a longo prazo, uma vez que os investidores passaram a concentrar-se nas telecomunicações, nas vendas a retalho e nos serviços. Na África Subsaariana, uma média de 90 mil utilizadores por dia ligam-se à internet pela primeira vez. África está a emergir rapidamente como o novo centro global de operações bancárias móveis, um desenvolvimento que irá expandir o acesso das suas economias aos mercados mundiais, construir resiliência, aumentar a transparência e criar empregos.
No relatório de desenvolvimento de 2021 do Banco Europeu de Investimento (BEI), que especifica os nossos 5 mil milhões de euros (5,9 mil milhões de dólares) em empréstimos em África no ano passado, apresentamos uma série de artigos de especialistas a destacar as complexidades que o financiamento do desenvolvimento enfrenta hoje. As novas questões vão desde como calcular o risco climático até ao alargamento de programas para salvar as florestas da Costa do Marfim, que estão a ser deitadas abaixo a um ritmo alarmante para abrir caminho para a produção de cacau.
Subscribe to Project Syndicate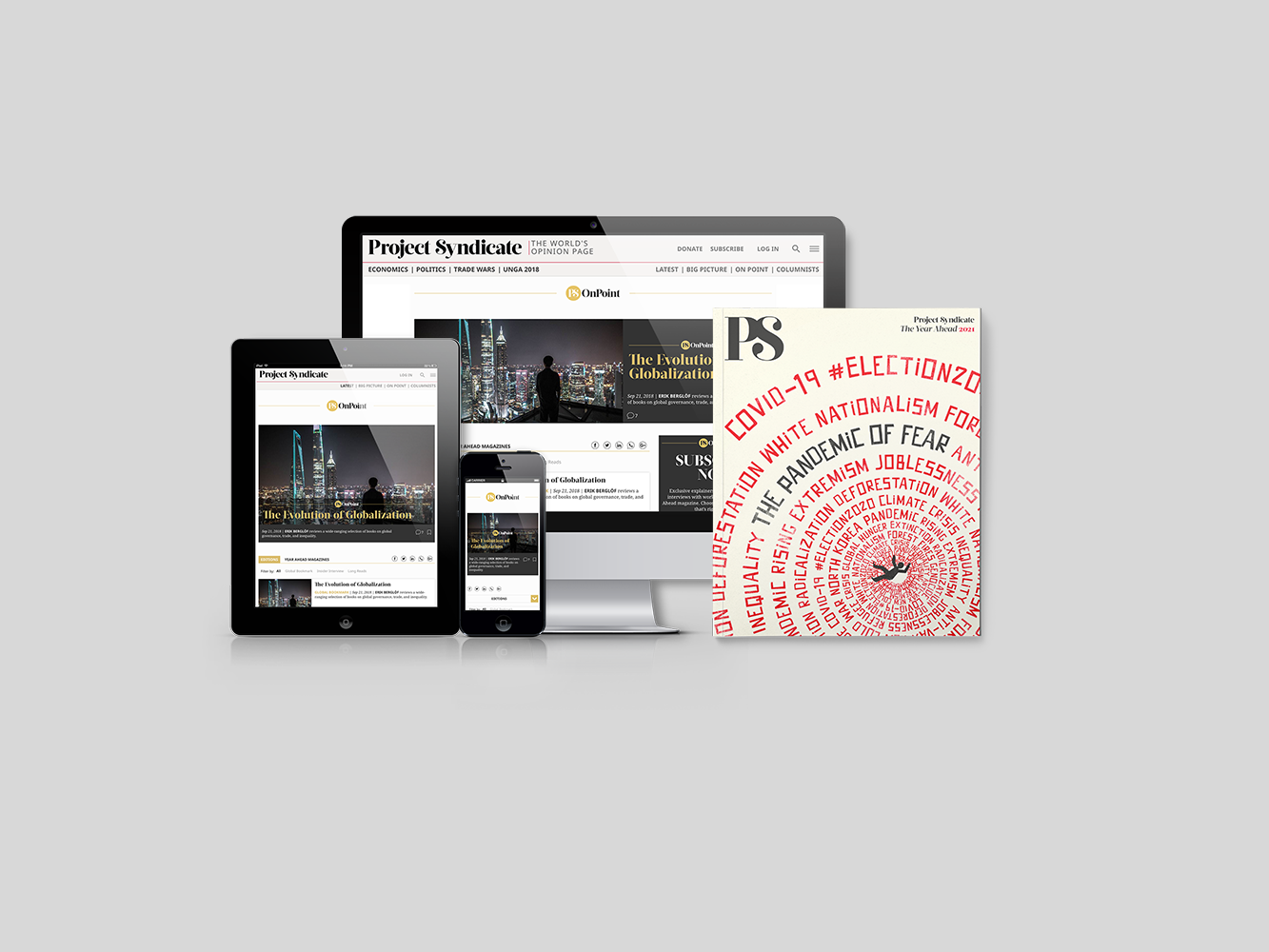 Subscribe to Project Syndicate
Enjoy unlimited access to the ideas and opinions of the world's leading thinkers, including weekly long reads, book reviews, topical collections, and interviews; The Year Ahead annual print magazine; the complete PS archive; and more. All for less than $9 a month.
Juntamente com o relatório de desenvolvimento, também publicámos A Partnership with Africa (Uma parceria com África), que investiga mais profundamente as principais ideias estratégicas e políticas que impulsionam os esforços de desenvolvimento contemporâneos. Sendo um dos problemas mundiais definidores deste século, as alterações climáticas irão intensificar os desafios de África, até porque deslocará mais pessoas e tornará os estados e as sociedades mais frágeis. Apesar de contribuir com menos de 4% das emissões globais de gases com efeito de estufa, África sofrerá o impacte total do aquecimento do planeta.
No entanto, devido ao nível relativamente baixo de industrialização de África (refletido na sua pequena contribuição para o aquecimento global), há uma oportunidade única de o continente avançar diretamente para um futuro mais verde. Para terem sucesso, os líderes africanos têm de apoiar a inovação e a adoção das melhores tecnologias disponíveis. Os bens básicos, tais como água, energia renovável e mobilidade ecológica têm de ser disponibilizados a todos.
O BEI opera em África desde 1965, investindo 59 mil milhões de euros em 52 países africanos e aprimorando um modelo com o qual outras instituições financeiras internacionais podem aprender. No ano passado, 71% do nosso financiamento para a África Subsariana foi atribuído a estados frágeis ou países menos desenvolvidos, onde procurámos apoiar mudanças positivas em andamento, incluindo o rápido crescimento económico, a melhoria da estabilidade política e integração, o aumento do investimento estrangeiro e mais e melhores oportunidades de negócio. Na base deste trabalho está a vontade de ouvir os líderes africanos e de cooperar com gente inovadora ambiciosa e empenhada. Isto permite-nos responder diretamente às necessidades e prioridades locais, ao mesmo tempo que trabalhamos em consonância com a política da UE.
Nos últimos dois meses, mantivemos discussões estratégicas com os presidentes do Senegal, Gana e Tunísia, bem como com a comissária da União Africana, Josefa Sacko. O BEI também desempenhou um papel ativo na recente cimeira africana que o presidente francês, Emmanuel Macron, organizou em Paris e no Fórum de Investimento Verde UE-África, em abril. Em ambos os eventos, os líderes de ambos os continentes enfatizaram a necessidade de uma parceria mais forte.
Muitos líderes africanos reagiram à pandemia de COVID-19 com uma determinação impressionante. Ao agirem em conjunto, África e Europa podem enfrentar a atual crise económica e de saúde, enquanto traçam prioridades de investimento comuns para alcançarem uma recuperação sustentável e inclusiva.
Pela nossa parte, no BEI, temos aperfeiçoado significativamente as nossas operações em África nos últimos anos. E depois dos debates entre os governantes da UE sobre como melhorar a arquitetura financeira europeia para o desenvolvimento, temos vindo a refletir em como podemos redirecionar as nossas contribuições para maximizar a sua percussão ao serviço dos objetivos da UE e de África.
Ao melhorarmos a forma como fornecemos o nosso financiamento ao desenvolvimento, em estreita cooperação com a Comissão Europeia e o Serviço Europeu de Ação Externa, podemos ajudar a satisfazer a necessidade crescente de laços económicos e comerciais cada vez mais fortes entre Europa e África. Numa era de alterações climáticas e pandemias mundiais, os nossos continentes irão afundar ou nadar juntos.