Mengambil Alih Kembali Komunitas
CAMBRIDGE – Ekonomi mengajarkan bahwa ukuran kesejahteraan individu adalah kuantitas dan berbagai barang yang bisa ia konsumsi. Peluang konsumsi dimaksimalkan dengan memberikan kebebasan yang dibutuhkan oleh perusahaan untuk memanfaatkan teknologi baru, pembagian kerja, skala ekonomi, dan mobilitas. Tujuannya adalah konsumsi; produksi adalah cara untuk mencapainya. Pasar, bukan komunitas, adalah unit dan obyek analisa.
Tidak ada yang bisa menyangkal bahwa padangan ekonomi yang berpusat pada konsumen dan pasar telah menghasilkan banyak manfaat. Berbagai barang konsumsi yang tersedia di toko-toko besar atau gerai Apple di setiap kota besar di seluruh dunia merupakan hal yang tidak terbayangkan oleh generasi yang lalu.
Namun, jelas terjadi sesuatu yang salah. Perpecahan ekonomi dan sosial dalam masyarakat telah memicu reaksi buruk di berbagai negara – mulai dari negara maju seperti Amerika, Italia, Jerman, hingga negara berkembang seperti Filipina dan Brazil. Gejolak politik ini menunjukkan bahwa prioritas para ekonom tidak sepenuhnya tepat. 
Dua buku, yang pertama berjudul forthcoming yang ditulis oleh Raghuram Rajan dan buku kedua, yang diterbitkan pada bulan ini dan ditulis oleh Oren Cass, meninjau kembali cara pandangan kita yang terlalu menggunakan perspektif ekonomi dan berargumentasi bahwa kita seharusnya menjadikan kesehatan komunitas lokal sebagai sebuah prioritas. Keluarga yang stabil, pekerjaan yang baik, sekolah yang kuat, ruang publik yang aman dan banyak, serta kebanggaan akan budaya dan sejarah lokal merupakan elemen yang sangat penting bagi kemakmuran masyarakat. Pasar global atau negara tidak dapat memberikan dukungan yang memadai, dan terkadang pasar dan negara justru melemahkan elemen-elemen tersebut.     
Kedua penulis yang disebutkan di atas mempunyai sudut pandang yang berbeda. Rajan adalah seorang ekonom di Universitas Chicago dan merupakan mantan gubernur Bank Sentral India. Cass bekerja untuk Manhattan Institute for Policy Research dan merupakan direktur kebijakan dalam negeri untuk kampanye presiden kandidat dari partai Republik Mitt Romney. Anda mungkin tidak mengira bahwa seorang ekonom asal Chicago dan Republikan yang moderat memandang pasar dan hiper-globalisasi dengan skeptis. Namun kedua ekonom tersebut terganggu dengan apa yang mereka anggap sebagai dampak kedua hal tersebut terhadap komunitas.    
Rajan menyebut komunitas sebagai "pilar ketiga" dari kemakmuran, yang sama pentingnya dengan kedua pilar yang lain – yaitu negara dan pasar. Serupa dengan kekuasaan negara yang terpusat dan berlebihan, tulisnya, globalisasi yang tidak dikelola dapat menghancurkan komunitas lokal. Cass secara eksplisit menuliskan bahwa kebijakan peradangan dan imigrasi Amerika harus fokus terutama pada para pekerja Amerika. Hal ini diterapkan dengan memastikan pasar tenaga kerja lokal dalam kondisi sehat dan terdapat banyak pekerjaan dengan upah yang layak. Kedua penulis menekankan bahwa manfaat dari perdagangan dan menolak proteksionisme Presiden Amerika Donald Trump. Namun kedua penulis setuju bahwa kita mungkin telah terlalu jauh memasuki hiper-globalisasi dan tidak memberikan perhatian yang cukup terhadap dampaknya terhadap komunitas.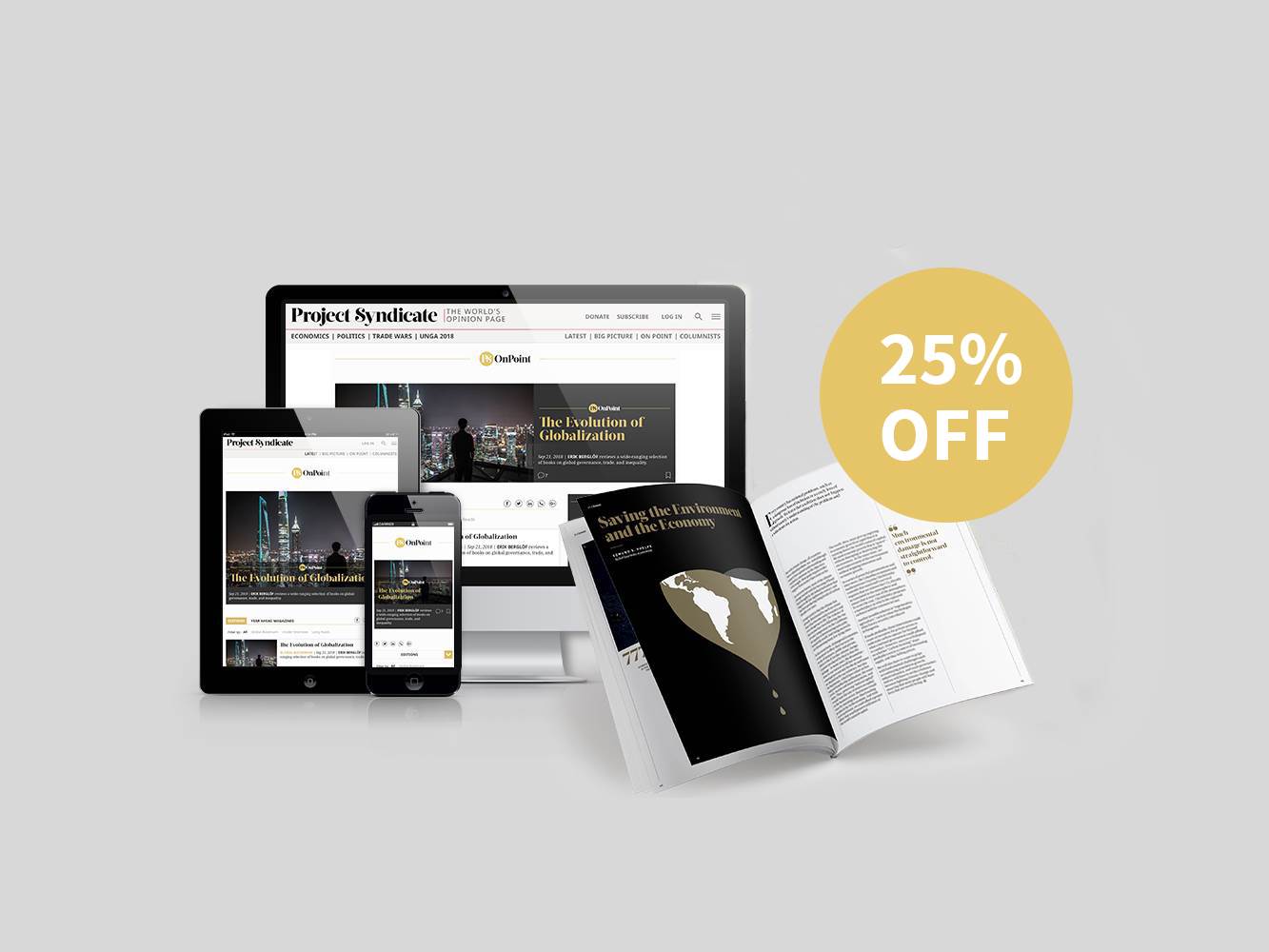 Subscribe now
For a limited time only, get unlimited access to On Point, The Big Picture, and the PS Archive, plus our annual magazine and a tote bag, for just $75.
Ketika pabrik di sebuah daerah ditutup karena perusahaan telah memutuskan untuk melakukan outsourcing ke pemasok di luar negeri, terdapat lebih banyak kerugian dari sekedar ratusan (atau ribuan) pekerjaan yang pindah ke luar negeri. Dampaknya menjadi berlipat ganda melalui penurunan belanja barang dan jasa di daerah tersebut, yang berarti bahwa pekerja dan pemberi kerja di daerah tersebut merasakan dampaknya. Pendapatan pajak pemerintah daerah juga mengalami penurunan, sehingga terdapat lebih sedikit anggaran belanja untuk pendidikan dan fasilitas umum lainnya. Anomie, perpecahan keluarga, kecanduan opioid, dan penyakit sosial lainnya sering kali menjadi dampak dari hal tersebut. 
Jawaban yang biasa diutarakan oleh para ekonom adalah menyerukan "fleksibilitas pasar tenaga kerja yang lebih tinggi": pekerja harus meninggalkan daerah yang mengalami penurunan ekonomi dan mencari pekerjaan di daerah lain. Namun, sebagaimana yang diingatkan oleh Cass, mobilitas geografis harus dibarengi dengan "peluang untuk menetap." Bahkan pada era migrasi yang signifikan, sebagian besar populasi lokal tetap tinggal di daerah tersebut dan mereka membutuhkan pekerjaan yang baik serta komunitas yang solid.
Atau, para ekonom mungkin merekomendasikan kompensasi bagi mereka yang terkena dampak buruk dari perubahan ekonomi melalui transfer sosial dan program bantuan lainnya. Terlepas dari kemungkinan terjadinya transfer tersebut, sepertinya hal tersebut bukan merupakan solusi dari permasalahan yang ada. Pengangguran akan melemahkan kesejahteraan individu dan komunitas bahkan jika tingkat konsumsi ditopang oleh bantuan uang tunai. 
Pada akhirnya, hanya melalui penciptaan dan perluasan lapangan kerja yang layak yang dapat menyejahterakan komunitas. Usulan Cass adalah untuk mendorong pekerjaan melalui subsidi upah. Rajan menekankan peran pemimpin lokal yang dapat memobilisasi aset di komunitas, menciptakan keterlibatan sosial dari penduduk lokal, dan menciptakan sebuah citra baru – seluruhnya dalam konteks kebijakan negara yang lebih mendukung dan mengelola globalisasi.
Ekonom lainnya telah menganjurkan program ekstensi manufaktur dengan target regional, membina kemitraan antara pengusaha lokal dan universitas. Namun ekonom lainnya merekomendasikan belanja publik tingkat lokal, seperti program pelatihan kerja bagi usaha kecil dan menengah. 
Kami tidak mempunyai sebuah solusi terbaik, dan sejumlah eksperimen kebijakan diperlukan untuk mendorong kemajuan. Namun diperlukannya tindakan yang mendesak diperparah dengan fakta bahwa tren teknologi yang ada mengancam akan memperburuk permasalahan komunitas yang ada. Teknologi digital yang baru cenderung menunjukkan ekonomi skala dan dampak jaringan, yang menghasilkan konsentrasi dibandingkan lokalisasi produksi. Alih-alih meratakan manfaat, hal ini menciptakan kondisi yang menjadikan pemenang mendapatkan semua manfaat yang ada. Globalisasi jaringan produksi memperburuk dampaknya lebih lanjut.        
Cara kita menyeimbangkan pengaruh-pengaruh ini dengan kebutuhan komunitas akan membentuk tidak hanya kondisi perekonomian, namun juga kondisi sosial dan politik. Seperti yang ditunjukkan oleh Cass dan Rajan, hal ini merupakan sebuah permasalahan yang para ekonom tidak bisa terus abaikan.