Die Ökonomen, die uns Weihnachten gestohlen haben
ATHEN – Um das neue Jahr mit einem augenzwinkernden Blick auf den Konflikt zwischen Wirtschaftsideologien einzuläuten: Wie würden Vertreter der widerstreitenden Lager wohl Weihnachtsgeschenke betrachten? Mal von aller Leichtfertigkeit abgesehen: Die Antwort sagt eine Menge über die Aufgeblasenheit und geistige Leere jeder einzelnen Wirtschaftstheorie aus.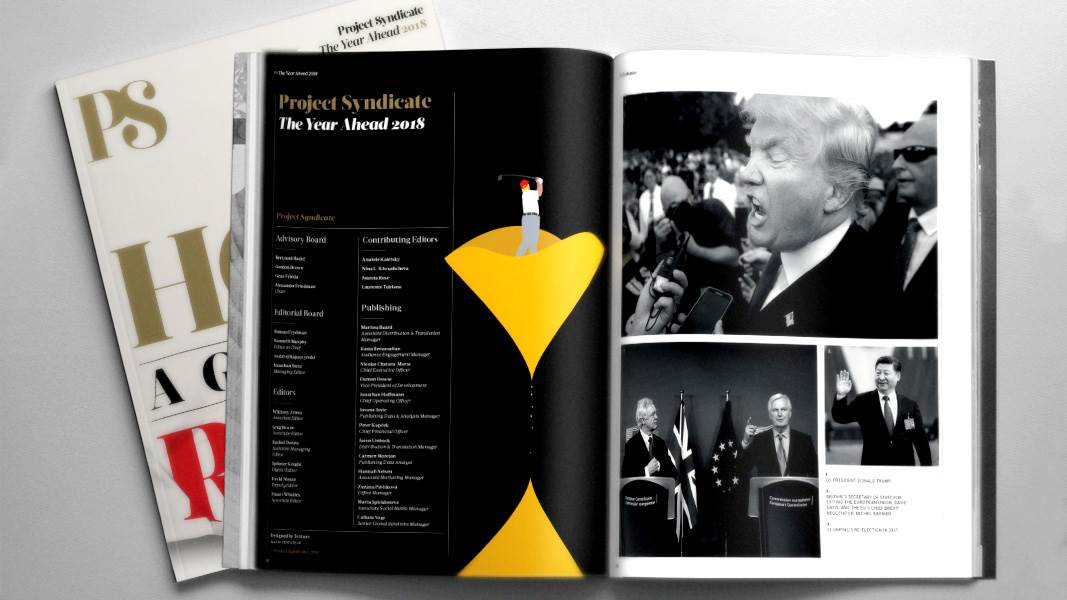 The Year Ahead 2018
The world's leading thinkers and policymakers examine what's come apart in the past year, and anticipate what will define the year ahead.
Neoklassische Ökonomen: Aufgrund ihrer Sicht des Einzelnen als eines nutzenmaximierenden Algorithmus und ihrer Besessenheit mit einem Paradigma rein durch den Nutzwert bestimmter Transaktionen können die neoklassischen Ökonomen keinen Sinn in einer derart ineffizienten Form des Austausches wie dem von Weihnachtsgeschenken erkennen. Wenn Jill von Jack ein Geschenk bekomme, das Jack X€ koste, aber Jill einen geringen Nutzen biete als Ware Y mit dem Einzelhandelspreis Y€ (≤ X€), sei Jill gezwungen, diesen Wohlfahrtsverlust entweder zu akzeptieren oder sich auf das kostspielige und normalerweise unvollkommene Unterfangen einzulassen, Jacks Geschenk gegen Y umzutauschen. So oder so gäbe es dabei einen Nettowohlfahrtsverlust.
In diesem Sinne ist das einzig effiziente Geschenk ein Umschlag mit Bargeld. Aber weil es bei Weihnachten um den Austausch von Geschenken geht und nicht um einseitige Angebote, welchen Zweck hätte es dann, wenn Jack und Jill Umschläge mit Bargeld austauschen würden? Wenn die Umschläge denselben Betrag enthielten, wäre das Ganze witzlos. Wenn nicht, wäre der Austausch peinlich für die Person, die weniger gegeben hat, und könnte Jacks und Jills Beziehung irreparabel beschädigen. Anhänger der neoklassischen Schule folgen daher der Scrooge-These: Das beste Geschenk sei gar kein Geschenk.
Keynesianer: Damit sich Rezessionen nicht in Depressionen verwandeln, sei ein Rückgang der Gesamtnachfrage durch eine Steigerung der Investitionen auszugleichen. Dazu müssen die Unternehmer daran glauben, dass der durch die neuen Investitionen bedingte gesteigerte Konsum die zusätzliche Produktionsmenge aufnehmen wird. Die neoklassische Abschaffung des Austausches von Weihnachtsgeschenken – oder auch nur die Begrenzung der weihnachtlichen Ausgabefreudigkeit – wäre in Zeiten der Rezession eine Katastrophe.
Tatsächlich würden die Keynesianer möglicherweise soweit gehen, zu argumentieren, dass es Aufgabe des Staates sei, den Austausch von Geschenken zu fördern (solange die Geschenke gekauft und nicht selbst gebastelt oder anderweitig zu Hause hergestellt werden) und das Schenken sogar durch Absenkung der Mehrwertsteuer während der Weihnachtszeit zu subventionieren. Und warum sollte man es bei nur einer Festzeit belassen? In Zeiten der Rezession wären möglicherweise zwei oder drei (vorzugsweise zeitlich über das Jahr verteilte) Weihnachtsfeste anzuraten.
Doch betonen die Keynesianer zudem die Wichtigkeit, in wirtschaftlich guten Zeiten das staatliche Haushaltsdefizit und den Gesamtkonsum einzuschränken. Zu diesem Zweck würden sie möglicherweise nach einer wirtschaftlichen Erholung während der Vorweihnachtszeit eine Sondersteuer auf Geschenke oder eine Erhöhung der Mehrwertsteuer vorschlagen oder gar dazu raten, Weihnachten ganz ausfallen zu lassen, wenn das Tempo des BIP-Wachstums jenes übersteigt, das der Vollbeschäftigung entspräche.
Monetaristen: Da nach ihrer Überzeugung das alleinige wirtschaftspolitische Werkzeug der Regierung die Geldmenge sein sollte und dieses ausschließlich genutzt werden sollte, um durch ein Geleichgewicht zwischen Geldmenge und Gesamtproduktion für Preisstabilität zu sorgen, sollte die Notenbank die Nominalzinsen nach Ende des Sommers allmählich erhöhen und im Januar steil senken. Die von ihr empfohlenen Änderungen bei den Nominalzinsen würden vom Inflationsziel der Notenbank und dem zugrundeliegenden realen Zinssatz abhängen und müssten die Zinssätze widerspiegeln, die erforderlich sind, um das Tempo der Veränderungen bei der Konsumnachfrage und bei den Lagerbeständen der großen Einzelhändler im Gleichgewicht zu halten. (Ja, es stimmt: Die Monetaristen sind die langweiligsten Ökonomen, die es je auf unserem Planeten gegeben hat!)
Rationale Erwartungen: Diese Ökonomen der Chicagoer Schule stimmen weder mit den Keynesianern noch mit den Monetaristen überein. Anders als die Keynesianer glauben sie nicht, dass steuerliche Anreize für Weihnachtsgeschenke in Rezessionszeiten die Geschenke-Hersteller zu Produktionssteigerungen ermutigen. Die Unternehmer würden sich nicht durch staatliche Eingriffe täuschen lassen und vorhersehen, dass die aktuelle Steigerung der Nachfrage nach Geschenken langfristig durch einen steilen Rückgang ausgeglichen werden würde (da die staatlichen Subventionen sich in höheren Steuern niederschlagen würden und in guten Zeiten weniger oft Weihnachten gefeiert würde). Angesichts der Stagnation von Produktion und Beschäftigung würden staatliche Subventionen und zusätzliche Weihnachtsfeste lediglich zu mehr Schulden und höheren Preisen führen.
Österreichische Schule: Die Anhänger von Friedrich von Hayek und Ludwig von Mises haben, was Weihnachten angeht, zwei wesentliche Vorbehalte. Erstens ist da der illiberale Aspekt der Festtagszeit: Der Staat habe kein Recht und auch keinen Grund, Unternehmer gegen ihren Willen zu zwingen, ihre Betriebe im Verlaufe von zwei Wochen für mehrere Tage zu schließen (25. und 26. Dezember und 1. Januar). Zweitens führe der immer stärkere Konsum während der Vorweihnachtszeit zu einer Ausweitung der Kreditvergabe und verursache im Herbst Blasen am Spielzeug- und Elektronikmarkt, die dann im Januar platzen würden, was potenziell schädliche Auswirkungen auf das übrige Jahr hätte.
Empiriker: Sie sind überzeugt, dass Beobachtungen das einzige Werkzeug gegen wirtschaftliche Ignoranz seien und dass die einzigen vertretbaren theoretischen Vorschläge jene seien, die aus erkannten Mustern abgeleitet würden. Änderungen bei exogenen Variablen würden konsequent Änderungen bei endogenen Variablen vorweggehen und daher empirisch (etwa durch Granger-Tests) die Richtung der Kausalität aufzeigen. Diese Sichtweise führt die Empiriker zu der sicheren Schlussfolgerung, dass Weihnachten und ein Anstieg beim Austausch von Geschenken durch einen vorherigen Anstieg der Geldmenge sowie, ceteris paribus, einen Rückgang der Ersparnisse verursacht würde.
Marxisten: In Gesellschaften, in denen der Gewinn ausschließlich auf einem Mehrwert beruhe, der (im Rahmen des kapitalistischen Arbeitsprozesses) von den Arbeitnehmern "gespendet" wird und die ausbeuterische Macht der Kapitalisten widerspiegele (die ihnen durch einseitige Eigentumsrechte an den Produktionsmitteln übertragen wurde), stecke die Weihnachtstradition des Austausches von Geschenken voller dialektischer Bedeutung.
Einerseits sei das weihnachtliche Schenken eine Oase nicht marktgebundenen Austausches, der auf die Möglichkeit eines nichtkapitalistischen Verteilungssystems hinweise. Andererseits böte es dem Kapital eine weitere Gelegenheit, die edelsten Instinkte der Menschheit zur Gewinnmaximierung auszunutzen, und zwar durch Kommodifizierung von allem, was an der Weihnachtszeit rein und gut sei. Und Puristen – diejenigen, die noch immer das "Gesetz vom (langfristigen) Fall der Profitrate" verteidigen – würden sagen, dass die Fähigkeit des Kapitals, von Weihnachten zu profitieren, mit jedem Jahr abnimmt und daher gesellschaftliche und politische Kräfte hervorbringt, die die Weihnachtszeit langfristig untergraben.
Offensichtlich kann keine dieser Theorien auch nur ansatzweise begründen, warum sich die Menschen Jahr für Jahr am Ritual des weihnachtlichen Schenkens beteiligen. Wir sollten dankbar dafür sein.
Aus dem Englischen von Jan Doolan