Quelles leçons doit-on tirer de l'expérience économique menée aux États-Unis ?
CAMBRIDGE (MASS.) – Les débats de politique économique aux États-Unis se sont radicalement transformés en l'espace de quelques années seulement. Néolibéralisme, consensus de Washington, fondamentalisme de marché, tout cela, quel que soit le nom qu'on lui donnait, est désormais remplacé par quelque chose de bien différent.
Dans les préoccupations de la politique économique, la dette et l'inflation ont cédé le pas à la surstimulation de l'économie et à la minimisation des risques que celle-ci fait courir à la stabilité des prix. Quant à l'impôt, l'acceptation tacite de la course mondiale au moins disant fiscal semble avoir fait son temps ; il s'agit aujourd'hui de fixer un taux minimal mondial pour les entreprises multinationales. L'idée même d'une politique industrielle, qu'il eût été grossier, tout récemment encore, de mentionner en bonne compagnie, fait un retour d'autant plus appuyé.
Et ainsi de suite. Alors qu'il ne s'agissait, pour le marché du travail, que de déréguler et d'assouplir, il est désormais question de bons emplois, de redresser les déséquilibres qui faussent le dialogue social et de renforcer le pouvoir des salariés et des syndicats. Les grandes entreprises de technologie ou recourant au modèle économique de la plateforme, jusqu'alors considérées comme sources d'innovation et d'avantages pour les consommateurs sont aujourd'hui devenues des monopoles qui doivent être réglementés, voire démembrés. La politique commerciale se résumait à la division mondiale du travail et à la recherche de l'efficience ; elle est aujourd'hui tout entière consacrée à la résilience et à la préservation des chaînes d'approvisionnement intérieures.
Certaines de ces évolutions apparaissent comme de nécessaires ajustements liés au choc du Covid-19. Et elles résultent aussi, peut-être, d'un virage à cent quatre-vingts degrés qui est la conséquence d'une longue période de creusement des inégalités, d'insécurité économique et de la concentration, dans l'économie américaine, de la puissance de marché. Mais le crédit en revient aussi, à dire vrai, au président Joe Biden, qui s'est fait accompagner à Washington par une équipe économique neuve et n'a pas tardé à reprendre à son compte les idées nouvelles, en dépit des critiques de la vieille garde.
Le fondamentalisme de marché qui déterminait la politique économique des États-Unis et, pour une bonne part, de l'Europe occidentale depuis la révolution reagano- thatcherienne des années 1980 avait des antécédents intellectuels. Il s'était développé dans le monde académique et avait été popularisé par des universitaires engagés dans le débat public, des intellectuels, comme Milton Friedman.
Cette fois-ci, les universitaires sont pour la plupart à la traîne de l'évolution. Même si les enthousiastes du tout-marché sont moins nombreux parmi les économistes, on n'a pas vu se développer de programmes qui pourraient rappeler ce que furent le keynésianisme ou le conservatisme friedmanien. Les responsables politiques qui se seraient mis en quête d'économistes pour des réponses globales allant au-delà du bricolage et de la réforme de circonstance auraient été déçus.
Subscribe to Project Syndicate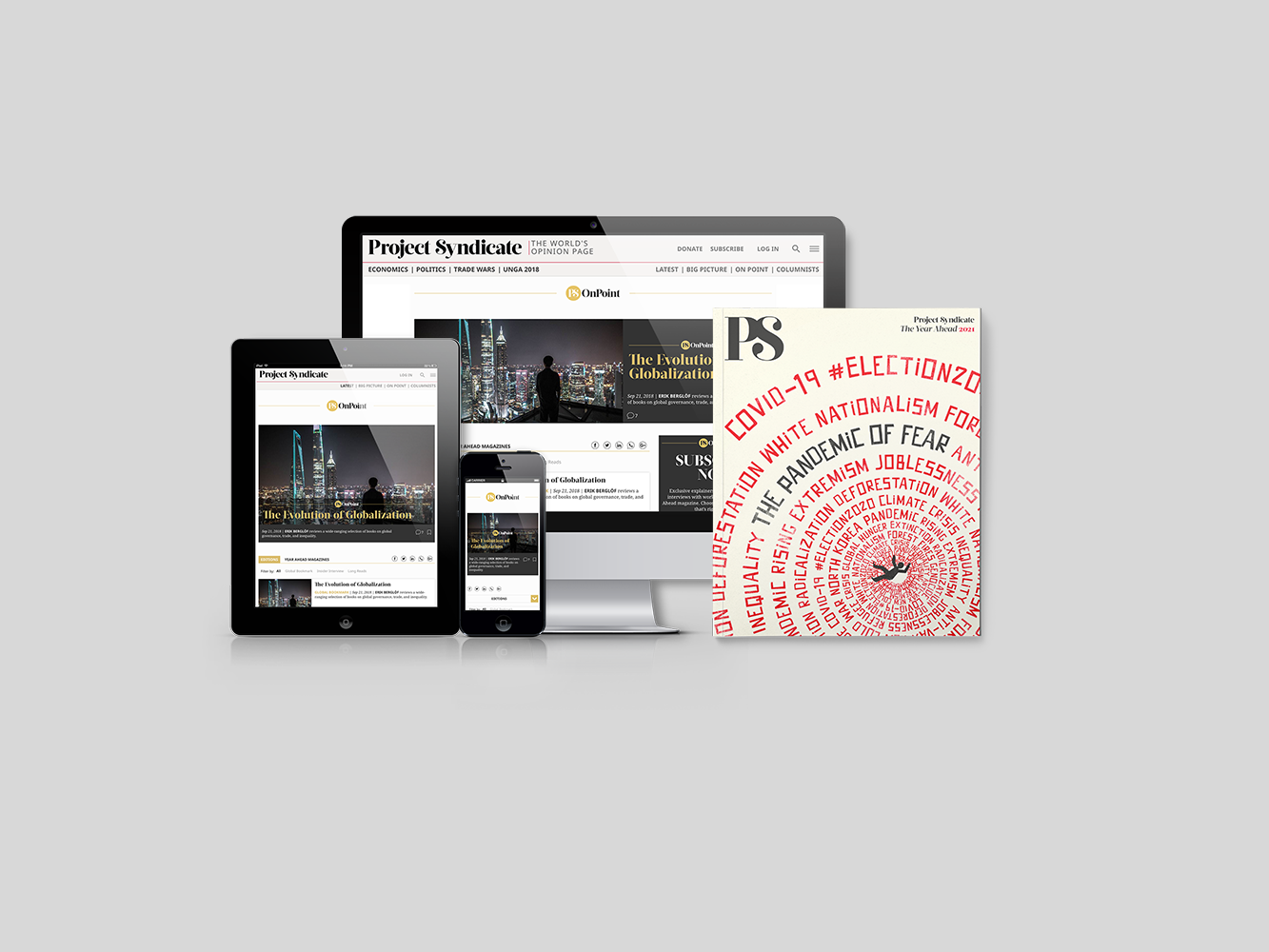 Subscribe to Project Syndicate
Enjoy unlimited access to the ideas and opinions of the world's leading thinkers, including weekly long reads, book reviews, topical collections, and interviews; The Year Ahead annual print magazine; the complete PS archive; and more – for less than $9 a month.
Les économistes sont pourtant sujets, eux aussi, à ce changement d'état d'esprit. Ainsi lors du séminaire annuel des banquiers centraux à Jackson Hole, dans le Wyoming, à la fin du mois d'août, une pléiade d'économistes universitaires, venus du MIT, de Harvard, de Northwestern et de l'université de Chicago a présenté ses travaux, qui montraient pourquoi une secousse inflationniste transitoire pouvait être une bonne chose. Quand les salaires semblent durablement orientés à la baisse – et ils chutent plus facilement qu'ils ne remontent –, une hausse salariale dans les pans de l'économie qui connaissent une augmentation de la demande peut contribuer à l'évolution structurelle. Et s'il s'ensuit une inflation générale qui excède la cible de la banque centrale, cette augmentation peut n'en être pas moins souhaitable, dans la mesure où elle permet l'ajustement des salaires relatifs d'un secteur à l'autre.
Dans le même esprit, David Autor, du MIT, écrivait récemment que la pénurie de main-d'œuvre aux États-Unis, dont beaucoup d'employeurs se plaignent – postes non pourvus parce qu'on ne trouve pas assez de personnel disposé à accepter les offres d'emploi – était en réalité une bonne chose. Le problème, affirme-t-il, demeure que l'économie américaine produit trop de « mauvais » emplois, mal payés et n'apportant qu'une faible protection sociale. Si la main-d'œuvre, du fait de la pandémie, est devenue plus exigeante et plus encline à faire valoir ses propres choix, c'est aux employeurs de s'adapter. Au bout du compte, l'équité comme la productivité requièrent non seulement plus d'emplois, mais plus d'emplois de meilleure qualité. 
La littérature produite par les économistes universitaires a une vertu : elle clarifie les priorités politiques actuelles aux États-Unis, qui sont de nature contingentes. Ainsi l'étude produite à Jackson Hole montre-t-elle qu'une inflation temporaire est une solution acceptable dès lors que sont remplies certaines conditions : l'ajustement sectoriel est déterminé par les évolutions de la demande des consommateurs, les salaires ne peuvent pas baisser, et la relance monétaire n'entrave pas le changement structurel en augmentant artificiellement la profitabilité dans des secteurs voués à se contracter. Dans les pays en développement, en revanche, les salaires sont, du fait de l'emploi informel, plutôt flexibles, et le développement des secteurs les plus modernes est entravé par des contraintes d'offre. Dans ces conditions, une relance monétaire ou budgétaire a beaucoup moins de chances d'être efficace ;
Le risque existe, pourtant, que les changements entrepris aux États-Unis soient mal compris dans d'autres pays, et que les responsables politiques, ici ou là, reprennent sans discernement les remèdes employés aux États-Unis, en négligeant la spécificité de leur situation. Les pays en développement qui ont une marge de manœuvre budgétaire trop étroite et doivent emprunter en devises étrangères doivent tout particulièrement se méfier d'une confiance excessive en une relance macroéconomique.
Le véritable problème auquel sont aujourd'hui confrontés de nombreux pays en développement est l'essoufflement du modèle traditionnel d'industrialisation fondé sur les exportations. Pour créer des biens et des emplois productifs, il faut désormais un modèle de développement différent, qui développe les services, le marché intérieur et élargisse le socle de la classe moyenne. Et les carences des marchés comme des pouvoirs publics, qui entravent les créations d'emplois dans les services, ne pourront être comblées qu'au moyen de remèdes structurels.
La réorientation de la politique économique dans le monde de la haute fonction publique à Washington est une bonne nouvelle. Mais la véritable leçon que devraient en tirer les autres pays tient en ceci : de l'économie, qui est une science sociale, naîtront des avis différents pour des situations différentes. Alors même que l'évolution des circonstances et des préférences politiques produisent aux États-Unis de nouveaux remèdes, les autres pays ne doivent pas se tromper de cible, et résoudre les problèmes ou lever les obstacles auxquels ils sont eux-mêmes confrontés.
Traduit de l'anglais par François Boisivon