Die Wirtschaft und Amerikas nationale Sicherheit
CAMBRIDGE – Die in diesem Dezember vom Weißen Haus veröffentlichte Nationale Sicherheitsstrategie (NSS) unterscheidet sich von früheren dieser alle vier Jahre durch den Kongress verabschiedeten Strategien, und zwar, weil sie die Rolle der Wirtschaft betont. "Wirtschaftliche Sicherheit ist nationale Sicherheit", heißt es dort.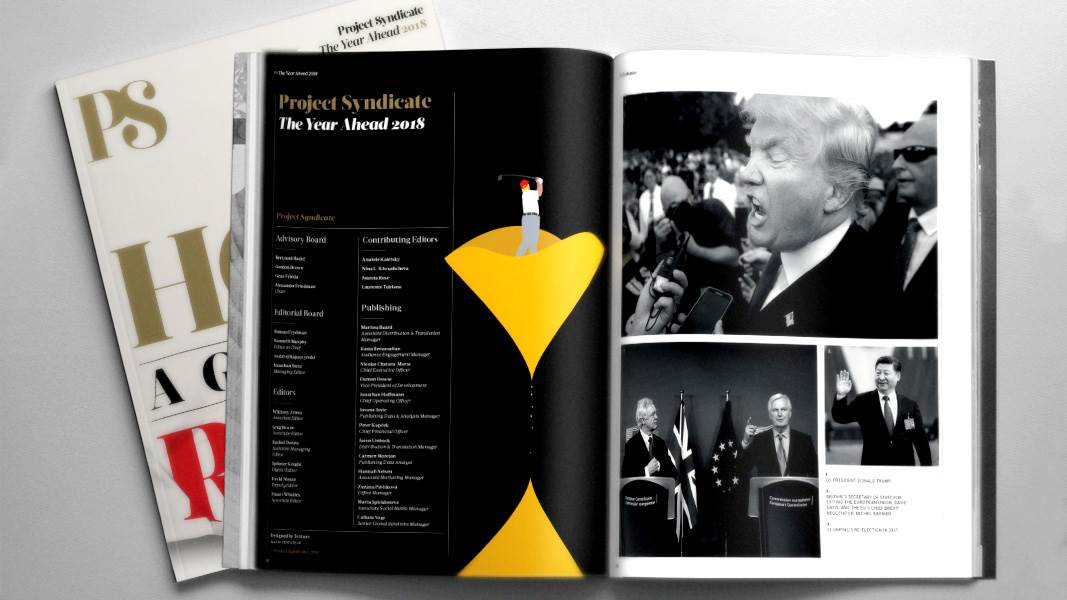 The Year Ahead 2018
The world's leading thinkers and policymakers examine what's come apart in the past year, and anticipate what will define the year ahead.
Ein großer Teil des Berichts befasst sich natürlich mit traditionellen Aspekten der nationalen Sicherheit: Militärbudgets, Bündnissen und dem Umgang mit Ländern wie Russland und China, die in der neuen NSS als "strategische Wettbewerber" (statt als Gegner) bezeichnet werden. Doch beträchtliche Aufmerksamkeit wird auch dem Wachstum der Binnenwirtschaft, der Rolle des internationalen Handels und Amerikas neuer, positiver Energiesituation gewidmet.
Die Regierung von Präsident Donald Trump verweist zu Recht auf ihre Regulierungsreformen und ihr jüngst verabschiedetes Steuergesetz als Strategien zur Ankurbelung der Konjunktur. Eine größere Volkswirtschaft bietet die Mittel zum Aufbau stärkerer Militärkapazitäten. Doch kann dieses Wirtschaftswachstum nur zu einer effektiveren nationalen Verteidigung führen, wenn der Kongress künftige Erhöhungen des Verteidigungshaushalts verabschiedet und dabei gezielt jene Bereiche anspricht, die am dringendsten der Ausweitung bedürfen.
Aufgrund der "Sequestrationsbestimmung" im Haushaltskontrollgesetz von 2011 unterliegt der Verteidigungshaushalt pauschalen Ausgabekürzungen, die die Verteidigungsausgaben 2021 auf 3% vom BIP senken werden; das ist der niedrigste Anteil vom BIP seit vor dem Zweiten Weltkrieg. Laut einer Prognose des Haushaltsamtes des US-Kongresses werden die Verteidigungsausgaben als Anteil vom BIP 2017 noch weiter auf lediglich 2,7% zurückgehen. Dies 2027 auf 5% vom BIP zu steigern, würde die staatlichen Gesamtausgaben jenes Jahres um 600 Milliarden Dollar erhöhen.
Die Vorschläge der NSS zum Außenhandel verbinden einige wichtige Initiativen mit einer falschen Analyse der Ursachen des US-Handelsdefizits. "Handelspartner und internationale Institutionen können mehr tun, um Handelsungleichgewichten entgegenzuwirken", heißt es in der NSS. Das stimmt nicht. Es ist eine grundlegende wirtschaftliche Tatsache, dass das US-Handelsdefizit die Gesamtniveaus von nationalen Ersparnissen und Investitionen widerspiegelt. Konkreter: Die Größe des US-Handelsdefizits – Importe minus Exporte – entspricht dem Überschuss der US-Investitionen über die nationalen Ersparnisse des Landes. Weil die Amerikaner mehr ausgeben, als sie produzieren, müssen sie mehr importieren. als sie exportieren. Um also das Haushaltsdefizit zu reduzieren. müssen private Haushalte, Unternehmen und der Staat mehr sparen – was offensichtlich die bevorzugte Lösung ist – oder weniger investieren.
Mit Sicherheit stimmt dagegen die Feststellung in der NSS, dass ausländische Regierungen amerikanischen Interessen schaden, indem sie den Diebstahl von amerikanischem geistigen Eigentum fördern und dulden. Auf einem Gipfeltreffen im Jahre 2013 im kalifornischen Sunnylands-Resort legte US-Präsident Barack Obama dem chinesischen Präsidenten Xi Jinping Beweise vor, dass Angehörige des chinesischen Militärs Industrietechnologie gestohlen hatten. Die Chinesen akzeptierten diese Beweise, stimmten zu, dass der Diebstahl von Industrietechnologie sich von anderen Formen der Spionage unterscheidet, und erklärten, dass die chinesische Regierung in Zukunft derartige Diebstähle nicht mehr unterstützen würde. Da das nicht reicht, um weitere chinesische Diebstähle von ziviler und militärischer US-Technologie zu verhindern, wird in der neuen NSS zu Recht betont, dass die US-Regierung zusätzliche Schritte unternehmen werde, um diese zu stoppen.
Was konkrete Handelspolitiken angeht, wird in der NSS betont, dass die USA sich bemühen würden, "Handelsschranken einzureißen und Amerikanern Chancen zu eröffnen, ihre Exporte zu steigern". Dieser Schwerpunkt auf die Steigerung der Exporte statt auf die Reduzierung der Importe ist begrüßenswert. Von ausländischen Regierungen errichtete Handelsschranken begrenzen die Fähigkeit von US-Unternehmen, die vollen Einkommensvorteile aus dem Export in Amerika hergestellter Produkte zu erzielen.
Doch kritisiert der Bericht zugleich eine Anzahl weiterer von China und anderen Ländern verfolgter unfairer Politiken, ohne zwischen solchen zu unterscheiden, die Amerikas Interessen schaden, und solchen, die zwar "unfair" sind, aber den Amerikanern tatsächlich helfen. Hier ist die Liste: "Andere Länder nutzen Dumping, diskriminierende nichttarifäre Handelshemmnisse, erzwungene Technologietransfers, unwirtschaftliche Kapazitäten, industrielle Subventionen und andere Unterstützungsmaßnahmen von Regierungen und staatseigenen Unternehmen, um wirtschaftliche Vorteile zu erzielen."
Nichttarifäre Handelsschranken gegenüber US-Exporten schaden US-Unternehmen eindeutig, ohne in irgendeiner Weise den privaten Haushalten in den USA zu nutzen. Gleiches gilt für erzwungene Technologietransfers, auch wenn die chinesische Position hier lautet, dass amerikanische Firmen, die in China operieren wollen, dem Transfer von Technologien freiwillig zustimmen – im Austausch gegen das Recht, in China zu produzieren und zu verkaufen.
Dumping – der Verkauf von Produkten zu unter Herstellungskosten liegenden Preisen – hilft ganz eindeutig den amerikanischen Verbrauchern, auch wenn es amerikanischen Unternehmen schadet. Doch unterscheidet sich dies nicht von einer technologischen Entwicklung, die es einigen US-Unternehmen erlaubt, billiger zu produzieren, und so den amerikanischen Verbrauchern hilft und anderen US-Herstellern schadet. Obwohl einige Wirtschaftslehrbücher behaupten, dass Dumping durch Ausländer inländische Erzeuger aus dem Geschäft drängen kann, sodass der ausländische Produzent seinen Preis erhöhen kann, gibt es keine Belege, dass ein solches Verhalten in der Praxis tatsächlich auftritt.
Die Chinesen halten nach wie vor in einigen staatseigenen Branchen überschüssige Kapazitäten vor, was zu verlustbringenden Exportumsätzen führt. Wie Dumping ist dies, zusammen mit expliziten Industriesubventionen, eine "unfaire" Politik, von der allerdings die amerikanischen Verbraucher profitieren.
Die US-Regierung sollte sich künftig auf die Bekämpfung von Handelspolitiken ausländischer Regierungen – wie etwa Technologiediebstahl, nichttarifären Handelsschranken gegenüber US-Exporten und erzwungenen Technologietransfers – konzentrieren, die amerikanischen Firmen schaden, ohne im Gegenzug den amerikanischen Verbrauchern zu nutzen.
Als Ökonom freue ich mich, dass die NSS den wirtschaftlichen Aspekten der nationalen Sicherheit der USA beträchtliche Aufmerksamkeit schenkt. Ich hoffe, dass dieser Schwerpunkt zu einer besseren Innen- und Handelspolitik führt.
Aus dem Englischen von Jan Doolan