Vers le prochain paradigme économique
LAGUNA BEACH – Pendant des décennies, l'Occident a cru en un paradigme économique bien défini et largement accepté, lourd de conséquences au niveau national et international. Mais cette croyance s'est effondrée avec le recul de la confiance dans la capacité des "experts" à expliquer et surtout à prédire l'évolution économique. Pour le moment, en l'absence d'un nouveau paradigme, l'économie mondiale est confrontée à un risque accru de fragmentation, et de régression supplémentaire pour les pays les plus faibles.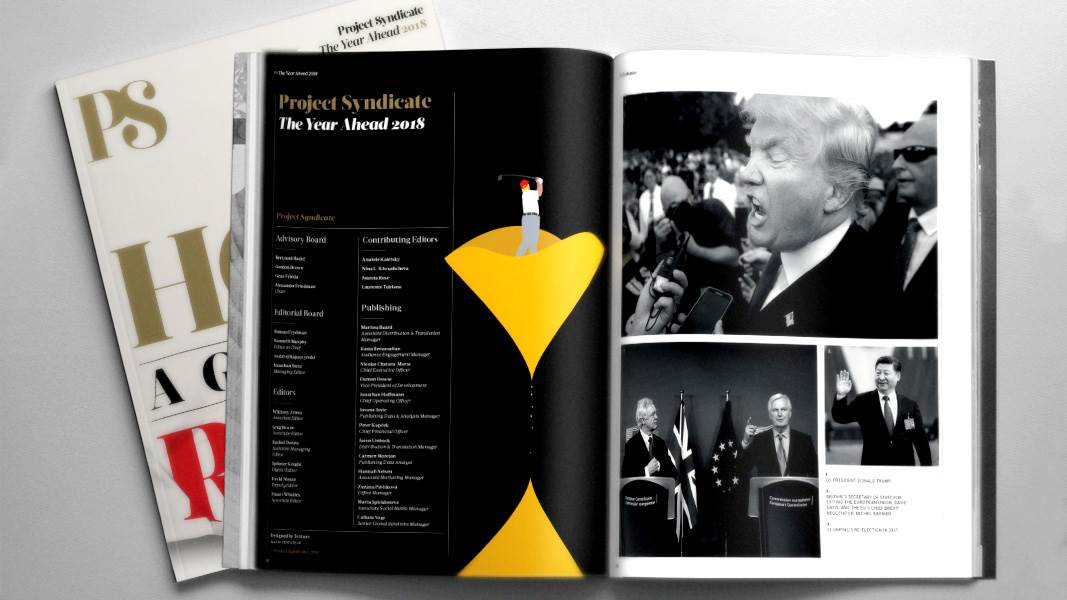 The Year Ahead 2018
The world's leading thinkers and policymakers examine what's come apart in the past year, and anticipate what will define the year ahead.
Jusqu'à il y a peu, le paradigme économique dominant était incarné par le Consensus de Washington - un ensemble de 10 mesures économiques applicables au niveau national et international visant à la mondialisation économique et financière. En deux mots, il reposait sur l'idée que la dérégulation et la liberté des prix seraient bénéfiques et favoriseraient le libre-échange et une relative liberté de circulation des capitaux.
On considérait alors le renforcement des liens économiques et financiers internationaux comme le meilleur moyen de parvenir à des gains durables, d'améliorer la productivité et de diminuer le risque d'instabilité financière. On croyait aussi que cette stratégie s'accompagnerait d'avantages annexes tels que l'amélioration de la mobilité sociale et la diminution du risque de guerre. Elle devait aussi pousser à la convergence entre pays développés et pays en développement, réduisant ainsi la pauvreté absolue et relative et diminuant l'incitation économique à l'immigration illégale.
Fidèle aux théories classiques enseignées dans la plupart des universités, cette stratégie a connu son heure de gloire après la chute du mur de Berlin et la désintégration de l'URSS - quand les anciens pays communistes et la Chine ont rejoint l'ordre mondial dominé par l'Occident, stimulant ainsi la production et la consommation.
Mais la confiance dans le Consensus de Washington s'est transformée en une sorte de foi aveugle. Le sentiment d'autosatisfaction qui en a résulté chez les dirigeants politiques et les économistes a contribué à rendre l'économie mondiale plus vulnérable à une série de petits chocs qui ont culminé avec la crise de 2008 qui a failli entraîner la planète dans une dépression économique longue et dévastatrice.
Soudain les avantages de la mondialisation ont fait pale figure en comparaison des risques. Le fait que la crise ait pris naissance aux USA n'a pas amélioré les choses, car ils avaient été jusque là le fer de lance du Consensus de Washington et d'une mondialisation à tout va - notamment en raison de leur rôle dans les organisations multilatérales tels que le G7, le FMI, la Banque mondiale et l'Organisation mondiale du commerce.
La crise et ses conséquences sont dues en partie à des erreurs d'analyse. Les économistes n'ont pas approfondi suffisamment leur compréhension de la relation entre un secteur financier en croissance rapide et de plus en plus déréglementé et l'économie réelle. Ils ont mal compris l'impact des grandes innovations techniques et insuffisamment pris en compte (si ce n'est totalement négligé) l'apport des sciences du comportement, au profit de considérations microéconomiques certes modélisables, mais irréalistes et bien trop simplistes.
De leur coté, les dirigeants politiques ont négligé les conséquences économiques, politiques et sociales de la montée des inégalités - pas seulement en terme de revenus et de patrimoine, mais aussi d'opportunités - ce qui a fragilisé les classes moyennes - une tendance exacerbée par l'évolution technique, politique et sociale. Ils ont également sous-estimé les risques de contagion financière et l'intensification des flux migratoires. De ce fait, les normes de comportement et les règles se sont trouvées en décalage par rapport à la réalité, et la polarisation politique s'est accentuée.
La Chine a défié peu à peu l'ordre international de l'après-guerre. Sa taille, que ce soit en termes géographiques ou démographiques, lui a permis d'acquérir une importance systémique malgré un revenu par habitant relativement faible et un système politique qui ne semblaient pas en phase avec une économie de marché libérale. Les principales institutions économiques mondiales se sont débattues pour s'adapter suffisamment rapidement.
Malgré quelques petites modifications, la gouvernance du FMI et de la Banque mondiale ont continué à refléter un monde révolu, notamment avec l'influence disproportionnée de l'Europe. Même le G20, qui a été créé pour succéder au G7 jugé trop étroit et exclusif pour encourager une coordination économique efficace, n'a pas changé les règles du jeu. Un manque de continuité opérationnelle et les désaccords entre pays ont rapidement nui à l'efficacité du G20, notamment après la dissipation du risque d'une dépression mondiale.
Il n'est donc pas surprenant que l'enthousiasme en faveur de la mondialisation économique et financière se soit dissipé. Tant les pays avancés que les pays émergents sont réticents de longue date au renforcement des institutions régionales et internationales qui les amèneraient à renoncer à une partie de leur souveraineté.
Certains pays se replient maintenant sur eux-même et/ou privilégient les relations bilatérales, voire régionales dans le cas de l'Asie. Cette évolution avantage les grandes puissances économiques comme les USA et la Chine, mais elle pourrait marginaliser encore plus des pays et des régions entières, notamment en Afrique.
Il ne sera pas facile de parvenir à un nouveau consensus. Ce sera un défi analytique,  politiquement exigeant et assez long à relever. Il va probablement passer par l'examen et le rejet de quelques mauvaises idées avant que les bonnes ne prennent racine. Par rapport à celui qui l'a précédé, ce sera un processus plus multidisciplinaire et plus inclusif sur le plan intellectuel – davantage orienté de la base vers le sommet qu'en sens inverse. Il exigera des capacités d'adaptation à l'innovation en matière d'intelligence artificielle, de big data et de mobilité.
En attendant, les économistes et les responsables politiques ont un rôle important à jouer pour améliorer la situation actuelle. Les différents pays, notamment européens, doivent réformer un système de gouvernance économique multilatérale usé et décrédibilisé. Et au niveau international, le concept de "commerce équitable" – pour ne pas parler de mobilité sociale – devrait faire l'objet de discussions plus approfondies.
Par ailleurs, il faut examiner de plus prés les interactions entre l'économie réelle et la finance. Il faut aussi se pencher davantage sur la question de la distribution des richesses pour remédier aux trop grandes inégalités, en particulier en allégeant la pression qui s'exerce sur les classes moyennes et en veillant à ce que les segments les plus vulnérables de la population ne passent pas entre les mailles du filet de la protection sociale. Cela suppose une meilleure compréhension des changements structuraux liés à l'évolution technique - les grandes compagnies de haute technologie devant admettre leur importance systémique croissante et s'y adapter en accord avec les Etats.
L'autosatisfaction est une raison centrale de la perte de crédibilité du précédent paradigme économique. Evitons qu'elle ne fasse encore davantage de ravages !
Traduit de l'anglais par Patrice Horovitz