Mercati euforici e politica risoluta
CAMBRIDGE – La crescita economica mondiale è salita nel 2017 e la migliore ipotesi è che l'economia globale crescerà con forza anche nel 2018. Allo stesso tempo, un'ondata crescente di populismo e autoritarismo rappresenta un rischio per le istituzioni democratiche stabili che sono alla base della crescita a lungo termine. Eppure i giornali che sembrano preannunciare instabilità politica e caos non hanno impedito il rialzo dei mercati azionari. Che succede?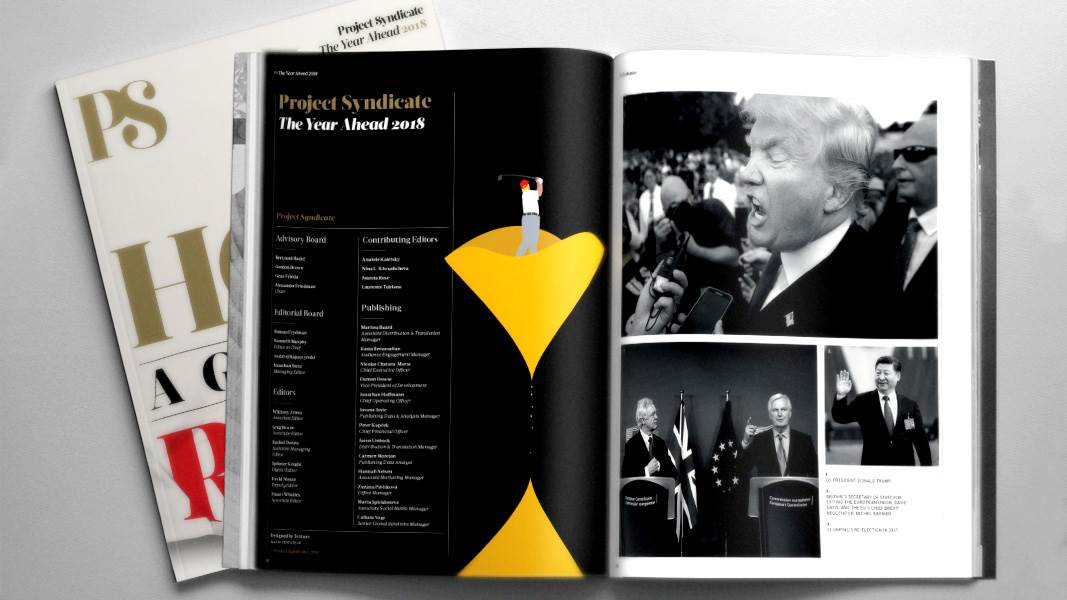 The Year Ahead 2018
The world's leading thinkers and policymakers examine what's come apart in the past year, and anticipate what will define the year ahead.
Prima di tutto, partiamo con le buone notizie. Sicuramente il fattore principale della crescita globale sincronizzata è che l'economia mondiale sta finalmente lasciando dietro di sé la lunga ombra della crisi finanziaria del 2008. Parte della buona fortuna di oggi è la conseguenza di anni di domanda debole. E la fase di recupero non è finita, con gli investimenti aziendali che finalmente riprendono dopo un decennio di rallentamento, gettando così le basi per una crescita più rapida e per maggiori incrementi di produttività in futuro.
È vero che la crescita economica in Cina sta rallentando, dal momento che le autorità tentano, in ritardo, di contenere una bolla del credito, ma molti altri mercati emergenti - in particolare l'India - sono destinati a crescere più velocemente quest'anno. L'aumento dei mercati azionari e del mercato immobiliare potrebbe alimentare disuguaglianze, ma potrebbe anche far crescere la spesa per i consumatori.
Gli investitori e gli specialisti della politica sono anche confortati dalla capacità di recupero dell'indipendenza delle banche centrali nelle principali economie. Il presidente degli Stati Uniti Donald Trump non solo ha risparmiato a gran parte alla Federal Reserve le frecciatine dei suoi tweet non così teneri; ma ha anche nominato persone altamente qualificate per colmare i posti vacanti della Fed. Nel frattempo, la destra tedesca non è riuscita a porre fine alle politiche della Banca centrale europea che hanno contribuito a sostenere l'Italia, la Spagna e il Portogallo e la Bce rimane di gran lunga l'istituzione più rispettata e influente dell'Eurozona.
Altrove, le cose sono praticamente uguali. Nel Regno Unito, il primo ministro britannico Theresa May, all'inizio del suo mandato, ha criticato la Banca di Inghilterra, ma ha rapidamente ritrattato. Come ha osservato Mohamed A. El-Erian, molti investitori considerano le banche centrali "l'unico gioco in città" e sono disposti a trascurare le voci dei politici finché si mantiene l'indipendenza della politica monetaria.
Ma mentre la politica, almeno per ora, non sta impedendo la crescita globale quasi quanto si potrebbe pensare, i costi a lungo termine degli sconvolgimenti politici potrebbero essere molto più gravi. Innanzitutto, la divisione politica post-2008 crea un'incertezza politica a lungo termine, poiché i paesi oscillano tra i governi di sinistra e di destra.
Ad esempio, la recente revisione fiscale degli Stati Uniti è stata pubblicizzata come un modo sicuro per aumentare la spesa aziendale per progetti di investimento a lungo termine. Ma sarà all'altezza delle aspettative se le imprese temono che la legislazione, approvata da una debole maggioranza a favore, alla fine subirà un'inversione di rotta?
Una parte del motivo per cercare di garantire un accordo bipartisan sulle principali iniziative politiche a lungo termine è proprio quello di garantire la stabilità. E l'incertezza politica negli Stati Uniti non è nulla rispetto a quella del Regno Unito, dove le imprese devono far fronte ai disagi provocati dalla Brexit e (potenzialmente) da un governo laburista guidato dall'estrema sinistra di Jeremy Corbyn.
Più difficile da valutare, ma potenzialmente molto più insidiosa, è la distruzione della fiducia pubblica nelle istituzioni centrali nelle economie avanzate. Anche se gli economisti conducono dibattiti infiniti sul fatto che la cultura o le istituzioni sono alla base della performance economica, ci sono tutte le ragioni per essere preoccupati sul fatto che la recente ondata di populismo sia una minaccia per entrambi.
In nessun luogo ciò è più vero che negli Stati Uniti, dove Trump si è impegnato in implacabili attacchi a istituzioni che vanno dai media tradizionali al Federal Bureau of Investigation, per non parlare dell'adozione di un atteggiamento piuttosto sprezzante nei confronti di fatti economici elementari. Allo stesso tempo, la sinistra sembra impaziente di dipingere come un nemico del popolo chiunque sia sostanzialmente in disaccordo con le sue proposte, contribuendo ad alimentare sia l'analfabetismo economico sia uno svuotamento del centro.
Al di là dei rischi esistenziali, ci sono rischi a breve termine. Uno, naturalmente, è un potenziale forte rallentamento della crescita in Cina, che più di ogni altra grande economia del mondo sembra vulnerabile a una significativa crisi finanziaria. Forse il rischio numero uno per l'economia globale nel 2018, tuttavia, è tutto ciò che porta ad un aumento significativo dei tassi d'interesse reali (rettificati per l'inflazione).
I bassi tassi di interesse e la politica monetaria accomodante si sono imposti su una moltitudine di vulnerabilità finanziarie in tutto il mondo, dal debito pubblico italiano e giapponese agli elevati bond societari emessi in dollari in molti mercati emergenti, e forse contribuiscono al sostegno politico per i deficit da milioni di miliardi di dollari negli Stati Uniti. Certo, i mercati vedono poche possibilità di un aumento significativo dei tassi di interesse globali nel 2018. Anche se la Fed aumentasse i tassi altre quattro volte nel 2018, è improbabile che altre grandi banche centrali facciano la stessa cosa.
Ma la fiducia del mercato che i tassi di interesse rimarranno bassi non è certo una garanzia. Una ripresa plausibile degli investimenti delle imprese negli Stati Uniti e nel nord Europa, insieme a un improvviso rallentamento delle economie asiatiche con risparmi in eccesso, potrebbe in teoria produrre un aumento eccezionale dei tassi globali, mettendo a repentaglio i bassi costi di indebitamento di oggi, i mercati azionari superficiali e la volatilità modesta. Poi, all'improvviso, l'apparente distacco dell'economia dalla politica potrebbe finire, e non necessariamente in modo felice.