Euphorische Märkte und grauenvolle Politik
CAMBRIDGE – Das Wirtschaftswachstum hat sich 2017 weltweit erholt, und die Weltwirtschaft wird sich höchstwahrscheinlich auch 2018 gut entwickeln. Zugleich stellt eine Flutwelle des Populismus und Autoritarismus ein Risiko für stabile demokratische Institutionen dar, die die Grundlage langfristigen Wachstums sind. Und doch haben die Schlagzeilen, die politische Instabilität und Chaos anzukündigen scheinen, die steile Aufwärtsentwicklung an den Märkten nicht verhindert. Was ist da los?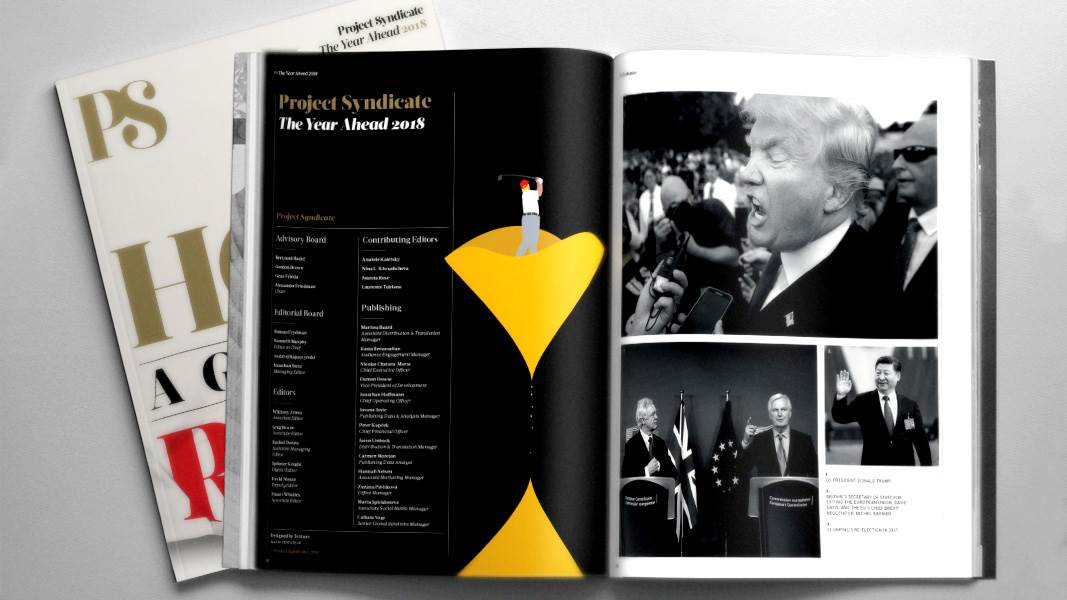 The Year Ahead 2018
The world's leading thinkers and policymakers examine what's come apart in the past year, and anticipate what will define the year ahead.
Zunächst die gute Nachricht. Der mit Sicherheit einflussreichste Einzelfaktor bei der synchronisierten weltweiten Erholung ist, dass die Weltwirtschaft endlich den langen Schatten der Finanzkrise von 2008 abstreift. Zum Teil beruht die heutige glückliche Lage auf dem Ausgleich der jahrelangen schwachen Nachfrage. Und die Erholung ist noch nicht vorbei; nach einem Jahrzehnt der Schwäche steigen jetzt endlich die Unternehmensinvestitionen und legen damit eine Grundlage für mehr Wachstum und stärkere Produktivitätszuwächse in der Zukunft.
Zwar verlangsamt sich das Wirtschaftswachstum in China etwas, da die Behörden derzeit verspätet versuchen, eine Kreditblase einzudämmen, doch viele andere Schwellenmärkte – insbesondere Indien – dürften in diesem Jahr stärker wachsen. Steigende Aktien- und Immobilienmärkte mögen die Ungleichheit befeuern, bewirken jedoch zugleich einen Anstieg der Konsumausgaben.
Investoren und politische Beobachter ziehen zudem Befriedigung aus der Widerstandsfähigkeit, die die Notenbanken in den wichtigen Volkswirtschaften bei der Wahrung ihrer Unabhängigkeit an den Tag legen. US-Präsident Donald Trump hat der US Federal Reserve (Fed) nicht nur die wenig liebevolle Zuwendung seiner nächtlichen Tweets erspart; er hat zudem die offenen Stellen bei der Fed mit hochqualifizierten Personen besetzt. Zugleich haben es in Deutschland die Rechten nicht geschafft, die zur Stützung Italiens, Spaniens und Portugals beitragenden Maßnahmen der Europäischen Zentralbank zu stoppen, und die EZB bleibt die bei weitem am stärksten respektierte und einflussreichste Institution der Eurozone.
Anderswo sieht es mehr oder weniger genauso aus. In Großbritannien hatte Premierministerin Theresa May zu Beginn ihrer Amtszeit zwar einmal einen Angriff auf die Bank von England eingeleitet, dann jedoch schnell zum Rückzug geblasen. Wie Mohamed A. El-Erian angemerkt hat, betrachten viele Anleger die Notenbanken als "the only game in town" – also als Dreh- und Angelpunkt – und sind bereit, eine Menge politischen Getöses hinzunehmen, solange deren geldpolitische Unabhängigkeit gewahrt bleibt.
Doch während die Politik das weltweite Wirtschaftswachstum zumindest derzeit nicht annähernd so stark hemmt, wie man das hätte erwarten können, könnten die langfristigen Folgen der politischen Turbulenzen deutlich schwerer wiegen. Zunächst einmal bringen die politischen Spannungen im Gefolge von 2008, die dazu geführt haben, dass Länder zwischen Links- und Rechtsregierungen hin und her pendeln, eine massive langfristige politische Unsicherheit hervor.
So wurde etwa die jüngste Überarbeitung des US-Steuerrechts als sichere Methode zur Steigerung der Unternehmensausgaben für langfristige Investitionsprojekte beworben. Aber kann sie dieser Darstellung gerecht werden, wenn die Unternehmen fürchten, dass das mit knapper Mehrheit entlang von Parteigrenzen verabschiedete Gesetz letztlich wieder rückgängig gemacht werden wird?
Der Versuch, bei wichtigen langfristigen politischen Initiativen eine überparteiliche Einigung herbeizuführen, beruht ja u. a. gerade auf dem Argument, Stabilität sicherstellen zu wollen. Und die politische Unsicherheit in den USA ist noch gar nichts im Vergleich zu der in Großbritannien, wo die Unternehmen sich sogar auf zwei Belastungen einstellen müssen: den Brexit und (potentiell) eine von dem Altlinken Jeremy Corbyn geführte Labour-Regierung.
Schwieriger zu beurteilen, aber potentiell deutlich heimtückischer ist die Erosion des öffentlichen Vertrauens in zentrale Institutionen in den hochentwickelten Volkswirtschaften. Obwohl die Ökonomen endlose Debatten darüber führen, ob Kultur oder Institutionen die Wurzel der Wirtschaftsleistung bilden, gibt es allen Grund zur Sorge, dass die jüngste Welle des Populismus beide bedroht.
Dies gilt nirgends mehr als in den USA, wo Trump unbarmherzige Angriffe gegen eine Vielzahl von Institutionen – von den etablierten Medien bis hin zum FBI – führt, von seiner verächtlichen Einstellung gegenüber grundlegenden wirtschaftlichen Fakten gar nicht zu reden. Zugleich scheint die Linke eifrig bestrebt, jeden, der mit ihren Vorschlägen in der Substanz nicht übereinstimmt, als Volksfeind darzustellen, was sowohl zu wirtschaftlichem Analphabetentum wie auch zu einer Aushöhlung der Mitte beiträgt.
Über die existentiellen Risiken hinaus gibt es kurzfristige Risiken. Eines davon ist, natürlich, ein potentiell steiler Wachstumsrückgang in China, das heute mehr als jede andere wichtige Volkswirtschaft auf der Welt anfällig für eine schwere Finanzkrise zu sein scheint. Die vielleicht wichtigste Gefahr für die Weltwirtschaft in 2018 jedoch ist alles, was zu einem deutlichen Anstieg der realen (inflationsbereinigten) Zinssätze führt.
Niedrige Zinssätze und eine lockere Geldpolitik haben weltweit eine Vielzahl finanzieller Anfälligkeiten übertüncht – von der italienischen und japanischen Staatsverschuldung bis zu den hohen, auf Dollar lautenden Schulden der Unternehmen in vielen Schwellenmärkten – und erklären möglicherweise die politische Unterstützung für billionenschwere Haushaltsdefizite in den USA. Zugegeben sehen die Märkte für 2018 kaum eine Chance auf einen deutlichen Anstieg der weltweiten Zinsen. Selbst wenn die Fed die Zinssätze in 2018 noch viermal erhöht, dürften die anderen wichtigen Notenbanken kaum nachziehen.
Doch das Vertrauen der Märkte darauf, dass die Zinsen weiter niedrig bleiben werden, ist schwerlich eine Garantie. Eine plausible Erholung der Unternehmensinvestitionen in den USA und Nordeuropa im Verbund mit einem plötzlichen Wachstumsrückgang in asiatischen Volkswirtschaften mit Ersparnisüberschüssen könnte prinzipiell einen überdimensionalen Anstieg der weltweiten Zinsen hervorrufen, der die heutigen niedrigen Kreditkosten, überschäumenden Aktienmärkte und unterdrückte Volatilität gefährdet. Die scheinbare Abkoppelung der Wirtschaft von der Politik könnte dann plötzlich enden, und nicht unbedingt auf positive Weise.
Aus dem Englischen von Jan Doolan