Duizelende markten en grimmige politiek
CAMBRIDGE – De economische groei veerde op in 2017, en het lijkt alsof de wereldeconomie ook in 2018 sterk zal presteren. Tegelijkertijd vormt een aanzwellend tij van populisme en autoritarisme een risico voor de stabiele democratische instituties die het fundament van lange termijn groei zijn. Maar toch hebben de krantenkoppen die politieke instabiliteit en chaos voorspellen de aandelenmarkten er niet van weerhouden omhoog te schieten. Wat is hier aan de hand?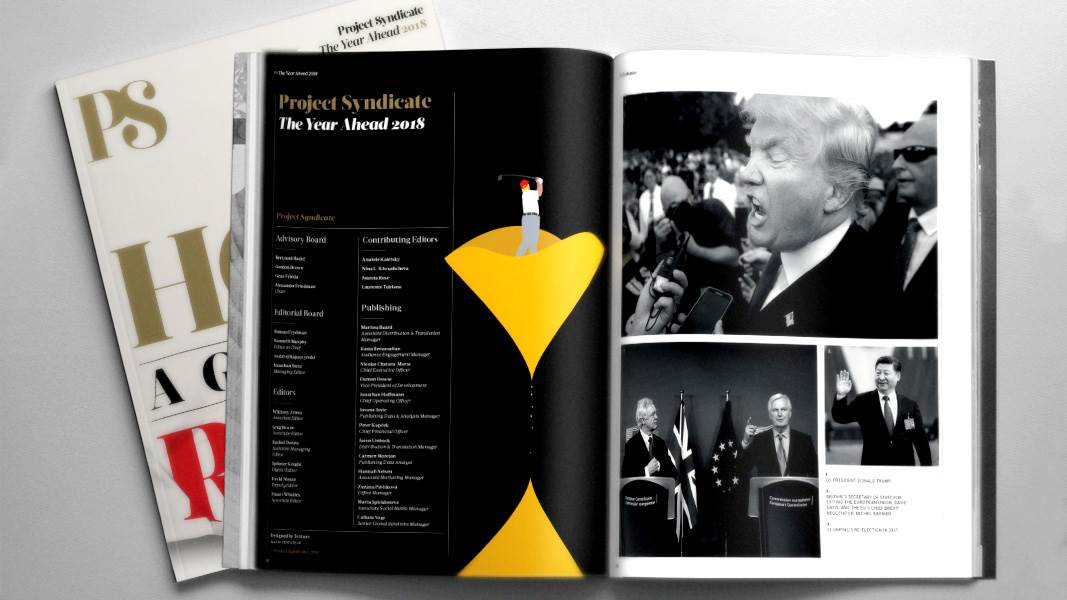 The Year Ahead 2018
The world's leading thinkers and policymakers examine what's come apart in the past year, and anticipate what will define the year ahead.
Eerst het goede nieuws. De grootste factor in de synchrone mondiale opleving is dat de wereldeconomie eindelijk uit de lange schaduw van de financiële crisis van 2008 stapt. Het huidige goede gesternte bestaat deels uit terugbetaling na jaren van zwakke vraag. En deze heropleving is nog niet voorbij, met zakeninvesteringen die na een decennium van slapte eindelijk opveren, waarmee het fundament voor een snellere groei en hogere productiviteitswinst in de toekomst gelegd wordt.
Zeker, de economische groei in China vertraagt enigszins omdat de autoriteiten daar ter elfder ure een kredietbubbel proberen te bedwingen, maar veel andere opkomende markten – opvallend inclusief India – zijn op weg om dit jaar sneller te groeien. Stijgende aandelen- en huizenmarkten drijven wellicht de ongelijkheid aan, maar ook grotere consumentenuitgaven.
Investeerders en beleidsnerds voelen zich ook aangemoedigd door de bestendige onafhankelijkheid van de centrale banken in de grote economieën. Amerikaans president Donald Trump heeft de Federal Reserve niet alleen grotendeels de niet zo subtiele genade van zijn tweets uit de vroege uurtjes bespaard; hij heeft zelfs hooggekwalificeerde individuen genomineerd om Fed-vacatures te vervullen. Tegelijkertijd is rechts er in Duitsland niet in geslaagd om de stekker uit het beleid van de Europese Centrale Bank te trekken dat heeft geholpen om Italië, Spanje, en Portugal te stutten en blijft de ECB veruit het meest gerespecteerde en invloedrijke instituut in de eurozone.
Elders staan de zaken er ongeveer hetzelfde voor. In het Verenigd Koninkrijk heeft de Britse premier Theresa May tijdens het begin van haar termijn één keer uitgehaald naar de Bank of England gericht, maar is hier snel van teruggekomen. Zoals Mohamed A. El-Erian benadrukt beschouwen veel investeerders centrale banken als 'The Only Game in Town,' en zijn ze bereid om over veel politiek lawaai heen te kijken zolang de onafhankelijkheid van het monetaire beleid wordt hooggehouden.
Maar alhoewel de politiek de mondiale groei, tenminste tot nu toe, niet zo belemmert als je misschien had verwacht zouden de lange termijn kosten van politieke onrust veel groter kunnen zijn. Ten eerste creëert de politieke verdeeldheid van na 2008 een enorme lange termijn politieke onzekerheid terwijl landen heen en weer bewegen tussen linkse en rechtse regeringen.
Zo is de recente Amerikaanse belastinghervorming bijvoorbeeld gebracht als onfeilbare manier om bedrijfsuitgaven aan lange termijn investeringsprojecten aan te jagen. Maar zal deze aan de hoge verwachtingen voldoen wanneer firma's vrezen dat de wetgeving, die werd goedgekeurd door een kleine één partij meerderheid, uiteindelijk teruggedraaid zal worden?
Een deel van het argument voor het proberen veiligstellen van tweepartijdige overeenstemming over belangrijke lange termijn beleidsinitiatieven is juist om stabiliteit te garanderen. Maar de beleidsonzekerheid in de Verenigde Staten is nog niets vergeleken met die in Groot-Brittannië, waar bedrijven te maken hebben met de dubbele verstoring van Brexit en een (mogelijke) Labour-regering geleid door de uiterst linkse Jeremy Corbyn.
Moeilijker in te schatten maar potentieel nog veel verraderlijker is de erosie van het publieke vertrouwen in centrale instituties in de geavanceerde economieën. Terwijl economen eindeloze debatten voeren over of cultuur of instituties aan de basis van economische prestaties staan is er alle reden om bezorgd te zijn dat de recente golf van populisme een dreiging voor beide is.
Dit geldt nergens meer dan in de VS, waar Trump zich heeft begeven in niet aflatende aanvallen op instituties die variëren van de reguliere media tot het Federal Bureau of Investigation, het aannemen van een bepaald achteloze attitude richting basale economische feiten nog geheel daargelaten. Tegelijkertijd zet links gretig eenieder die het substantieel oneens is met zijn voorstellen als volksvijand neer, wat zowel economisch analfabetisme en een uitholling van het centrum aandrijft.
Afgezien van existentiële gevaren zijn er ook nog korte termijn gevaren. Een daarvan is natuurlijk een potentiele scherpe groeivertraging in China, dat meer dan enige andere grote economie ter wereld momenteel kwetsbaar lijkt voor een aanzienlijke financiële crisis. Wellicht het grootste gevaar voor de wereldeconomie in 2018 is echter alles wat maar kan leiden tot een significante stijging van de reële (inflatiegecorrigeerde) rentetarieven.
Lage rentetarieven en een los monetair beleid hebben een veelheid aan financiële kwetsbaarheden over de hele wereld weggewist, van Italiaanse en Japanse overheidsschulden tot hoge dollarschulden van bedrijven in veel opkomende markten, en zijn wellicht verantwoordelijk voor politieke steun voor biljoenentekorten in de VS. Toegegeven, de markten maken in 2018 maar weinig kans op enige significante stijging in de mondiale rentetarieven. Zelfs wanneer de Fed de tarieven in 2018 nog eens vier maal opschroeft zullen andere grote centrale banken dit voorbeeld waarschijnlijk niet volgen.
Maar vertrouwen van de markt dat de rentetarieven laag zullen blijven is bepaald geen garantie. Een aannemelijke opleving van de bedrijfsinvesteringen in de VS en Noord-Europa, gecombineerd met een plotselinge vertraging in Aziatische economieën met spaaroverschotten zou in principe een buitensporige stijging van de mondiale tarieven tot gevolg kunnen hebben, wat de huidige lage leenkosten, de schuimende aandelenmarkten, en onderdrukte volatiliteit op het spel zou zetten. Op dat moment kan de schijnbare disconnectie tussen de economie en politiek tot een eind komen, en niet per se op een plezierige manier.
Vertaling Melle Trap