От экономического кризиса к Третьей мировой войне
ПЕКИН – Очередной экономический кризис ближе, чем вы думаете. Но по-настоящему вам следует тревожиться о том, что за ним последует: в нынешнем социальном, политическом и технологическим ландшафте – в сочетании с ростом неравенства доходов – затяжной экономический кризис вполне может перерасти в крупный глобальный военный конфликт.
Мировой финансовый кризис 2008-2009 годов едва не довёл правительства до банкротства и вызвал системный крах. Власти сумели оттащить мировую экономику от края бездны, используя масштабные монетарные стимулы, в частности, политику количественного смягчения и почти нулевых (или даже отрицательных) процентных ставок.
Но монетарные стимулы похожи на укол адреналина для перезапуска остановившегося сердца. Они способны оживить пациента, но никак не помогают вылечить болезнь. Для лечения больной экономики необходимы структурные реформы, которые могут охватывать все сферы – от финансовых рынков и рынка труда до налоговых систем, тенденций рождаемости и качества образования.
Власти полностью провалили проведение подобных реформ, несмотря на обещания их провести. Они по-прежнему больше всего озабочены политикой. От Италии до Германии – во многих странах формирование и сохранение правительств теперь занимает явно больше времени, чем реальное управление страной. А Греция, например, использует деньги международных кредиторов, чтобы (едва) удерживаться на плаву, вместо того, чтобы заниматься реальной реформой пенсионной системы или улучшать бизнес-климат.
Отсутствие структурных реформ привело к тому, что беспрецедентный избыток ликвидности, которую центральные банки влили в экономику своих стран, не направлялся на наиболее эффективные цели. Вместо этого, он вызвал рост мировых цен на активы, причём их уровень даже превысил уровни, наблюдавшиеся накануне 2008 года.
По данным сайта недвижимости Zillow, в США цены на жильё сейчас на 8% выше, чем на пике пузыря, надувшегося на рынке в 2006 году. Коэффициент цена к прибыли (CAPE), который позволяет измерить, находятся ли цены фондового рынка в разумных пределах, сейчас выше, чем в 2008 году и в начале Великой депрессии в 1929 году.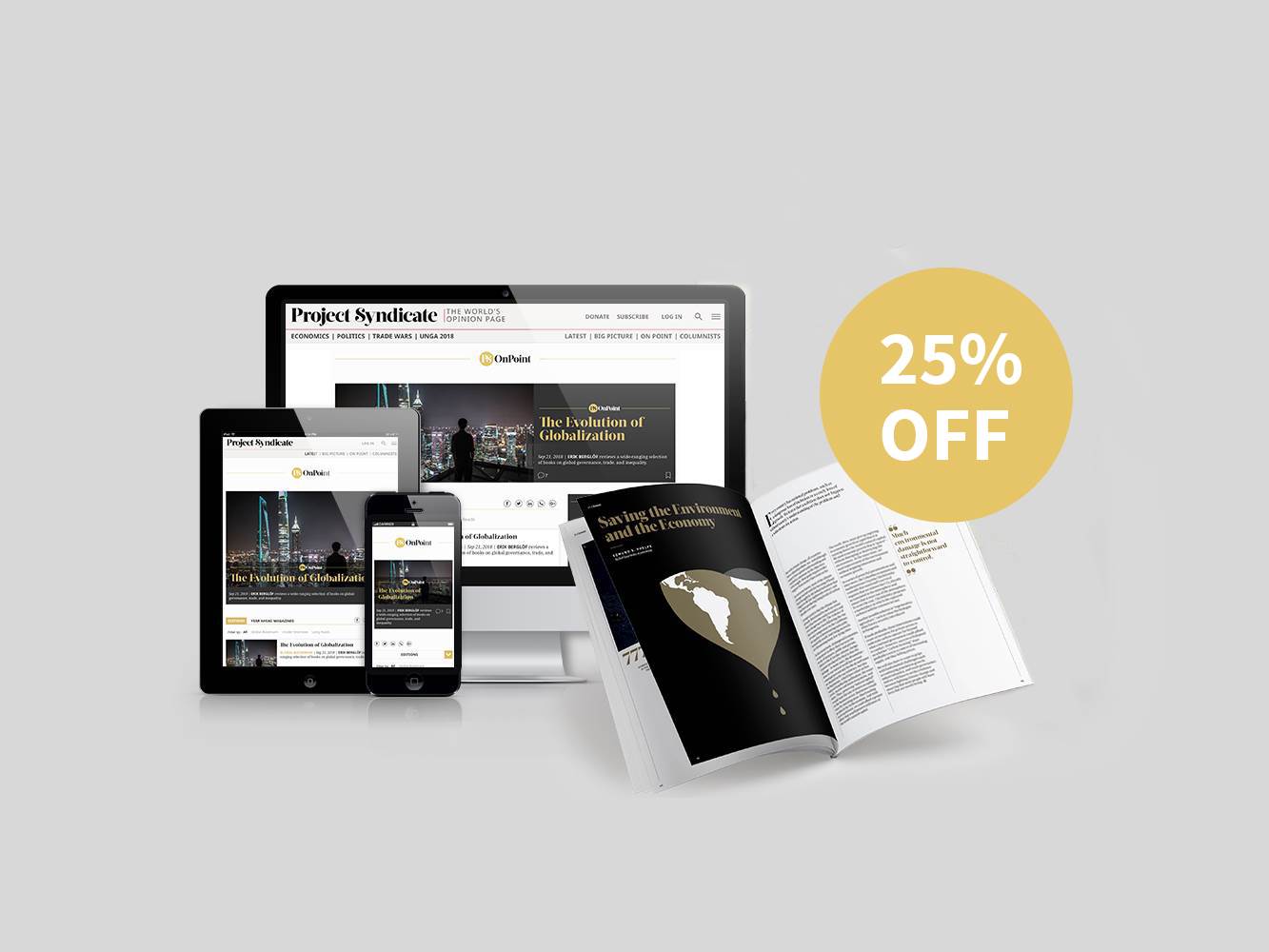 Subscribe now
For a limited time only, get unlimited access to On Point, The Big Picture, and the PS Archive, plus our annual magazine and a tote bag, for just $75.
Ужесточение монетарной политики обнажает уязвимости в реальной экономике, поэтому крах раздутых цен на активы спровоцирует новый экономический кризис. Он будет ещё более суровым, чем предыдущий, поскольку у нас выработалось привыкание к нашим наиболее сильным макроэкономическим лекарствам. Десятилетие регулярных уколов адреналина – в виде сверхнизких процентных ставок и нетрадиционной монетарной политики – серьёзно подорвали способность этих мер стабилизировать и стимулировать экономику.
Судя по урокам истории, последствия данной ошибки могут распространиться далеко за пределы экономики. Как отмечает Бенджамин Фридман из Гарвардского университета, затяжные периоды экономических затруднений характеризуются ростом общественной антипатии к меньшинствам и зарубежных странам. Такие настроения могут способствовать разжиганию беспорядков, терроризма или даже войны.
Например, в 1930 году во время Великой депрессии президент США Герберт Гувер подписал закон Смута-Хоули о таможенных пошлинах, который был призван защитить американских работников и фермеров от иностранной конкуренции. В течение последующих пяти лет объёмы мировой торговли сократились на две трети. А через десять лет началась Вторая мировая война.
Да, разумеется, Вторая мировая война, как и Первая, была вызвана множеством факторов. Стандартного пути к войне не существует. Но есть причины полагать, что в разжигании конфликта может сыграть значительную роль высокий уровень неравенства.
По данным исследования экономиста Тома Пикетти, за всплеском неравенства доходов зачастую следует крупный кризис. В дальнейшем уровень неравенства доходов на некоторое время снижается, а затем начинает опять расти – до нового пика и новой катастрофы. Хотя эта причинно-следственная связь пока ещё не доказана (из-за ограниченного количества данных), к данной корреляции не следует относиться легкомысленно, особенно учитывая тот факт, что неравенство богатства и доходов сейчас находится на исторически высоких уровнях.
Всё это особенно тревожно в свете других многочисленных факторов, которые способствуют социальному недовольству и дипломатической напряжённости. Среди этих факторов – технологическая революция, бьющий рекорды миграционный кризис, озабоченность глобализацией, политическая поляризация, рост национализма. Всё это симптомы провальной политики, которые могут спровоцировать будущий кризис.
У избирателей есть обоснованные причины испытывать разочарование, но эмоционально привлекательные популисты, которых они всё чаще начинают поддерживать, предлагают плохо продуманные решения, лишь ухудшающие ситуацию. Например, несмотря на беспрецедентную взаимосвязанность в мире, многосторонние подходы (мультилатерализм) всё чаще игнорируются, а государства мира – прежде всего, США Дональда Трампа – проводят одностороннюю, изоляционистскую политику. Тем временем, в Сирии и Йемене бушуют прокси-войны.
На этом фоне мы должны серьёзно задуматься о вероятности того, что следующий экономический кризис может привести к крупномасштабной военной конфронтации. Согласно логике политолога Сэмюэля Хантингтона, рассмотрение подобного сценария могло бы помочь предотвратить его, потому что заставит нас действовать. В таком случае самым важным действием властей станет проведение структурных реформ, которые они уже давно обещали провести, и одновременно отказ от антагонизма и поиска виноватых в пользу разумного и уважительного глобального диалога. Альтернативой этим действиям вполне может стать мировой пожар.