La politique de la BCE est irresponsable
FRANCFORT – Le récent plongeon de presque 1600 points de l'indice Dow Jones montre à quel point les marchés financiers et les acteurs économiques se sont accoutumés à une politique monétaire expansionniste. Des taux d'intérêt faibles et un relâchement monétaire de longue durée ont incité les investisseurs à prendre des risques inconsidérés. Plus ces mesures seront prolongées, plus forte sera la menace qui pèse sur la stabilité du système financier mondial.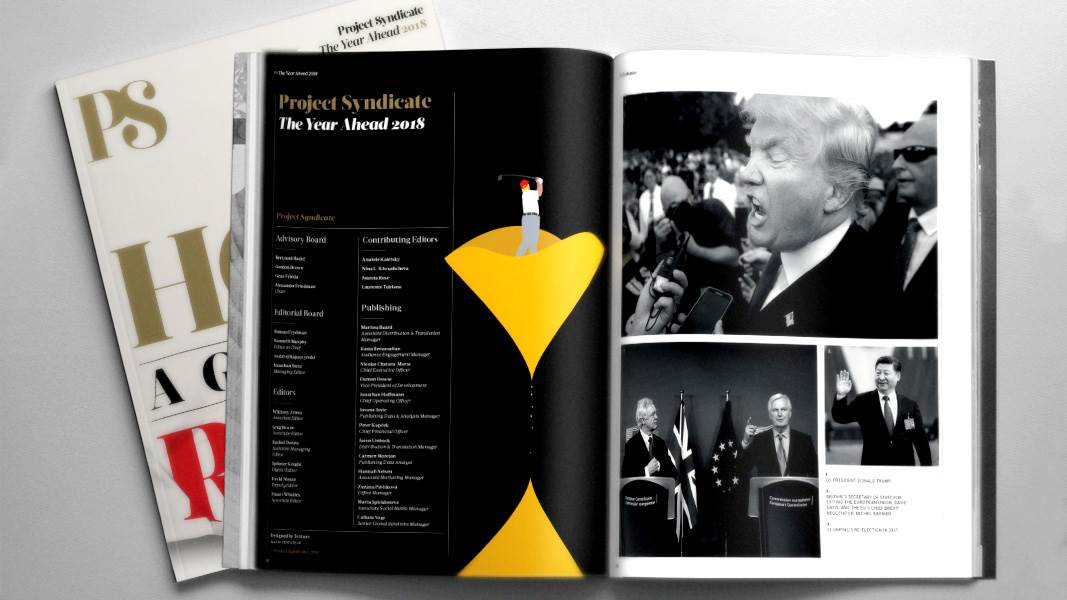 The Year Ahead 2018
The world's leading thinkers and policymakers examine what's come apart in the past year, and anticipate what will define the year ahead.
Il y a longtemps que les mesures de relâchement monétaire extrême ne sont plus appropriées. L'économie mondiale, notamment dans les pays développés, connaît une reprise de plus en plus marquée. Selon la dernière mise à jour des Perspectives économiques mondiales du FMI, la croissance va se prolonger dans les trimestres à venir, surtout aux USA et dans la zone euro.
Pourtant les institutions internationales, dont le FMI, craignent la correction brutale des marchés due aux changements en matière d'attente d'inflation et de taux d'intérêt, et continuent à proclamer que le resserrement de la politique monétaire ne doit se faire que très progressivement. Aussi les banques centrales continuent-elles à reporter la normalisation de leur politique monétaire, ce qui entraîne une hausse du prix des actifs suscitant des distorsions boursières spectaculaires qui rendent ces corrections inévitables.
Il est vrai que la Fed (Réserve fédérale américaine) s'éloigne de sa politique d'expansion monétaire depuis fin 2013, lorsqu'elle a commencé à réduire son bilan et à diminuer progressivement ses rachats d'obligations jusqu'à y mettre fin. Depuis fin 2015 elle augmente peu à peu son principal taux directeur qui atteint maintenant 1,5%.
Mais elle est loin d'avoir normalisé sa politique. Considérant le stade avancé du cycle économique, les prévisions relatives à la croissance nominale supérieures à 4% et le faible niveau du chômage - pour ne pas mentionner le risque de surchauffe - la Fed est en dessous de la courbe.
Les banques centrales des autres pays avancés, toujours bloquées sur le mode de réaction à une crise sévère, font pire encore. Ni la Banque du Japon, ni la BCE (Banque centrale européenne) n'ont indiqué ou laissé entendre qu'elles allaient resserrer leur politique monétaire, alors que la situation économique d'aujourd'hui n'a rien à voir avec celle qui existait durant la crise et lors de la récession à double creux qui a suivi dans la zone euro.
La BCE notamment n'aurait pas dû considérer l'inflation faible comme une donnée permanente ou même durable qui nécessitait une politique monétaire agressive. Les responsables de la BCE se sont polarisés presque exclusivement sur la stabilité des prix en atteignant leur cible à court terme en matière d'inflation, un taux "inférieur, mais proche de 2%", l'objectif spécifique étant de 1,9%.
Cela ne correspond pas aux intentions du Conseil des gouverneurs de la BCE, telles qu'elles ont été formulées en 2013 après une évaluation de la politique monétaire menée lors des quatre années précédentes. A cette époque, la BCE a confirmé la définition de la stabilité des prix qu'elle avait adoptée en 1998, et précisé qu'elle visait à conserver à moyen terme sa cible en matière d'inflation, tout en reconnaissant qu'une banque centrale ne peut contrôler suffisamment l'inflation pour fixer un taux précis.
De même, la politique de la BCE n'est pas adaptée à la réalité économique : la reprise économique la zone euro, comme celle d'une grande partie du reste du monde, est vigoureuse. Pourtant la BCE va probablement considérer les récentes secousses boursières comme une confirmation de son choix de ne pas changer de cap.
Le conseil des gouverneurs parait convaincu qu'une politique monétaire expansionniste reste cruciale pour maintenir la croissance, lutter contre le chômage et éviter la déflation ; mais il pourrait se tromper. Dans la mesure où l'effet de cette politique sur la reprise peut être mesuré de manière fiable, il est probablement modeste - et ne mérite certainement pas les 2300 milliards d'euros d'actifs que la BCE a achetés après avril 2015 - pour ne pas parler des conséquences du maintien de taux d'intérêt négatifs ou nuls.
Du fait de ce maintien, d'une part le politique de taux d'intérêt de la BCE a perdu son rôle d'orientation et de signal, et d'autre part les risques ne sont plus évalués correctement, ce qui conduit à une mauvaise allocation des ressources et à une "zombification" des banques et des entreprises et freine le désendettement. Autre conséquence, il apparaît de profondes distorsions dans le marché obligataire et la consolidation budgétaire des pays surendettés est retardée.
L'efficacité de la politique de la BCE est donc contestable, mais son coût est indiscutable. Sa politique actuelle est tout simplement irresponsable, de même que l'absence totale de solutions alternatives.
En ce sens, consciemment ou pas, le Conseil des gouverneurs de la BCE suit la recommandation faite en 1998 par le prix Nobel d'économie Paul Krugman qui incitait la  Banque du Japon à s'engager "de manière crédible à être irresponsable" si les taux d'intérêt nominaux sont proches de zéro et si la politique monétaire risque de devenir inefficace. Il a déclaré que la banque centrale doit alors entretenir l'inflation par une politique d'expansion monétaire continue, de manière à réduire encore les taux d'intérêt réels.
Il a réitéré sa recommandation il y a quelques années, lorsqu'avec l'ancien secrétaire du Trésor Lawrence H. Summers il a repris la théorie désuète de la "stagnation séculaire". Or à juste titre on ne parle plus de cette théorie. Il est temps que la BCE mette fin à sa politique expansionniste irresponsable.
Aujourd'hui la politique monétaire est subordonnée à la politique budgétaire, car les banques centrales sont soumises à des pressions politiques croissantes pour maintenir les taux d'intérêt à un niveau artificiellement bas. Ainsi que la récente secousse boursière l'a montré, cela accroît démesurément le risque d'instabilité financière. Lors des prochaines corrections boursières - qui pourraient être plus sévères et affecter l'économie réelle - quels outils restera-t-il aux banques centrales pour y faire face ?
Traduit de l'anglais par Patrice Horovitz