Die Deflationsbesessenheit der EZB
BRÜSSEL – Notenbanken streben nach Preisstabilität, und die Preise sind heute in weiten Teilen der entwickelten Welt überwiegend stabil. Doch die Notenbanker sind erklärtermaßen unzufrieden. Einige Entscheidungsträger, insbesondere bei der Europäischen Zentralbank, bereiten sogar weitere Konjunkturimpulse vor, die die Finanzmärkte von ihrer Entschlossenheit zur Bekämpfung der Deflation überzeugen sollen. Doch überschätzt eine derartige Politik das Risiko fallender Preise.
Zunächst einmal sind die Preise derzeit nicht im Fallen begriffen; sie steigen lediglich langsamer als sich die Notenbanker das wünschen. In der Eurozone etwa liegt die Kerninflation (die die schwankungsanfälligen Energie- und Lebensmittelpreise unberücksichtigt lässt) bei etwa 1% jährlich, und die Märkte erwarten, dass sie für das nächste Jahrzehnt weitgehend auf diesem Niveau verharren wird.
Die EZB betrachtet eine derart niedrige Inflation als absolut inakzeptabel. Sie definiert "Preisstabilität" nicht als stabile – d. h. sich nicht verändernde – Preise, sondern als eine jeweils im Vergleich zum Vorjahr bei "mittelfristig unter, aber in der Nähe von 2%" liegende Inflation innerhalb der Eurozone. Die US Federal Reserve und die Bank von Japan haben in ähnlicher Weise Inflationsziele von 2% festgelegt.
Die Notenbanken haben aus zwei Gründen Angst vor stabilen Preisen. Der erste ist, dass der Realwert von Schulden sich bei sinkenden Preisen automatisch erhöht. Doch Befürchtungen über eine Schuldendeflation scheinen überzogen: Weil die nominalen Zinssätze selbst in Nullnähe liegen, würde sich die reale Schuldenlast selbst bei stabil bleibenden Preisen nicht erhöhen. Zudem hängt die Fähigkeit, den Schuldendienst zu bewältigen, überwiegend davon ab, ob die Einkommen schneller steigen als die ausstehenden Schulden, und nicht davon, ob die Inflationsrate den Zinssatz übersteigt.
Dies ist besonders für hochverschuldete Regierungen (und Privathaushalte) wichtig. Doch hier ist das Bild derzeit sogar noch günstiger: Das nominale BIP-Wachstum in der Eurozone beträgt nach wie vor rund 3% und liegt damit deutlich über den Zinssätzen der längerfristigen Schuldverschreibungen nahezu aller Mitgliedsregierungen (die durchschnittlichen Refinanzierungskosten liegen inzwischen die Eurozone übergreifend bei nahe null).
Daher befinden sich die Regierungen der Eurozone in einer sehr komfortablen Lage. Sofern sie ihren Primärsaldo (Haushaltssaldo abzüglich Zinsaufwand) ausgeglichen halten, wird ihre Schuldenlast im Verhältnis zum BIP langsam sinken. Auch die privaten Haushalte sind in einer günstigen Position: Ihre Einkommen steigen derzeit um etwa 3%, während die Hypothekenkosten in Richtung null tendieren. Sie können daher einfach abwarten, dass sich ihre Schuldendienstfähigkeit im Laufe der Zeit verbessert.
Subscribe now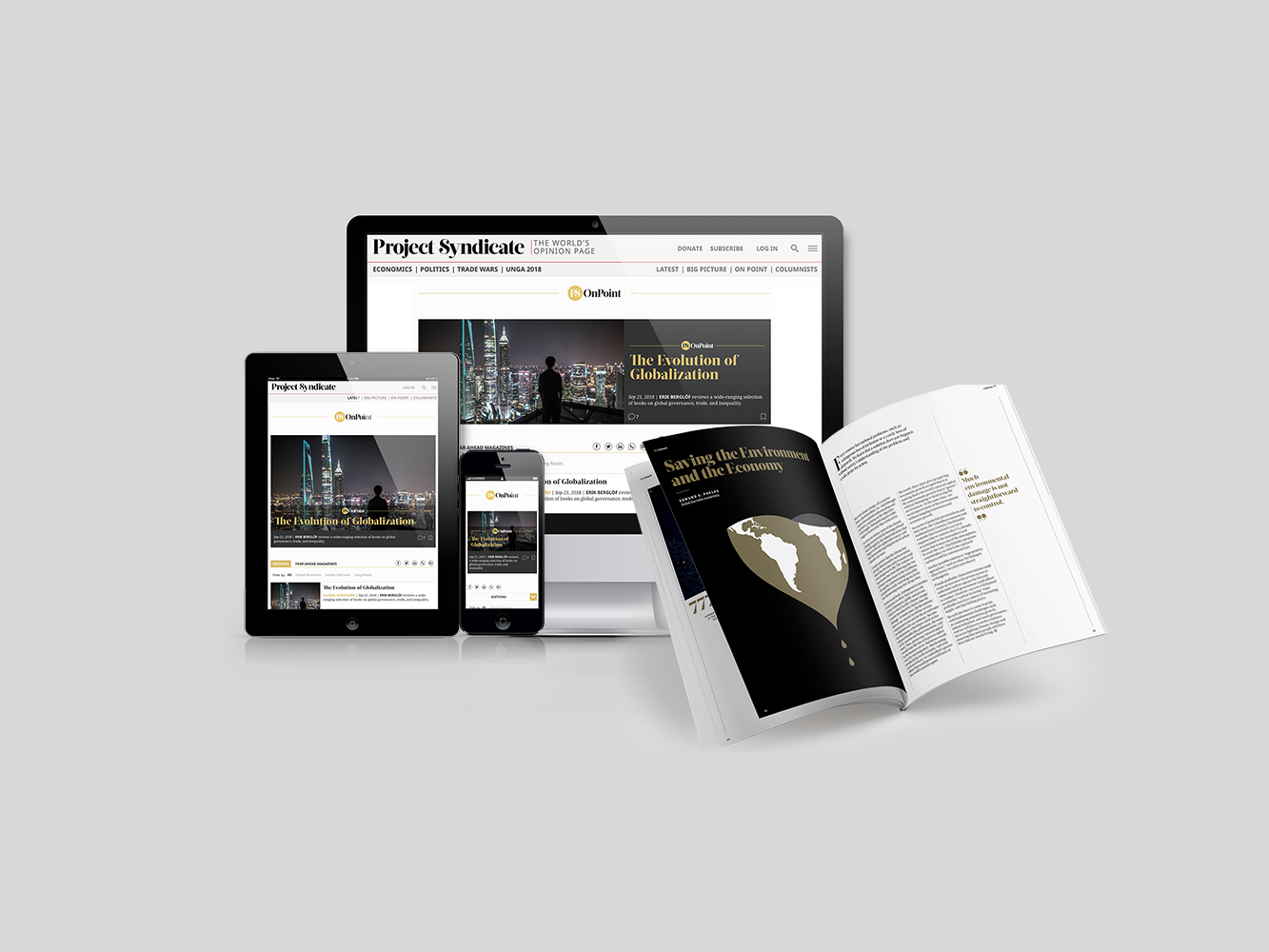 Subscribe now
Subscribe today and get unlimited access to OnPoint, the Big Picture, the PS archive of more than 14,000 commentaries, and our annual magazine, for less than $2 a week.
Der zweite Grund für die Notenbanken, stabile Preise zu vermeiden, ist, dass es schwierig sein könnte, wenn Preise absolut betrachtet fallen. In jeder Volkswirtschaft müssen sich die relativen Preise für Waren und Dienstleistungen in Reaktion auf Erschütterungen bei Angebot und Nachfrage anpassen. Damit die Durchschnittspreise insgesamt unverändert bleiben, müssten einige Preise trotzdem steigen und andere müssten sinken.
Zwar sehen sich die Hersteller selten größeren Hindernissen dabei ausgesetzt, die Preise für an Verbraucher oder andere Unternehmen verkauften Waren und Dienstleistungen zu senken. Doch finden es die Unternehmen im Allgemeinen sehrt viel schwieriger, die Nominallöhne zu senken, um die niedrigeren Preise auszugleichen. Es ist daher besser, wenn die Durchschnittspreise steigen, damit diejenigen Löhne, die sinken müssen, dies auf relativer statt auf absoluter oder nominaler Basis tun.
Doch ist es unwahrscheinlich, dass die mangelnde Beweglichkeit der Löhne nach unten in absehbarer Zeit Anlass zur Sorge bietet. Die Nominallöhne steigen derzeit in der Eurozone um rund 2,5% jährlich (und in den USA um über 3%). Diese Steigerungsraten gehören zu den höchsten in diesem Jahrzehnt, das insgesamt durch starkes Beschäftigungswachstum geprägt war.
Nun mögen einige argumentieren, dass das durchschnittliche Lohnwachstum in der Eurozone von 2,5% nicht ausreiche und die expansive geldpolitische Haltung der EZB daher gerechtfertigt sei. Doch die Frage bleibt: Sollte die EZB zusätzliche Konjunkturimpulse vorbereiten, wenn das Risiko einer schädlichen Deflation tatsächlich im Sinken begriffen ist?
Zudem kann die mangelnde Lohnflexibilität nach unten abnehmen, wie das Beispiel Japan zeigt. So stiegen die japanischen Löhne beispielsweise 2018 um 2%; das ist die höchste Steigerungsrate in über 20 Jahren. Doch im Laufe der letzten zwölf Monate haben sie plötzlich zu sinken begonnen, obwohl sich die Lage am Arbeitsmarkt nicht verschlechtert hat. Im Gegenteil: Die Beschäftigung steigt weiter an, und die Arbeitslosigkeit geht nach wie vor zurück.
Dies ist nicht das erste Mal, dass die Löhne in Japan gesunken sind, und frühere Episoden haben keine merklichen Probleme verursacht. Tatsächlich haben einige Ökonomen argumentiert, dass die Abwärtsflexibilität der Löhne nicht entscheidend zu Japans anhaltender Deflation beizutragen scheint.
Die Notenbanker haben es daher heute mit einem Luxusproblem zu tun: Die Preise steigen ein bisschen langsamer als ihnen lieb ist. Obwohl die Inflation unter dem Zielwert liegt, fällt die Arbeitslosigkeit auf immer neue Tiefstwerte, und die Schuldner sind zufrieden. Die Notwendigkeit gelegentlicher Verringerungen der Nominallöhne scheint in Europa und den USA weit entfernt, und in Japan scheint sie keine Probleme zu verursachen.
Angesichts all dieser Faktoren ist schwer einsehbar, warum insbesondere die EZB so ängstlich darauf bedacht ist, neue Möglichkeiten für eine noch lockerere Geldpolitik zu eruieren. Zwar hat sich die Wirtschaftsaktivität in den letzten Quartalen tatsächlich abgeschwächt, und umfragegestützte Indikatoren legen nahe, dass die Weltwirtschaft auf eine Konjunkturabschwächung zusteuert. Doch wie der frühere US-Finanzminister Lawrence H. Summers und Anna Stansbury überzeugend argumentiert haben, wird eine weitere Lockerung der Geldpolitik für sich genommen kaum zur Ankurbelung der Nachfrage und zur Steigerung der Inflation beitragen.
Die EZB sollte ihre Rhetorik über die unmittelbare Gefahr einer Deflation dämpfen und einen stabilen Kurs beibehalten. Ihre übersteigerte Wachsamkeit in Bezug auf fallende Preise ist fehl am Platz, und ihre Fähigkeit zur Steigerung der Inflationsrate zweifelhaft.
Aus dem Englischen von Jan Doolan