La nueva alianza franco-italiana en Europa
STANFORD – El Primer Ministro italiano Mario Draghi y el Presidente francés Emmanuel Macron están en vías de firmar un acuerdo bilateral –el llamado Tratado del Quirinal por el palacio romano donde se forjó- ideado para impulsar la cooperación industrial y estratégica de sus países. Pero este nuevo eje del poder París-Roma puede muy bien alterar la dinámica de liderazgos dentro de la Unión Europea como un todo.
Esta alianza emergente entre Draghi y Macron puede parecer una pareja improbable, ya que muchos franceses miran para abajo a los italianos. Fui testigo de mucho de eso cuando viví en Aix-en-Provence, un lugar donde las culturas francesa e italiana suelen competir y chocar. Pero juzgar severamente a los italianos por las características de su sistema político es mucho más difícil de hacer ahora que el supremamente competente y experimentado Draghi está sirviendo como su Primer Ministro.
A poco menos de diez meses tras asumir el cargo, Draghi ha surgido como uno de los políticos europeos más influyentes y estimados. Justo antes de la cumbre del G20 en Roma el mes pasado, sostuvo una reunión privada con el Presidente estadounidense Joe Biden, un cara a cara que testifica su elevada reputación al otro lado del Atlántico. Según el New York Times, Biden dejó en claro que "Italia y Estados Unidos necesitaban mostrar que sus democracias pueden funcionar con éxito y que el señor Draghi lo está haciendo".
Pero Draghi no solo está mostrando al mundo que Italia puede funcionar como otros países ricos. El primer ministro italiano, convencido pro-europeo, pro-estadounidense y pro-OTAN, también hizo gestos políticos sabios que podrían cambiar el rostro de Europa y la UE. Para comenzar, ha forjado un profundo vínculo con Macron. Trabajando juntos, los dos líderes cuentan con una excelente oportunidad de tener más influencia sobre las políticas de la UE –desde la economía a la defensa- ahora que Angela Merkel está dejando su cargo como Canciller alemana tras 16 años en el poder. El Tratado del Quirinal es un resultado concreto de su cooperación renovada para cerrar la brecha creada por la partida de Merkel.
Si lo logran, el centro de influencia de la UE bajará hacia el sur, y hacia una mayor integración europea. En este respecto, ambos mandatarios están de acuerdo, y también sobre el crucial tema de la defensa europea. Ambos confían en la habilidad de la UE de actuar independientemente como una sola fuerza militar, al tiempo que sigue manteniendo un pleno compromiso con la OTAN.
Biden mismo parece aceptar esta visión. Según el Times, "Biden le dijo a Draghi [durante su encuentro de octubre] que veía una Unión Europea sólida –incluso una con una defensa militar unificada- como un tema de interés para Estados Unidos". Dado el creciente enfoque estadounidense en lo que pueda ocurrir en el área Asia-Pacífico, una capacidad de defensa europea unificada es exactamente lo que EE.UU. necesita.
Subscribe to Project Syndicate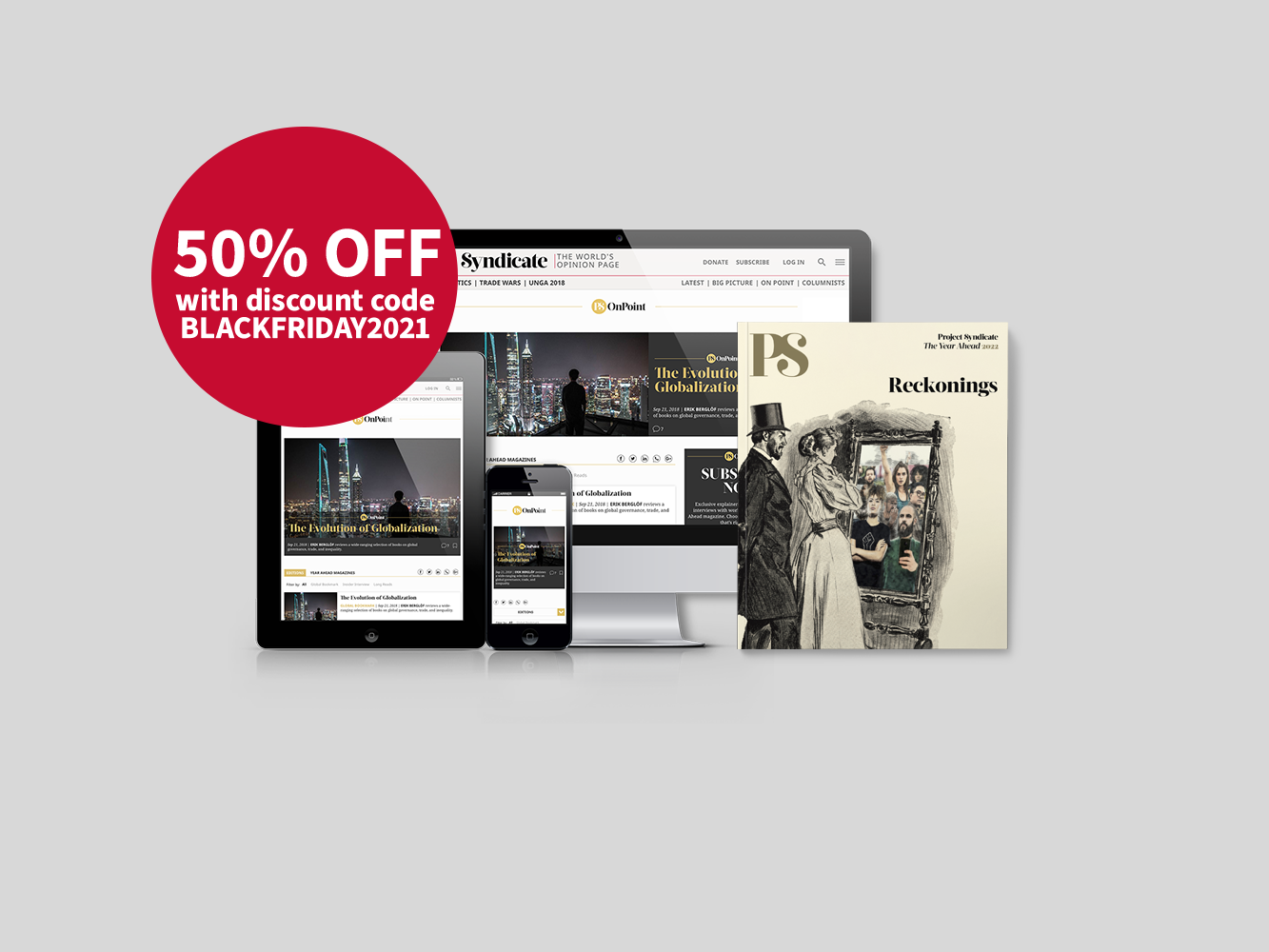 Subscribe to Project Syndicate
Enjoy unlimited access to the ideas and opinions of the world's leading thinkers, including weekly long reads, book reviews, topical collections, and interviews; The Year Ahead annual print magazine; the complete PS archive; and more – for less than $5 a month.
Con una China cada vez más beligerante bajo el Presidente Xi Jinping, una fuerza defensiva europea en común podría llenar las brechas estratégicas creadas por los propios esfuerzos de la OTAN por reorientarse hacia Asia. Es equivocado argumentar que Estados Unidos está dando la espalda a Europa con su énfasis estratégico en Asia. Apoyar una mayor independencia militar para Europa significa liberar recursos de la OTAN para centrarlos en China, que representa para Europa una amenaza militar tan grande como para Estados Unidos.
En cualquier caso, el apoyo tácito de la administración Biden a una fuerza unificada de defensa europea dará a Draghi y Macron un refuerzo adicional para promover la idea. Dada la posibilidad de una intensa oposición de Alemania y algunos países centroeuropeos, el tema está lejos de ser un fait accompli.
El hecho de que el próximo gobierno alemán puede ser mucho más abierto a esta visión que Merkel fortalece el potencial de la alineación Draghi-Macron. En lugar de una "Frau Nein" que se oponía a la mayoría de las iniciativas que apuntaban a profundizar la integración de la UE, es probable que en su sucesor encuentren un "Herr Quizás" más empático. Si bien habrá que convencer a Olaf Scholz del Partido Socialdemócrata (casi con certeza, el próximo Canciller) de los beneficios del cambio, en particular para una mayor integración, no rechazará de inmediato las nuevas ideas, como ha ocurrido en los últimos 16 años con Merkel. Más todavía, Scholz trabajará con socios de coalición mucho más abiertos a la integración (aunque los liberales siguen siendo escépticos de una mayor integración financiera).
Una coalición de gobierno tripartita formada por los Socialdemócratas, los Verdes y loa Demócratas Libres podría beneficiar mucho el proyecto europeo, y no solo con respecto a la política de defensa. Draghi y Macron ya no estarán golpeando una puerta cerrada en asuntos como la unión fiscal y monetaria, los eurobonos, China y Rusia.
Una aceleración significativa de la integración europea bien puede estar entre las posibilidades. Pero algo así tendría que ocurrir pronto, dado el posible regreso de Donald Trump a la Casa Blanca en 2025. Solo pensar en eso daría escalofríos a la mayoría de los europeos, impulsando una integración cada vez más veloz, cualesquiera sean los obstáculos. ¿Quién podría culparlos?
Traducido del inglés por David Meléndez Tormen