Die neue französisch-italienische Allianz in Europa
STANFORD – Italiens Premierminister Mario Draghi und der französische Präsident Emmanuel Macron stehen kurz vor der Unterzeichnung eines bilateralen Abkommens – des nach dem bekannten römischen Palast benannten Quirinalvertrags – im Rahmen dessen die industrielle und strategische Kooperation der beiden Länder vorangetrieben werden soll. Doch diese neue Machtachse zwischen Paris und Rom wird womöglich noch viel mehr bewirken, könnte sie doch die Führungsdynamik innerhalb der gesamten Europäischen Union verändern.
Die sich abzeichnende Allianz zwischen Draghi und Macron erscheint vielleicht eigentümlich, denn mancherorts wird in Frankreich auf die Italiener hinabgesehen. Persönlich habe ich in dieser Hinsicht einiges in meiner Zeit in Aix-en-Provence erlebt, einem Ort, wo sich die französische und die italienische Kultur oftmals rivalisierend gegenüberstehen und in Konflikt geraten. Doch nun, da der überaus kompetente und erfahrende Draghi das Sagen hat, fällt es viel schwerer, die Italiener für ihre Politik scharf zu kritisieren.
Nur zehn Monate nach seinem Amtsantritt hat sich Draghi zu einem der angesehensten und einflussreichsten Politiker Europas gemausert. Unmittelbar vor dem G20-Gipfel in Rom im vergangenen Monat traf er sich privat mit US-Präsident Joe Biden - ein Stelldichein, das von Draghis hohem Ansehen im transatlantischen Bündnis zeugt. Der New York Times zufolge machte Biden deutlich, dass "Italien und die Vereinigten Staaten zeigen müssen, dass Demokratien erfolgreich funktionieren können und dass Draghi genau das vor Augen führt."
Draghi zeigt der Welt jedoch nicht nur, dass Italien wie andere reiche, moderne Länder funktionieren kann. Der entschieden proeuropäische und proamerikanische Premierminister und Nato-Verfechter hat auch kluge politische Schritte unternommen, die das Gesicht Europas und der EU verändern könnten. Zunächst einmal hat er eine enge Beziehung zu Macron aufgebaut. Die Zusammenarbeit der beiden Spitzenpolitiker bietet eine hervorragende Gelegenheit, mehr Einfluss auf die EU-Politik - von der Wirtschaft bis zur Verteidigung - auszuüben, nun da Angela Merkel nach 16-jähriger Amtszeit als Kanzlerin abtritt. Der Quirinalsvertrag ist das konkrete Ergebnis dieser neuen Zusammenarbeit, mit der man die durch Merkels Abgang entstandene Lücke füllen will.
Ist dieses Vorhaben von Erfolg gekrönt, wird sich das Einflusszentrum der EU südwärts verlagern – und in Richtung einer stärkeren europäischen Integration. In diesem Bereich sind sich Draghi und Macron einig, auch im Hinblick auf die kritische Frage der europäischen Verteidigung.  Beide geben sich zuversichtlich, dass die EU in der Lage ist, als militärische Kraft unabhängig zu agieren und gleichzeitig ihr volles Engagement für die Nato aufrechtzuerhalten.
Biden selbst scheint diese Ansicht zu teilen. Der Times zufolge "teilte Biden Draghi [während ihres Treffens im Oktober] mit, dass er eine starke Europäische Union - auch mit gemeinsamer militärischer Verteidigung - als im Interesse der Vereinigten Staaten liegend betrachte". Angesichts des zunehmenden Schwerpunktes der USA auf den asiatisch-pazifischen Raum ist eine gemeinsame europäische Verteidigungskapazität genau das, was die USA brauchen.
Subscribe to Project Syndicate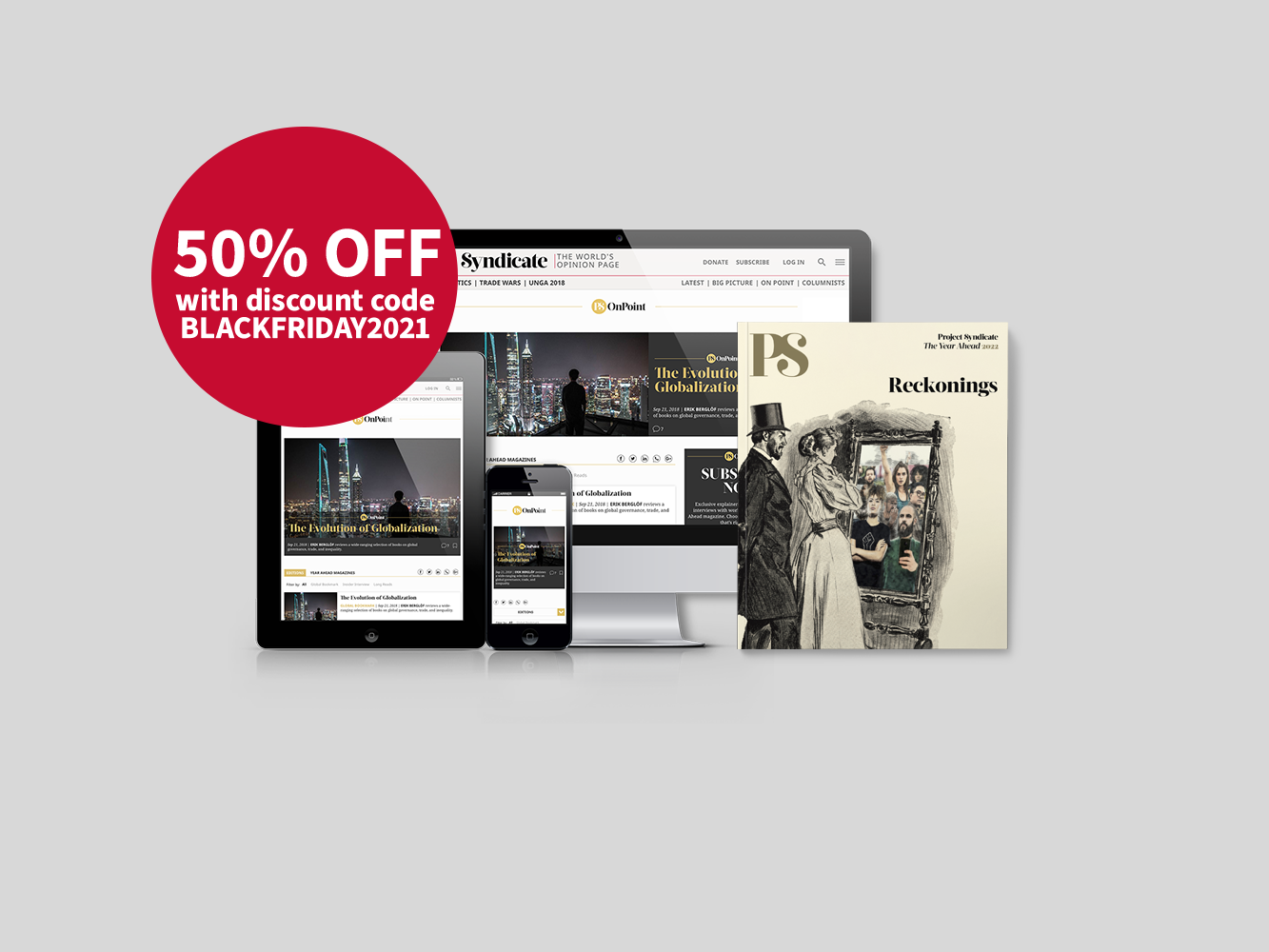 Subscribe to Project Syndicate
Enjoy unlimited access to the ideas and opinions of the world's leading thinkers, including weekly long reads, book reviews, topical collections, and interviews; The Year Ahead annual print magazine; the complete PS archive; and more – for less than $5 a month.
Da sich China unter Präsident Xi Jinping immer kämpferischer gibt, könnte eine europäische Verteidigungsstreitmacht jene strategischen Lücken füllen, die durch die Bemühungen der Nato um eine Neuausrichtung nach Asien entstanden sind. Die Behauptung, Amerika kehre mit seiner Hinwendung nach Asien Europa den Rücken, ist falsch. Die Unterstützung einer stärkeren militärischen Unabhängigkeit Europas bedeutet, dass sich die Nato auf China konzentrieren kann, das für Europa eine ebenso große militärische Bedrohung darstellt wie für die USA.
In jedem Fall wird die stillschweigende Unterstützung einer gemeinsamen europäischen Verteidigung durch die Biden-Administration Draghi und Macron zusätzlichen Auftrieb verleihen, wenn es darum geht, die Idee voranzutreiben. In Anbetracht des möglichen starken Widerstands aus Deutschland und einigen mitteleuropäischen Ländern ist das wohl noch keine beschlossene Sache.
Verstärkt wird das Potenzial der gemeinsamen Ausrichtung von Draghi und Macron noch durch den Umstand, dass die neue deutsche Regierung den Sichtweisen des Duos möglicherweise weit mehr Sympathien entgegenbringen wird als es Merkel jemals tat. Statt "Frau Nein", die den meisten Initiativen zur Vertiefung der EU-Integration ablehnend gegenübersteht, werden sie in ihrem Nachfolger wohl einen freundlichen "Herrn Vielleicht" vorfinden. Obwohl der Sozialdemokrat (und designierte Bundeskanzler) Olaf Scholz von den Vorteilen des Wandels, insbesondere einer tieferen Integration, erst noch überzeugt werden muss, wird er neue Ideen nicht sofort ablehnen, wie es in den letzten 16 Jahren unter Merkel meist der Fall war.  Außerdem wird Scholz mit Koalitionspartnern zusammenarbeiten, die der Integration wesentlich offener gegenüberstehen (auch wenn die Freien Demokraten einer stärkeren Integration im Finanzbereich weiterhin skeptisch gegenüberstehen).
Eine deutsche Dreiparteienkoalition bestehend aus Sozialdemokraten, Grünen und Freien Demokraten könnte sich für das europäische Projekt - nicht nur in der Verteidigungspolitik – als Segen erweisen. In Fragen von der Fiskal- und Währungsunion über Eurobonds und China bis Russland, werden Draghi und Macron nicht länger gegen verschlossene Türen rennen.
Eine deutliche Beschleunigung der europäischen Integration könnte also durchaus bevorstehen. Angesichts der möglichen Rückkehr von Donald Trump ins Weiße Haus im Jahr 2025 kann eine derartige Entwicklung gar nicht früh genug kommen. Allein der Gedanke an diese Aussicht sollte die meisten Europäer in Angst und Schrecken versetzen und sie – ungeachtet aller Hindernisse - zu beschleunigter Integration drängen. Wer könnte es ihnen verdenken?
Aus dem Englischen von Helga Klinger-Groier