Draghi e il potere a tre
STANDFORD – Nel suo primo discorso come Primo Ministro italiano, Mario Draghi ha evidenziato che il suo governo di unità nazionale non si concentrerà solo sulla politica interna e le riforme italiane, ma anche sull'Europa. Draghi ha evidenziato niente di meno che una riconfigurazione significativa del modo di fare politica in Europa con conseguenze importanti per le relazioni  tra l'Europa e l'Unione europea con la Russia e gli Stati Uniti.
Come Primo Ministro, Draghi sarà un membro influente del Consiglio europeo e di fatto uno dei principali leader insieme ai suoi omologhi francese e tedesco Emmanuel Macron e Angela Merkel. Come disse Jorg Asmussen, membro del Consiglio d'Amministrazione della Banca Centrale Europea, quando Draghi divenne Presidente della BCE poco prima del suo insediamento: "la politica europea potrebbe spostarsi verso un modello triangolare."
Asmussen aveva ragione. Nel suo discorso inaugurale ai legislatori italiani, Draghi ha sottolineato che l'Italia "deve strutturare meglio e rafforzare le relazioni strategiche ed essenziali con Francia e Germania." Chiaramente, la riconfigurazione della politica europea sarà una priorità assoluta per il suo governo. "Senza Italia, non c'è Europa", ha infatti detto Draghi.
E non c'è Europa senza un'integrazione più profonda dell'UE. Prendendo di mira non solo gli italiani populisti contro l'euro, come Matteo Salvini, Draghi ha detto: "chi sostiene questo governo condivide l'irreversibilità della scelta dell'euro," e ha poi aggiunto "e condivide la prospettiva di un'Unione europea sempre più integrata fino a un budget pubblico comune in grado di sostenere i paesi in tempi di recessione."
L'ascesa di Draghi al palcoscenico europeo insieme a Macron e Merkel implica anche delle relazioni più strette tra l'UE e gli Stati Uniti. Il Presidente statunitense Joe Biden non poteva trovare migliore alleato in Europa. Il nuovo governo, ha promesso Draghi, sarà "fortemente a favore dell'Europa e dell'Atlantico, in linea con lo storico allineamento italiano." Ciò segna uno stacco dalla politica estera di Giuseppe Conte, l'ex Primo Ministro, che aveva avvicinato l'Italia alla Cina. Draghi sta dando all'alleanza atlantica la possibilità di rigenerarsi dopo quattro anni di sconsideratezza strategica di Donald Trump.
Sulla NATO, Biden e Draghi hanno la stessa linea. Entrambi sotengono la presenza delle truppe statunitensi in Europa ed entrambi vogliono un maggior contributo finanziario da parte della Germania al budget della difesa comune. Un punto ancor più importante è che i due vedono gli Stati Uniti come ultimo protettore dell'indipendenza dell'Europa.
Subscribe to Project Syndicate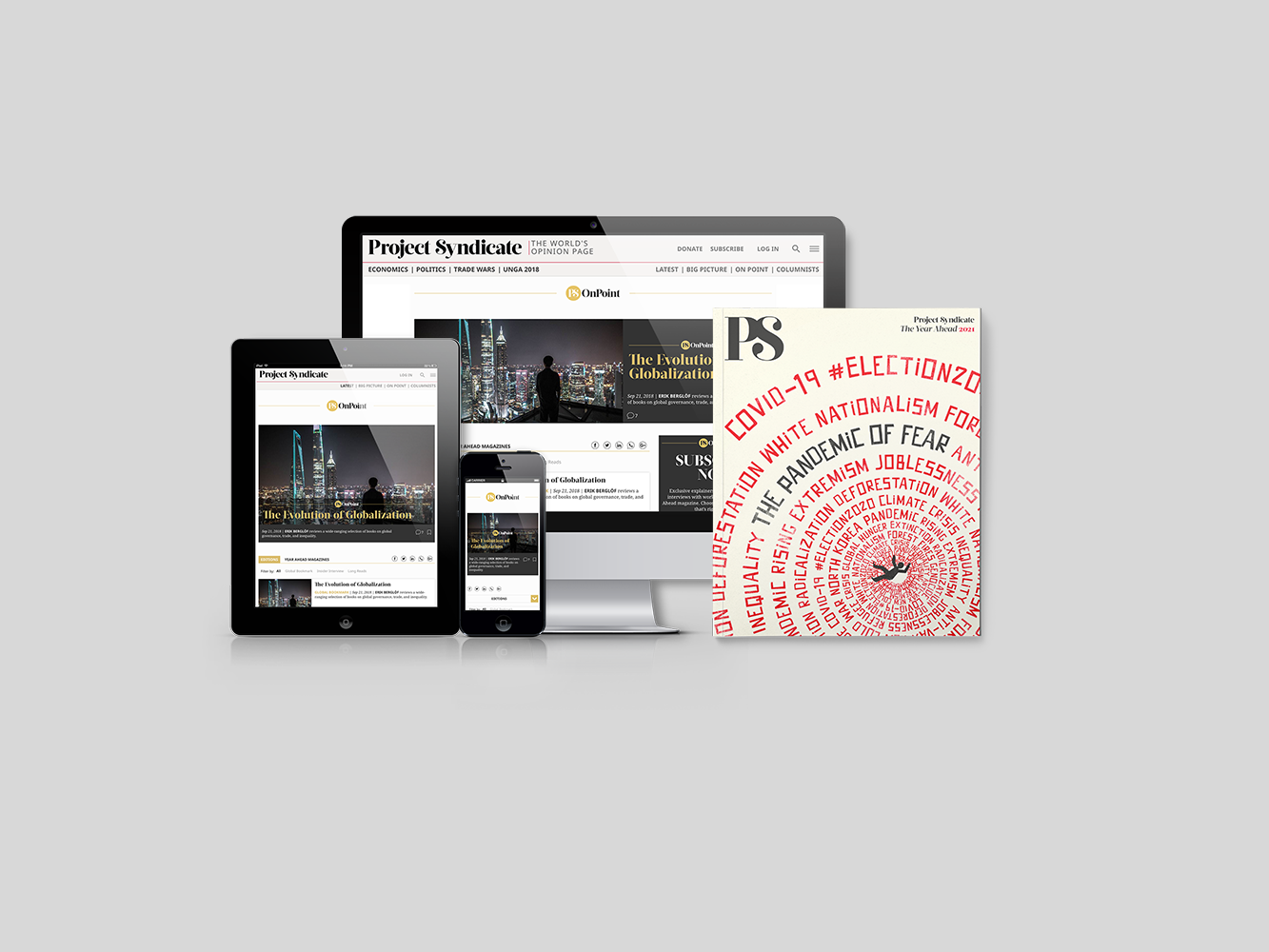 Subscribe to Project Syndicate
Enjoy unlimited access to the ideas and opinions of the world's leading thinkers, including weekly long reads, book reviews, and interviews; The Year Ahead annual print magazine; the complete PS archive; and more – All for less than $9 a month.
L'atlantismo di Draghi e i sentimenti pro-americani sono troppo profondi affinché lui possa sostenere la spinta attuale, sostenuta da Macron e da gran parte dell'élite, per una maggiore "autonomia strategica" dell'UE. Ma avendo la stessa visione di Macron su diverse altre questioni, Draghi potrebbe ammorbidire la sua linea rispetto a quest'argomento spinoso.
La posizione di Draghi sulla sicurezza europea è tuttavia solida, quindi, per l'immediato futuro, non ci sarà un rimpiazzo delle truppe statunitensi in Europa. Con la scomparsa dell'influenza di Trump negli Stati Uniti, svanirà anche l'ansia europea rispetto all'affidabilità della garanzia di sicurezza dell'America, il che potrebbe smorzare persino la sensazione che sia necessaria una maggiore "autonomia strategica".
Il forte sentimento di atlantismo di Draghi dovrebbe rafforzare il sostegno all'allineamento atlantico da parte di tutto il Consiglio europeo, agendo quindi da contrappeso alla forza moderatrice della Merkel che tende a volte a lasciare che gli interessi commerciali della Germania prevalgano sui legami transatlantici e sulla sicurezza europea. Maggiore sarà l'influenza di Draghi nel triangolo del potere europeo (e il suo passato incarico alla BCE sembra dargli un peso considerevole con la Merkel), più dura sarà l'UE con il Presidente russo Vladimir Putin e con gli autocrati di casa propria come l'Ungheria di Viktor Orbán e la Polonia di Jarosław Kaczyński.
Dopotutto, la posizione di Draghi non si regge solamente sulla sua reputazione nei mercati finanziari, dove è visto come la persona in grado di abbassare i costi di indebitamento e risollevare le azioni in Borsa dell'Italia. E' uno studente di storia, con forti valori democratici e un senso strategico di cui l'Europa ha un forte bisogno per gestire in modo efficace le relazioni con Putin e le sue anime gemelle a livello ideologico dell'Europa centrale.
L'atlantismo di Draghi non è evidentemente in conflitto con le prospettive di un'Europa più unita. Quando era Presidente della BCE, Draghi non ha infatti salvato l'euro solo per preservare l'adesione dell'Italia alla moneta unica, come sostengono i suoi denigratori dei paesi del nord, ma l'ha fatto per salvare lo stesso progetto europeo. Allo stesso modo, non ha introdotto l'alleggerimento quantitativo semplicemente per salvare le obbligazioni italiane, ma l'ha fatto per rafforzare l'integrazione tra nord e sud.
Ora sta sostenendo il Recovery fund non solo per aiutare l'Italia e altri paesi del sud a superare le conseguenze economiche della pandemia, ma anche per rendere permanente il più audace sforzo congiunto fatto finora volto a integrare il nord e il sud europeo. Il prossimo passo di questo procedimento potrebbe essere l'introduzione di un vero Eurobond e il sostegno di Draghi a un simile strumento di debito congiunto potrebbe rivelarsi decisivo.
Draghi ha la possibilità di rimanere in carica come Primo Ministro fino al 2023, ovvero fino alle prossime elezioni. Ma potrebbe decidere di non andare oltre maggio 2022 se l'attuale presidente del Consiglio europeo, Charles Michel, non dovesse riuscire a guadagnarsi un secondo mandato. Vista la focalizzazione di Draghi sul futuro dell'Europa, l'opportunità di ottenere quella posizione potrebbe essere difficile da ignorare. La saggezza tradizionale secondo cui Draghi punta a rimanere alla presidenza italiana è esagerata in quanto non c'è alcun potere in quel ruolo.
Anche se l'economia italiana potrebbe rivelarsi come il tallone di Achille di Draghi se costretto a impiegare tutto il tempo e il capitale politico a lottare per le riforme necessarie, alla fin fine le sue sfide interne ed europee rimangono comunque interconnesse. Solo il fatto di avere più di 200 miliardi di euro (pari a 243 miliardi di dollari) di fondi del Recovery fund da stanziare a diverse fazioni sul fronte interno, potrebbe mitigare il rischio che l'economia italiana diventi la sua rovina.
Traduzione di Marzia Pecorari