Wie der Dollar als Waffe nach hinten losgehen könnte
CAMBRIDGE – Die Sprache der internationalen Geldpolitik ist militärisch geworden: Der Ausdruck "Währungskrieg" ist bereits seit einem Jahrzehnt populär, und dass die US-Regierung den Dollar später als "Waffe" bezeichnete, sorgte für Kontroversen. Aber ironischerweise könnte ein derart martialischer Ansatz letztlich die globale Dominanz der US-Währung bedrohen.
Dies ist eine gute Gelegenheit, um die relative Stärke des Dollar und seiner internationalen Konkurrenzwährungen einzuschätzen (also des Dollar im Vergleich zu Währungen, die ebenfalls außerhalb ihres Heimatlandes verwendet werden). Im September veröffentlichte die Bank für Internationalen Zahlungsausgleich ihre alle drei Jahre stattfindende Umfrage zu den Umsätzen auf den globalen Währungsmärkten. Die Statistiken des Internationalen Währungsfonds über die Zentralbankbestände ausländischer Währungsreserven sind viel verlässlicher, seit auch China seine Bestände mitteilt. Und das SWIFT-Zahlungssystem veröffentlicht monatliche Daten zur Verwendung großer Währungen bei internationalen Transaktionen.
Grundsätzlich gilt, dass der US-Dollar immer noch mit weitem Abstand an der Spitze liegt – gefolgt von Euro, Yen und Pfund Sterling. Etwa 47% der weltweiten Zahlungen finden momentan in Dollar statt, verglichen mit 31%, die in Euro beglichen werden. Darüber hinaus beziehen 88% der Währungsgeschäfte den Dollar mit ein – fast dreimal so viel wie den Euro (32%). Und die Zentralbanken halten 62% ihrer Reserven in Dollar, verglichen mit nur 20% in Euro. Außerdem dominiert der Dollar auch bei anderen Kennzahlen für die Verwendung von Währungen in Handel und Finanzwesen.
Was China betrifft, liegt der Renminbi bei den Umsätzen auf den Währungsmärkten immer noch an achter Stelle. Aber bei den SWIFT-Zahlungen ist er im August auf den fünften Platz gestiegen, und steht, nachdem er den kanadischen und australischen Dollar überholt hat, auch bei den Fremdwährungsreserven der Zentralbanken an fünfter Stelle.
Prognosen, dass der Renminbi den Dollar bis 2020 vom ersten Platz verdrängen könnte, werden sich wohl nicht bestätigen. Sicherlich erfüllt die chinesische Währung zwei der drei notwendigen Bedingungen für eine führende internationale Währung, nämlich wirtschaftliche Größe und Wertstabilität. Aber die dritte erfüllt sie noch nicht: tiefe, offene und liquide Finanzmärkte.
Obwohl der Anteil des Dollar an den Fremdwährungsreserven und am Währungshandel insbesondere seit der Jahrhundertwende abnimmt, erfolgte der Rückgang langsam und schrittweise. Darüber hinaus ist der Anteil des Euro an den Reserven (seit 2007) stärker gefallen als der des Dollar. Trotz jahrelanger US-Haushalts- und Leistungsbilanzdefizite und der steigenden Verschuldungsquote gemessen am landesweiten BIP bleibt der Dollar die globale Währung Nummer eins – vermutlich deshalb, weil es keine gute Alternative gibt.
Subscribe now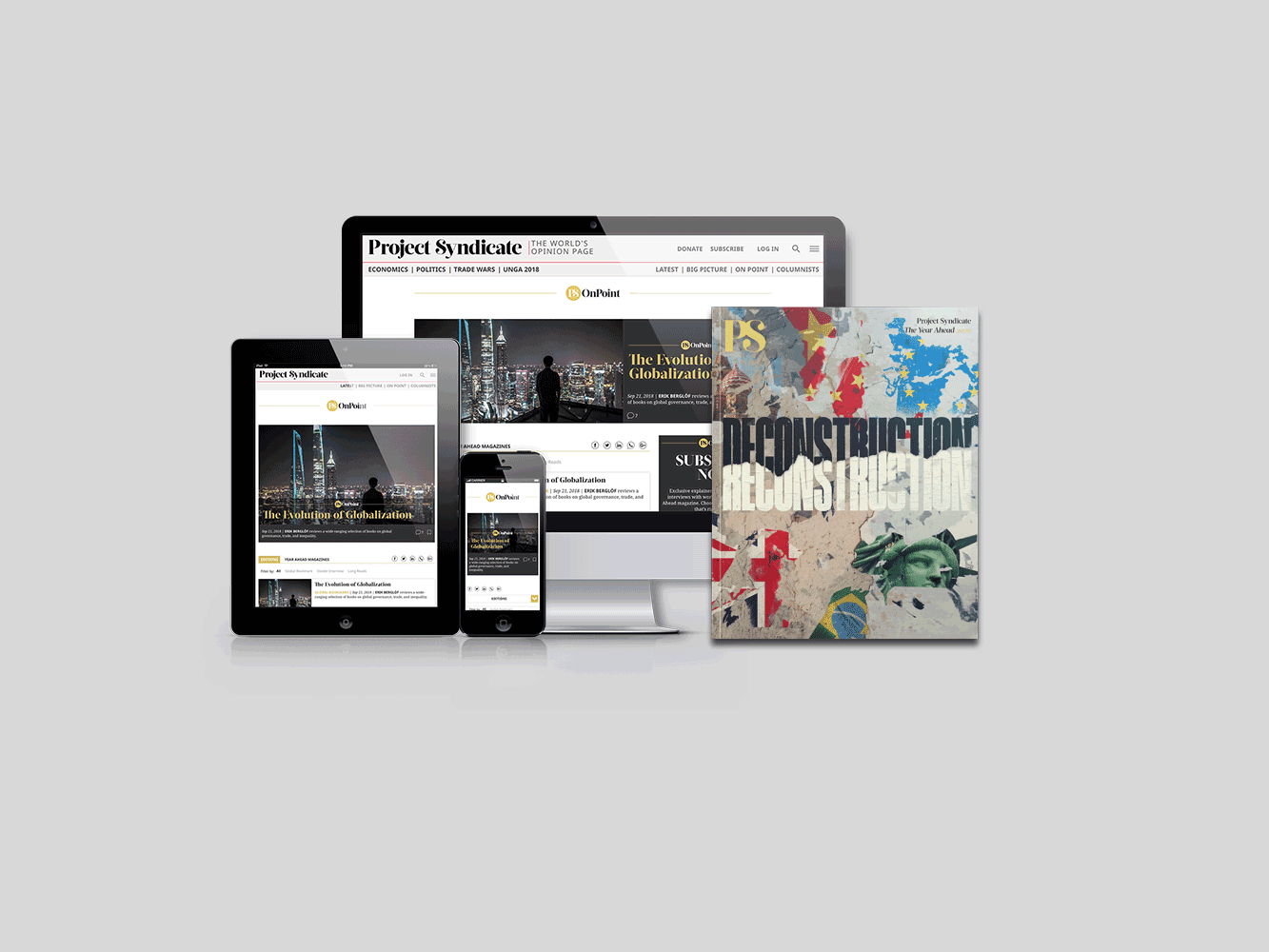 Subscribe now
Subscribe today and get unlimited access to OnPoint, the Big Picture, the PS archive of more than 14,000 commentaries, and our annual magazine, for less than $2 a week.
Die Wechselkurspolitik wird unterdessen auf immer extremere Weise beschrieben: Wollten wir die drei beliebten militaristischen Begriffe ernst nehmen, könnten wir behaupten, ein Land mit ausreichender Finanzkraft mache seine Währung erst zur Waffe und starte dann einen spekulativen Angriff gegen diejenige eines Rivalen. Und löst dies dann einen Vergeltungsschlag aus, ist ein Währungskrieg ausgebrochen.
Dies wäre aber Unsinn, weil die drei militaristischen Begriffe im Währungszusammenhang nicht miteinander vereinbar sind. Um den Grund dafür zu sehen, betrachten wir sie rückwärts: erst den Währungskrieg, dann die Angriffe und zum Schluss die Verwendung als Waffe.
Als brasilianische Minister die Phrase "Währungskrieg" in den Jahren 2010-2011 erstmals verbreiteten, beschuldigten sie die USA und andere Länder, einen Abwertungswettlauf anzustreben. Die Finanzminister und Zentralbankgouverneure der G7 versprachen daraufhin im Jahr 2013, die Wechselkurse nicht ins Visier zu nehmen, was so verstanden wurde, dass Politiker weder "ihre eigenen Währungen schlechtreden" noch geldpolitische Stimuli dazu verwenden dürfen, um ihre Währung absichtlich oder explizit abzuwerten.
Das einzige große Land, das dieses Abkommen von 2013 verletzt hat, ist nicht China, sondern die USA. Präsident Donald Trump führte wiederholt "verbale Interventionen" durch, um den Dollar nach unten zu reden. Schlimmer noch ist, dass er die US-Federal-Reserve massiv unter Druck gesetzt hat, die Zinsen zu senken – mit der eindeutigen Absicht, den Dollar abzuwerten.
Im Gegensatz dazu bringen Spezialisten für internationale Beziehungen die Ausübung geopolitischer Macht üblicherweise mit einer starken Währung in Verbindung. Daher betonen manche die Gefahr, China könne Amerika "angreifen", indem es seine enormen Bestände an US-Anleihen auf dem Markt wirft, um den Dollar zu schwächen und die Kreditkosten der US-Regierung zu erhöhen. Dies würde zu einer Aufwertung des Renminbi führen und damit das Gegenteil eines Abwertungswettlaufs darstellen.
Allgemeiner betrachtet: Erlaubt sich ein Land chronische Haushalts- und Handelsbilanzdefizite, untergräbt es seine politische Macht – so wie das Vereinigte Königreich im Laufe des zwanzigsten Jahrhunderts. Dieses "exorbitante Privileg" der Briten haben die USA geerbt: Sie können ihre Defizite leicht finanzieren, da die anderen Länder Reserven der weltweit führenden internationalen Währung halten müssen.
Und schließlich bezieht sich die Verwendung des Dollar "als Waffe" allgemein darauf, dass die US-Regierung die weltweite Dominanz ihrer Währung ausnutzt, um die extraterritoriale Reichweite der Gesetze und der Politik der USA zu erhöhen. Das beste Beispiel dafür sind die wirtschaftlichen Sanktionen der Trump-Regierung gegen den Iran, mit denen sie das Land vom internationalen Bankensystem und insbesondere dem SWIFT-System ausschließen will.
Bereits bevor sich der Iran bereit erklärte, im Rahmen des Nuklearabkommens von 2015 sein Atomwaffenprogramm zu stoppen, hatten sich die Europäer gelegentlich über die grenzüberschreitende Einmischung der USA beschwert – mit dem Verdacht, die USA könnten mit hohen Strafen gegen europäische Banken schneller bei der Hand sein als mit solchen gegen amerikanische Institute, die die Sanktionen brechen. Aber da Trump ein Abkommen aufkündigte, dass der Iran nicht verletzt hatte, stellt die Durchsetzung der US-Sanktionen über SWIFT einen massiven Missbrauch des "exorbitanten Privilegs" dar. Vermutlich kann dies im Namen des weltweiten Allgemeinwohls nicht mehr gerechtfertigt werden.
Angesichts der US-Sanktionen löste sich Russland im Jahr 2018 von seinen Dollarreserven und verkauft sein Öl jetzt für andere Währungen. Auch Europa und China könnten mit Erfolg alternative Zahlungsmethoden entwickeln, die es dem Iran ermöglichen würden, einen Teil seines Öls zu verkaufen. Dies wiederum könnte die Rolle des Dollar langfristig untergraben.
Allgemeiner betrachtet bewegt sich die US-Außenpolitik unter Trump weiterhin weg von den amerikanischen Nachkriegszielen. Auch wenn dies nach ferner Zukunft klingen mag: Sollten die USA ihre Führungsrolle bei der globalen multilateralen Ordnung leichtfertig aufgeben, könnte auch der Dollar irgendwann seine traditionelle Vorherrschaft verlieren.
Aus dem Englischen von Harald Eckhoff