Le blues de l'impeachment
WASHINGTON, DC – La procédure de destitution contre le président américain Donald Trump a ceci de particulièrement désolant qu'elle n'est pas à la hauteur des chefs d'accusation dans cette affaire. Certains Démocrates de la Chambre des représentants, en premier lieu desquels l'élu de Californie Adam Schiff, président de la Commission du renseignement de la Chambre, semblent pour leur part saisir tout le sérieux de la question qui leur est soumise. En revanche, la plupart des Républicains – encouragés par un Donald Trump qui leur reproche souvent de ne pas œuvrer suffisamment en sa faveur – sont en mission de recherche et de destruction. La speaker de la Chambre Nancy Pelosi, longtemps réticente à enclencher l'impeachment, a perdu le contrôle des membres et sympathisants de son parti sur cette question au cours de l'été, et se retrouve plongée dans ce qu'elle craignait : une lutte partisane acharnée.
Au risque d'établir un malheureux précédent en laissant impunis les nombreux autres abus de pouvoir de Trump, Pelosi a restreint l'enquête de destitution aux activités présidentielles pour lesquelles des preuves concrètes existent, dont elle et ses alliés démocrates estiment qu'elles seront facilement compréhensibles pour l'opinion publique américaine. Cela signifie que Trump et ses défenseurs auront moins de cibles à abattre.
Ainsi, l'enquête se concentre sur le fait que Trump ait suspendu le versement d'une aide militaire approuvée par le Congrès de 391 millions $ à l'Ukraine, ainsi que la perspective d'une rencontre à la Maison-Blanche vivement souhaitée par le nouveau président du pays, Volodymyr Zelensky, pendant que Trump et ses collaborateurs faisaient pression pour obtenir des faveurs politiques susceptibles de leur être utiles dans le cadre de l'élection américaine de 2020. Les dirigeants américains ont en particulier demandé à l'Ukraine d'enquêter sur le fils de l'ancien vice-président Joe Biden, Hunter, qui avait maladroitement accepté un siège très rémunérateur au conseil d'administration d'une compagnie gazière ukrainienne, à l'époque à laquelle son père était en charge de la politique américaine en Ukraine. (Tous deux ont nié avoir commis le moindre acte répréhensible, ce que confirment les examens effectués à ce jour).
Bien que les Démocrates éprouvent des sentiments très hostiles à l'égard de Trump, ils se sont dernièrement efforcés d'employer un ton solennel. Lorsque Pelosi a par exemple annoncé l'ouverture de l'enquête de destitution au mois de septembre, elle a délégué la conduite des événements au très stable et très tenace Adam Schiff, plutôt que de confier l'affaire à la Commission judiciaire de la Chambre, plus ouvertement partisane, et dirigée par un président moins solide (Jerrold Nadler, élu de l'État de New York).
Aussi difficile à croire que cela puisse paraître, la période écoulée depuis septembre s'est révélée relativement calme, au cours de laquelle la Commission du renseignement a réuni des témoignages à huis clos. Les choses vont bientôt changer, avec le début des audiences publiques de destitution cette semaine. Pour veiller à ce que leur camp se montre suffisamment coriace face aux témoins, les responsables républicains ont ajouté le tumultueux représentant Jim Jordan, élu de l'Ohio, à la liste de leurs intervenants devant la Commission du renseignement.
Les audiences à huis clos – qui n'ont rien d'inhabituel dans le cadre de telles enquêtes, sachant par ailleurs qu'à la différence des affaires liées aux présidents Richard Nixon et Bill Clinton, aucun procureur spécial n'intervient désormais – ont mis en évidence de solides arguments contre Trump. Le format des audiences, plus productif, l'explique en partie : les membres de la Commission n'ont rien à gagner à se mettre en avant ou à perturber la tenue des débats lorsque les caméras sont absentes. Mais le constat le plus important – sans précédent à l'époque moderne – a résidé dans la volonté courageuse d'un certain nombre d'employés de l'administration relativement haut placés et non partisans, qui ont pour la plupart fait carrière dans la diplomatie, de désobéir aux ordres d'une Maison-Blanche qui leur avait demandé de ne pas témoigner. Ils ont risqué leur carrière en se présentant devant la Commission. Certains ont démissionné pour pouvoir le faire.
Subscribe now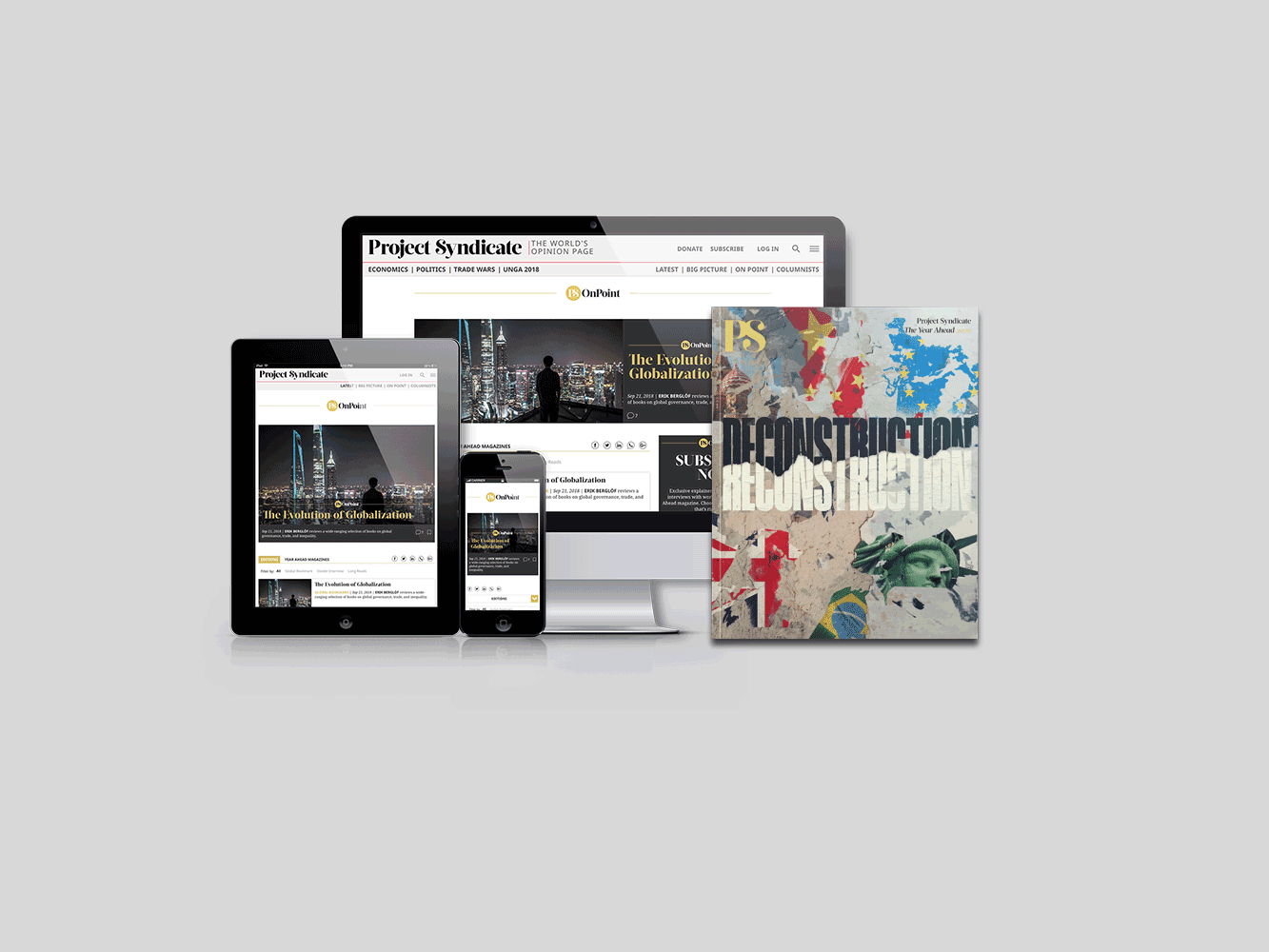 Subscribe now
Subscribe today and get unlimited access to OnPoint, the Big Picture, the PS archive of more than 14,000 commentaries, and our annual magazine, for less than $2 a week.
Trump, qui ne comprend quasiment rien à l'exercice du pouvoir, a commis une grave erreur en s'attaquant à des responsables publics de carrière depuis le début de sa présidence. Il a sous-estimé – ou tout simplement échoué à saisir – l'honneur de ceux qui auraient pu gagner beaucoup plus d'argent dans le secteur privé, mais qui avaient foi en la mission de serviteur de l'État. Le président a par ailleurs aggravé sa propre situation, et celle du gouvernement, en formant un groupe fantôme – conduit par l'étrangement incontrôlable Rudy Giuliani, autrefois maire de New York admiré, et désormais agitateur indépendant en qualité d'avocat personnel de Trump – chargé de faire primer la politique du président américain en Ukraine sur celle des « bureaucrates ».
Sans bornes, les opérations non officielles de ce type – qu'il s'agisse des « plombiers de la Maison-Blanche » sous Nixon, ou du scandale de l'Irangate sous l'administration de Ronald Reagan – connaissent généralement une issue malheureuse. J'ai moi-même couvert le sujet de la destitution de Nixon, et bien que Trump soit possiblement coupable d'actes beaucoup plus graves, un point commun frappant se dégage : tous deux se sont retrouvés plongés dans les plus grandes difficultés en raison de leur incapacité à reconnaître les limites d'une quête de revanche contre leurs opposants politiques.
Au mois de mai, le licenciement soudain de Marie Yovanovitch, diplomate de longue date et ambassadrice des États-Unis en Ukraine, hautement respectée, qui avait tenté de faire obstacle aux ingérences politiques de Giuliani (et à qui l'on a demandé sans aucune explication de prendre le prochain avion), a profondément contrarié les membres déjà démoralisés du département d'État. Le secrétaire d'État Mike Pompeo, que des ambitions politiques peu dissimulées conduisent à rester proche de Trump, a tout simplement refusé de protéger Marie Yovanovitch.
Les Républicains du Congrès ont pu constater dans la retranscription du fameux appel téléphonique de Trump à Zelensky, le 25 juillet, que le président américain avait bel et bien fait pression sur son homologue ukrainien pour que celui-ci prenne des mesures politiquement favorables à Trump. Beaucoup savent également que la suspension d'une aide approuvée par la Congrès pour l'Ukraine constitue un abus de pouvoir, un acte susceptible de justifier une destitution. Malgré tout, désespérés dans leur volonté de protéger le président, les Républicains se précipitent sur le moindre argument bancal de défense.
Dans leur tentative de diversion, ils s'efforcent de calomnier voire d'exposer le lanceur d'alerte dont le rapport à déclenché l'enquête de destitution. Trump s'est ainsi récemment exclamé devant les journalistes réunis sur le perron de la Maison-Blanche que les accusations du lanceur d'alerte étaient toutes « mensongères », alors même qu'elles ont été largement confirmées par les dépositions de témoins devant les différentes commissions. La révélation du nom du lanceur d'alerte – objectif de Donald Trump, Jr et de plusieurs autres – pourrait constituer un délit fédéral (sauf si elle est décidée par le président), et mettre en danger la vie de cette personne.
Bien que plusieurs fissures apparaissent sur le front républicain, Trump semble pour l'heure conserver un emprise sur le parti. Il insiste sur l'idée que les Républicains auraient sans lui perdu l'élection présidentielle de 2016, et qu'ils lui doivent par conséquent allégeance. Pour paraître magnanime, Trump propose son aide aux sénateurs républicains – notamment au chef de la majorité Mitch McConnell – qui visent la réélection en 2020 (la perte de quatre siège républicains conduirait à une prise de contrôle démocrate). Plusieurs grands événements de levée de fonds sont par ailleurs bien entendu à venir au Trump International Hotel de Washington, DC.
Un expert du domaine de l'éthique affirme que le versement de contributions par Trump aux sénateurs avant l'impeachment serait constitutif de « corruption » (un autre délit susceptible de justifier une destitution).
Trump se fie de plus en plus à son propre instinct, et très rares sont désormais les collaborateurs susceptibles de contredire ses idées. Dans le même temps, il se montre de plus en plus agité face à la perspective probable de son impeachment devant la Chambre. Résultat, le président est encore plus impulsif dans sa conduite de la politique étrangère, s'agissant notamment du désastre en Syrie.
Presque tous les présidents américains ont honoré leur devoir constitutionnel consistant à « veiller à ce que les lois soient fidèlement exécutées ». Ce n'est pas le cas de Trump, qu'une conception de « L'État, c'est moi » conduit à considérer la fonction présidentielle très différemment. C'est ainsi qu'il se retrouve aujourd'hui confronté à la période la plus difficile de sa présidence.
Traduit de l'anglais par Martin Morel