Perturber le changement climatique grâce à l'innovation
LISBONNE – Parce qu'il menace la survie même de l'humanité, le changement climatique est l'exemple même d'une perturbation – d'une « disruption » – négative. Mais il peut – et doit – être combattu par des perturbations positives, c'est-à-dire par l'innovation. Depuis la révolution industrielle, l'innovation disruptive a engendré de la croissance, créé des emplois, et ouvert de nouveaux débouchés aux investissements. Et pour ce qui concerne le changement climatique, elle pourrait sauver l'humanité, en donnant une impulsion nouvelle aux efforts engagés dans le monde pour réduire l'émission des gaz à effet de serre (GES). En réalité, l'innovation sera indispensable à la réussite de la transition vers une économie verte qui puisse ne laisser personne sur le bord de la route. Sans innovation, nos chances de parvenir à un authentique développement durable s'amoindriraient.
Qu'il en soit autrement n'est, bien sûr, pas pensable. Pour comprendre la portée de la menace posée à nos sociétés par le changement climatique dans l'éventualité où nous ne ferions rien, il suffit de regarder où nous en sommes aujourd'hui. Les températures moyennes mondiales ont déjà augmenté de près d'1° C au-dessus des niveaux préindustriels, en raison de l'accumulation de GES dans l'atmosphère ; et cette élévation de la température est survenue, pour les deux tiers, avant 1975. Si la tendance se confirmait, la hausse des températures moyennes mondiales pourrait atteindre 4° C d'ici la fin du siècle.
Si cela semble encore peu, n'oublions pas que notre climat est fragile. De légères évolutions des températures de surface peuvent causer de gros problèmes. Lorsque les températures moyennes étaient de 4° C inférieures aux niveaux préindustriels, la plus grande part de l'Europe était recouverte d'une couche de plusieurs kilomètres de glace. Imaginez seulement à quoi ressemblerait un monde plus chaud de 3° C que celui d'aujourd'hui.
Je crois néanmoins que des idées efficaces et disruptives sont en train de voir le jour. Les fermes éoliennes flottantes, par exemple, peuvent apporter de l'énergie propre à des dizaines de pays dont les eaux côtières sont trop profondes pour des installations offshore ordinaires. Et les progrès des technologies fondées sur des bactéries bioluminescentes se nourrissant de déchets peuvent laisser espérer qu'elles éclaireront bientôt nos rues et nos usines. Pour développer à grande échelle ces solutions, nous devons apporter des financements et les mettre entre de bonnes mains. Nous devons aussi encourager l'industrie à se montrer plus créative et à mettre en œuvre des technologies plus radicalement innovantes. Ainsi la Banque européenne d'investissement (BEI), la Commission européenne et le fonds Breakthrough Energy Ventures ont-ils réuni 100 millions d'euros (110 millions de dollars) en 2019 pour soutenir les investissements disruptifs dans le domaine de l'énergie propre.
Cette disruption innovante doit intervenir rapidement. Selon l'Agence internationale de l'énergie, seuls 7 des 45 technologies et secteurs énergétiques évalués dans la dernière édition du rapport Tracking Clean Energy Progress se conforment au scénario de développement durable, établi pour traduire les engagements pris au niveau mondial et actés en 2015 par l'accord de Paris sur le climat. Dès lors, pour les décideurs politiques, les ingénieurs, les dirigeants d'entreprise et les entrepreneurs, la question devient : Désormais, où allons-nous ?
Dans l'Union européenne et dans le monde entier, les citoyens exigent que des actions soient entreprises pour faire face au changement climatique. Le débat public témoigne d'une prise de conscience croissante des risques climatiques. En outre, la Commission européenne, à l'initiative de sa nouvelle présidente, Ursula von der Leyen, a proposé un Pacte vert pour l'Europe, qui inscrirait dans le droit l'objectif de la neutralité carbone pour 2050, avec le but affiché de faire de l'Europe un leader de l'économie circulaire et des technologies propres du futur. Si elle se place à la pointe de l'action sur le climat, l'Europe peut en tirer des avantages économiques importants.
Subscribe now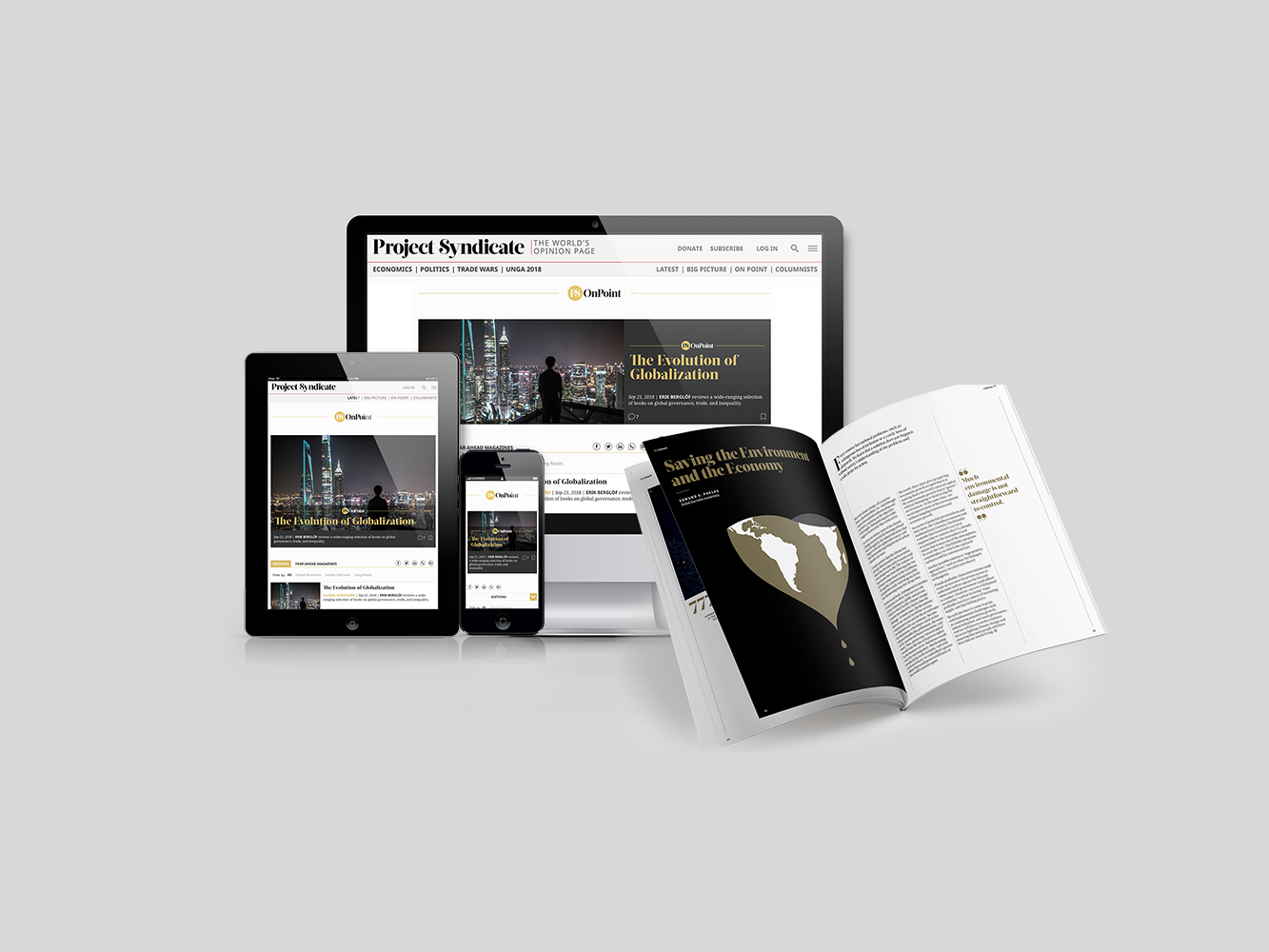 Subscribe now
Subscribe today and get unlimited access to OnPoint, the Big Picture, the PS archive of more than 14,000 commentaries, and our annual magazine, for less than $2 a week.
Mais les industries européennes doivent avant tout montrer qu'elles veulent participer à cet effort. Elles doivent innover, trouver de nouvelles solutions, amener sur le marché de nouveaux produits et pouvoir travailler sur les technologies de rupture. Les investissements sont nécessaires, dans les plus brefs délais, pour réduire le coût des nouvelles technologies, accroître leur efficacité, soutenir ceux qui oseront les adopter les premiers et créer de nouveaux marchés.
Bien sûr, même si le secteur privé est pleinement engagé dans l'action climatique, les dirigeants d'entreprises ne peuvent faire abstraction de leurs bénéfices. Mettre de l'argent dans des modèles économiques et des technologies nouvelles, c'est prendre des risques, et les résultats ne sont jamais garantis.
C'est ici que les banques publiques d'investissement jouent un rôle clé. La BEI, banque climatique de l'Europe et l'un des leaders mondiaux dans le domaine de la finance verte, prévoit de renforcer son soutien à la transition vers une économie durable et décarbonée en Europe. Pour ce qui concerne l'innovation, des institutions comme la BEI peuvent adopter une perspective à long terme, à laquelle les acteurs du secteur privé ne sont pas toujours en mesure de prétendre. En réduisant les risques et en permettant que se multiplient les voies technologiques, nous pouvons créer de nouvelles opportunités, plus vertes, dans tous les secteurs.
Identifier les promesses des projets verts et orienter vers eux des capitaux constitue un défi majeur. Mais en agissant comme des incubateurs, les banques de développement comme la BEI peuvent mobiliser le secteur privé à l'appui de ces investissements. En proposant leurs instruments financiers innovants, leur expérience et leur expertise à des investisseurs associés dans le monde entier, les institutions publiques peuvent contribuer aux moyens d'action des inventeurs, des entrepreneurs et des grandes entreprises pour relever le défi climatique.
Mais nous ne devons pas non plus oublier ceux qui seront probablement les plus touchés par le changement climatique, ou ceux qui pourraient être laissés sur le côté de la route lors du passage à l'économie décarbonée. Afin de garantir que la transition s'effectue dans la justice, nous devons augmenter notre aide aux régions et aux populations vulnérables. Le soutien à l'innovation doit aussi inclure l'appui à l'éducation et à la formation, de sorte que les nouvelles générations aient les compétences nécessaires pour contribuer à une économie décarbonée. Nous devons cultiver les talents et l'intelligence de notre jeunesse, car c'est elle qui développera les technologies et créera les emplois dont nous avons besoin pour l'avenir.
La BEI travaillera en étroite association avec les entreprises européennes et d'autres partenaires dans le monde pour stimuler les innovations de rupture. L'économie verte offre de nombreuses voies aux investisseurs et aux entreprises, et les institutions financières internationales doivent elles-mêmes ouvrir la route pour créer plus d'opportunités encore.
Traduit de l'anglais par François Boisivon