De klimaatverandering verstoord
DENVER – Na een Amerikaans orkaanseizoen dat alle records brak en overstromingen door heel Azië lijkt wanhoop over de steeds snellere klimaatverandering voor de hand liggend. Maar ondanks deze apocalyptische voortekenen blijft een energietransformatie die omvangrijk en snel genoeg is om de stijging van de mondiale temperatuur te beteugelen binnen bereik. Beter nog; we hoeven om de benodigde veranderingen door te voeren niet te wachten op nieuwe uitvindingen: de transformatie kan nu meteen plaatsvinden, met winstgevende oplossingen uit het bedrijfsleven en aangedreven door de markt.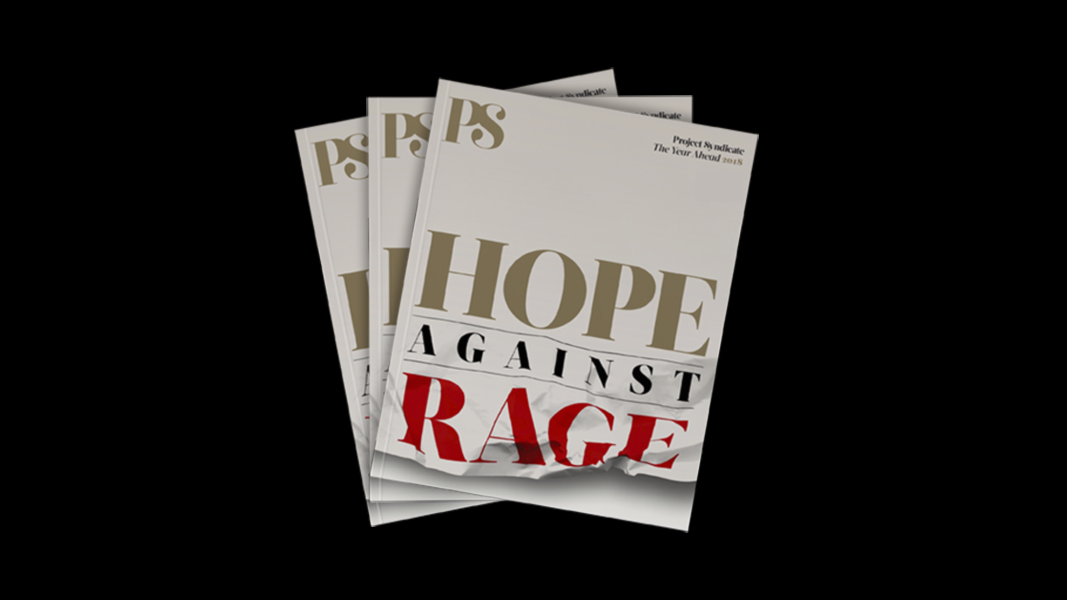 The Year Ahead 2018
The world's leading thinkers and policymakers examine what's come apart in the past year, and anticipate what will define the year ahead.
Het limiteren van de verhoging van de mondiale temperaturen tot onder de 2 graden Celsius boven pre-industriële niveaus – het doel gezet door het klimaatakkoord van Parijs uit 2015 – vereist het verminderen van de afhankelijkheid van fossiele brandstoffen, en verandering van hoe we onze gewassen verbouwen, hout hakken, en land gebruiken. Nieuw onderzoek door het Rocky Mountain Institute (RMI) laat zien dat beide uitkomsten gelijktijdig mogelijk zijn, en dat de gezamenlijke impact ervan het traject van klimaatverandering 'positief' kan verstoren.
Volgens onze analyse bestaan er toekomstige trajecten voor vraag en aanbod van energie en hoe bossen en land koolstof opslaan die, wanneer gevolgd, de snelheid van de opwarming drastisch zullen verminderen. Door het versnellen van de schone-energietransitie die gaande is wordt het mogelijk om de uitstoot van broeikasgassen te reduceren tot beneden wat met de huidige consumptiepatronen verwacht zou worden.
Dit scenario is niet zo vergezocht als sommigen wellicht denken. De wereld is al sneller aan het omschakelen naar schonere energie, elektrische mobiliteit, en slimmere systemen voor het gebruik van energie en land dan iemand, inclusief de deskundigen, anticipeerde.
Het is niet de eerste keer dat de snelheid van verandering boven verwachting ligt. In 1980 bijvoorbeeld werd McKinsey & Company ingehuurd door AT&T om te voorspellen hoeveel mobiele telefoons er binnen twintig jaar in de VS gebruikt zouden worden. De consultants voorspelden dat de Amerikaanse markt voor mobiele telefonie in het jaar 2000 ongeveer 900.000 apparaten zou ondersteunen. In werkelijkheid werden er in dat jaar 100 miljoen mobiele telefoons verkocht. Inmiddels zijn er meer telefoons dan mensen op aarde.
Zonne- en windenergie hebben met overeenkomstige gebrekkige voorspellingen te maken gehad. Tientallen jaren hebben experts bij het Internationaal Energieagentschap en het Amerikaanse Energy Information Agency onderschat hoe snel het aanbod uit deze bronnen zou toenemen. Hun schattingen waren consequent te laag en hun voorspellingen werden ieder jaar slechts licht bijgesteld, zonder ooit bij de realiteit in de buurt te komen. Maar al naargelang bedrijven voor schone energie innoveerden werden de productiekosten van wind- en zonne-energie lager. Energie werd goedkoper, en als resultaat hiervan steeg het gebruik. Overheidsmodellen nemen dit soort hogere rendementen normaal niet mee.
Een andere reden voor het onderschatten van de snelheid van de huidige energietransitie is dat de schaal verschilt van eerdere transities naar nieuwe technologieën. Toen mensen overschakelden van het verbranden van hout naar kolen, en daarna naar het verbranden van olie, kwamen de 'nieuwe' energiebronnen voort uit enorme kapitaalintensieve projecten, zoals kolenmijnen, olie- en gasvelden op zee, en raffinaderijen. De hoge kosten van deze projecten werden vervolgens aan consument doorberekend.
In tegenstelling daarmee heeft de consument op de hedendaagse energiemarkt meer controle. Bedenk hoe makkelijk het is om zonnepanelen op je dak te laten installeren; het kan in één dag gedaan worden. De huidige energietransformatie wordt door miljoenen kleine apparaten – zonnepanelen, windturbines, batterijen, en slimme toepassingen – aangedreven. Elk nieuw apparaat in dit gedecentraliseerde systeem is goedkoop en betaalt zichzelf snel terug, dus experimenteren is betaalbaar en de technologie kan snel verbeteren. Het resultaat is een groot speelveld van mondiale mededingers, die een snellere innovatie en nieuwe zakenmodellen meebrengen, die helpen schaalvoordelen te behalen.
De hardware van de schone-energierevolutie heeft meer te maken met mobiele telefoons en laptops dan met mijnen en raffinaderijen. Omdat deze in zeer grote markten verkocht kan worden, met opschaalbare productieketens en steeds volwassener technologie, vindt de transitie naar schonere energie sneller plaats dan veel deskundigen hadden voorspeld.
Toch zal zelfs een snelle verschuiving naar 'groenere' energie onvoldoende zijn om de gemiddelde mondiale temperatuur onder de 2 graden boven pre-industriële niveaus te houden. Om dat te bereiken zullen we ook meer broeikasgassen uit de atmosfeer moeten halen.
Gelukkig is ook dat mogelijk. Door het incorporeren van strategieën voor terugdringing van koolstof in de landbouw en het natuurbeheer kunnen er in bossen en de bodem meer gassen die hitte opnemen worden opgeslagen. Maar alhoewel deze technieken al bestaan zal slagen – onder andere – meer landbouw op onbewerkte grond, het toepassen van permacultuur principes, het beter beheren van wetlands, en wisselbeweiding vergen.
De potentie van de markt om radicale veranderingen in het gebruik van energie en land te bewerkstelligen is groot, maar het stormseizoen van 2017 moet ons doen inzien dat de klimaatramp waar we mee te maken hebben krachtige en urgente actie vereist. Het transformeren van de manier waarop mensen energie verkrijgen en benutten en hoe ze land gebruiken eist krachtige stimuli en politieke kaders om de koers richting succes uit te zetten.
Maar wanhoop niet; er is nog steeds genoeg tijd om ons klimaat te redden. De transformatie is al gaande – en zal zich sneller voltrekken dan de meeste mensen verwachten.
Vertaling Melle Trap