Pomůže čtvrtá průmyslová revoluce trvalé udržitelnosti?
STOCKHOLM – Lídři ze Silicon Valley nás ubezpečují, že čtvrtá průmyslová revoluce nám přinese nevídané výhody. Zároveň tvrdí, že už probíhá a stále se zrychluje, neboť ji ženou kupředu umělá inteligence a další technologie, a varují, že pokud se k ní nepřipojíme, zbudou nám nakonec oči pro pláč.
Tyto překotné změny – které zároveň odrážejí dopad robotiky, biotechnologií, nanotechnologií, 5G sítí a internetu věcí (IoT) – představují univerzální revoluci. Její špičky a hlavní podporovatelé slibují, že tato revoluce pomůže společnostem vyrovnat se s klimatickými změnami, řešit chudobu a nerovnost a zastavit dramatickou ztrátu biodiverzity.
Možná bude opravdu probíhat takto. A možná taky ne.
Vezměme si poslední digitální revoluci, která nám přinesla Google, Facebook i Twitter a změnila způsob, jímž informace proudí po světě. Zpočátku se zdálo, že schopnost spojit se přes internet s jinými lidmi a snadno vytvářet a sdílet digitální obsah prostřednictvím stále rostoucích virtuálních sociálních sítí, je jednoznačně přínosná.
Globální záplava dezinformací, kterou tyto platformy rovněž umožňují, však dnes komplikuje řízení pandemie COVID-19 i boj s klimatickými změnami. Málokdo si dokázal včas uvědomit, co se děje, a pak už bylo pozdě; dnes se jen vyrovnáváme s následky.
Jak tedy může společnost minimalizovat riziko, že se příští generace technologií budou bezděčně, z neznalosti nebo i záměrně využívat škodlivým způsobem?
Subscribe to Project Syndicate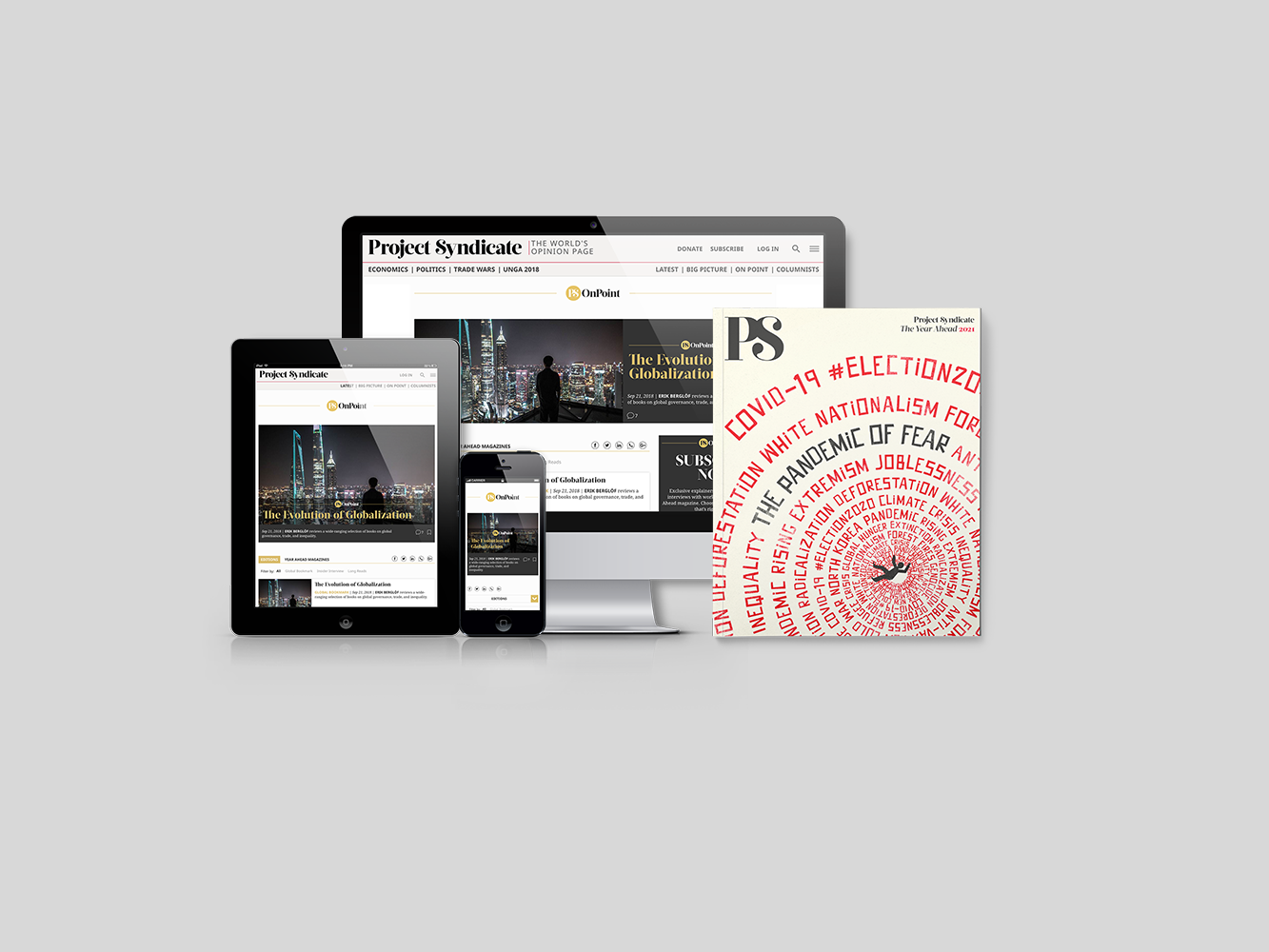 Subscribe to Project Syndicate
Enjoy unlimited access to the ideas and opinions of the world's leading thinkers, including weekly long reads, book reviews, topical collections, and interviews; The Year Ahead annual print magazine; the complete PS archive; and more. All for less than $9 a month.
Ve své práci se stále více zaměřuji na střet dvou světů. Technosféru tvoří všechny věci, které vytvořili lidé. Její celková velikost se odhaduje na 30 bilionů tun neboli 50 kilogramů na čtvereční metr zemského povrchu. Biosféra je pak tenká vrstva obklopující zemský povrch, ve které existuje život a kde se lidé už asi 10 000 let těší relativně stabilnímu klimatu.
Vztah mezi těmito dvěma světy mě poprvé začal zajímat v době, kdy jsem zkoumal růst poloautomatizovaných globálních systémů včasného varování před nemocemi. Začal jsem si uvědomovat, jak hluboce technologie mění chování lidí, organizací a strojů. Někdy je tento vliv lineární, jednoduchý a přímý. Častěji jsou však důsledky technologických změn nepřímé; šíří se složitými kauzálními sítěmi a zviditelňují se nám až po dlouhé době. Sociální média jsou toho dobrým příkladem.
Technosféra je všude kolem nás. Je na nejlepší cestě stát se takzvanou "kognitivní infrastrukturou", která dokáže zpracovávat informace, rozumně uvažovat, pamatovat si, učit se, řešit problémy a občas i rozhodovat s minimálními lidskými zásahy prostřednictvím rozvinuté automatizace a strojového učení.
Z vývojového hlediska se to může ukázat jako obrovský skok kupředu. Rozhodnutí týkající se podoby a směřování technosféry však musí odrážet společenské cíle a stav planety. Vybudování trvaleji udržitelné budoucnosti proto vyžaduje, abychom přehodnotili některé hluboce zakořeněné předpoklady o roli technologií, a zejména umělé inteligence.
Nejdůležitějším úkolem by mohlo být rozšíření převládající interpretace "umělá inteligence pro klimatické změny". V nejjednodušší podobě se tato interpretace zaměřuje na využití umělé inteligence k předpovídání klimatu, případně k optimalizaci energetických systémů či dopravních toků. Klimatický systém je však fundamentálně spojený s biosférou a její biodiverzitou, pralesy, oceány a zemědělskými ekosystémy. Zodpovědný vývoj a zavádění umělé inteligence s cílem řešit naléhavé problémy trvalé udržitelnosti proto vyžaduje, abychom toto spojení s živoucí planetou a naší rolí v ní přijali za své.
Nazírání na přínos umělé inteligence prizmatem optimalizace a efektivity navíc nepředstavuje správný způsob, jak přemýšlet o posílení dlouhodobé odolnosti lidí a planety. Odolnost – tedy schopnost zotavit se z šoků a adaptovat se na měnící se podmínky – vyžaduje rozmanitost a nadpočetnost. Město s jedinou obrovskou dálnicí vedoucí jeho středem je zranitelná vůči dopravním zácpám, pokud ho zasáhne blesková povodeň nebo teroristický útok. Město mající více tras vedoucích z jednoho místa na druhé je v tomto směru odolnější.
Systémy optimalizované tak, aby poskytovaly maximální výkon (například maximální výnos určité plodiny), jsou náchylné k šokům a změnám okolností. Optimalizace zemědělské půdy na maximální výnosy s využitím prediktivní analýzy a automatizace je lákavou strategií, ale mohla by urychlit ztrátu místních ekologických znalostí, prohloubit stávající nerovnosti a zvýšit závislost na monokultuře v reakci na komerční tlaky.
Potenciál umělé inteligence napomáhat k řešení klimatických výzev spočívá nikoliv v optimalizaci systémů, nýbrž v rozšiřování schopnosti lidí stát se správci biosféry. Takovýto širší pohled je dnes naléhavě zapotřebí. Snaha vést inteligentní stroje k tomu, aby podporovaly správu biosféry, však obnáší dvě velká rizika.
Prvním z nich je přehánění. V době, kdy sílí tlaky na naši planetu a klimatický systém, bude sílit také naděje, že umělá inteligence dokáže "vyřešit" nesmírně složité společenské, ekonomické a ekologické problémy. Naše znalosti v otázce, zda umělá inteligence skutečně nabízí velké klimatické přínosy (a komu), jsou omezené a současná hodnocení bývají přehnaně optimistická vzhledem k tomu, co o technologické evoluci víme. Veškerá tvrzení je nutno přísně a nezávisle testovat, neboť technologie umělé inteligence se postupně vyvíjejí a rozšiřují.
Druhým rizikem je zrychlování. Zavádění systémů umělé inteligence a souvisejících technologií, jako jsou internet věcí, 5G nebo robotika, může docela dobře vést k ještě rychlejší ztrátě odolnosti biosféry a ke zvýšené těžbě fosilních paliv a surovin, které jsou pro tyto technologie zapotřebí. Například ropné a plynárenské firmy se stále více snaží snížit náklady pomocí digitalizace. Podle jednoho odhadu by poptávka po digitálních službách v sektoru fosilních paliv mohla v příštích pěti letech vzrůst o 500%, což by producentům ropy ušetřilo asi 150 miliard dolarů ročně.
Digitalizace, automatizace a umělá inteligence mají dosud nevyužitý potenciál k posilování trvalé udržitelnosti a také k optimalizaci těžby zdrojů. Chceme-li čtvrté průmyslové revoluce využít k dosažení trvalé udržitelnosti, musíme lépe a razantněji usměrňovat její technologie.
Z angličtiny přeložil Jiří Kobělka