Hoe om te gaan met een Rusland in verval
TOKIO – Het Kremlin lijkt lekker bezig. Onder president Vladimir Poetin heeft Rusland in Syrië de plaats van de VS ingenomen, blijft het land zich bemoeien met het oosten van Oekraïne, en was het onlangs gastheer van een Afrikaanse top in Sotsji. Maar schijn kan bedriegen. Het is waar dat Rusland nog steeds een groot kernarsenaal heeft, van dezelfde omvang als dat van de VS, en dat het land met succes geweld heeft gebruikt in Georgië in 2008 en in Oekraïne in 2014; militaire steun heeft gegeven om het regime van Bashar al-Assad in Syrië te redden; en cyberwapens heeft ingezet om verkiezingen in de VS en elders te ontwrichten. Maar Rusland kan alleen maar een internationale dwarsligger zijn. Achter het avonturisme gaat een land schuil dat in verval is.
In 1959 pochte Sovjet-leider Nikita Chroesjtsjov op beroemd geworden wijze dat de Sovjet-Unie de VS in 1970 of 1980 zou inhalen. In plaats daarvan stortte de Sovjet-Unie in 1991 in, waarna een aanzienlijk gekrompen Rusland achterbleef, met driekwart van het grondgebied van de Sovjet-Unie, de helft van de bevolking, de helft van de economie, en een derde van het militaire personeel. Het bbp bedraagt slechts $1,7 bln, tegen $21 bln voor de VS. In 1989 was de Sovjet-economie tweemaal zo groot als die van China; vandaag is het Russische bbp een zevende van dat van China. Bovendien is Rusland zwaar afhankelijk van energie-exporten, waarbij hightech-producten slechts 11% van zijn industriële exporten voor hun rekening nemen (tegen 19% voor de VS).
Hoewel taal, geschiedenis en arbeidsmigratie Rusland voorzien van enige zachte macht in nabijgelegen landen, zijn er maar weinig buitenlanders die naar Russische films kijken, en behoren Russische universiteiten niet tot de mondiale top-100. De politieke instituties voor een effectieve markteconomie zijn grotendeels afwezig, en het roofkapitalisme van de staat ontbeert het soort regelgeving dat voor vertrouwen zorgt. Het volksgezondheidssysteem is zwak, en de gemiddelde Russische levensverwachting (72 jaar voor zowel mannen als vrouwen) is vijf jaar korter dan die in Europa. Demografen van de Verenigde Naties verwachten dat de Russische bevolking van 145 miljoen nu kan teruglopen naar 121 miljoen tegen het midden van deze eeuw.
Er zijn veel toekomsten mogelijk, maar op dit moment is Rusland een eenzijdige economie met corrupte instituties, en ernstige demografische en gezondheidsproblemen. De vroegere president Dmitri Medvedev heeft plannen gepresenteerd om die problemen te boven te komen, maar er is weinig van ten uitvoer gelegd en de allesdoordringende corruptie heeft de modernisering bemoeilijkt. Hoewel Poetin een succesvol tacticus is gebleken op het gebied van het herstellen van de aanwezigheid van Rusland op het wereldtoneel, is hij geen bekwaam strateeg geweest als het gaat om het aanpakken van de langetermijnproblemen van het land.
Een van Poetins succesvolle tactische manoeuvres was het organiseren van een goede verstandhouding met China. Na het opleggen van westerse sancties wegens zijn aanval op Oekraïne heeft Poetin China "onze belangrijkste strategische partner" genoemd. In ruil daarvoor noemde de Chinese president Xi Jinping Poetin "mijn beste vriend en collega."
De traditionele machtsevenwichtspolitiek zou zo'n antwoord op de Amerikaanse macht hebben voorspeld. In de jaren vijftig waren China en de Sovjet-Unie al eerder verbonden tegen de VS. Na Nixons opening naar China in 1972 hebben de VS en China samengewerkt om de Sovjet-macht in te perken. Die samenwerking kwam ten einde door de ineenstorting van de Sovjet-Unie. In 1992 noemden Rusland en China hun betrekkingen een "constructief partnerschap." Dat werd in 1996 een "strategisch partnerschap," en in juli 2001 ondertekenden ze een verdrag van "vriendschap en samenwerking." Beide landen hebben nauw samengewerkt in de VN-Veiligheidsraad, soortgelijke standpunten ingenomen ten aanzien van het internationale toezicht op internet, en diverse diplomatieke raamwerken gebruikt – zoals de BRICS en de Shanghai Cooperation Organization – om hun posities te coördineren. Nu delen ze niet-nucleaire militaire technologie en houden ze gezamenlijke militaire oefeningen.
Subscribe now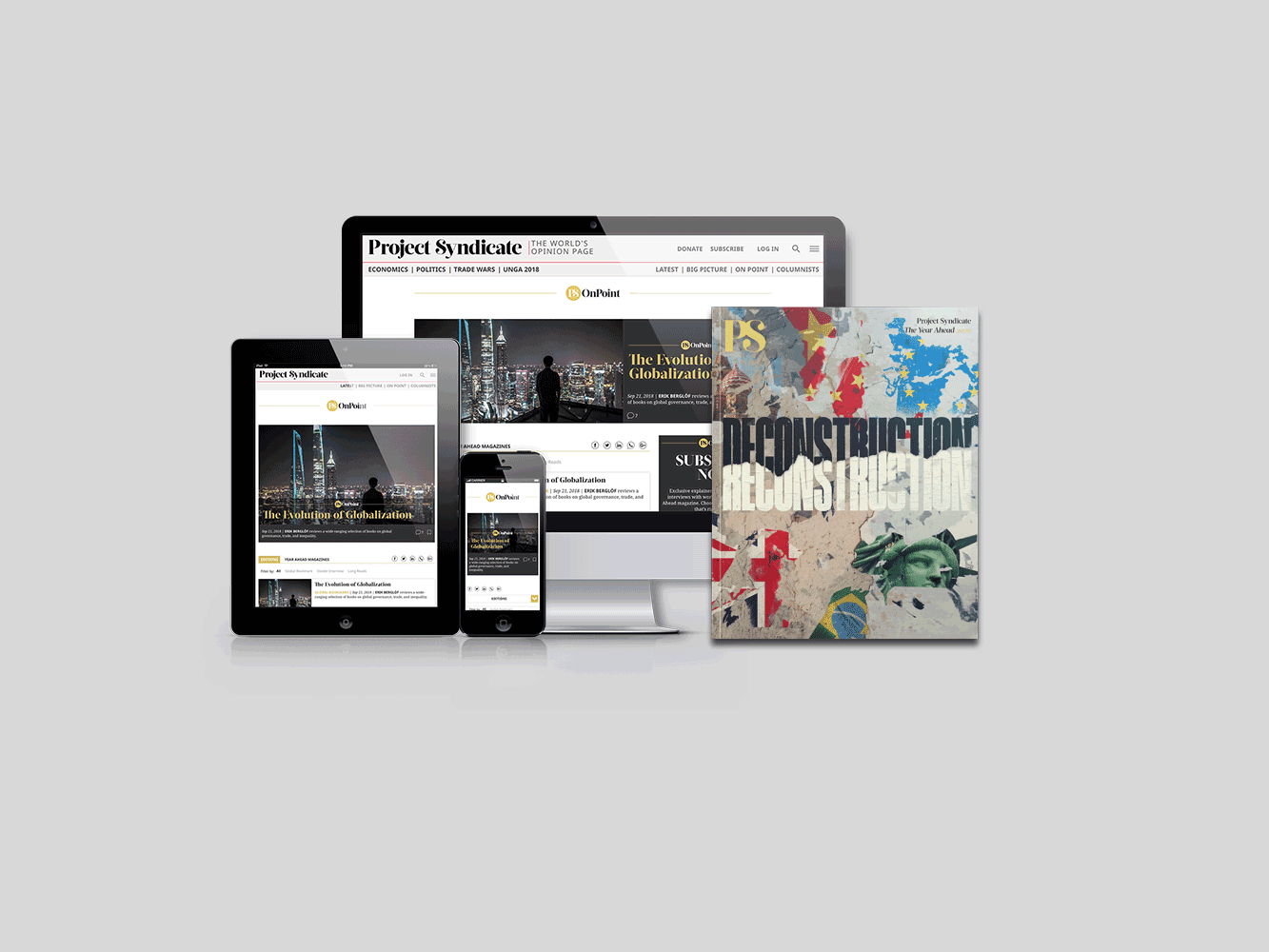 Subscribe now
Subscribe today and get unlimited access to OnPoint, the Big Picture, the PS archive of more than 14,000 commentaries, and our annual magazine, for less than $2 a week.
Niettemin zijn er serieuze obstakels voor een Chinees-Russische samenwerking die veel verder gaat dan tactische coördinatie. Er bestaat nog steeds veel wantrouwen. In de negentiende eeuw heeft geen land meer territorium van China afgepakt dan Rusland, en de huidige demografische situatie in het Verre Oosten – waar de Russen zes miljoen inwoners tellen, maar de bevolking aan de Chinese kant van de grens 120 miljoen zielen omvat – is een bron van zorg in Moskou.
Het economische verval van Rusland heeft zijn zorgen doen toenemen over de opkomst van China. Hoewel de handel is toegenomen, blijven de investeringen achter, en Rusland is slechts de tiende exportmarkt van China. Zoals de Economist onlangs berichtte, maakt Rusland zich zorgen de junior-partner van de alliantie te worden – afhankelijker van China dan China is van Rusland. Volgens Feng Yujun van de Fudan Universiteit "is de belangrijkste relatie voor ons die met Amerika. We willen de fouten van Stalin en Mao niet herhalen."
Amerika mag echter geen geruststelling ontlenen aan het verval van Rusland en het land als een tweederangsmacht behandelen. Neergaande machten hebben immers de neiging minder afkerig te zijn van het nemen van risico's, zoals het geval was bij Oostenrijk-Hongarije in 1914. Ze hebben minder te verliezen dan opkomende machten. Rusland vormt nog steeds een potentiële bedreiging voor de VS, grotendeels omdat het het enige land is met genoeg raketten en kernkoppen om de VS te verwoesten. En het relatieve verval van Rusland heeft het land nog minder inschikkelijk gemaakt ten aanzien van het opgeven van zijn nucleaire status.
Zelfs een Rusland in verval heeft nog een enorme omvang, een goed opgeleide bevolking, bekwame wetenschappers en technici, en gigantische natuurlijke rijkdommen. Het lijkt onwaarschijnlijk dat Rusland opnieuw over de middelen zal beschikken om de Amerikaanse macht uit te dagen, op dezelfde manier als de Sovjet-Unie dat heeft gedaan in de vier decennia na de Tweede Wereldoorlog. Maar vanwege zijn resterende nucleaire macht, en zijn olie en gas, zijn bekwaamheden op het gebied van de cybertechnologie, zijn ligging in de nabijheid van Europa, en de mogelijkheden van zijn alliantie met China, zal Rusland problemen voor de VS kunnen blijven veroorzaken, en Poetins vertrouwen op het populistisch nationalisme biedt daar ook een motief toe. Neergaande machten verdienen net zoveel diplomatieke aandacht als opkomende machten. Op zeker moment nadat president Donald Trump is afgetreden zullen de VS de serieuze Rusland-strategie moeten ontwikkelen die het land nu ontbeert.
Vertaling: Menno Grootveld