Der Kotau des Davos-Mannes vor Trump
MADRID – Es waren ein paar verwirrende Jahre für den "Davos-Mann" –  die Mitglieder der globalen Hyper-Elite, die sich jedes Jahr zur Leitkonferenz des Weltwirtschaftsforums einfinden, um über die Herausforderungen der Welt zu reflektieren. Nachdem man jahrzehntelang in breiter globaler Akzeptanz einer regelbasierten Weltordnung schwelgte, sind die Arrangeure – und vielfach Hauptnutznießer – dieser Ordnung gezwungen, sie gegen Angriffe von höchster Stelle zu verteidigen, allen voran gegen jene von US-Präsident Donald Trump. Aber anstatt zu kämpfen, scheinen sie umzufallen.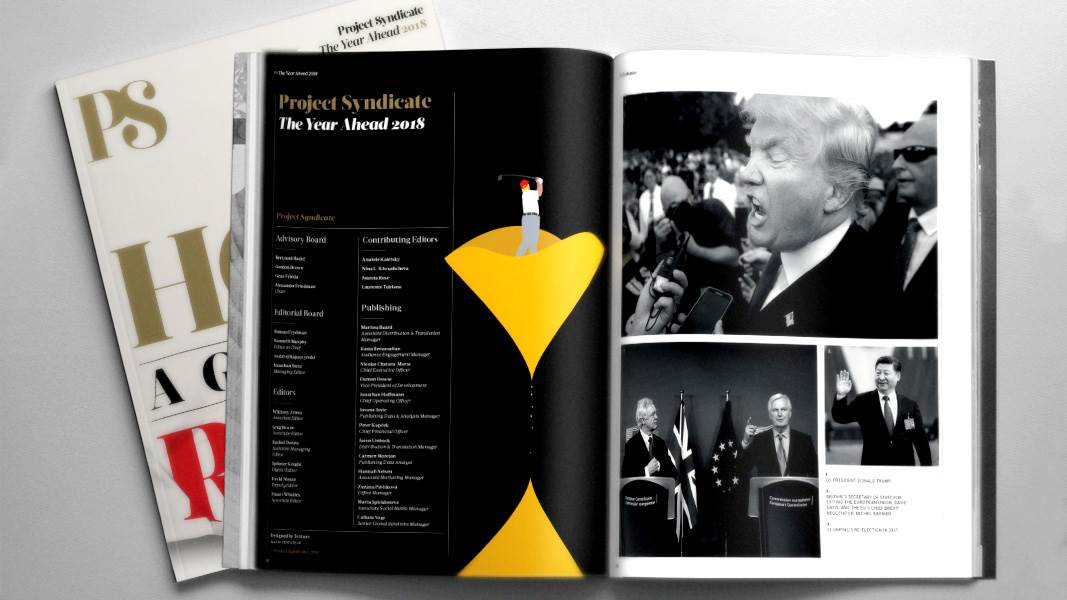 The Year Ahead 2018
The world's leading thinkers and policymakers examine what's come apart in the past year, and anticipate what will define the year ahead.
Letztes Jahr standen die Teilnehmer in Davos unter dem Eindruck der damals bevorstehenden Amtseinführung Trumps, die am letzten Tag der Konferenz stattfand. Da die Vereinigten Staaten kurz davor standen, unter die Führung eines Präsidenten zu kommen, der lautstark einen Ansatz des "Amerika zuerst" propagierte, sah man sich verzweifelt nach einem neuen Vorkämpfer der Globalisierung um. Als sich dabei ihre Blicke auf den chinesischen Präsidenten Xi Jinping richteten, wurden die ersten Risse in ihrem Bekenntnis sichtbar, Ideen und Werte über Zweckmäßigkeit zu stellen. 
Heuer – dem Jahr, da Donald Trump sein Debut in Davos gab – brach der Damm. Noch bevor die Veranstaltung überhaupt begonnen hatte, konnte man schon Rationalisierungen des destruktiven Verhaltens von Trump in der Vergangenheit, seines kurzsichtigen Ansatzes bei Fragen wie dem Handel und seiner populistischen Anwandlungen vernehmen. Trumps Präsidentschaft ist nicht aus den Fugen geraten, hieß es; sie ist nur pragmatisch.
Dieses Gefühl verstärkte sich nach Trumps Rede in Davos, in der er darauf beharrte, dass "Amerika zuerst nicht Amerika allein heißt. Nach einem Jahr in der Wildnis, während dessen man sich fragte, was wohl aus dem wohlwollenden Globalismus und den neoliberalen Ideen werden würde, hatte der Davos-Mann seinen neuen Polarstern gefunden: Pragmatismus. Das ist keine gute Nachricht.
Freilich ist Pragmatismus nicht grundsätzlich schlecht. Tatsächlich wissen Europäer wie ich gut Bescheid über die Gefahren einer unzureichend pragmatischen Politikgestaltung. Aber ein ausschließlich auf Pragmatismus beruhendes System – in dem der Zweck die Mittel heiligt und Werte keine Bedeutung haben – kann weder stark noch stabil sein.  
Ein rein pragmatischer Ansatz im Bereich internationaler Beziehungen wäre höchst transaktional, wobei Länder einmalige Zweckpartnerschaften anstreben, im Rahmen derer die stärkere Partei über erhebliche Zwangsmittel verfügte. Das ist keine Methode, um jene Art langfristiger Stabilität zu fördern, derer es bedarf, um Frieden und Wohlstand zu unterstützen – Ziele, an deren Erreichung alle, nicht zuletzt die Eliten von Davos, ein starkes Interesse haben.
Im Hinblick auf Trump ist nicht einmal klar, ob sein Ansatz überhaupt pragmatisch ist. Freilich sind da diejenigen, die meinen, sein Getöse auf internationaler Bühne ist das Gehabe eines Geschäftsmannes, der versucht seine Verhandlungsposition zu stärken, um aufsässige und nur auf ihren Vorteil bedachte Mitglieder der internationalen Gemeinschaft auf Linie zu bringen. Trump, so lautet ihr Argument, erzwingt nach einer längeren Phase der internationalen Überdehnung lediglich eine Neuausrichtung der Souveränität. Sie sagen uns, dass wir ihn nach seinen Taten und nicht nach seinen Worten beurteilen sollen.
Sehen wir uns also seine Taten an. Trotz aller Zuwächse, die der Dow Jones Industrial Average im ersten Jahr seiner Präsidentschaft verzeichnete (bei denen es sich um die Fortsetzung eines Anstiegs handelt, der unter Präsident Barack Obama begann), waren Trumps Aktionen bislang ausgesprochen durchwachsen.
Seine kopflosen Ausbrüche ermöglichten es dem nordkoreanischen Diktator Kim Jong-un, sich im Vergleich als Friedensstifter zu präsentieren – eine Entwicklung, die seinem hochgradig gefährlichen Regime den Weg ebnen könnte, sein atomares Arsenal noch lange zu behalten. Trump machte vor der israelischen Regierung einen Kotau, indem er Jerusalem als die Hauptstadt des Landes anerkannte und die Verlegung der US-Botschaft im nächsten Jahr dorthin versprach, ohne dafür im Gegenzug auch nur ein einziges Zugeständnis zu erhalten.
Trumps Bilanz im Bereich des wirtschaftlichen Multilateralismus fällt um nichts besser aus. Als Trump sich aus der Transpazifischen Partnerschaft (TTP) zurückzog, die er als "schlechten Deal" für Amerika bezeichnete, behauptete er, mit jeder einzelnen Partei bessere Vereinbarungen abschließen zu können. Die anderen Parteien sind jedoch mittlerweile ohne die USA vorangekommen. Statt einer Stärkung ihrer Position gegenüber China sehen die USA China nun zu, wie es das Vakuum füllt, das Trump in Asien hinterließ.
In ähnlicher Weise zog sich Trump hastig aus dem Pariser Klimaabkommen zurück, ohne die Gelegenheit zu ergreifen, die Regeln des Abkommens mitzugestalten - auch hinsichtlich der Zölle auf Sonnenkollektoren - so dass sie auch amerikanischen Interessen hätten dienen können. Darunter leiden wird die US-Solarbranche, in der über 250.000 Amerikaner arbeiten, während Trump weiterhin vergeblich versucht, eine Kohleindustrie wiederzubeleben, die weniger als 55.000 Menschen beschäftigt. Das ist bestenfalls Politik, aber sicher nicht Pragmatismus.
Trump-Apologeten würden wahrscheinlich argumentieren, dass wir die falschen Taten betrachten. So hielt er beispielsweise sein Versprechen, den Körperschaftssteuersatz in den USA zu senken - ein Schritt der den Höhenflug des US-Aktienmarkt weiter beflügelte.
Aber selbst wenn wir diese Entwicklungen als Beweis für einen gewissen Pragmatismus betrachten, birgt die plötzliche Anerkennung des Trumpismus tiefgreifendere Risiken. Ein stabiles System braucht Engagement und Überzeugung. Selbst wenn die Realität niemals dem Ideal entspricht, dient die Verfolgung dieses Ideals als starke Motivation, die unterschiedliche Akteure gegenüber einem gemeinsamen Ziel eint – einem Ziel, das den Interessen aller gerecht wird. 
Durch ihren derart leichtfüßigen Verrat an den Werten, die die regelbasierte liberale Weltordnung so lange untermauerten – wie Multilateralismus, Demokratie und Rechtsstaatlichkeit – haben die Speichellecker in Davos das gesamte System Lügen gestraft. Das ist keine Korrektur; es ist Zerstörung. Und sie wird uns alle treffen. Denn obwohl die liberale Weltordnung sicherlich reformbedürftig ist, um einer größeren Zahl ihrer Versprechen gerecht zu werden, bleibt sie doch unsere beste Hoffnung.  
Einige Spitzenpolitiker erkennen das auch. Der französische Präsident Emmanuel Macron, um nur ein namhaftes Beispiel zu nennen, widmete seine Rede in Davos der Forderung nach einem "echten globalen Vertrag."  Doch Macron kann das nicht alleine bewerkstelligen. Alle Menschen, die an den Aufbau einer besseren Welt durch Zusammenarbeit glauben, müssen ihre Stimme erheben, wobei diejenigen, die am stärksten von einer funktionierenden Weltordnung profitieren, an führender Stelle zu stehen haben. Meine Aufmerksamkeit ist auf Sie gerichtet, Davos-Mann.
Aus dem Englischen von Helga Klinger-Groier