Cripto-halcones y cripto-palomas
LONDRES – Hace unos días, el presidente de Venezuela, Nicolás Maduro, anunció que su gobierno había lanzado una nueva criptomoneda patrocinada por el estado llamada petro. Dijo que la nueva moneda ya se había vendido por un valor de 735 millones de dólares, aunque los observadores son escépticos, a menos que las entidades estatales se hayan visto obligadas a comprarla. Sin embargo, inclusive a ellas les resultará difícil hacerlo, ya que la plataforma tecnológica sobre la que comercializará el petro todavía no se ha confirmado.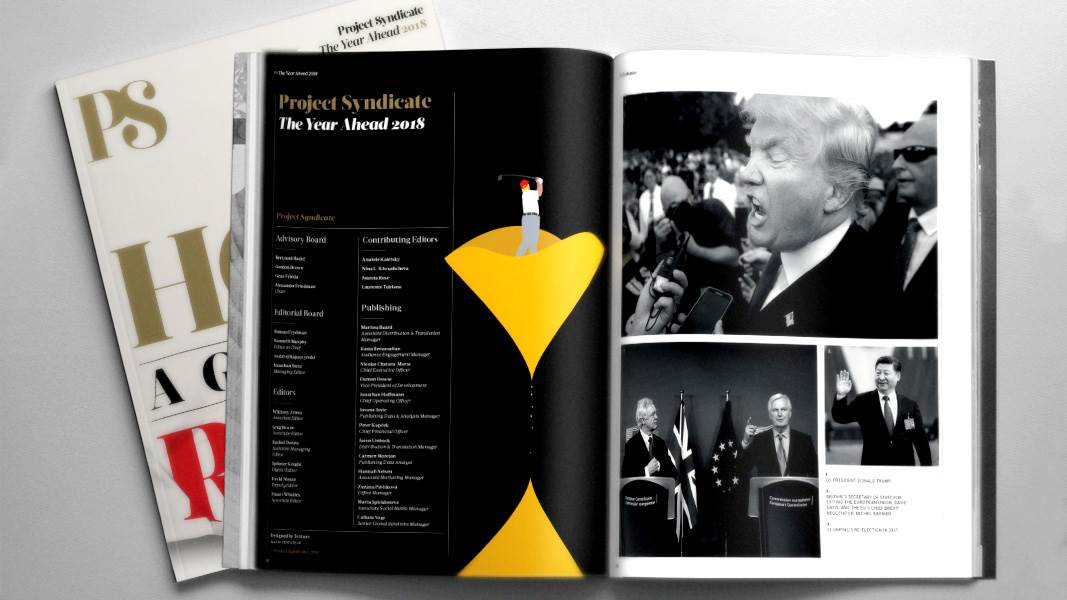 The Year Ahead 2018
The world's leading thinkers and policymakers examine what's come apart in the past year, and anticipate what will define the year ahead.
La demanda internacional del petro no se verá favorecida por los recientes pronunciamientos de Warren Buffett y Charlie Munger, los "sabios de Omaha" que todavía controlan Berkshire Hathaway. Al referirse a las criptomonedas en general, Buffett fue sumamente crítico. "Puedo decir casi con certeza que no tendrán un buen final", declaró en enero, observando a la vez, por si acaso, que le gustaría comprar opciones de venta sobre cada una de ellas. Munger, en todo caso, es aún más hostil: caracterizó particularmente al Bitcoin como "totalmente estúpido" y "veneno nocivo". No queda mucho margen de duda.
Por supuesto, están mirando al Bitcoin como una posible inversión. Las autoridades públicas tienen temores ligeramente diferentes. Los reguladores de mercado están interesados en proteger a los inversores, y han comenzado a pronunciar advertencias. Si bien estas advertencias han sido sotto voce hasta el momento, imagino que los reguladores elevarán el volumen pronto, mientras siga habiendo giros de precios. También deberían preocuparse por las oportunidades que se crean para el lavado de dinero y para el comercio de drogas ilícitas.
Pero los bancos centrales tienen un conjunto más amplio de preocupaciones. ¿Las criptomonedas usurparán su papel como proveedores monopólicos de dinero? ¿Existen serias implicancias para la estabilidad financiera si los bancos centrales pierden el control de las palancas que influyen en el poder adquisitivo en la economía?
Curiosamente, están surgiendo diferentes respuestas para estas preguntas, y los bancos centrales están divididos entre halcones y palomas.
En el extremo del espectro que ocupan los halcones se encuentran los chinos. El año pasado, el Banco Popular de China cerró las bolsas de Bitcoin y tomó medidas drásticas contra las Ofertas Iniciales de Monedas. Apelando a un giro demasiado fresco para los banqueros centrales occidentales, Pan Gongsheng, vicegobernador del PBOC (por su sigla en inglés), dijo en diciembre: "Como nos enseñó Keynes, 'el mercado puede permanecer irracional más tiempo del que usted puede permanecer solvente'. Sólo queda una cosa por hacer: sentarse en la orilla del río y un día ver pasar el cuerpo del Bitcoin".
Rusia, previsiblemente, adopta una postura similar. Elvira Nabiullina, gobernadora del banco central de Rusia, declaró en diciembre: "no legalizamos esquemas piramidales" y "estamos totalmente en contra del dinero privado, no importa si es físico o virtual".
Sin embargo, las palomas son muchas. El Banco de Canadá ha observado que la tecnología de libros mayores distribuidos que sustenta al Bitcoin podría mejorar la eficiencia del sistema financiero, y está examinando si, en algún momento apropiado, debería emitir su propia moneda digital para transacciones minoristas. El Banco de Inglaterra también está intrigado por las posibilidades, a la vez que descarta los temores de que las monedas digitales actualmente plantean un riesgo para la estabilidad financiera y observa que la tecnología subyacente "puede tener muchos otros usos en el sistema financiero, y puede ser una plataforma útil para accionar una moneda digital de un banco central". Ambos bancos están investigando activamente el tema, y bien se podrían calificar sus opiniones de maoístas, en el sentido de "dejemos florecer cien flores".
De modo que fue valiente de parte de Agustín Carstens, el nuevo gerente general del Banco de Pagos Internacionales, el banco central de los bancos centrales, elegir el tema del Bitcoin para uno de sus primeros discursos relevantes. ¿Acaso Carstens, el ex gobernador de larga data del Banco de México, podría encontrar un punto medio feliz entre los halcones y las palomas, entre los chinos controladores y los canadienses complacientes?
Para darle un marco a su argumento, Carstens regresó a los primeros principios, en un intento por definir el dinero y luego entender hasta qué punto califican las monedas digitales. Los tres criterios, nos recuerda, son que una moneda actúa como una unidad de cuenta, un medio común de pago y una reserva de valor.
Pocos bienes, si es que los hay, están cotizados en Bitcoin, es muy raro que se lo utilice en transacciones y los costos de hacerlo son prohibitivos. En cuanto a ser una reserva de valor, la volatilidad de los precios de las criptomonedas los convierte, hasta el momento, en una inversión altamente riesgosa. "Si bien las criptomonedas pueden pretender ser monedas", concluye Carstens, "no responden a las definiciones básicas de los libros de texto". Es más, sin un "respaldo institucional, que nadie mejor que un banco central puede ofrecer", los nuevos activos digitales ponen en peligro la confianza en el valor fundamental y la naturaleza del dinero. De modo que Carstens se ha ubicado firmemente en la colonia de los halcones.
Carstens también añade una objeción ambiental, por si acaso: la electricidad utilizada en el proceso de minar Bitcoins es equivalente al consumo diario de Singapur. A diferencia de los singapurenses, que por su clima húmedo tienen derecho a tener aire acondicionado, ese nivel de consumo de energía para minar Bitcoins es "un despilfarro social y un desastre ambiental".
¿Carstens tiene motivos para ser tan hostil o, de aquí a unos años, será considerado una suerte de rey Canuto monetario, sentado en Basilea en un trono bien acolchonado de banquero central, ordenando que la marea digital se retire? Es demasiado pronto para decirlo. Sospecho que el petro fracasará, pero dudo que no se vaya a hablar más de monedas digitales, o de libros mayores distribuidos, a pesar de las fatwas emitidas por China, Rusia y los sabios de Omaha.