Что не так с современным капитализмом?
ПРИНСТОН – Достаточно внезапно капитализм оказался явно болен. Вирус социализма появился вновь и в очередной раз заражает молодёжь. Более мудрые головы, уважающие былые достижения капитализма, хотят его спасти и предлагают различные диагнозы и лекарства. Но их предложения иногда пересекаются с предложениями тех, кто хотел бы сломать эту систему, тем самым, делая бессмысленным традиционное разделение на левых и правых.
Очень удачно, что свой взгляд на эту проблему высказал Рагурам Раджан, бывший управляющий Резервным банком Индии, который сейчас преподаёт в Школе бизнеса им. Бута при Чикагском университете. Он обладает не имеющими аналогов знаниями и опытом. В новой книге «Третья опора: Как рынки и государство оставили позади местные сообщества» он доказывает, что раковая опухоль, поразившая современный капитализм, является результатом сбоя не «Левиафана» (государство) и не «Бегемота» (рынок), а местных сообществ, которые перестали играть роль сдерживающего механизма для обоих монстров. И поэтому Раджан прописывает в качестве лекарства «инклюзивный локализм» с целью восстановить местные сообщества, способные дать людям самоуважение, статус и смысл жизни.
Книга Раджана, подобно книге экономиста из Оксфордского университета Пола Коллиера «Будущее капитализма», стала частью быстро набирающего популярность жанра критики капитализма его друзьями. Раджан является защитником капитализма; он признаёт, что капитализм перестал работать в интересах общественного блага, и поэтому его надо вернуть обратно под контроль.
Книга «Третья опора» содержит много глубокого исторического контекста, помогающего объяснить текущий момент, но наиболее удачно в ней отслеживаются события после Второй мировой войны, позволяя понять, почему всё стало разваливаться около 1970 года. До этого мир был занят восстановлением и реконструкцией, а экономический рост получил дополнительный толчок, благодаря переходу к передовым технологиям за счёт амортизационных инвестиций.
Но после 1970 года базовые темпы роста экономики стали снижаться, что объясняет многие из наших нынешних трудностей. Правительства не имели ни малейшего понятия, как реагировать на это замедление, и могли лишь обещать восстановление потерянного послевоенного рая. В большинстве случаев это означало увеличение заимствований. Между тем, в Европе элита занялась объединением континента с великой целью не допустить новых случаев кровавой бойни. Но она спешила обеспечить явные выгоды интеграции, и поэтому забыла о необходимости участия в этих процессах граждан. С тех пор европейская элита узнала, что вслед за высокомерием приходит возмездие.
Успехи социал-демократии в послевоенную эпоху ослабили способность рынка оказывать сдерживающее влияние на государство. По мнению Раджана, эти ослабшие игроки – и в Европе, и в Америке – оказались не способны справиться с революцией в информационных и коммуникационных технологиях (ИКТ), с которой им предстояло встретиться; они оставили рядовых граждан один на один с этими угрозами. Вместо того чтобы помогать работникам справиться с этими радикальными переменами, корпорации стали их усугублять, воспользовавшись незащищённостью сотрудников ради обогащения акционеров и менеджеров.
Subscribe now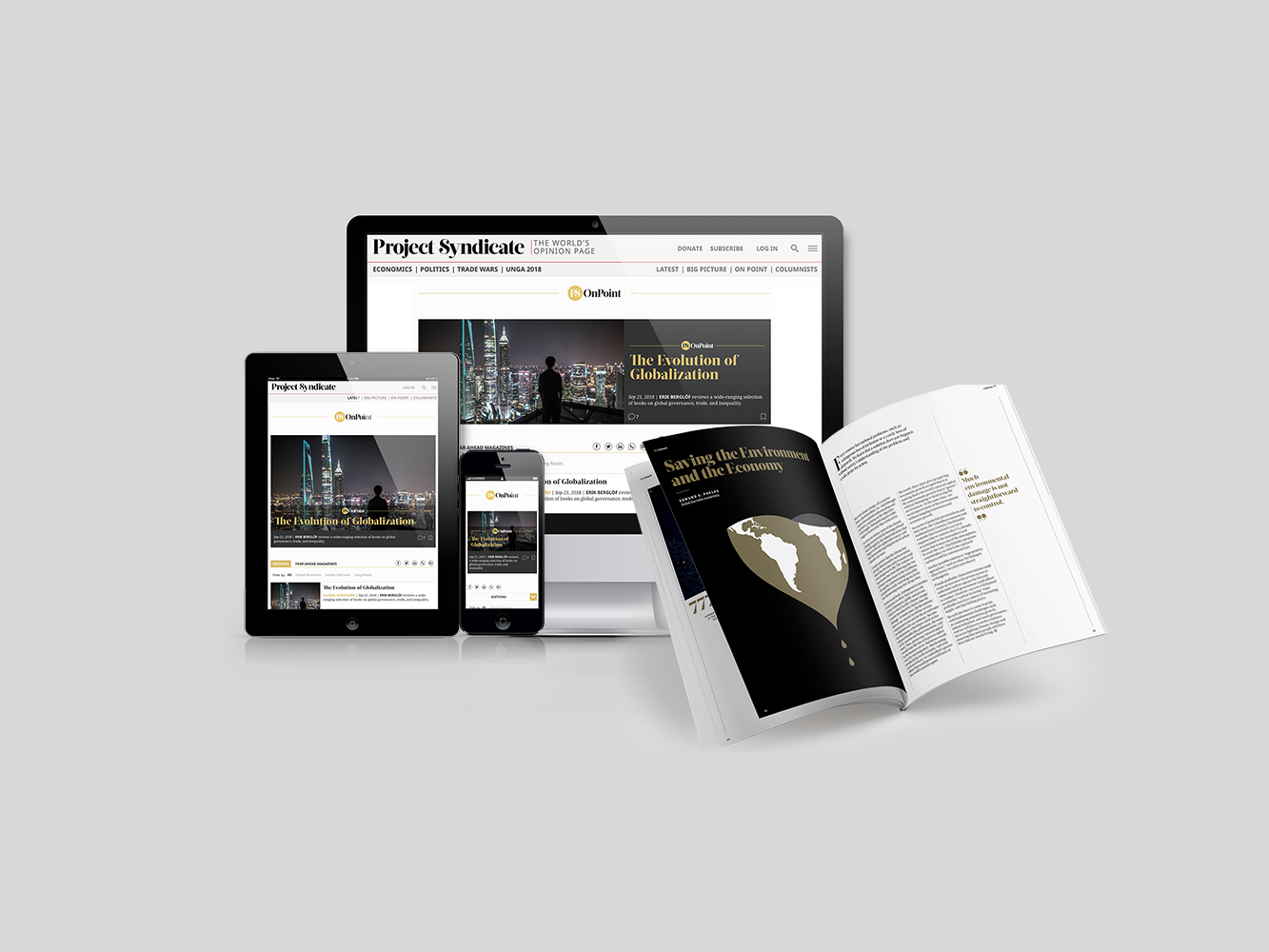 Subscribe now
Get unlimited access to OnPoint, the Big Picture, and the entire PS archive of more than 14,000 commentaries, plus our annual magazine, for less than $2 a week.
И как же сильно они обогатились! Поскольку медианные доходы домохозяйств в основном стагнировали, а возрастающая доля богатств доставалась богачам, капитализм стал откровенно несправедливым, потеряв народную поддержку. Пытаясь управиться с оппонентами, Бегемот позвал Левиафана на свою защиту, не понимая, что крайне правый, популистский Левиафан в конце всегда съедает Бегемота.
Два идеи в книге Раджана следует подчеркнуть особо. Во-первых, снижение темпов экономического роста – это ключевая, хотя и низкочастотная, причина сегодняшних социальных и экономических трудностей. Во-вторых, негативные последствия ИКТ-революции не являются неотъемлемым качеством технологических перемен. Они скорее, как отмечает Раджан, являются следствием «неспособности государства и рынков корректировать работу рынков». Хотя Раджан не делает на этом акцента, его вторая идея даёт нам повод для надежды. Получается, что ИКТ не обязательно обрекают нас на безработное будущее; просвещённые политические решения всё ещё могут сыграть важную роль.
Раджан очень хорошо рассказывает о неправильном поведении корпораций, что звучит особенно эффектно из уст профессора знаменитой бизнес-школы. С самого начала практически абсолютная доктрина первенства интересов акционеров стала служить для защиты менеджеров в ущерб сотрудникам; её негативные эффекты усугублялись практикой выплаты вознаграждения менеджерам в виде акций.
В книге «Будущее капитализма» Коллиер предлагает аналогичный рассказ из опыта Великобритании, повествуя историю британской компании, которая вызывала наибольшее восхищение в его (и моём) детстве  – Imperial Chemical Industries. Когда мы росли, мы все надеялись когда-нибудь работать в ICI; её миссия заключалась в том, чтобы «быть самой лучшей химической компанией в мире». Но в 1990-е годы ICI скорректировала свою центральную задачу, выбрав целью повышение стоимости для акционеров. Коллиер рассказывает, как эта единственная перемена разрушила всю компанию.
А что же с местными сообществами? Когда-то США лидировали в мире в сфере государственного образования, открывая местные школы, где дети с любыми талантами и экономической базой учились вместе. Когда начального образования стало недостаточно, местные сообщества обеспечили доступ к среднему образованию для всех.
Однако сегодня необходимым условием для успеха является диплом колледжа, поэтому наиболее талантливые дети стремятся получить такой диплом далеко за пределами своих сообществ. В конечном итоге они самосегрегируются, уезжая в быстро растущие города, из которых менее талантливые люди исключены из-за высокой стоимости жизни. Хорошо устроившись в своей блестящей изоляции, преуспевшие люди формируют режим меритократии, в которой добиваются успеха их дети – и почти исключительно их дети.
Коллиер рассказывает то же самое о Британии, где талантливые кадры и доля национального дохода стали во всё большей степени концентрироваться в Лондоне, оставляя далеко позади опустошённые и недовольные местные сообщества. Как отмечает Джанан Ганеш из Financial Times, эти столичные элиты обнаружили сейчас, что «прикованы к трупу».
Со своей стороны, Раджан считает меритократию продуктом ИКТ-революции. Я подозреваю, что это явление более старое. Британский социолог Майкл Янг опубликовал свою пророческую антиутопию «Возвышение меритократии» ещё в 1958 году. Более того, Коллиер и я входим в число первых британских меритократов. Как и предсказывал Янг, наша когорта сломала систему для последующих поколений, продолжая при этом восхвалять её достоинства. В Шотландии, где я вырос, местные таланты, интеллектуалы, писатели, историки, люди творчества – все уехали в поисках более широких пастбищ, или же просто отказались конкурировать с суперзвёздами масс-маркета. Мы все стали беднее из-за этого.
Как и Раджан, я думаю, что местные сообщества стали побочной жертвой захвата элитарным меньшинством рынков и государства. Но в отличие от Раджана, я скептически оцениваю идею, будто укрепление местных сообществ или политика локализма (инклюзивного или нет) сможет вылечить наши болезни. Джина меритократии уже нельзя вернуть обратно в бутылку.