COVID-19 en menselijke vrijheid
NEW YORK – De toename van het aantal COVID-19-besmettingen, ziekenhuisopnames en sterfgevallen in de Verenigde Staten herinnert ons er op bittere wijze aan dat de pandemie nog niet voorbij is. De wereldeconomie zal niet naar een normaal peil kunnen terugkeren zolang de ziekte niet overal onder controle is.
Maar het geval van de VS is een echte tragedie, omdat wat daar momenteel gebeurt zo onnodig is. Terwijl mensen in opkomende markten en ontwikkelingslanden ernaar snakken het vaccin te krijgen (en velen sterven omdat ze er geen kunnen krijgen), is de voorraad in de VS ruim genoeg om iedereen in dat land een dubbele dosis te geven – en ook nog een boostershot. En als bijna iedereen zich zou laten vaccineren, zou COVID-19 vrijwel zeker ʻvervagen,' zoals voormalig president Donald Trump het zo treffend uitdrukte.
Toch zijn nog lang niet genoeg mensen in de VS gevaccineerd om te voorkomen dat de zeer besmettelijke Delta-variant het aantal besmettingsgevallen in veel gebieden tot ongekende hoogten zal opdrijven. Hoe kunnen zovelen in een land met schijnbaar goed opgeleide mensen zo irrationeel handelen, tegen hun eigen belang, tegen de wetenschap, en tegen de lessen van de geschiedenis in?
Een deel van het antwoord is dat het land, ondanks al zijn rijkdom, niet zo goed opgeleid is als je zou verwachten – wat tot uiting komt in de relatieve internationale prestaties van het land bij gestandaardiseerde beoordelingen. In veel delen van het land – waaronder een aantal delen waar de weerstand tegen vaccinatie het grootst is – is het bijzonder slecht gesteld met het wetenschappelijk onderwijs, als gevolg van de politisering van fundamentele zaken als evolutie en klimaatverandering, die in veel gevallen niet in de lesprogramma's zijn opgenomen.
In deze omstandigheden kan desinformatie bij veel mensen aanslaan. En sociale-mediaplatforms, die gevrijwaard zijn van aansprakelijkheid voor wat zij doorgeven, hebben een bedrijfsmodel gemaakt van het maximaliseren van de ʻbetrokkenheid van de gebruiker' door het verspreiden van desinformatie, ook over COVID-19 en de vaccins.
Maar een belangrijk deel van het antwoord is een diepgaande misinterpretatie, vooral bij rechts, van individuele vrijheid. Degenen die weigeren mondkapjes te dragen of sociale afstand te bewaren, voeren vaak aan dat dit een inbreuk is op hun vrijheid. Maar de vrijheid van de een is de ʻonvrijheid' van de ander. Als hun weigering om een mondkapje te dragen of zich te laten vaccineren ertoe leidt dat anderen COVID-19 krijgen, ontzeggen zij met hun gedrag anderen het meer fundamentele recht op het leven zelf.
Subscribe to Project Syndicate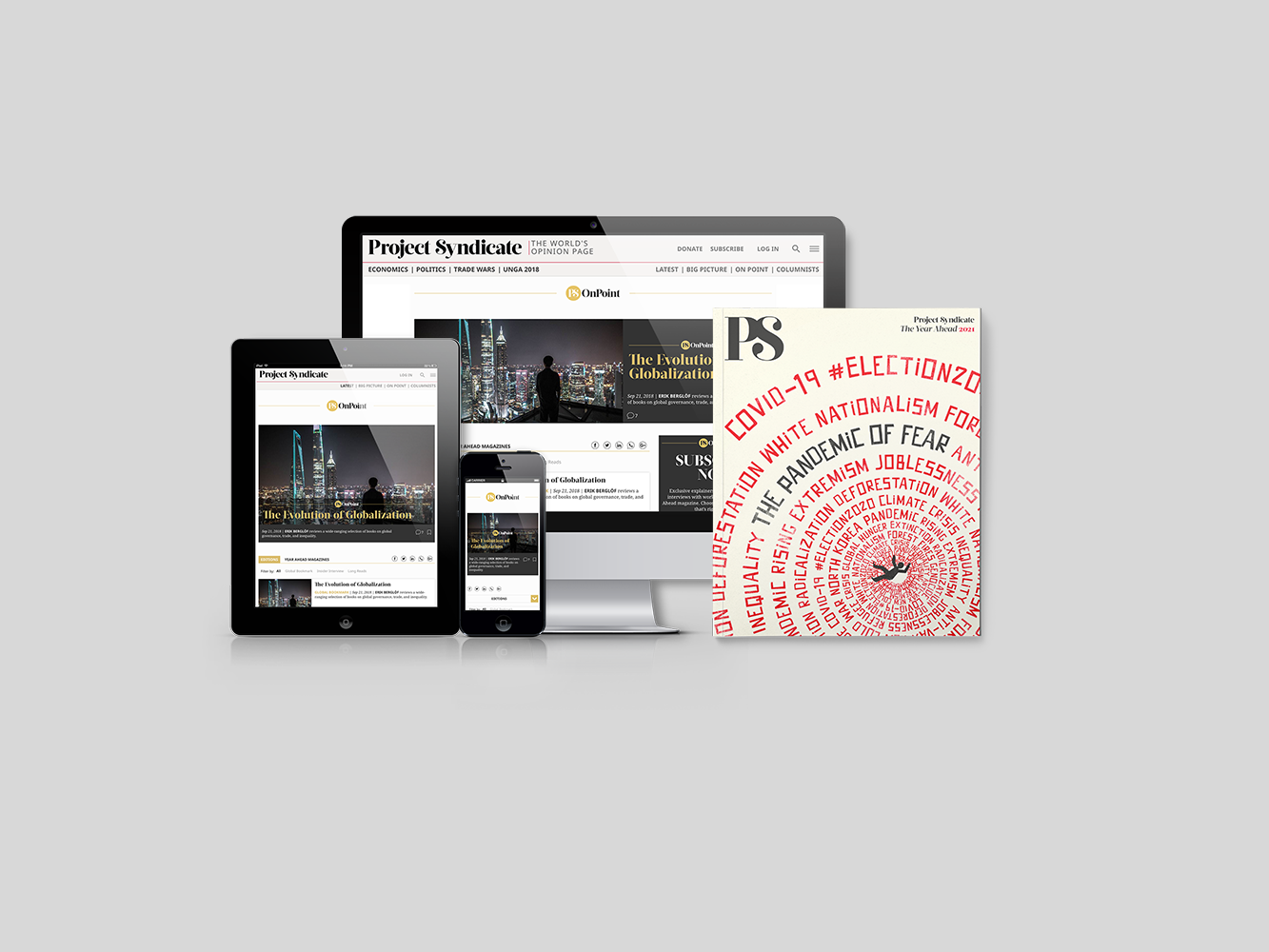 Subscribe to Project Syndicate
Enjoy unlimited access to the ideas and opinions of the world's leading thinkers, including weekly long reads, book reviews, topical collections, and interviews; The Year Ahead annual print magazine; the complete PS archive; and more – for less than $9 a month.
De kern van de zaak is dat er grote externe gevolgen zijn: tijdens een pandemie hebben de acties van één persoon invloed op het welzijn van anderen. En telkens wanneer er dergelijke externe gevolgen zijn, vergt het welzijn van de samenleving collectieve actie: regelgeving om sociaal schadelijk gedrag te beperken en om sociaal nuttig gedrag te bevorderen.
Iedere geordende samenleving brengt beperkingen met zich mee. Maar hoewel het verbod op doden, stelen, enz. de vrijheid van het individu beperkt, begrijpen we allemaal dat de maatschappij niet zou kunnen functioneren zonder die beperkingen. In onze post-COVID-wereld zouden we de Tien Geboden kunnen interpreteren als: ʻGij zult niet doden, ook niet door het verspreiden van besmettelijke ziekten, wanneer gij dat kunt vermijden.'
Evenzo: ʻGij zult u laten vaccineren.' Iedere inbreuk op de vrijheid van het individu, door een veilige en zeer doeltreffende COVID-19-vaccinatie te eisen, verbleekt in vergelijking met de sociale voordelen – en de daaruit voortvloeiende economische voordelen – voor de volksgezondheid. Het is een no-brainer om alle individuen, met slechts beperkte medische vrijstellingen, te verplichten zich te laten vaccineren. Nu veel regeringen te veel schroom aan de dag lijken te leggen om dit te eisen, zouden werkgevers, scholen en sociale organisaties – alle georganiseerde activiteiten die mensen met anderen in contact brengen – dit moeten doen.
Zoals we de afgelopen achttien maanden hebben geleerd, is mondiale gezondheid een wereldwijd collectief goed. Zolang de ziekte in sommige delen van de wereld blijft woeden, groeit het risico op een dodelijker, besmettelijker, vaccinatieresistente mutatie.
In het grootste deel van de wereld is het probleem echter niet de weerstand tegen inenting, maar een ernstig tekort aan vaccins. Kennelijk is de particuliere sector niet in staat de productie op te voeren om een toereikend aanbod te garanderen. Is dat omdat de vaccinproducenten niet over voldoende kapitaal beschikken? Is er een tekort aan glazen flesjes of spuiten? Of is het omdat zij hopen dat minder doses zullen leiden tot hogere prijzen en nog grotere winsten? Een van de belangrijkste hinderpalen voor een groter aanbod is de toegang tot de vereiste intellectuele eigendom, en daarom is de opschorting van intellectuele eigendom waarover in de Wereldhandelsorganisatie wordt gesproken, zo belangrijk.
Gezien de urgentie en de omvang van het probleem is er meer nodig: de regering van de Amerikaanse president Joe Biden zou onder meer een beroep kunnen doen op de Defense Production Act en gebruik kunnen maken van het feit dat de federale overheid eigenaar is van belangrijke octrooien. De VS hebben de farmaceutische bedrijven toegestaan vrij gebruik te maken van deze publieke intellectuele eigendom, terwijl zij miljarden dollars winst opstrijken. De VS moeten ieder instrument dat tot hun beschikking staat gebruiken om de productie in binnen- en buitenland te verhogen.
Ook dit is een no brainer. Zelfs als de kosten van wereldwijde vaccinatie tientallen miljarden dollars zouden bedragen, zou dat bedrag verbleken bij de kosten van aanhoudende COVID-19-uitbraken voor levens, bestaansmiddelen en de wereldeconomie.
Vertaling: Menno Grootveld