Steuerung der Deglobalisierung
LAGUNA BEACH – Nachdem sie in den letzten zehn Jahren bereits von zwei großen Erschütterungen gebeutelt wurde, erleidet die hochgradig vernetzte Verdrahtung der Weltwirtschaft derzeit aufgrund der COVID-19-Pandemie eine dritte – und das ist eine zu viel. Die Globalisierung steht damit vor einer Situation, die durchaus zu einer allmählichen, aber relativ lang andauernden Entkoppelung von Handel und Investitionen führen könnte. Dies könnte den säkularen Gegenwind, dem die Weltwirtschaft ohnehin schon ausgesetzt ist, noch verschärfen.
Appelle, sich auf den aktuellen Globalisierungsprozess zurückzubesinnen, dürften fast mit Sicherheit auf taube Ohren fallen – insbesondere weil diese letzte Erschütterung gleichzeitig von Regierungen, Unternehmen und den Haushalten der entwickelten Länder angetrieben werden wird. Diejenigen, die bestrebt sind, die Globalisierung längerfristig zu bewahren, täten stattdessen besser daran, sich auf die Minimierung der durch die kommende Phase der Deglobalisierung verursachten Störungen und die Schaffung der Grundlagen für einen nachhaltigeren Prozess im Anschluss an diese Phase zu konzentrieren.
Schon jetzt ist klar, dass viele Unternehmen im Gefolge der schädlichen pandemiebedingten Erschütterung ein stärker auf Risikovermeidung ausgelegtes Gleichgewicht zwischen Effizienz und Resilienz anstreben werden. Die mehrere Jahrzehnte währende Romanze der Unternehmen mit kosteneffektiven globalen Lieferketten und Just-in-Time-Lagerverwaltung wird einem stärker lokalisierten Ansatz Platz machen, der die Repatriierung bestimmter Wirtschaftsaktivitäten umfasst.
Diese Neigung wird noch verstärkt werden durch staatliche Vorgaben zur Gewährleistung der Versorgungssicherheit mit Produktionsgütern für Sektoren, die als im nationalen Interesse stehend betrachtet werden. In den USA sehen wir dies schon jetzt im Bereich der Energieerzeugung, der Telekommunikation und bei Medizin- und Pharmaprodukten. Es ist nur eine Frage der Zeit, bis sich dieser Trend auf weitere Sektoren und Länder ausweitet.
Nach der aktuellen Phase des Krisenmanagements werden sich zudem die gegenseitigen Schuldzuweisungen verschärfen, was der Deglobalisierung einen zusätzlichen geopolitisch bedingten Schub verleihen dürfte. Schon jetzt klagen die USA, dass China nicht genug getan habe, um die Ausbreitung des Virus einzudämmen und anderen Länder über dessen Gefährlichkeit zu informieren. Einige US-Politiker fordern sogar, dass China deshalb Reparationen zahlen müsse. Und viele in Amerika und anderswo betrachten Chinas ursprüngliche COVID-19-Reaktion als neuerliches Beispiel dafür, dass das Land seiner internationalen Verantwortung nicht gerecht wird.
Zudem intensiviert die sich verschlechternde geopolitische Lage den Einsatz wirtschaftspolitischer Instrumente als Waffe, der sich während des jüngsten Handelskrieges zwischen den USA und China – dem zweiten Schlag der jüngsten Zeit gegen den Globalisierungsprozess – bereits beschleunigt hatte. Dies wiederum wird die Befürchtungen vieler multinationaler Unternehmen bestätigen, dass sie sich nicht länger auf zwei zentrale geschäftliche Annahmen verlassen können: die immer stärkere Integration und Vernetzung der weltweiten Produktions-, Konsum- und Investitionsströme und die geordnete und relativ berechenbare Beilegung von Handels- und Investitionskonflikten durch rechtsstaatlich agierende multilaterale Institutionen.
Subscribe to Project Syndicate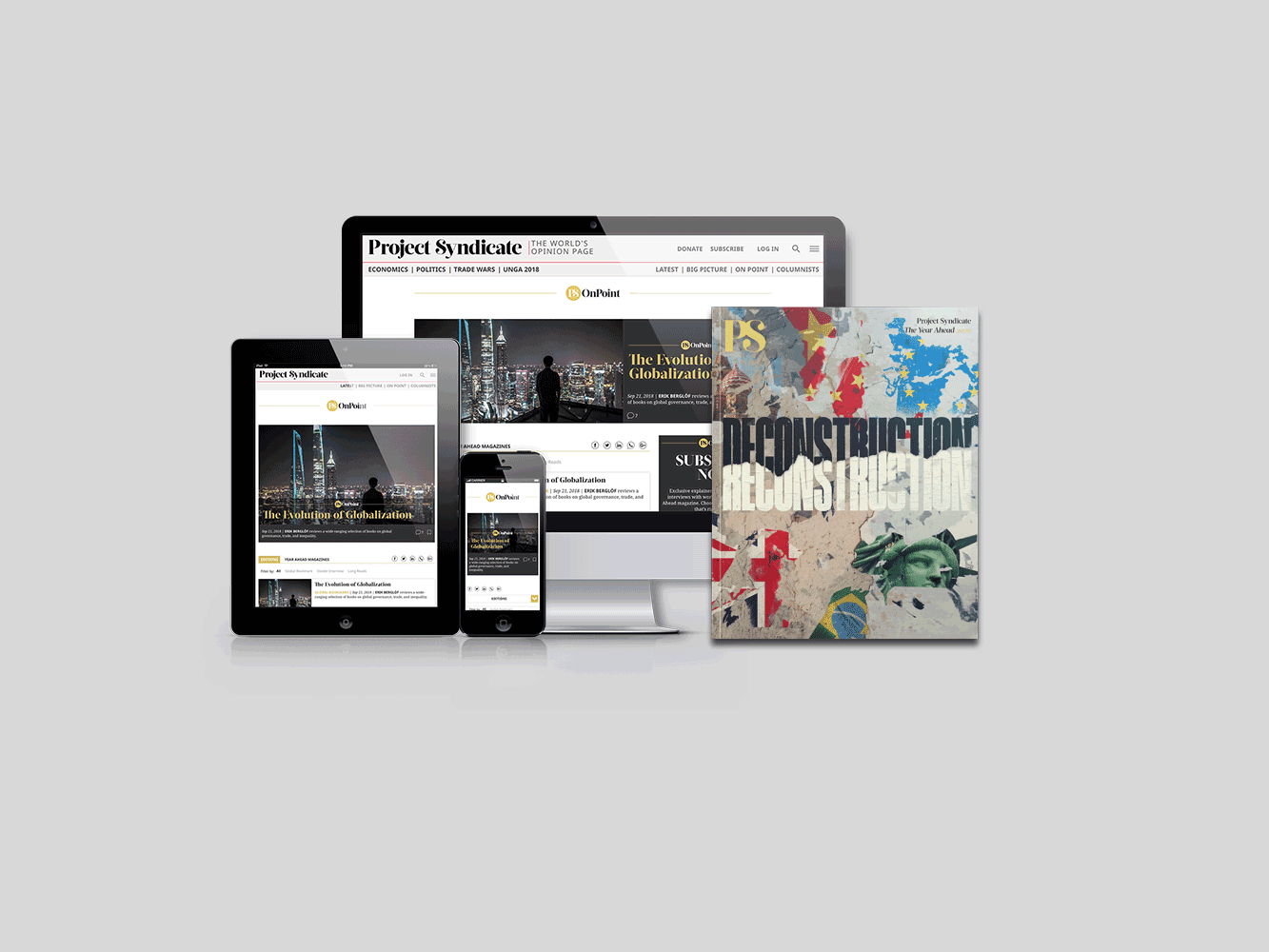 Subscribe to Project Syndicate
Enjoy unlimited access to the ideas and opinions of the world's leading thinkers, including weekly long reads, book reviews, and interviews; The Year Ahead annual print magazine; the complete PS archive; and more – all for less than $2 a week.
Die heutige chinafeindliche Rhetorik wird zudem der ersten Welle des Widerstands gegen die Globalisierung, die vor einem Jahrzehnt einsetzte, neuen Schwung verleihen. Die durch die vom Globalisierungsprozess ausgehende Verunsicherung und das Gefühl der Marginalisierung einiger Bevölkerungssegmente bedingte establishmentfeindliche Gegenreaktion hat mancherorts zu extremen politischen Bewegungen geführt, die überraschende Erfolge erzielten, nicht zuletzt den Brexit. Diese Entwicklungen haben die globale politische Zusammenarbeit stark geschwächt, was sich an dem unkoordinierten Ansatz der Welt zur Eindämmung von COVID-19 überdeutlich gezeigt hat.
Dies ist kein idealer Zeitpunkt für die Weltwirtschaft, eine säkulare Deglobalisierung zu durchlaufen. Die meisten Länder und praktisch alle Segmente ihrer Volkswirtschaften (Wirtschaft, Staat und private Haushalte) werden aus der Krise stärker verschuldet hervorgehen. Ohne umfassende Umstrukturierungsmaßnahmen werden insbesondere die Entwicklungsländer sich durch hohe Arbeitslosigkeit, Einkommensverluste, eine trägere Wirtschaftsentwicklung und möglicherweise einen weniger dynamischen Konsum in ihrer Fähigkeit zur Bedienung dieser Schulden beschränkt sehen.
Diejenigen, die sich der Fähigkeit einer grenzübergreifenden Vernetzung zur Schaffung wirtschaftlicher Chancen, von denen beide Seiten profitieren, und zur Verringerung des Risikos militärischer Konflikte bewusst sind, werden vor diesem Hintergrund den Status quo der Zeit vor der Pandemie zu verteidigen suchen. Doch in einer Zeit, in der die mit den pandemiebedingten direkten und indirekten Schäden kämpfenden Regierungen verstärkt nach innen blicken, die Unternehmen noch immer unter den Störungen ihrer globalen Lieferketten und Märkte leiden und die privaten Haushalte ein stärkeres Maß wirtschaftlicher Unsicherheit empfinden, dürfte dieser Ansatz kaum durchdringen.
Statt einen nicht zu gewinnenden Grundsatzkrieg zu führen, sollten die Globalisierungsbefürworter einen pragmatischeren Ansatz verfolgen, der sich auf zwei Prioritäten konzentriert. Erstens sollten sie Wege finden, um den Prozess der teilweisen Deglobalisierung geordnet und graduell ablaufen zu lassen und dabei sich selbst befeuernde Störungen, die vielen unnötig Schmerz und Leid zufügen, zu vermeiden. Zweitens sollten sie mit der Errichtung eines stabileren Fundaments beginnen, um einen diesmal breitere Gruppen einbeziehenden und nachhaltigeren Globalisierungsprozess einzuleiten, bei dessen Konzeption und Umsetzung der private Sektor unweigerlich eine größere Rolle spielen wird.
Um auf eine Analogie aus dem Baseball zurückzugreifen: Dieser dritte Schlag gegen die Globalisierung hat sie für den Augenblick zurück auf die Bank geschickt. Doch wie beim Baseball wird sie eine weitere Chance erhalten. Die Herausforderung besteht nun darin, die Zeit auf der Bank zu nutzen, um die Situation besser zu durchschauen und gestärkt ins Spiel zurückzukommen.
Aus dem Englischen von Jan Doolan