Une deuxième chance pour le développement mondial
GENÈVE – Les deuxièmes chances sont rares en ce monde, mais c'est bien une deuxième chance qui se présente aujourd'hui. Par sa portée, par son échelle, l'aide des pouvoirs publics aux entreprises et aux travailleurs durant la crise du Covid-19, durant les dix-huit mois qui viennent de s'écouler, a balayé nombre de dogmes enracinés dans l'action politique. Il en est résulté une dynamique politique dans les économies avancées comme dans les économies en développement qui pourrait modifier l'équilibre des pouvoirs entre l'État et le marché, par conséquent alimenter un nouveau consensus qui permettrait de parvenir à une croissance plus durable et équitable. Bâtir sur cet élan serait le plus sûr moyen de ne pas répéter les erreurs politiques des dernières décennies.
La pandémie de Covid-19 a mis à l'épreuve, partout dans le monde, la réactivité des pouvoirs publics et la résilience des systèmes économiques ; elle a aussi changé les comportements sociaux et les habitudes individuelles dans des proportions auparavant impensables. Se dessine aussi, dans la souffrance, une véritable raison d'espérer. Les employés des secteurs essentiels ont montré un dévouement qui est pour tous un exemple ; la communauté scientifique mondiale a su tirer parti des fonds publics, mettre en commun les recherches pour en augmenter la puissance, et livrer des vaccins efficaces et sûrs en un temps record.
La reprise économique mondiale s'est amorcée dans la seconde moitié de l'année 2020, lorsque les pays ont pu gérer le risque sanitaire de la pandémie de façon moins drastique et lancer des programmes de vaccination. La croissance mondiale devrait atteindre cette année 5,3 %, son taux le plus élevé depuis un demi-siècle. Mais les perspectives au-delà de 2021 sont incertaines, étant donné les disparités entre les ressources financières des pays, la probabilité d'émergence de nouveaux variants du coronavirus et les taux de vaccination très inégaux d'un pays l'autre.
Si nous n'y prenons garde, ces obstacles pourraient freiner la dynamique enclenchée – à l'instar des mesures inopportunes d'austérité budgétaire adoptées après la crise financière mondiale de 2008. La pandémie a en outre mis en lumière l'impréparation des économies même les plus avancées face aux chocs inattendus – ce que soulignent les événements météorologiques extrêmes survenus cette année – ainsi que le degré de fragmentation de l'économie mondiale.
Un retour aux paradigmes de gouvernance d'avant la pandémie, qui eurent pour résultat la plus faible croissance sur dix ans de l'économie mondiale depuis 1945, serait un désastre. Cela vaut notamment pour les pays en développement, où les ravages économiques causés par le Covid-19 sont plus marqués encore – parfois considérablement – que ceux de la crise financière mondiale de la décennie précédente.
Les initiatives économiques à large spectre de la nouvelle administration américaine, pour peu qu'elles soient suivies par des actions similaires des autres pays développés, pourraient réinstaller l'économie mondiale sur des bases plus saines. Ajoutons que le soutien des États-Unis à la récente allocation par le Fonds monétaire international de droits de tirage spéciaux (DTS) d'un montant de 650 milliards de dollars ainsi qu'à un taux d'imposition minimal mondial sur les sociétés et à une levée des droits de propriété intellectuelle sur les vaccins contre le Covid-19 présage favorablement d'un retour aux relations multilatérales. Les asymétries actuelles de l'économie mondiale et l'intrication des crises économiques et environnementales qu'elles ont causées devraient dominer l'ordre du jour des négociations multilatérales.
Subscribe to Project Syndicate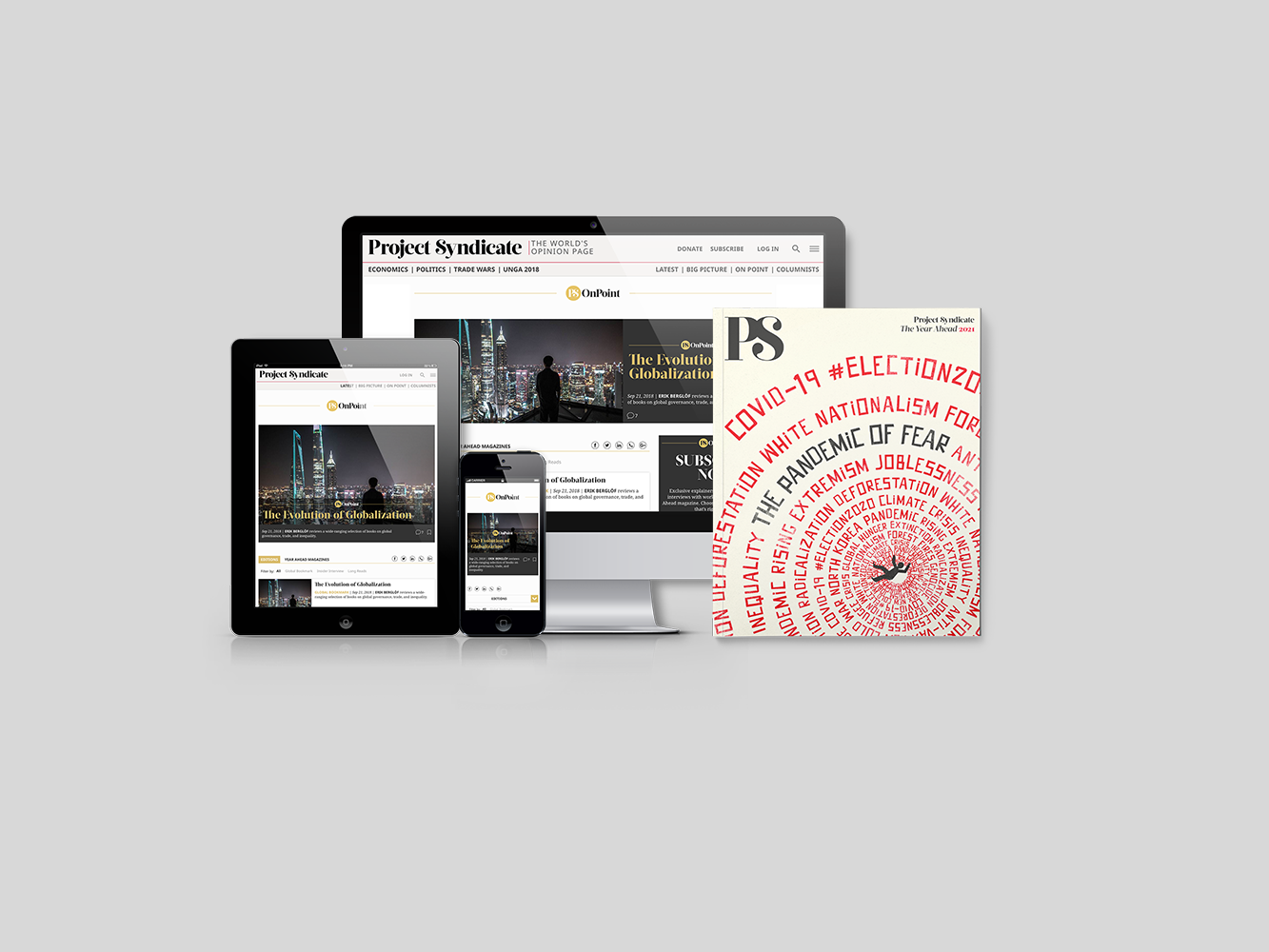 Subscribe to Project Syndicate
Enjoy unlimited access to the ideas and opinions of the world's leading thinkers, including weekly long reads, book reviews, topical collections, and interviews; The Year Ahead annual print magazine; the complete PS archive; and more – for less than $9 a month.
Les progrès dépendront de l'amélioration de la coordination entre les principales économies tandis qu'elles entretiendront la dynamique de relance, construiront la résilience face aux chocs futurs et s'attaqueront à une crise climatique dont l'urgence se fait toujours plus nettement sentir. Mais une meilleure coordination ne suffira pas à mieux reconstruire ou à « reconstruire en mieux ». Les pays en développement ont avant tout besoin d'une aide internationale renouvelée. Beaucoup font face à une crise de santé publique incontrôlable en raison de la pandémie, alors même qu'ils sont aux prises avec un fardeau de la dette de plus en plus lourd et se heurtent à la triste perspective d'une décennie de croissance économique perdue.
Les efforts internationaux consentis pour alléger les tensions sanitaires et financières des pays du Sud courent encore le risque d'être insuffisants et d'arriver trop tard. Mais nous pouvons bâtir sur ce qui a déjà été accompli. Les récentes initiatives du G20 concernant la dette des pays en développement peuvent encourager des actions plus ambitieuses d'institutions multilatérales solides pour répondre à une question de plus en plus pressante.
De même, les dons ou les réaffectations des DTS non utilisés par les pays à haut revenu, dont une grande partie proviendrait de la récente allocation de 650 milliards de dollars, pourraient aider à financer les efforts des pays en développement pour atteindre les objectifs de développement durable. En dépit des déconvenues récentes, le secrétaire général des Nations unies, Antonio Guterres, soulignait récemment que « nous avons les connaissances, la science, la technologie et les ressources » qui permettraient de remettre les ODD sur les rails. « Ce dont nous avons besoin, c'est d'une unité de vues, d'une direction efficace assumée par tous les secteurs et, sans délai, d'une action ambitieuse. »
Le plan Marshall, qui permit de reconstruire l'Europe après la Seconde Guerre mondiale a été évoqué comme modèle, et à juste titre. Mais ce qui fait défaut aujourd'hui, c'est un récit courageux, centré sur l'humain, qui parvienne à se débarrasser des détournements rhétoriques – et dépassés – du marché pour relier au contraire les défis politiques auxquels le monde entier est confronté à l'amélioration de la vie quotidienne des gens, qu'ils vivent à Bogota, à Berlin, à Bamako, à Pusan ou à Boston.
Cela signifie qu'il faut créer plus d'emplois pour que les gens qui travaillent et leur famille aient accès à un avenir digne de ce nom. L'extension des marges de manœuvre budgétaires ne sera pas suffisante pour y parvenir ; il faudra aussi que les impôts servent à financer des services publics et une protection sociale adaptées. Outre des emprunts souverains responsables, les dirigeants politiques doivent veiller à ce que les dettes contractées par leurs concitoyens pour avoir un toit sur leur tête et envoyer leurs enfants à l'école ne se traduisent pas par un poids insupportable tout au long de leur vie. Enfin, les gouvernements doivent non seulement fixer un juste prix du carbone, mais également préserver pour les générations futures l'environnement naturel.
Voici quarante ans, le premier rapport de la Conférence des Nations unies sur le commerce et le développement (CNUCED) appelait à un nouveau paradigme « afin de rendre compte explicitement du fait que les questions concernant la gestion de l'économie mondiale, d'une part, et les objectifs de développement à long terme, d'autre part, sont étroitement mêlées ». Au lieu de quoi les responsables politiques ont depuis lors fait démesurément confiance aux forces du marché pour établir ce lien. Cette stratégie a échoué. Pire, l'érosion des services publics, la mainmise d'intérêts privés sur la puissance publique et la déréglementation des marchés du travail au cours des quarante années écoulées ont miné la confiance des citoyens dans leurs représentants politiques.
Aujourd'hui, la reconstruction « en mieux » dépend de l'avènement d'un nouveau paradigme politique – cette fois pour servir de guide à une transition juste vers un monde décarboné. La question essentielle est celle de l'adoption simultanée par les différents pays des mesures indispensables. Si chacun agit séparément, cette crise n'aura été qu'une nouvelle opportunité manquée.
Traduit de l'anglais par François Boisivon