Die Eindämmung der islamistischen Bedrohung
LONDON – Die Taliban sind Teil der weltweiten Bewegung des radikalen Islam. Dieser Bewegung gehören zwar viele unterschiedliche Gruppen an, sie alle bauen jedoch auf derselben grundlegenden Ideologie auf. Vereinfacht ausgedrückt besagt diese Ideologie, dass es nur einen wahren Glauben und nur eine wahre Auslegung dieses Glaubens gibt und dass Gesellschaft, Politik und Kultur einzig und allein von dieser Auslegung bestimmt werden sollten. Der radikale Islam glaubt nicht nur an den Islamismus - die Umwandlung der islamischen Religion in eine politische Doktrin - sondern auch daran, dass es gerechtfertigt sei, dieses Ziel durch  Kampf und notfalls mit Waffengewalt zu erreichen. Andere Islamisten heißen zwar die Ziele gut, vermeiden aber Gewalt.
Diese Ideologie steht unweigerlich im Widerspruch zu offenen, modernen und kulturell toleranten Gesellschaften. Nahezu alles, was mit den Terroranschlägen vom 11. September 2001 und deren Folgen zu tun hat, ist vor allem jetzt von Kontroversen geprägt. Zweifellos fest steht allerdings, dass der radikale Islam seit 9/11 - auch wenn es glücklicherweise keinen weiteren Terroranschlag dieser Dimension gegeben hat - nichts von seiner  Kraft eingebüßt hat. Strittig ist die Frage, warum das so ist.
Ist der radikale Islam eine schlüssige Ideologie, die eine Bedrohung ersten Ranges für unsere Sicherheit darstellt? Oder haben wir es trotz einiger gemeinsamer Merkmale der verschiedenen Gruppierungen mit einer Reihe unzusammenhängender Herausforderungen für die Sicherheit zu tun, von denen jede auf der Grundlage lokaler Gegebenheiten separat behandelt werden muss? Ist der Islamismus selbst ein Problem oder nur seine Erscheinungsform des gewalttätigen Extremismus? Ist er mit dem revolutionären Kommunismus vergleichbar und muss daher langfristig durch eine Kombination aus sicherheitspolitischen und ideologischen Maßnahmen bekämpft werden? Oder würde man damit den Islamismus überbewerten und überschätzen und so in kontraproduktiver Weise -  wie einige hinsichtlich der westlichen Interventionen in Afghanistan und im Irak argumentieren - seine Anziehungskraft noch verstärken, anstatt sie zu verringern?
Dabei handelt es sich um eine grundlegende strategische Frage, die eine klare Antwort erfordert.
Meiner Ansicht nach stellen sowohl die Ideologie als auch die Gewalt des Islamismus eine Sicherheitsbedrohung ersten Ranges dar. Und wie 9/11 schon gezeigt hat, wird sie uns erreichen, auch wenn sie derzeit noch so weit entfernt ist. 
Eine vor kurzem veröffentlichte Untersuchung von Emman El-Badawy, eines Mitarbeiters meines Instituts, zeigt, dass die Wurzeln des Islamismus jahrzehntelang zurückreichen und schon lange vor 9/11 immer mehr an Stärke gewannen. Darüber hinaus werden in der Arbeit die Verbindungen zwischen Ideologie und Gewalt analysiert. Ergänzt werden diese Erkenntnisse durch Ahmet Kurus hervorragende Analyse des Staatskonzepts der Ulama und durch unseren Jahresbericht über dschihadistische Gruppen, in dem aufgezeigt wird, dass es sich dabei um eine sich verschärfende globale Herausforderung handelt.
Subscribe to Project Syndicate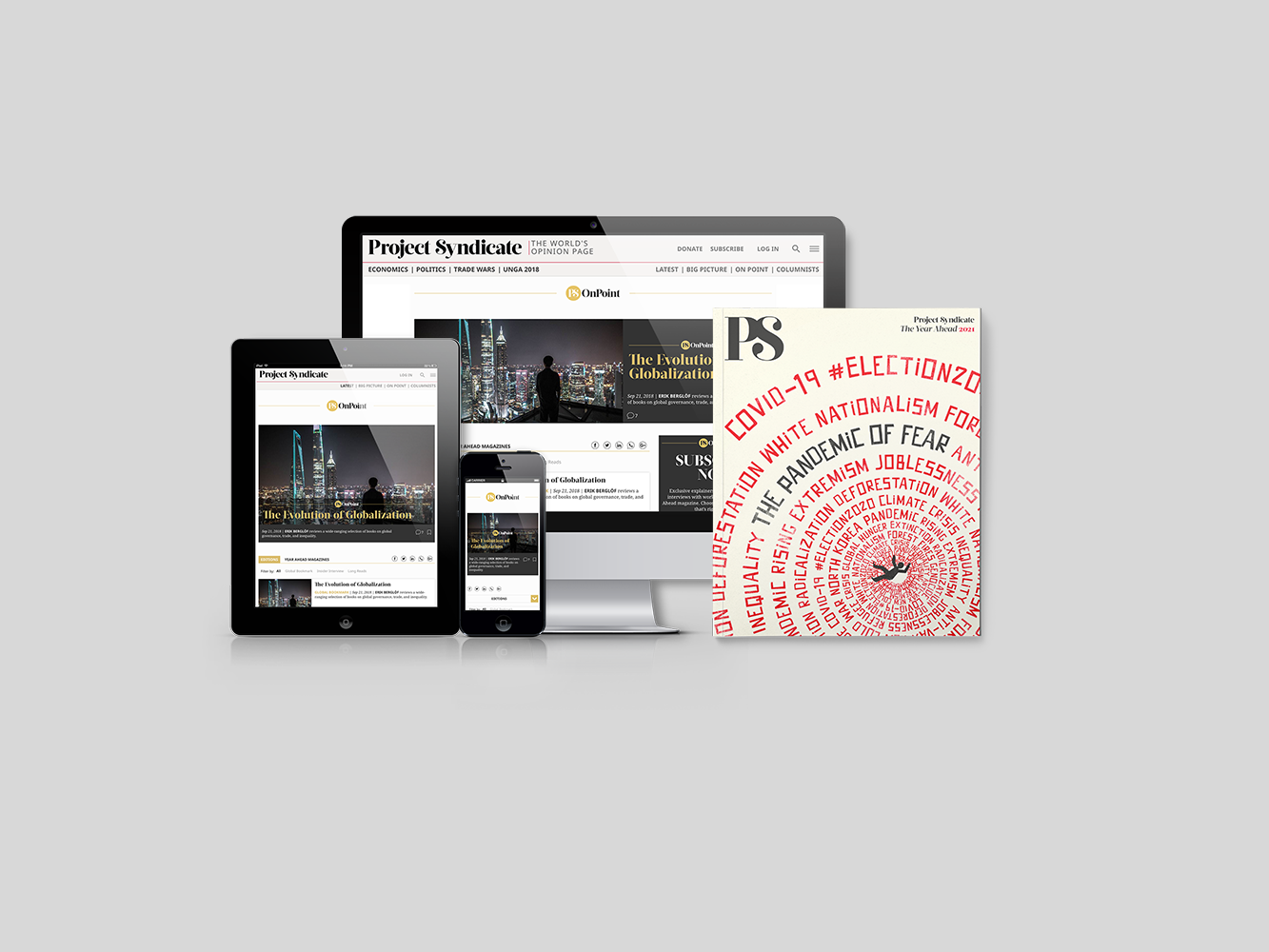 Subscribe to Project Syndicate
Enjoy unlimited access to the ideas and opinions of the world's leading thinkers, including weekly long reads, book reviews, topical collections, and interviews; The Year Ahead annual print magazine; the complete PS archive; and more – for less than $9 a month.
Diese Ideologie  – ob schiitisch, wie von der Islamischen Republik Iran verbreitet, oder sunnitisch, wie durch Gruppen von der Muslimbruderschaft über al-Qaida, dem Islamischen Staat (IS) bis Boko Haram und vielen anderen vertreten – ist der Hauptgrund für die Destabilisierung im gesamten Nahen Osten und darüber hinaus. Heute ist sie auch eine der wichtigsten Ursachen der Instabilität in Afrika.
Wie der revolutionäre Kommunismus operiert auch der Islamismus in zahlreichen unterschiedlichen Bereichen und Größenordnungen. Letztlich wird man ihn nur niederringen können, wenn sowohl die Gewalt als auch die Ideologie mit einer Kombination aus harter und weicher Macht bekämpft werden. Wenn das zutrifft, müssen sich die führenden Mächte, insbesondere nach dem Fall Afghanistans, zusammenschließen, um eine gemeinsame Strategie zu entwickeln. Auch wenn sich die ersten Diskussionen darüber auf die westlichen Länder konzentrieren, ist festzustellen, dass auch in China und Russland tiefgreifende Sicherheitsinteressen bestehen, dieser Ideologie entgegenzuwirken. Und die geeignetsten Verbündeten des Westens bei der Formulierung einer erfolgreichen Strategie sind unter den zahlreichen Ländern mit mehrheitlich muslimischer Bevölkerung zu finden – auch im Nahen Osten – die verzweifelt versuchen, ihre Religion vom Extremismus zurückzuerobern.
Außerdem gilt es, unsere Verwundbarkeit genau einzuschätzen. Covid-19 hat uns alle etwas über tödliche Krankheitserreger gelehrt. Die Möglichkeiten des Bioterrorismus mögen wie Science-Fiction erscheinen, aber es wäre trotzdem klug, uns jetzt auf deren potenziellen Einsatz durch nichtstaatliche Akteure vorzubereiten.
Verschließen wir uns diesen Erkenntnissen besteht die Alternative tatsächlich darin, den Islamismus als ein zweitrangiges Problem zu betrachten. Wo wir direkt bedroht sind, schlagen wir mit Maßnahmen der Terrorismusbekämpfung wie Drohnenangriffen, Überwachung und Spezialeinheiten zurück. Ansonsten lassen wir die Sache auf sich beruhen. Doch wenn die Politik in diese Richtung geht, zeugt das von einem viel zu beschränkten Verständnis des Problems.
Wir müssen herausarbeiten, was wir darunter verstehen, Länder, von denen terroristische Bedrohungen ausgehen können, nicht "umzugestalten". Für mich heißt es, dass wir unterlassen, was wir in Afghanistan versucht haben. Eines sollte allerdings klar sein: unsere "Umgestaltung" Afghanistans scheiterte nicht, weil die Menschen in Afghanistan diese Umgestaltung nicht wollten.  Sicherlich hätten wir das Land besser "umgestalten" können, aber die Afghanen haben sich die Machtübernahme durch die Taliban nicht ausgesucht. Die Taliban haben das Land nicht mit Überzeugungskraft, sondern mit Gewalt zurückerobert.
Das Haupthindernis für "Nationenbildung"  sind in aller Regel nicht die Menschen eines Landes, sondern unzureichende institutionelle Kapazitäten und schlechte Regierungsführung, zu der auch langjährige Korruption zählt. Vor allem besteht die Herausforderung darin, den Aufbau zu schaffen, während Elemente im Inneren mit externer Unterstützung versuchen, ihn zu zerstören.
Doch mit Maßnahmen zur Terrorismusbekämpfung allein lässt sich eine tief verwurzelte  Bedrohung nicht beseitigen. Stattdessen könnten wir einen Mittelweg anstreben. In der Sahelzone könnten wir beispielsweise eine Strategie verfolgen, die darauf abzielt, den  Ländern einerseits im Bereich Sicherheit unter die Arme zu greifen und andererseits auch die Entwicklungsanstrengungen der Regierungen zu unterstützen, da Armut und Unterentwicklung den Extremisten zweifelsohne in die Hände spielen. In gewisser Weise haben wir das nach 2014 in Afghanistan getan, als das Motto der Nato-Mission in "Ausbildung, Beratung und Unterstützung" umgewandelt wurde.
Aber auch das erfordert mehr als nur konventionelle Maßnahmen der Terrorismusbekämpfung. Wir werden Truppen vor Ort brauchen. Vorzugsweise sollen diese Truppen natürlich aus dem lokalen Umfeld stammen, aber das wird nicht in allen Fällen möglich sein.
In westlichen Gesellschaften hat man jedoch verständlicherweise eine tiefe Abneigung gegen Verluste bei den Streitkräften entwickelt. Für die Streitkräfte des Westens selbst ist das kein Problem – ihnen gehören mutige, außergewöhnliche Menschen an. Vielmehr hat sich die erwähnte Abneigung zu einem beinahe unüberwindbaren politischen Hindernis entwickelt, wenn es um die Entsendung westlicher Truppen geht, wobei Spezialeinheiten eine Ausnahme bilden. Das sich daraus ergebende Problem liegt auf der Hand:  wenn der Feind weiß, dass unser politischer Wille zum Kampf in Relation zur Höhe der von ihm verursachten Verluste schwindet, ist die Anreizstruktur eindeutig.
Für Europa und die Nato besteht noch eine zusätzliche Herausforderung. Mittlerweile ist klar – wenn es nicht schon vorher so war – dass Amerika beschlossen hat, sich in absehbarer Zukunft nur mehr in begrenztem Umfang militärisch zu engagieren. Nach der Nato-Intervention im Kosovo im Jahr 1999 initiierte ich gemeinsam mit Frankreich eine europäische Verteidigungspolitik. Ich tat es deshalb, weil mir bewusst geworden war, dass wir ohne die Vereinigten Staaten und das Engagement von Präsident Bill Clinton die Krise niemals hätten lösen können. Heute kann der Balkan, hoffentlich innerhalb Europas, auf eine friedliche Zukunft hoffen. Doch diese Krise lag vor Europas Haustür und nicht vor der Amerikas.
Nachdem Europa bereits die Folgen des Chaos in Libyen, des syrischen Bürgerkriegs und anderer Spannungen im Nahen Osten zu spüren bekommt, besteht die unmittelbare Herausforderung nun in der Destabilisierung der Sahelzone. In dieser Hinsicht ist Großbritannien – ob man will oder nicht – Teil Europas und muss auch mit Europa zusammenarbeiten, um Sicherheitslösungen zu konzipieren.
Aber wie sollen Europa und die Nato Handlungsfähigkeit entwickeln, wenn sich Amerika unwillig zeigt? Die Beantwortung derartiger Fragen kann dazu beitragen, den politischen Entscheidungsträgern im Westen im Hinblick auf strategisches Denken wieder auf die Sprünge zu helfen. Eine der beunruhigendsten Entwicklungen der letzten Zeit besteht in der Wahrnehmung, der Westen sei nicht in der Lage, eine Strategie zu formulieren, und kurzfristige politische Imperative hätten den Raum für langfristiges Denken eingeengt. Mehr als alles andere ist es vor allem dieses Gefühl, das unseren Verbündeten Angst einflößt und unsere Gegner glauben lässt, unsere Zeit sei vorbei.
Eine der deprimierendsten Äußerungen, die mir in den letzten Wochen regelmäßig zu Ohren kam, ist, dass es dumm sei zu glauben, man könne die westlichen Vorstellungen von liberaler Demokratie und Freiheit exportieren oder sie könnten jemals irgendwo anders Fuß fassen als auf dem dekadenten Boden westlicher Gesellschaften.
Vielleicht war es ein naiver Glaube meiner Generation von Spitzenpolitikern, dass man Länder "umgestalten" könne. Oder vielleicht hätte diese "Umgestaltung" längere Zeit gebraucht. Doch angesichts der vielen afghanischen Frauen, die aus Angst um ihr Leben die Flucht ergreifen, sollten wir nie vergessen, dass sich freie Menschen für unsere Werte entscheiden. Die Wiederherstellung des Vertrauens in diese Werte und ihre universelle Anwendung sind notwendig, wenn gewährleistet sein soll, dass wir für diese Werte eintreten und bereit sind, sie zu verteidigen.
Aus dem Englischen von Helga Klinger-Groier