ВВП должен быть подправлен, а не заменен
ЦЮРИХ – Уважаемые экономисты уже неоднократно указывали на то, что валовый внутренний продукт является неадекватной мерой экономического развития и социального благополучия и, следовательно, не должен быть единственной навязчивой идеей для директивных органов. Тем не менее, мы не приблизились ни на шаг к тому, чтобы найти приемлемую альтернативу ВВП.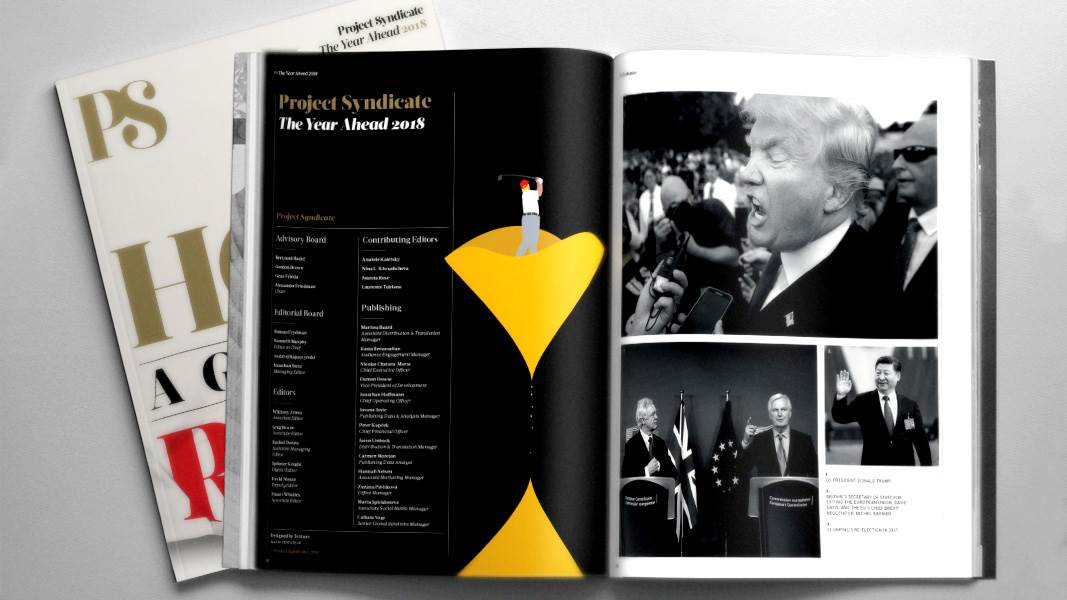 The Year Ahead 2018
The world's leading thinkers and policymakers examine what's come apart in the past year, and anticipate what will define the year ahead.
Один из хорошо известных пробелов ВВП состоит в том, что он не учитывает значимость домашнего труда, включая уход за детьми и пожилыми членами семьи. Более того, денежная оценка подобной деятельности не решит серьезного упущения в ВВП: его неспособность адекватно отражать жизненный опыт отдельных членов общества. Корректировка в отношении домашнего труда приведет к раздуванию ВВП, без придания реального значения жизненным стандартам. И женщины, которые составляют преобладающую часть людей, выполняющих домашний труд, по-прежнему будут рассматриваться как добровольцы, а не как реальные экономические участники.
Другим известным недостатком ВВП является то, что он не учитывает разрушение ценности, например, когда страны неправильно управляют своим человеческим капиталом, отказывая в образовании определенным демографическим группам или истощая природные ресурсы ради немедленной экономической выгоды. В целом, ВВП имеет тенденцию неточно оценивать активы, а обязательства и вовсе.
Тем не менее, несмотря на то, что международный консенсус относительно альтернативы ВВП так и не появился, наблюдается обнадеживающий прогресс в том, что касается более углубленного образа мышления относительно экономической деятельности. В 1972 году экономисты Йельского университета Уильям Нордхаус и Джеймс Тобин предложили новую концепцию, "показатель экономического благосостояния" (MEW), для учета различных неоплачиваемых видов деятельности. И, совсем недавно, Китай установил индекс "зеленого развития", который рассматривает экономические показатели наряду с различными факторами окружающей среды.
Более того, на сегодняшний день, лица принимающие решения из государственного и частного сектора, имеют гораздо больше средств для принятия сложных решений, чем в прошлом. Со стороны инвесторов резко возрастает спрос на экологические, социальные и управленческие данные. А в государственном секторе такие организации, как Всемирный банк, разработали показатели для оценки качества жизни отличные от ВВП, включая ожидаемую продолжительность жизни при рождении и доступ к образованию.
В то же время, набирают обороты споры вокруг валового национального дохода. Несмотря на то, что он разделяет основополагающие элементы с ВВП, ВНД больше соответствует нашей эпохе глобализации, поскольку он регулирует доходы, получаемые иностранными корпорациями и иностранными резидентами. Соответственно, в стране, где иностранные корпорации владеют значительной частью производственных и других активов, ВВП будет завышен, тогда как ВНД показывает только доход, который страна фактически сохраняет (см. Диаграмму).
Ирландия является ярким примером того, как ВНД используется для коррекции искажений в ВВП. В 2015 году объем ВВП Ирландии увеличился на 26,3%. Как отмечается в рабочем документе ОЭСР от октября 2016 года, этот эпизод поднял серьезные вопросы о "способности концептуальной системы учета, используемой для определения ВВП, адекватно отражать экономическую реальность".

В документе ОЭСР были сделаны выводы о том, что ВВП не является надежным показателем материального благосостояния страны. В случае Ирландии, ее единственный год поразительного роста ВВП был обусловлен тем, что многонациональные корпорации "переместили" определенные экономические выгоды, а именно прибыль от интеллектуальной собственности, в свою общую систему учета. Для решения растущего разрыва между фактическим экономическим развитием и представленным ВВП, Центральное статистическое управление Ирландии ввело на 2016 год модифицированную версию ВНД (известную как ВНД*).
Разрыв между ВВП и ВНД, вероятнее всего, вскоре, также будет закрыт и в других странах. В недавнем рабочем документе Уруж Хан из бизнес-школы Колумбии, Суреш Налларедди из Университета Дьюка и Этан Руан из Гарвардской бизнес-школы подчеркивают несовпадение в "росте прибыли корпораций и общей экономики США" между 1975 и 2013 годом. Они считают, что в течение этого периода, средний рост корпоративной прибыли опережал рост ВВП в тех случаях, когда ставка внутреннего корпоративного подоходного налога превышала показатели других стран ОЭСР.
В конце декабря, этот разрыв был рассмотрен с принятием Закона о сокращении налогов и занятости в 2017 году. За счет снижения ставки корпоративного налога до уровня международной конкурентоспособности и предоставления лучших условий для репатриации прибыли, ожидается, что налоговый пакет переместит доходы корпораций обратно в Соединенные Штаты. В результате, расхождение между ВВП и ВНД, вероятно, будет закрыто как в США, так и в Ирландии, где многие крупные корпорации США накопили значительную ликвидность.
Забегая вперед, я бы предложил, чтобы директивные органы сосредоточились на трех пунктах. Во-первых, как было показано выше, соответствующие заинтересованные стороны уже рассматривают ряд недостатков в ВВП, что обнадеживает. Во-вторых, лица, принимающие решения в государственном и частном секторах, теперь располагают множеством инструментов для лучшей оценки социальных и экологических последствий своих действий.
И, в-третьих, в бизнесе нельзя допустить, чтобы лучшее стало врагом хорошего. Мы не решили всех проблем, связанных с ВВП, но нам удалось значительно сократить многие из его перекосов. Вместо того, чтобы искать новую, дестабилизирующую структуру для замены существующих данных и аналитических методов, мы должны сосредоточиться на принятии продуманных, дополнительных изменений в существующую систему.