Bbp moet worden aangepast, maar niet vervangen
ZURICH – Gerespecteerde economen wijzen er al lange tijd op dat het bruto binnenlands product (bbp) een inadequate meting van economische ontwikkeling en sociale welstand is, en daarom niet de enige fixatie van beleidsmakers zou moeten zijn. Toch zijn we nog geen stap verder gekomen in het vinden van een levensvatbaar alternatief voor het bbp.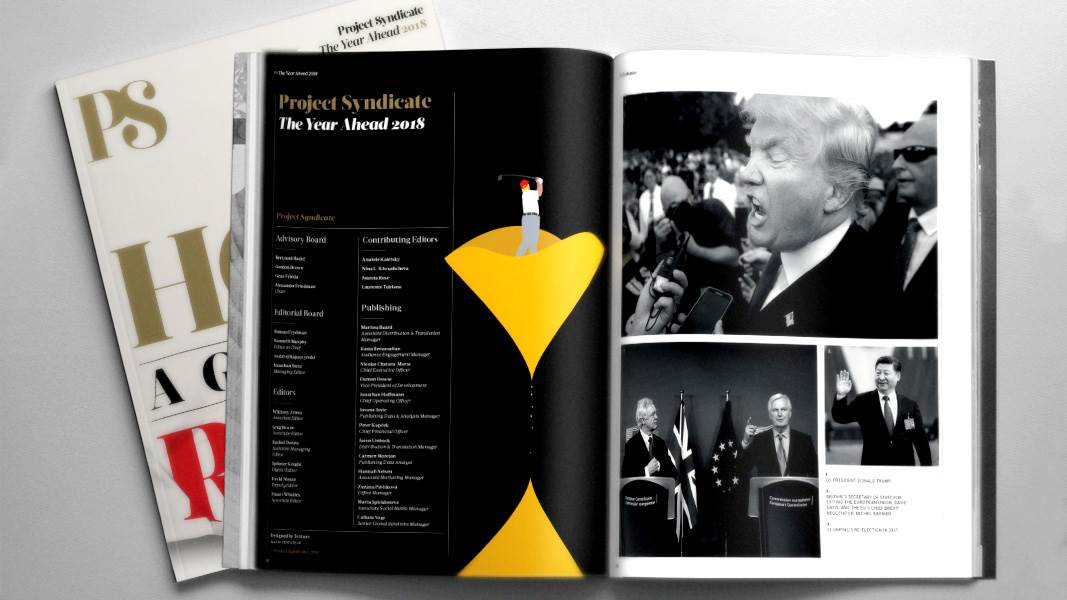 The Year Ahead 2018
The world's leading thinkers and policymakers examine what's come apart in the past year, and anticipate what will define the year ahead.
Een bekende tekortkoming van het bbp is dat het de waarde van huishoudelijk werk, waaronder zorg voor kinderen of bejaarde familieleden, niet meeneemt. Belangrijker nog is dat het toekennen van een geldelijke waarde aan zulke activiteiten niet in een fundamentelere leemte in het bbp voorziet: het onvermogen om adequaat de kwaliteit van leven van individuele leden van de maatschappij te weerspiegelen. Een correctie voor huishoudelijk werk zou het bbp oppompen, terwijl dit geen echt verschil in de levensstandaard maakt. En de vrouwen die nog steeds het grootste deel van het huishoudelijk werk doen zouden als vrijwilligers behandeld blijven worden in plaats van als echte deelnemers aan de economie.
Een ander bekend gebrek van het bbp is dat het geen waarde toekent aan kapitaalvernietiging, zoals wanneer landen hun menselijk kapitaal niet goed beheren door bepaalde demografische groepen onderwijs te onthouden, of door het uitputten van natuurlijke hulpbronnen voor onmiddellijk economisch profijt. Alles bij elkaar genomen neigt het bbp activa niet nauwkeurig te meten, en passiva in het geheel niet.
Alhoewel er nog geen internationale consensus bestaat over een alternatief voor het bbp is er toch een bemoedigende vooruitgang richting een meer weloverwogen manier van denken over economische activiteit ontstaan. In 1972 stelden Yale-economen William Nordhaus en James Tobin al een nieuw raamwerk voor, de 'measure of economic welfare' (MEW), om diverse onbetaalde activiteiten te includeren. En meer recent lanceerde China een 'groene ontwikkelingsindex' die de economische prestaties naast verschillende milieufactoren legt.
Bovendien hebben beleidsbepalers uit de publieke en private sector tegenwoordig veel meer gereedschappen om afgewogen keuzes te maken dan in het verleden. Bij investeerders stijgt de vraag naar sociale, milieu-, en overheidsdata explosief. En in de publieke sector hebben organisaties zoals de Wereldbank metingen anders dan het bbp overgenomen om de levensstandaard te meten, waaronder de levensverwachting bij geboorte en toegang tot onderwijs.
Ondertussen krijgt het debat rond het bruto nationaal inkomen (bni) steeds meer momentum. Hoewel het fundamentele overeenkomsten met het bbp heeft is het bni in ons gemondialiseerde tijdperk relevanter, omdat het corrigeert voor inkomen gegenereerd door buitenlandse firma's en werknemers. Zodoende zal in een land waar buitenlandse firma's een aanzienlijk deel van de productie en andere activa bezitten het bbp opgeblazen zijn, terwijl het bni alleen het inkomen laat zien dat ook echt binnen de grenzen blijft (zie tabel).
Ierland is een prominent voorbeeld van hoe het bni kan worden gebruikt om afwijkingen in het bbp te corrigeren. In 2015 groeide het Ierse gerapporteerde bbp met een ongelooflijke 26,3%. Zoals een werkstuk van de OESO uit oktober 2016 noteert wierp deze episode serieuze vragen op over 'het vermogen van het conceptuele raamwerk voor boekhouding gehanteerd om het bbp weer te geven om de economische realiteit toereikend te weerspiegelen.'

Het OESO-document concludeerde verder dat bbp geen betrouwbare indicator is van het materiële welvaren van een land. In het geval van Ierland kwam dit ene jaar van gigantische bbp-groei voort uit multinationals die bepaalde economische winsten – namelijk die over hun intellectuele eigendom – in hun overkoepelende boekhouding 'herplaatsten'. Om de groeiende discrepantie tussen de eigenlijke economische ontwikkeling en het gerapporteerde bbp aan te pakken heeft het Irish Central Statistics Office voor 2016 een aangepaste versie van het bni (bekend als bni*) geïntroduceerd.
De kloof tussen het bbp en bni zal zich ook in andere jurisdicties waarschijnlijk snel gaan sluiten. In een recent paper wijzen Urooj Khan van Columbia Business School, Suresh Nallareddy van Duke University, en Ethan Rouen van de Harvard Business School op een scheefstand in de 'groei van de bedrijfswinsten en die van de totale Amerikaanse economie' tussen 1975 en 2013. Ze vonden dat binnen die periode de gemiddelde groei van de bedrijfswinsten uitliep op die van het bbp wanneer de binnenlandse bedrijfsinkomstenbelasting hoger was dan die in andere OESO-landen.
Eind december is deze disconnectie aangepakt met het doorvoeren van de 2017 Tax Cuts and Jobs Act. Door de bedrijfsbelastingen te verlagen naar een mondiaal concurrerend niveau en door betere voorwaarden te scheppen voor het repatriëren van winsten wordt verwacht dat het belastingpakket bedrijfsinkomsten naar de Verenigde Staten terug zal brengen. Als resultaat hiervan zal de divergentie tussen bbp en bnp waarschijnlijk zowel in de VS als Ierland, waar veel grote Amerikaanse firma's geld vasthielden, gedicht worden.
Vooruitkijkend zou ik adviseren dat beleidsmakers zich op drie punten concentreren. Ten eerste pakken de relevante belanghebbenden zoals hierboven gedemonstreerd al verschillende gebreken in het bbp aan, wat bemoedigend is. Ten tweede beschikken beleidsbepalers uit de publieke en private sector inmiddels over een veelheid van instrumenten om de sociale en ecologische gevolgen van hun acties beter in te schatten.
En ten derde moet in zaken het perfecte niet de vijand van het goede worden. We hebben niet alle problemen geassocieerd met het bbp opgelost, maar we zijn een eind gekomen in het reduceren van veel van zijn vertekeningen. In plaats van een nieuw verstorend raamwerk te zoeken om de huidige data en analytische technieken te vervangen zouden we ons moeten richten op het aanbrengen van doordachte en progressieve veranderingen in het bestaande systeem.
Vertaling Melle Trap