A Pragmatic COP?
If the world is to make genuine progress on climate change, the engagement of both the oil and gas industry and the Gulf region is essential. COP28 could be a real game-changer in this respect, but only if politicians, particularly in Europe, take a clear-eyed approach, free of ideological blinkers.
MADRID – Recent climate negotiations have been heated, to say the least. Beyond the usual recriminations over financing, the choice of Sultan Al Jaber – Chief Executive of the Abu Dhabi National Oil Company (ADNOC) – as the president of the upcoming United Nations Climate Change Conference (COP28) in the United Arab Emirates has fueled considerable controversy.
But if the world is to make genuine progress on climate change, the engagement of both the oil and gas industry and the Gulf region is essential. In this sense, COP28 could be a real game-changer – if the rest of the world manages to set dogma aside and focus on finding common ground.
This message is particularly important for the European Union, whose approach to climate change has often been characterized by a self-defeating combination of ideology, hubris, and tunnel vision. While the EU has made important progress in reducing its carbon footprint and improving energy efficiency, it has failed to devise a common energy framework, thereby undermining both energy security and, ironically, sustainability.
This became starkly apparent after Russia's full-scale invasion of Ukraine in 2022, when European countries had to scramble for alternative energy supplies. Germany resorted to burning coal, the dirtiest fossil fuel. Now, the EU is being forced to reassess the practicality of some of its green initiatives, including a law banning the sale of diesel and gas-powered cars by 2035 and the Nature Restoration Law, a key component of the European Green Deal.
Moreover, though the EU has established itself as a global standard-setter in the green transition, it overestimates the extent to which its green philosophy resonates with the rest of the world. This is especially true for non-OECD countries, which bristle at the notion that they should make a direct leap from energy poverty to fully renewable and decarbonized consumption.
These countries contributed little to the climate crisis and now face the immense challenge of delivering economic opportunities to fast-growing populations. They can hardly be expected to prioritize sustainability over growth and development. Where they do contribute to the green transition – and pursue related imperatives like climate-change adaptation – they should be receiving generous funding from the rich world.
Introductory Offer: Save 30% on PS Digital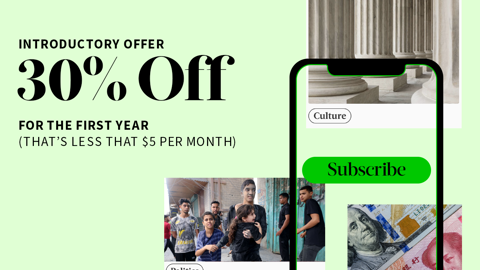 Introductory Offer: Save 30% on PS Digital
Subscribe now to gain greater access to Project Syndicate – including every commentary and our entire On Point suite of subscriber-exclusive content – starting at less than $5 per month.
But such support is currently falling far short of what is needed. It is estimated that if emerging and developing economies are to have any chance of reaching net-zero emissions, their annual clean-energy investments must reach roughly $2.8 trillion by the early 2030s. That is more than triple the $770 billion delivered in 2022.
In 2021, net transfers from official loans to the developing world amounted to just $38 billion. The $100 billion in annual climate financing that high-income countries pledged in 2009 to deliver by 2020 never materialized. Instead, some donors have begun imposing green conditionality on foreign aid and loans. Meanwhile, Europe has continued to make up its own energy shortfalls with gas, often from countries such as Senegal or Mozambique, to which it has denied financing for anything other than renewable energy.
If COP28 is to be a success, such green idealism and hypocrisy must be replaced by a clear-eyed agenda that considers the broad range of interests at play. Only by recognizing the needs and goals of all relevant actors can we hope to make green initiatives sustainable and accelerate the energy transition.
A more realistic approach to the oil and gas sector is also needed. For starters, there is no getting around the fact that, for now, it remains essential to energy access and security. As a recent International Energy Agency report argues, only continued investment in the oil and gas industry can ensure that the world's oil and gas supply does not fall faster than demand.
But the IEA also notes that the industry should be investing in reducing the emissions intensity of its operations. In fact, reducing the oil and gas industry's emissions – such as by eliminating all non-emergency flaring and expanding the use of low-emissions hydrogen in refineries – is one of the most cost-effective approaches to reducing total global emissions and limiting near-term global warming. Oil companies – beginning with those owned by states – should commit to tangible, verifiable emissions-reduction goals.
But oil and gas companies have an even greater role to play in the green transition. Energy firms have a global reach, a high-risk appetite, substantial financial resources, and established connections with energy stakeholders such as buyers and regulators. They also have considerable expertise in offshore projects, hydrogen production, and transporting fuel. All of these strengths can be leveraged to advance sustainability-related objectives.
Firms like ADNOC have already made progress not only in lowering their carbon intensity, but also in contributing to development. Saudi Aramco's $500 million corporate venture fund to back renewables and energy-efficient technologies is also a step in the right direction. But much more needs to be done.
To encourage the private sector – and not just oil and gas companies – to invest more in emissions reduction, we must make better use of carbon pricing and cross-border emissions-trading schemes. But such efforts must account for differences in energy needs and priorities, and avoid unrealistic expectations for renewables.
A one-size-fits-all approach would be neither fair nor effective. Each country must be able to strike its own balance between sustainability, security, and cost-effectiveness. The EU, for its part, needs a new framework for climate action that reflects a more practical, global perspective – one with the broad appeal that will be essential to make real progress on climate change.
The world cannot afford to prioritize ideology over pragmatism. A just green transition will be possible only with a sober, balanced approach that accounts for each country's energy and development needs. If COP28 is to yield meaningful progress, we must stop squabbling and start recognizing what various actors – including the oil and gas industry – can bring to the table.