Cómo Gran Bretaña dejó de ser cool
BERLÍN – La reciente reunión que sostuvieron la canciller alemana Ángela Merkel y la primera ministra británica Theresa May en la capital estonia de Tallin resultó ser un retrato de contrastes. Merkel ha buscado la apertura y el internacionalismo y lidera un país con una base industrial de primera y fuertes lazos comerciales internacionales. May habla más sobre el pasado que sobre el futuro, y ha denigrado a los "ciudadanos del mundo" mientras asegura defender la confusa identidad nacional de su país.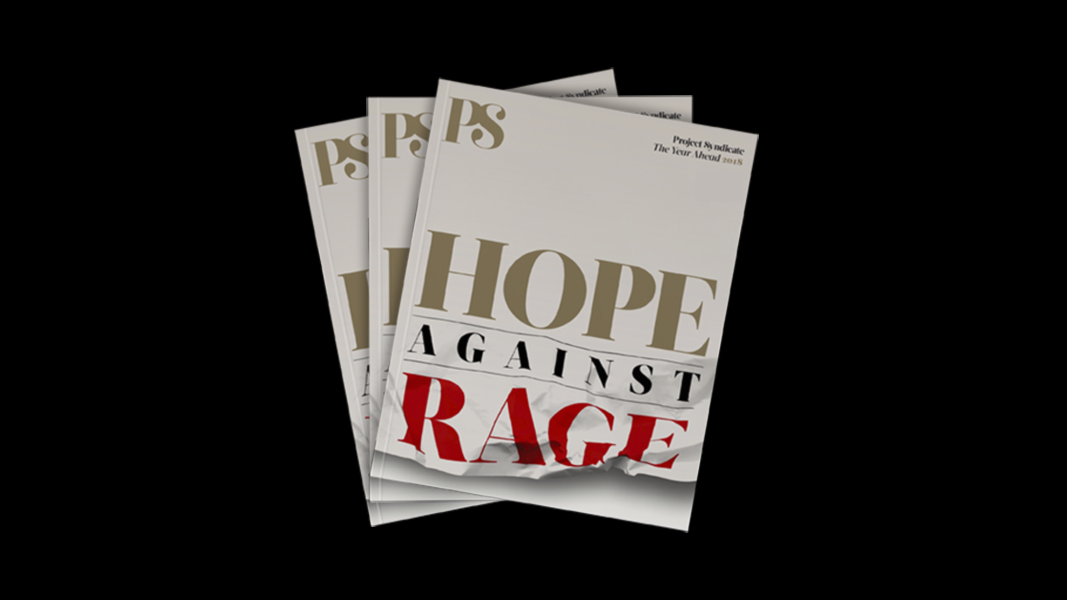 The Year Ahead 2018
The world's leading thinkers and policymakers examine what's come apart in the past year, and anticipate what will define the year ahead.
La dinámica Merkel-May demuestra, entre otras cosas, cuán cíclica puede ser la historia. Hace veinte años, Alemania era el "enfermo de Europa" que luchaba por disipar sus demonios para poder mirar hacia el futuro. En cambio, el Reino Unido se había convertido en "Cool Britannia". En 1997, gran parte del mundo escuchaba brit-pop y los mejores artistas, diseñadores de moda y arquitectos británicos eran lo máximo en sus respectivos campos. Incluso los chefs británicos eran vistos como árbitros globales del gusto, para el pesar de sus colegas franceses.
Yo formé parte de ese momento de renacimiento nacional. En el informe BritainTM: Renovando nuestra identidad propuse una estrategia de reposicionamiento de la marca nacional que fue recogida por el gobierno del nuevo laborismo del primer ministro Tony Blair. Se trataba de repensar la idea de "lo británico" para después volver a presentar Gran Bretaña al mundo.
Resultaba evidente que era necesario reposicionar la marca. A mediados de los noventa se había instalado una niebla de malestar sobre la política británica. El primer ministro John Major había perdido el control del Partido Conservador, y una decreciente confianza pública en las instituciones del país alimentaba la ansiedad entre los votantes. Gran Bretaña, una vez conocida como el "taller del mundo", se había convertido en una economía de servicios. La cadena minorista británica Dixons puso Matsui a una de sus marcas de productos electrónicos porque sonaba japonés. Las telenovelas que salían del Palacio de Buckingham habían convertido la adulación a la familia real en voyerismo. Y las encuestas de opinión revelaban que alrededor de la mitad de la población del país quería emigrar, y un porcentaje similar ya no se sentía británico (especialmente escoceses, galeses, minorías étnicas, londinenses y jóvenes).
Yo sostenía que los británicos debían adoptar una nueva identidad cívica basada en relatos más profundos sobre su país, en lugar de lamentarse por la idea étnica y excluyente de "lo anglo" que la ex primera ministra Margaret Thatcher tanto había promovido en los ochenta. Después de todo, Gran Bretaña era un centro global, pero también una isla con una larga historia de creatividad, excentricidad e innovación. Era un país híbrido cuya diversidad era su fuerte. Había sido pionera del cambio social y tecnológico, no con fanfarria revolucionaria, sino mediante una buena administración. Y era un país que apreciaba el "juego limpio", un valor encarnado por el Servicio Nacional de Salud.
Naturalmente, no debería sobrevalorar la influencia de mi informe. BritainTM solo formó parte de un fenómeno mayor. El relato nacional avanzaba hacia la apertura, y ese cambio tendría un profundo impacto tanto en el Partido Laborista como en el Partido Conservador, que necesitaba limpiar su propia marca. Líderes conservadores como el ex primer ministro David Cameron e incluso Boris Johnson, cuando era el alcalde de Londres, llegaron a reflejar una Gran Bretaña moderna, multirracial y multiétnica. Este es el país que el director Danny Boyle representó en la ceremonia de apertura de los Juegos Olímpicos de 2012 en Londres.
Entonces, ¿cómo pasó el país del cosmopolitismo al nacionalismo y al nativismo? La respuesta corta es que el reposicionamiento de la marca Gran Bretaña fue víctima de su propio éxito. Al incluir a los ciudadanos previamente excluidos, el nuevo relato nacional hizo que los que se situaban en el centro de la versión más antigua y estrecha se sintieran como una minoría amenazada. Y contraatacaron cuando llegó el referéndum del Brexit.
Desde que sucedió a Cameron, el objetivo principal de May ha sido apelar a las emociones de las viejas tribus que formaban el núcleo de la versión thatcheriana de lo británico (los que se sintieron marginados en Cool Britannia). Sin embargo, la demografía determina que una Gran Bretaña nueva y abierta sustituirá a la antigua de forma inevitable. La mayoría de las encuestas manifiesta que el país se está volviendo cada año más liberal y tolerante. Pero el voto del Brexit nos enseña que las políticas identitarias –manifestadas en los temores de los votantes mayores, blancos y con menor educación– pueden causar estragos en el interregno.
Lo que queda por ver es cuán lejos llegará el giro nativista y si sus líderes se extralimitarán. ¿La ola populista retrocederá una vez que una masa crítica de votantes empiece a sentir los efectos del Brexit en la economía del país? ¿Y podría haberse evitado con un cambio más lento y gradual del relato nacional?
Sin duda Merkel se ha hecho preguntas similares desde las elecciones federales alemanas del mes pasado. El hecho de que la extrema derecha de Alternativa para Alemania obtuviera avances sin precedentes mientras el partido de Merkel perdiera apoyos se relaciona con su audaz política de puertas abiertas durante la crisis de los refugiados. Ahora puede estar preguntándose si la Willkommenskultur (cultura de bienvenida) que ella ha promovido tendrá el mismo destino que la Cool Britannia de Blair.
Procurar que no sea así será el gran desafío de Merkel en su cuarto mandato. Lamentablemente, May tendrá poco que enseñarle, al haber optado por subirse a la ola del nativismo en lugar de intentar redirigirla.
Tal vez May será víctima de su propio oportunismo. Si la historia efectivamente se mueve en ciclos, lo lógico es que tarde o temprano Gran Bretaña vuelva al camino de la apertura. Y cuando esto ocurra se dejará de lado la política retrógrada de May, tal como se hizo con la de Thatcher.
Traducido del inglés por David Meléndez Tormen