Los ingredientes faltantes del crecimiento
,
MILÁN/NUEVA YORK – Gran parte de la economía global hoy es objeto de tendencias económicas positivas: el desempleo está cayendo, las brechas de producción se están achicando, el crecimiento está recuperándose y, por razones que todavía no resultan claras, la inflación sigue por debajo de las metas de los principales bancos centrales. Por otro lado, el crecimiento de la productividad sigue siendo débil, la desigualdad de ingresos está aumentando y a los trabajadores con un nivel educativo más bajo les cuesta encontrar oportunidades de empleo atractivas.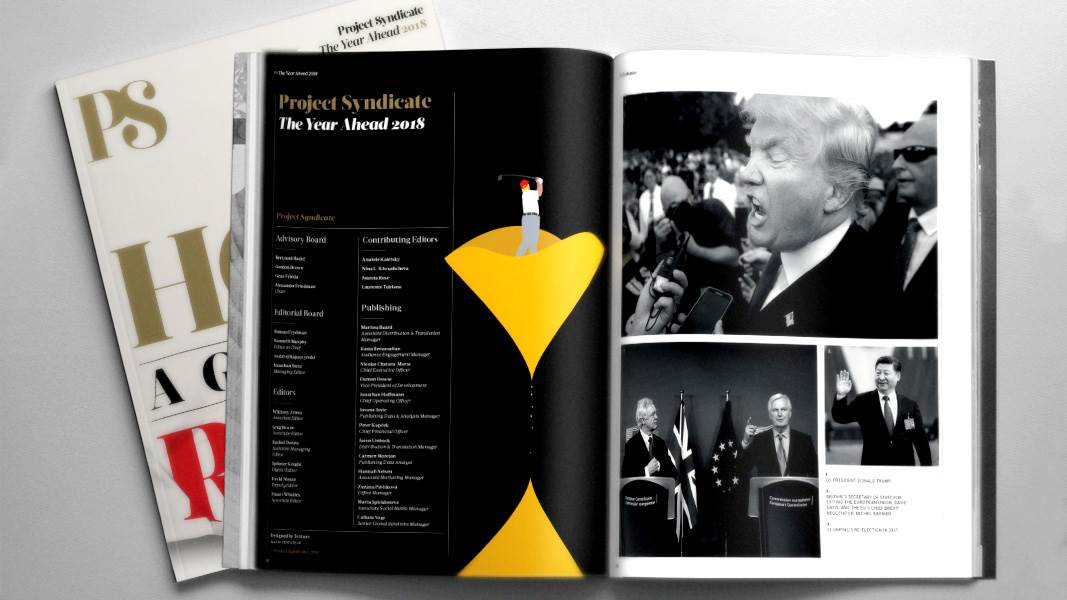 The Year Ahead 2018
The world's leading thinkers and policymakers examine what's come apart in the past year, and anticipate what will define the year ahead.
Después de ocho años de estímulo agresivo, las economías desarrolladas están saliendo de una fase prolongada de desapalancamiento que, naturalmente, reprimió el crecimiento del lado de la demanda. Como se ha alterado el nivel y la composición de la deuda, las presiones de desapalancamiento se han reducido, lo que permitió una expansión global sincronizada.
Aun así, a la larga, el principal factor determinante del crecimiento del PIB -y la inclusión de patrones de crecimiento- serán las alzas de la productividad. Sin embargo, como están dadas las cosas, existen muchos motivos para dudar de que la productividad repunte por sí sola. Existen varios puntos importantes que están ausentes en la combinación de políticas, lo que suscita dudas sobre la concreción tanto del crecimiento de la productividad a plena escala como de un giro hacia patrones de crecimiento más inclusivos.
Primero, el potencial de crecimiento no se puede concretar sin capital humano suficiente. Esta lección es evidente en la experiencia de los países en desarrollo, pero también se aplica a las economías desarrolladas. Desafortunadamente, en la mayoría de las economías, las habilidades y capacidades no parecen ir al ritmo de los rápidos cambios estructurales en los mercados laborales. Los gobiernos se han mostrado reacios o incapaces a la hora de actuar de manera agresiva en términos de educación y perfeccionamiento de las capacidades o de la redistribución de ingresos. Y en países como Estados Unidos, la distribución de ingresos y riqueza es tan desigual que los hogares de menores ingresos no se pueden permitir invertir en medidas para adaptarse a condiciones de empleo que cambian rápidamente.
Segundo, la mayoría de los mercados laborales tienen una gran brecha de información que tendrá que cerrarse. Los trabajadores saben que el cambio se avecina, pero no saben cómo están evolucionando los requerimientos de habilidades y, por lo tanto, no pueden basar sus elecciones en datos concretos. Los gobiernos, las instituciones educativas y las empresas todavía están muy lejos de ofrecer una guía adecuada en este frente.
Tercero, las empresas y los individuos tienden a ir donde se están expandiendo las oportunidades, donde los costos de hacer negocios son bajos, donde las perspectivas para contratar empleados son buenas y donde la calidad de vida es alta. Los factores ambientales y la infraestructura son críticos para crear estas condiciones dinámicas y competitivas. La infraestructura, por ejemplo, reduce el costo y mejora la calidad de la conectividad. La mayoría de los argumentos a favor de la inversión en infraestructura se centran en lo negativo: puentes que colapsan, autopistas congestionadas, viajes aéreos de mala calidad y demás. Pero los responsables de las políticas deberían mirar más allá de la necesidad de ponerse al día con un mantenimiento postergado. La aspiración debería ser la de invertir en infraestructura que cree oportunidades totalmente nuevas para la inversión e innovación en el sector privado.
Cuarto, la investigación a partir de financiamiento público en ciencia, tecnología y biomedicina es vital para impulsar la innovación en el largo plazo. Al contribuir al conocimiento público, la investigación básica abre nuevas áreas para la innovación en el sector privado. Y allí donde se lleva a cabo la investigación, produce efectos de derrame dentro de la economía local circundante.
Prácticamente ninguna de estas cuatro consideraciones es una característica importante del marco de políticas que actualmente prevalece en la mayoría de los países desarrollados. En Estados Unidos, por ejemplo, el Congreso sancionó un paquete de reformas impositivas que puede producir un incremento adicional en la inversión privada, pero que servirá de poco para reducir la desigualdad, restablecer y redistribuir el capital humano, mejorar la infraestructura o expandir el conocimiento científico y tecnológico. En otras palabras, el paquete ignora los elementos necesarios para sentar las bases para futuros patrones de crecimiento equilibrado y sustentable, caracterizados por altas trayectorias de productividad económica y social respaldadas tanto por el lado de la oferta como por el lado de la demanda (incluida la inversión).
Ray Dalio describe un camino que se caracteriza por una inversión en capital humano, infraestructura y la base científica de la economía como camino A. La alternativa es el camino B, caracterizado por una falta de inversión en áreas que impulsarán directamente la productividad, como la infraestructura y la educación. Aunque las economías actualmente se inclinan por el camino B, es el camino A el que produciría un crecimiento mayor, más inclusivo y más sustentable, a la vez que mejoraría también los problemas de sobreendeudamiento persistentes asociados con una deuda soberana importante y con pasivos no generadores de deuda en áreas como las pensiones, la seguridad social y la atención médica financiada con fondos públicos.
Puede ser una expresión de deseo, pero tenemos la esperanza de que en el año nuevo los gobiernos hagan un esfuerzo más concertado para trazar un nuevo recorrido del camino B al camino A de Dalio.