Der kommende China-Schock
CAMBRIDGE – Im September 2018 argumentierten wir, Chinas Wirtschafts- und Außenpolitik würde ökonomischen und geopolitischen "Gesetzen" widersprechen und wir warnten, dass diese Situation nicht von Dauer sein könnte. Seither hat sich unsere Einschätzung bestätigt und unsere Bedenken haben sich verstärkt.
Bis vor kurzem konnte China aufgrund der weitreichenden staatlichen Kontrolle der Wirtschaft (und der Gesellschaft im Allgemeinen) einen einzigartigen Entwicklungspfad verfolgen. Diese Zeiten sind jedoch vorbei. Die Inlandsschulden steigen in untragbare Höhen und das Niveau der Inlandsinvestitionen hat den Punkt überschritten, ab dem es zu schwindenden Renditen kommt und tendiert in Richtung negativer Werte.
Darüber hinaus hat Chinas Strategie der Förderung von Exporten und "nationalen Champions" sowie der Aneignung ausländischer Technologie jene Schwelle überschritten, die der Westen - insbesondere die Vereinigten Staaten - noch zu dulden gewillt ist. Die Seidenstraßeninitiative des chinesischen Präsidenten Xi Jinping weist alle Anzeichen einer imperialen Überdehnung auf. Nicht nur die Kreditvergabe im Rahmen der Seidenstraßeninitiative übersteigt die Kreditaufnahmekapazität der teilnehmenden Regierungen bei weitem, auch die Kreditkonditionen sind zunehmend erdrückend – und bisweilen wucherhaft – geworden, wie Ricardo Hausmann von der Universität Harvard kürzlich feststellte.
Letzten September betrachteten wir eine gewisse Diskontinuität der Wirtschaftsleistung Chinas als unvermeidlich. Obwohl sich das Land vielleicht nicht in Richtung einer ausgewachsenen Krise bewegte, waren wir dennoch der Meinung, dass es fast sicher zu einer Kombination aus einem sich rasch verlangsamenden Wachstum und einem jähen Fall des Wechselkurses kommen würde.  
Diese Prognose ist seither noch wahrscheinlicher geworden. Angesichts weltweit rückläufiger Wachstumsraten und Exportquoten befindet sich Chinas Wirtschaft, ausgehend von dem im vierten Quartal 2018 verzeichneten Wert von 6,4 Prozent, auf dem Weg in Richtung einer weiteren Wachstumsverlangsamung. Die durchschnittlich zweistelligen Wachstumsraten, die von den 1980er Jahren bis vor kurzem erreicht wurden, schienen noch nie in so weite Ferne gerückt zu sein.
Als Reaktion auf die weltweite Abkühlung beschloss die chinesische Regierung, die Beschränkungen für die private und öffentliche Kreditaufnahme zu lockern. Damit wird man jedoch lediglich die Schulden- und der Überinvestitionsprobleme des Landes verschärfen. Oder, wie es ein berühmtes chinesisches Sprichwort formuliert: es ist so, als würde man "Gift trinken, um seinen Durst zu löschen."  
Subscribe now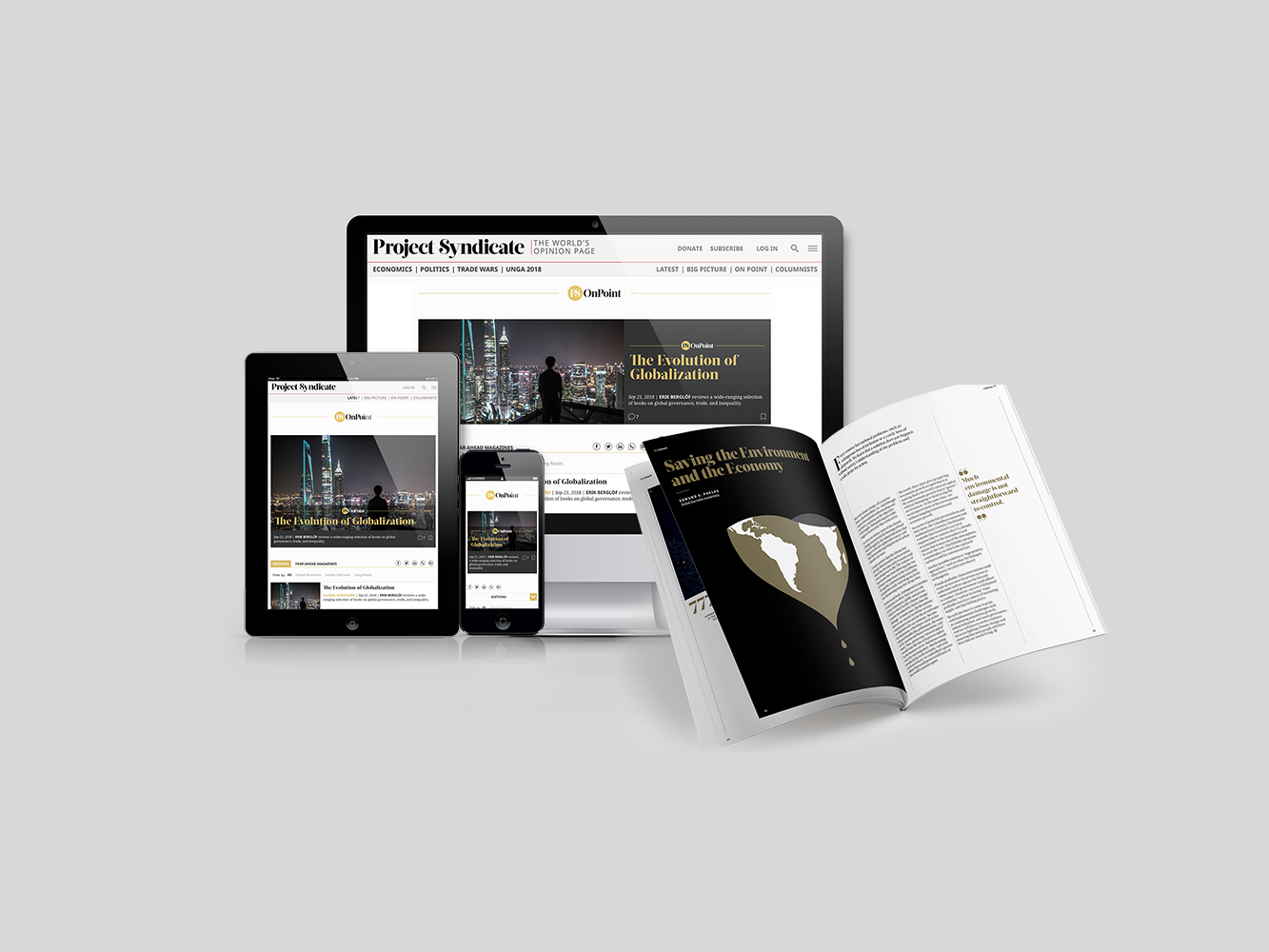 Subscribe now
Get unlimited access to OnPoint, the Big Picture, and the entire PS archive of more than 14,000 commentaries, plus our annual magazine, for less than $2 a week.
Selbst ohne diese makroökonomischen Entwicklungen hätte Chinas - gegen die etablierten Erkenntnisse der Entwicklungsökonomie verlaufender - Kurs nicht ewig angehalten. Die Ökonomen Douglass North, Daron Acemoglu und James A. Robinson haben gezeigt, dass die langfristige Wirtschaftsentwicklung tendenziell auf starke staatliche Institutionen und offene politische Systeme angewiesen ist, weil diese zur Förderung des Wettbewerbs und des Anlegervertrauens sowie für Dynamik und Innovation notwendig sind.  
[Grafik]
In obenstehender Grafik stellt die ansteigend verlaufende Linie die positive Beziehung zwischen politischer und wirtschaftlicher Entwicklung dar. Als auffallende Ausnahme dieses klaren Zusammenhangs galt China lange Zeit als Problemfall dieser Theorie. Mit seinem geschlossenen politischen System dürfte es eigentlich nicht annähernd so reich sein wie es jetzt ist.
In den 1990er und 2000er Jahren setzte der Westen darauf, dass China eines Tages keine Ausnahme mehr sein und sich in Richtung Normalität bewegen würde, weil es zur Bildung offenerer und stärker demokratisch orientierter politischer Institutionen kommen würde (wie durch den gestrichelten blauen Pfeil dargestellt). Praktisch umgesetzt wurde diese Annahme durch eine Politik des Westens, die Chinas Aufstieg erleichterte und durch Entscheidungen von US-Unternehmen, Produktionskapazitäten dorthin zu verlagern.
Unter Xis Führung ist China jedoch weniger offen geworden (wie der rote Pfeil zeigt). Und wie  Nicholas Lardy vom Peterson Institute for International Economics in einem neuen Buch feststellt, ist auch die chinesische Wirtschaft von einem durch den Privatsektor getriebenen Wachstumsmodell zum Staatskapitalismus zurückgekehrt.
Mit anderen Worten: systemische politische und wirtschaftliche Veränderungen lassen China noch stärker zur Ausnahme werden, wodurch sich auch die Wahrscheinlichkeit erhöht, dass seine Rückkehr zur Normalität in Form einer drastischen Verschlechterung der Wirtschaftsleistung eintreten wird (dargestellt durch den nach unten verlaufenden gestrichelten schwarzen Pfeil). Wann genau diese Korrektur eintreten wird, kann nicht genau gesagt werden. Aber je stärker Chinas Kurs den Regeln der wirtschaftlichen Entwicklung widerspricht, desto wahrscheinlicher wird eine derartige Korrektur.
Leider hätte jede Unterbrechung der chinesischen Wirtschaftsleistung gravierende Auswirkungen auf den Rest der Welt, weil dies zu einer signifikanten Schwächung des Renminbi führen würde. Tatsächlich könnte China selbst eine Abwertung seiner Währung vornehmen, um seine Exporte anzukurbeln und den unvermeidlichen Rückgang der Inlandsnachfrage, insbesondere der Investitionskomponente, abzufedern.
Ein derartiges Szenario hätte gewaltige Auswirkungen auf die globalen Währungen. Andere große Länder Asiens würden mit der Abwertung ihrer eigenen Währungen reagieren, um die Wettbewerbsfähigkeit zu erhalten und Europa und die Vereinigten Staaten hätten es mit einer massiven Deflation zu tun, da ihre Währungen entsprechend aufwerten würden.
Um einen historischen Vergleich herzustellen, bedenke man, dass der US-Dollar und das britische Pfund in den 1930er Jahren innerhalb von 4 Jahren um etwa 40 Prozent abwerteten, während die französische und die deutsche Währung (an Gold gemessen) weitgehend stabil blieben. Ebenso wie im Falle der USA und Großbritannien im Jahr 1929 - also kurz vor der Großen Depression - entfallen heute etwa 30 Prozent des Welthandels auf die großen asiatischen Ökonomien, die von einem chinesischen Währungsschock betroffen wären.
Erschwerend kommt hinzu, dass der Handel für die Weltwirtschaft heute um vieles wichtiger ist als dies vor 90 Jahren der Fall war. Im Jahr 2017 entfielen 20-25 Prozent des weltweiten BIPs auf Warenexporte. Im Jahr 1929 betrug dieser Wert lediglich 8 Prozent. Das heißt, eine Abwertung der asiatischen Währungen hätte heute deutlich stärkere weltweite Auswirkungen als es die Abwertung des US-Dollars und des britischen Pfunds in den 1930er Jahren hatte. Somit könnte ein China-Schock die kompetitiven Währungsabwertungen der frühen 1930er Jahre  - eine dunkelsten Phasen der Wirtschaft in der Geschichte - potenziell in den Schatten stellen.
Auf die eine oder andere Weise wird Chinas Kurs gegen die "Gesetze" der Makroökonomie, der Geopolitik und der Wirtschaftsentwicklung die unvermeidliche Rückkehr des Landes zur Normalität beschleunigen. Für dieses Ereignis sollte sich die Welt wappnen. 
Aus dem Englischen von Helga Klinger-Groier
,