Justicia sin fronteras para Venezuela
TIRANA – Mientras la catástrofe humanitaria de Venezuela empeora día tras día, los gobiernos de la región y de otros continentes se preguntan cómo responder. Quizás haya llegado el momento para que la sociedad civil invente nuevas formas de intervenir.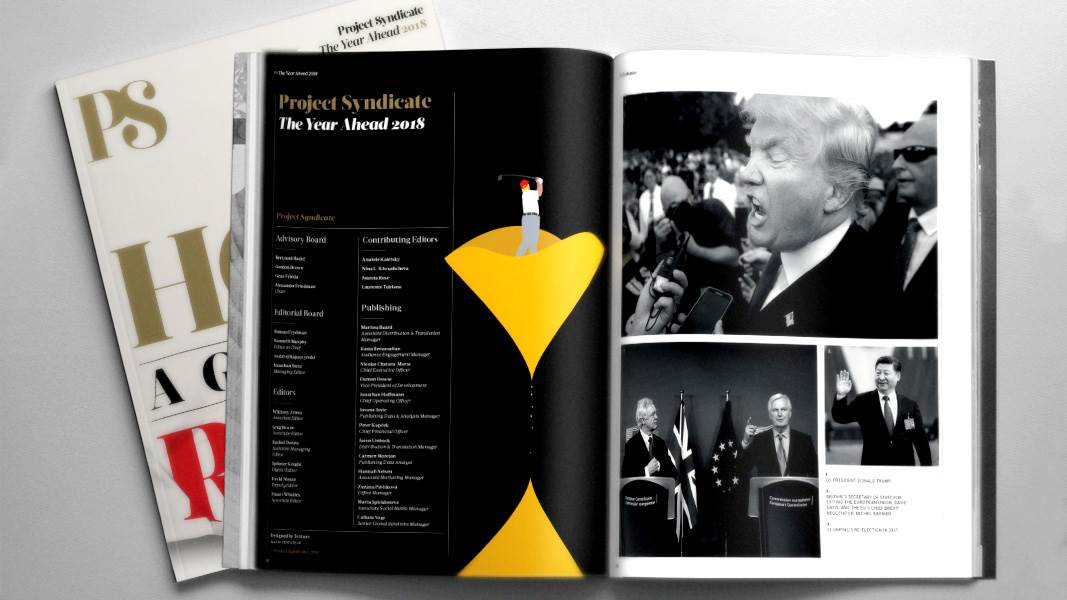 The Year Ahead 2018
The world's leading thinkers and policymakers examine what's come apart in the past year, and anticipate what will define the year ahead.
De acuerdo a las estimaciones del "Billion Prices Project" de MIT, la inflación en alimentos en el mes de enero alcanzó el 117,6%, o el equivalente a 1.130.000% al año. Al mismo tiempo, el tipo de cambio se depreció a una tasa anual de más del 700.000%, mientras que el poder de compra real de los salarios –el cual apenas representaba 1.400 calorías diarias en diciembre– se decimó aún más. Una encuesta publicada a principios de enero estimó la emigración reciente en cuatro millones de personas, casi igual al número de personas que se han ido de Siria.
Los gobiernos de Las Américas y de Europa se encuentran en terra incognita. Si el problema se tratara simplemente de violaciones flagrantes a la Carta Democrática de la Organización de los Estados Americanos –certificadas de manera convincente por el Secretario General de OEA, Luis Almagro– se podrían considerar soluciones a ser implementadas en meses o años. Pero Venezuela no representa un simple problema político; es una catástrofe humanitaria cuyas proporciones no tienen precedentes.
Es cierto que el presidente de Venezuela, Nicolás Maduro, ejerce el poder de modo inconstitucional, basándose en decretos de emergencia y en una asamblea constituyente todopoderosa, monopartidista, establecida ilegalmente, mientras ignora a la Asamblea Nacional legítimamente elegida y prohíbe los partidos políticos de oposición. Pero las consecuencias de este desgobierno son tales que los venezolanos se están muriendo de hambre, el sistema de salud ha colapsado, y la violencia y las enfermedades contagiosas están ahora prácticamente fuera de control.
Bajo estas circunstancias, el tiempo –medido en vidas humanas– tiene un costo intolerablemente alto, motivo por el cual hace poco tiempo propuse una solución política que involucraba la asistencia militar internacional para consolidar a un nuevo gobierno nombrado por la Asamblea Nacional. Algunos países latinoamericanos, comenzando por Brasil, rápidamente emitieron declaraciones indicando que esta opción está fuera de juego. Algunos académicos y medios de comunicación también expresaron su oposición a esta idea.
Sin embargo, nadie ha propuesto una solución mejor, salvo la esperanza de que las sanciones individuales lideradas por Estados Unidos o un embargo petrolero tengan éxito. A medida que la situación empeora, todos tendrán que reconsiderar sus opciones. Sencillamente, no han logrado formular una alternativa efectiva que sea más aceptable.
Quizás ha llegado la hora de que la sociedad civil internacional actúe. De hecho, las soluciones que se desarrollen para enfrentar esta crisis quizás se constituyan en un ejemplo a seguir para enfrentar crisis semejantes en otras naciones.
En su excelente libro The Internationalists, Oona Hathaway y Scott Shapiro describen cómo el pacto Briand-Kellog de 1928 y los que lo sucedieron redujeron de manera notable las guerras de conquista, no mediante el enfrentamiento militar a los agresores, sino sencillamente negándoles el reconocimiento de su soberanía sobre los territorios ilícitamente obtenidos por ellos. Hathaway y Shapiro van incluso más lejos, argumentando que la cooperación internacional en ámbitos como el comercio, la protección ambiental, y la coordinación tributaria, ha progresado notablemente aún en ausencia de mecanismos internacionales de imposición de obligaciones. Otra vez, la clave ha sido negar reconocimiento a los actores que incumplen.
La base intelectual de Hathaway y Shapiro es la antigua tradición islandesa de la expulsión u ostracismo de quienes violan las normas sociales. Dado que la vida es intrínsecamente social, desconectar a los individuos de las redes que todos usamos para sobrevivir y desarrollarnos puede ser un castigo muy duro –y se puede aplicar de manera descentralizada–.
Todos dependemos de personas dispuestas a vendernos, comprarnos, prestarnos, administrar nuestros ahorros, educar a nuestros hijos, alojarnos en sus hoteles, alimentarnos en sus restaurantes, conectarnos al internet, permitirnos viajar a sus países, pagar con tarjetas de crédito, y tratarnos con el respeto al que normalmente tienen derecho los seres humanos. La vida sin acceso a estos vínculos debe ser un infierno.
Si el amenazar con ostracismo a los potenciales tiranos y a sus esbirros es un arma suficientemente disuasiva, es una pregunta empírica. Pero ciertamente vale la pena averiguar silo es.
Entonces, he aquí otra propuesta. Instituciones de la sociedad civil venezolana, como el premiado Foro Penal, deberían preparar, usando sus propios datos y el crowdsourcing, una lista cuidadosamente curada y documentada de los esbirros del régimen. Esta lista debería incluir a todos los que hayan violado flagrantemente los derechos humanos abusando de la autoridad del Estado, o que hayan actuado para contribuir al ejercicio inconstitucional del poder. En ella deberían estar ex officio los ministros de gobierno, los miembros del Consejo Nacional Electoral, del Tribunal Supremo y de la Asamblea Constituyente, como también el fiscal general, el alto mando militar y los jefes de la Guardia Nacional y de los servicios de inteligencia civil y militar, entre otros.  
Pero un estado dictatorial depende también de muchos otros secuaces. Fiscales, jueces civiles y militares, policías, miembros de la Guardia Nacional, agentes de seguridad, y otros que han inventado cargos penales, abusado de los reos, y dilatado o denegado justicia, también deberían ser incluidos en la lista. Al igual que los integrantes de los colectivos que hayan aterrorizado a la población, y quienes hayan coaccionado a los empleados públicos amenazándolos con el despido a menos que votaran o actuaran políticamente según lo ordenado.
Instituciones respetadas, como Human Rights Watch, deberían auditar la lista para certificar la exactitud de la información y dar a los acusados la oportunidad de refutar los cargos. Pero este no es un tribunal penal. La lista ha de emplearse precisamente porque en Venezuela no existe el imperio de la ley. Esta, en vez de limitar a quienes deben administrar su ejercicio, los envalentona. Bajo estas circunstancias, todos los que contribuyan a mantener el régimen merecen ser castigados.
A medida que la lista se haga pública, los gobiernos, empresas y otras organizaciones del mundo deberían negarse a interactuar con las personas que aparecen en ella, y así evitar mancillar de colaboracionismo a su reputación. El Grupo de Lima, integrado por 12 países latinoamericanos, Estados Unidos, Canadá, la Unión Europea y otros, deberían negar visas y acceso a servicios prestados por las empresas de sus países. Asimismo, deberían participar bancos, líneas aéreas, compañías de tarjetas de crédito, redes sociales, cadenas de hoteles, clubes sociales y otras organizaciones, a fin de evitar la percepción de que se están beneficiando al prestarles servicios a tales delincuentes. Y la lista debería darse a conocer de manera gradual (y tal vez aleatoria), para así dar tiempo a que los esbirros deserten y a que el régimen se desmorone.
La meta de esta estrategia no es la venganza. Es imponer un tipo de castigo descentralizado que haga pagar muy caro a los regímenes dictatoriales por violar impunemente los derechos humanos y hacerles más difícil el mantenimiento de un ejército disciplinado de secuaces que "solo cumplen órdenes", como si esto los eximiera de responsabilidad moral. De hecho, la mayoría de los esbirros del régimen han enviado a sus familias al exterior, protegiéndolas así del caos que han creado en el país. Colocar a sus cónyuges e hijos en la lista haría que el ostracismo fuera potencialmente mucho más efectivo.
En países democráticos, se espera que la justicia la administre el Estado. Pero en casos como el de Venezuela, el mundo necesita modos efectivos y de bajo costo para disuadir a los tiranos y sus secuaces. Al fin y al cabo, ¿no somos todos los guardianes de nuestros hermanos?
Traducción del inglés por Ana María Velasco