China: poder blando y poder punzante
CAMBRIDGE – China lleva invertidas cifras astronómicas en aumentar su poder blando, pero últimamente esto generó una reacción en los países democráticos. Un nuevo informe de la Fundación Nacional para la Democracia sostiene que hay que repensar el poder blando, porque "el vocabulario conceptual que se usó desde el final de la Guerra Fría ya no parece aplicable a la situación contemporánea".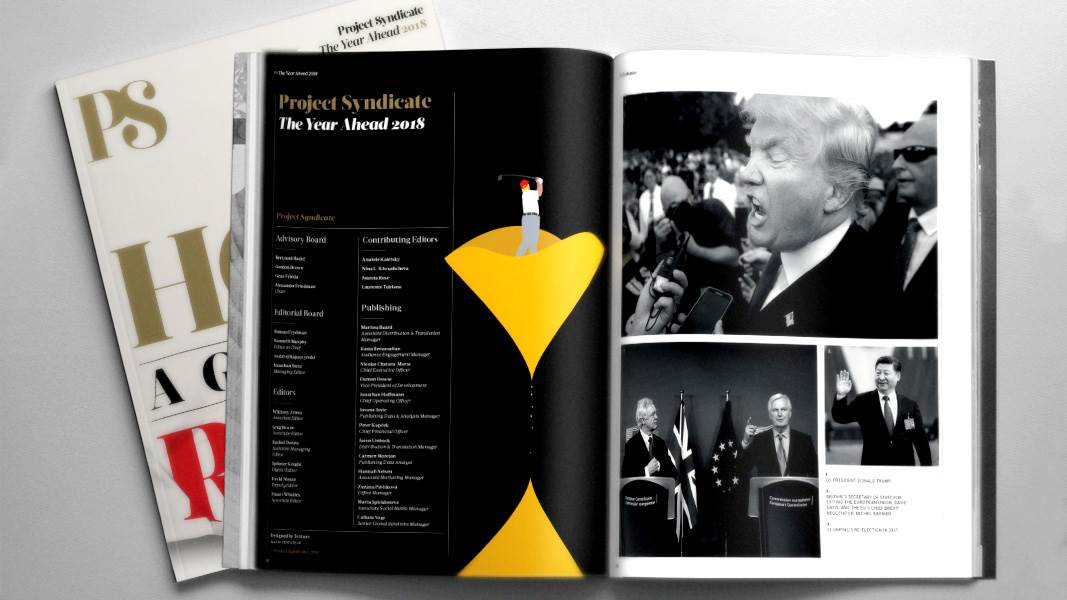 The Year Ahead 2018
The world's leading thinkers and policymakers examine what's come apart in the past year, and anticipate what will define the year ahead.
El informe describe las nuevas influencias autoritarias que se experimentan en el mundo como "poder punzante" (sharp power). Una reciente nota de tapa en The Economist define el "poder punzante" por el uso de "subversión, hostigamiento y presión, que se combinan para promover la autocensura". Mientras que el poder blando utiliza el atractivo de la cultura y los valores para aumentar la fortaleza de un país, el poder punzante es una herramienta de regímenes autoritarios para forzar conductas en el país de origen y manipular la opinión en el extranjero.
El término "poder blando" (la capacidad de influir en otros mediante la atracción y la persuasión en vez del poder duro de la coerción y el pago) se usa a veces en referencia a cualquier ejercicio de poder que no implique el uso de la fuerza. Pero es un error. A veces el poder depende de las victorias militares o económicas, pero también puede depender de las victorias narrativas.
Una narrativa fuerte es una fuente de poder. El éxito económico de China generó poder duro y poder blando, pero dentro de ciertos límites. Un paquete de ayuda económica de China dentro de la Iniciativa de la Franja y la Ruta puede parecer una oferta benévola y atractiva, hasta que las cláusulas del contrato se vuelven en contra, como ocurrió hace poco en un proyecto portuario en Sri Lanka.
Hay otros ejemplos de cómo el ejercicio del poder duro económico debilita el poder blando de la narrativa de China, por ejemplo, cuando castigó a Noruega por otorgar el Premio Nobel de la Paz a Liu Xiaobo, o amenazó con restringirle el acceso al mercado chino a una editorial australiana que publicó un libro con críticas a China.
Si usamos el término poder punzante como sinónimo de guerra informativa, queda de manifiesto el contraste con el poder blando. El poder punzante es una forma de poder duro. Actúa manipulando la información, que es intangible; pero la intangibilidad no es una característica distintiva del poder blando. Por ejemplo, las amenazas verbales son a la vez intangibles y coercitivas.
Cuando en 1990 introduje el concepto de poder blando, escribí que se caracteriza por la voluntariedad y el uso de medios indirectos, mientras que el poder duro se basa en amenazas e incentivos. Si a alguien le apuntan con un arma y le quitan la billetera a la fuerza, lo que piense y quiera el damnificado no tiene importancia. Eso es poder duro. Pero si a esa persona la persuaden para que entregue su dinero, hay un cambio en lo que piensa y quiere. Eso es poder blando.
En la diplomacia pública, la verdad y la apertura crean una línea divisoria entre el poder blando y el poder punzante. Cuando la agencia oficial de noticias china, Xinhua, transmite en otros países abiertamente, está empleando técnicas de poder blando, y hay que aceptarlo. Pero cuando Radio Internacional de China respalda encubiertamente a 33 estaciones de radio en 14 países, entramos al territorio del poder punzante, y hay una infracción de la voluntariedad que es preciso exponer.
Es verdad que en la propaganda y en la persuasión siempre hay cierto grado de manejo del encuadre, y esto limita la voluntariedad (lo mismo sucede con los aspectos estructurales del entorno social). Pero un manejo del encuadre que incluya engaño extremo puede verse como coercitivo, porque pese a no ser violento, impide ejercer una elección auténtica.
Las técnicas de diplomacia pública que todos ven como propaganda no pueden producir poder blando. En la era de la información, los recursos más escasos son la atención y la credibilidad. Por eso los programas de intercambio que crean comunicación bidireccional y relaciones personales entre estudiantes y jóvenes líderes suelen ser mucho más eficaces como generadores de poder blando que, por ejemplo, los medios de comunicación oficiales.
Estados Unidos tiene hace mucho programas por los que invita a jóvenes líderes extranjeros a visitar el país, un ejemplo que ahora China imita con éxito. Esto es una aplicación inteligente del poder blando. Pero cuando se manipula la concesión de visas o se limita el acceso para restringir las críticas y alentar la autocensura, incluso esos programas de intercambio comienzan a confundirse con el poder punzante.
Las democracias deben tener cuidado de no excederse en su respuesta al poder punzante y a la guerra informativa de China. Gran parte del poder blando de las democracias deriva de la sociedad civil; es decir, la apertura es un activo crucial. China podría generar más poder blando si relajara un poco el férreo control del Partido sobre la sociedad civil. Asimismo, la manipulación de los medios y el uso de canales de comunicación encubiertos suele reducir el poder blando. Las democracias deben evitar la tentación de imitar el uso de estas herramientas autoritarias de poder punzante.
Además, proscribir las herramientas legítimas del poder blando chino puede ser contraproducente. El poder blando se usa a menudo para una competencia de suma cero; pero también puede tener aspectos de suma positiva.
Por ejemplo, para evitar conflictos, a China y Estados Unidos les conviene tener programas de intercambio que aumenten el atractivo de China en Estados Unidos y viceversa. Y en cuestiones transnacionales como el cambio climático, donde la cooperación beneficia a ambos países, el poder blando puede ayudar a construir confianza y crear redes que hagan esa cooperación posible.
Pero aunque sería un error prohibir acciones de poder blando de China porque a veces se confundan con el poder punzante, también es importante vigilar atentamente la línea divisoria. Por ejemplo, Hanban (el organismo gubernamental que gestiona los 500 Institutos Confucio y las 1000 Aulas Confucio que China sostiene en universidades y escuelas de todo el mundo para la enseñanza del idioma y la cultura chinos) no debe caer en la tentación de imponer restricciones que limiten la libertad académica. Algunos Institutos Confucio se disolvieron por haber cruzado esa línea.
Como muestran estos casos, la mejor defensa contra el uso de los programas de poder blando de China como herramientas de poder punzante es la exposición pública de esos intentos. Y en esto las democracias tienen ventaja.
Traducción: Esteban Flamini