China's zachte en scherpe macht
CAMBRIDGE – China heeft er miljarden dollars in geïnvesteerd om zijn zachte macht uit te breiden, maar heeft in democratische landen recent met een terugslag te maken. Een nieuw rapport door de National Endowment for Democracy betoogt dat we het begrip zachte macht moeten heroverwegen, omdat 'het conceptuele vocabulaire dat sinds het eind van de Koude Oorlog gehanteerd wordt niet langer van toepassing lijkt op de hedendaagse situatie.'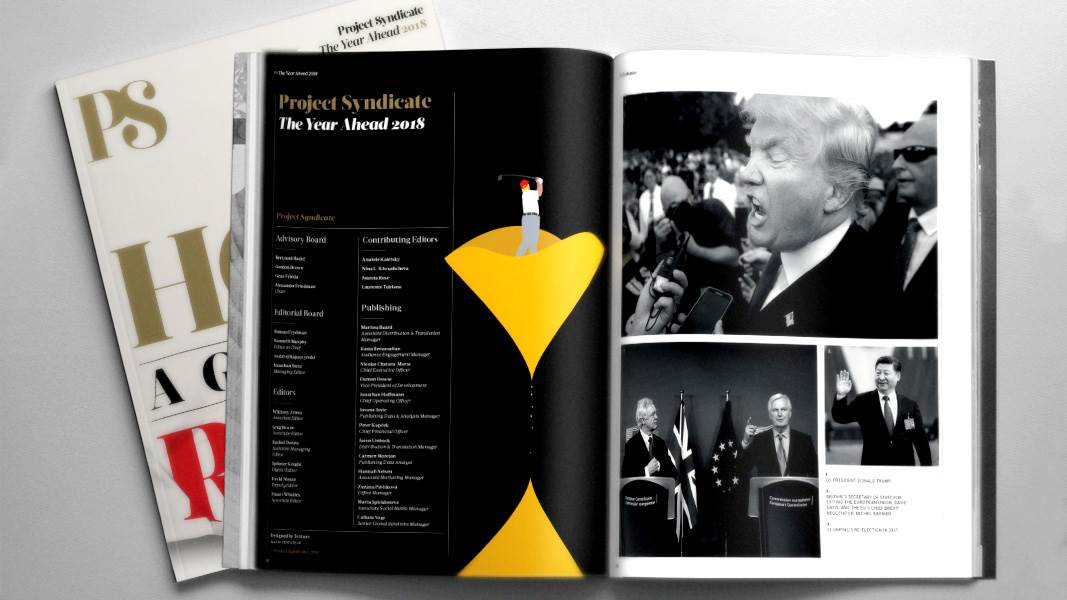 The Year Ahead 2018
The world's leading thinkers and policymakers examine what's come apart in the past year, and anticipate what will define the year ahead.
Het rapport beschrijft de nieuwe autoritaire invloeden die over de hele wereld gevoeld worden als 'scherpe macht.' Een recent omslagverhaal van The Economist definieert 'scherpe macht' als leunend op 'subversie, intimidatie en dwang, die gecombineerd de zelfcensuur bevorderen.' Waar zachte macht de allure en waarden van een cultuur samenbalt om de kracht van een land te vergroten, helpt scherpe macht autoritaire regimes om gedrag in het binnenland te sturen en de internationale opinie te manipuleren.
De term 'zachte macht' – het vermogen om anderen te beïnvloeden door aantrekking en overtuiging in plaats van door de harde macht van dwang en vergelding – wordt soms gebruikt om elke uitoefening van macht te beschrijven die niet met het gebruik van geweld gepaard gaat. Maar dit is een vergissing. Macht is soms afhankelijk van wiens leger of economie wint, maar kan ook afhankelijk zijn van wiens verhaal wint.
Een sterk verhaal is een bron van macht. Het Chinese economische succes heeft zowel harde als zachte macht gegenereerd, maar binnen bepaalde grenzen. Een Chinees economisch hulppakket in het teken van het Belt and Road Initiative lijkt wellicht goedaardig en aantrekkelijk, maar niet meer als de voorwaarden onacceptabel worden, zoals onlangs het geval was bij een havenproject in Sri Lanka.
Overeenkomstig ondergraven andere exercities van harde economische macht de zachte macht van het Chinese verhaal. Zo strafte China Noorwegen bijvoorbeeld voor het toekennen van de Nobelprijs voor de Vrede aan Liu Xiaobo. Het dreigde ook om de toegang van een Australische uitgever tot de Chinese markt te beperken vanwege een kritisch boek over China.
Als we de term scherpe macht gebruiken als synoniem voor informatieoorlogsvoering wordt het contrast met zachte macht helder. Scherpe macht is een vorm van harde macht. Deze manipuleert informatie, die ontastbaar is, maar ontastbaarheid is geen onderscheidend kenmerk van zachte macht. Verbale dreigingen bijvoorbeeld zijn zowel ontastbaar als dwingend.
Toen ik het begrip zachte macht in 1990 introduceerde schreef ik dat deze wordt gekenmerkt door voluntarisme en ongerichtheid, terwijl harde macht leunt op dreiging en aansporing. Wanneer iemand een wapen op jou richt, je geld eist, en je portemonnee afpakt, is wat jij denkt en wilt irrelevant. Dat is harde macht. Wanneer hij jou er daarentegen van overtuigt om je geld af te geven heeft hij veranderd wat jij denkt en wilt. Dat is zachte macht.
Waarheid en openheid creëren een scheidslijn tussen zachte en scherpe macht binnen de publieke diplomatie. Wanneer het officiële persbureau van China, Xinhua, openlijk uitzendt in andere landen zet het zachte macht technieken in, en dat moeten we accepteren. Wanneer China Radio International verhuld 33 radiozenders in 14 landen ondersteunt is de grens van scherpe macht overschreden en moeten we deze inbreuk op het voluntarisme blootleggen.
Natuurlijk is er bij promotie en overreding altijd sprake van enige mate van inkadering, wat het voluntarisme limiteert, net zoals structurele eigenschappen van de sociale omgeving dat doen. Maar extreme misleiding qua inkadering kunnen we als dwingend beschouwen; alhoewel geweldloos voorkomt het een overdachte keuze.
Publieke diplomatieke technieken die breed worden gezien als propaganda kunnen geen zachte macht produceren. In dit informatietijdperk zijn aandacht en geloofwaardigheid de meest schaarse middelen geworden. Dat is de reden waarom uitwisselingsprogramma's die onderlinge communicatie en persoonlijke relaties tussen studenten en jonge leiders ontwikkelen vaak veel effectievere generatoren van zachte macht zijn dan bijvoorbeeld officiële omroepkanalen.
De Verenigde Staten heeft lange tijd programma's gehad die bezoeken door jonge buitenlandse leiders mogelijk maakten, en nu volgt China met succes dit voorbeeld. Dat is een slimme uitoefening van zachte macht. Maar wanneer visa worden gemanipuleerd of de toegang wordt beperkt om kritiek tegen te gaan en zelfcensuur te bevorderen kunnen zelfs zulke uitwisselingsprogramma's naar scherpe macht overhellen.
Terwijl democratieën een antwoord zoeken op de scherpe Chinese macht en informatieoorlogsvoering moeten ze oppassen voor overreactie. Een groot deel van de zachte macht waar democratieën over beschikken komt voort uit het maatschappelijk middenveld, wat betekent dat openheid een cruciale factor is. China zou meer zachte macht kunnen genereren wanneer het de strakke partijcontrole over zijn burgermaatschappij gedeeltelijk zou ontspannen. Overeenkomstig reduceren mediamanipulatie en het vertrouwen op heimelijke communicatiekanalen zachte macht vaak. Democratieën moeten de verleiding om deze autoritaire scherpe machtsmiddelen te imiteren weerstaan.
Bovendien kan het opdoeken van legitieme zachte Chinese machtsmiddelen contraproductief werken. Zachte macht wordt vaak gebruikt voor competitieve nulsom-doelen, maar kan ook win-win aspecten bevatten.
Als bijvoorbeeld zowel China en de VS conflict willen vermijden zouden uitwisselingsprogramma's die de Amerikaanse aantrekking tot China en vice versa vergroten beide landen profijt opleveren. En op het gebied van transnationale kwesties zoals klimaatverandering, waar beide landen kunnen profiteren van samenwerking, kan zachte macht helpen het vertrouwen op te bouwen en de netwerken te creëren die zo een samenwerking mogelijk maken.
Alhoewel het een vergissing zou zijn om de zachte macht inspanningen van China te verbieden alleen omdat ze soms overhellen naar scherpe macht is het ook belangrijk om deze scheidslijn goed in de gaten te houden. Zo moet de Hanban, de overheidsinstitutie die de 500 Confucius Intituten en 1000 Confucius-klassen die China op universiteiten en scholen over de hele wereld ondersteunt om de Chinese taal en cultuur te onderwijzen, bijvoorbeeld de verleiding weerstaan om restricties in te stellen die de academische vrijheid beperken. Het overschrijden van deze grens heeft al geleid tot het opheffen van een aantal Confucius Instituten.
Zoals dit soort gevallen laat zien is de beste verdediging tegen het Chinese gebruik van zachte macht programma's als scherpe machtsmiddelen het openlijk aan de kaak stellen van dit soort pogingen. En dit is waar democratieën in het voordeel zijn.
Vertaling Melle Trap