Por qué el renminbi no va a reinar
TOKIO – En la fantasía distópica Blade Runner 2049, dentro de 32 años Los Ángeles se parece mucho a las mega-ciudades de China de hoy: gris, contaminada y dominada por torres altas adornadas con carteles publicitarios centelleantes de neón. El espectador nunca llega a saber mucho sobre el mundo exterior, muchos menos sobre la moneda en la que se comercializan los productos anunciados. ¿El dólar estadounidense todavía es dominante, el renminbi chino ha tomado la posta o alguna otra moneda se ha vuelto prominente a nivel global?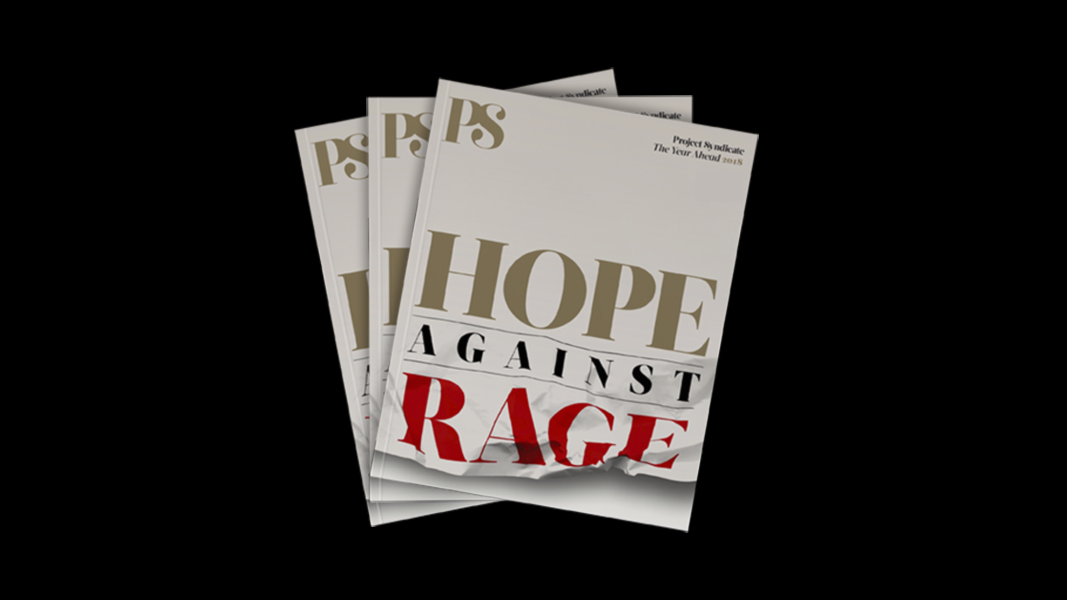 The Year Ahead 2018
The world's leading thinkers and policymakers examine what's come apart in the past year, and anticipate what will define the year ahead.
El presidente norteamericano, Donald Trump, parece decidido a asegurar que Estados Unidos, al menos en parte, se retira de su papel de liderazgo global. Pero, como sucedió con la libra británica en el período entre guerras, una moneda puede mantenerse globalmente dominante inclusive después de que su país emisor pierde su hegemonía económica, financiera y geopolítica. Hoy también el mundo debería esperar que el dólar estadounidense siga siendo la moneda de reserva fundamental, utilizada para facturar y negociar el comercio internacional, por mucho tiempo más.
Sin embargo, en términos de diplomacia financiera internacional, la posición del dólar tal vez no sea tan segura. El interrogante es si el fin de la "diplomacia del dólar", que predice el economista Barry Eichengreen, necesariamente significará el ascenso de la diplomacia del renminbi.
Los responsables de las políticas en China han albergado la esperanza de desarrollar el papel del renminbi en las finanzas internacionales, para fortalecer la postura geopolítica de China, desde los años 1990.Y, en los últimos años, el liderazgo chino ha encabezado un esfuerzo concertado por cumplir con esta ambición, especialmente internacionalizando la moneda de China.
Sin embargo, las finanzas dominadas por el renminbi no están ni cerca de competir -mucho menos rivalizar- con las finanzas en dólares. Por cierto, el renminbi todavía va a la zaga de otras monedas de reserva (el dólar estadounidense, el euro, el yen japonés y la libra británica) en las finanzas internacionales a tal punto que un sistema monetario internacional liderado por el renminbi a mediados de siglo parece tan probable como una distopía al estilo de Blade Runner 2049.
Una razón para la continua debilidad del renminbi en las finanzas internacionales es que, a pesar de un progreso considerable desde 2010, sigue siendo una moneda internacional a medias. El renminbi no es una moneda líquida y no se puede convertir fuera de mercados offshore designados. En consecuencia, su peso en las carteras de los inversores internacionales es minúsculo.
Hasta la propia China utiliza el renminbi sólo en aproximadamente una cuarta parte de su comercio internacional, y sus finanzas internacionales siguen estando denominadas en dólares. Las empresas multinacionales de China -Alibaba, Baidu y Tencent- cotizan en Nueva York y Hong Kong, donde están valuadas tanto en dólares estadounidenses como de Hong Kong.  Y gran parte de los préstamos de rápida expansión y las inversiones en el exterior de China son en dólares.
Pero la razón más convincente por la cual no deberíamos esperar que surja en lo inmediato un sistema financiero internacional dominado por el renminbi es que los líderes de China nunca han demostrado ningún compromiso sostenido para desarrollar el renminbi como una verdadera alternativa frente al dólar. Por el contrario, han intentado aplicar una estrategia cooperativa para reformar el sistema monetario internacional que, a su entender, no debería ser dependiente de ninguna moneda en particular.
Para los chinos, el futuro del sistema monetario internacional debería ser un escenario en el que se pueda elegir entre múltiples monedas nacionales -en términos de facturación, pagos y asignación de activos-, reduciendo así la exposición del sistema a la política nacional. Es más, si más bancos centrales crean liquidez, y los centros financieros internacionales la ofrecen, un sistema de estas características conllevaría un riesgo menor de crisis de liquidez. China ya ha venido experimentando con el desarrollo de mercados de renminbi offshore en centros financieros clave, como una manera de superar la liquidez limitada de su moneda.
Sin embargo, para construir un sistema de múltiples monedas, el mundo necesitaría emprender reformas de amplio alcance de las instituciones internacionales. Este fue precisamente el argumento que Zhou Xiaochuan, gobernador del Banco Popular de China, defendió en un discurso de 2009 contra la visión de que sólo Estados Unidos, a través del dólar, puede garantizar el funcionamiento del sistema monetario internacional.
Como señaló Zhou, la dominancia monetaria del dólar estadounidense está respaldada por las instituciones de Bretton Woods, creadas después de la Segunda Guerra Mundial. Reformar el sistema monetario internacional, por lo tanto, implica reformar la gobernancia de las instituciones financieras multilaterales -un argumento que China enfatizó durante su presidencia del G20 el año pasado.
En tanto Estados Unidos se retira de la escena mundial y surge un orden global multipolar, el sistema monetario internacional bien puede transformarse -pero probablemente no en un sistema liderado por el renminbi-. Ya sea por la debilidad intrínseca de las finanzas internacionales de China o por una visión de que una moneda verdaderamente internacional debe estar más impulsada por el mercado de lo que podría estar el renminbi controlado por el gobierno, ni siquiera China espera que la era de la diplomacia del renminbi llegue pronto.