Warum es keine Dominanz des Renminbi geben wird
TOKIO – In der dystopischen Zukunftsvision Blade Runner 2049 sieht das Los Angeles der Zeit in 32 Jahren stark aus wie Chinas Mega-Großstädte heute: grau, schmutzig und beherrscht von Hochhaustürmen mit blinkender Neonwerbung. Der Zuschauer erfährt nicht viel über die Außenwelt, und noch weniger über die Währung, in der die beworbenen Waren gehandelt werden. Ist der US-Dollar noch immer dominant, hat der chinesische Renminbi seine Rolle übernommen, oder ist unverhofft eine andere Währung zur vorherrschenden Weltwährung aufgestiegen?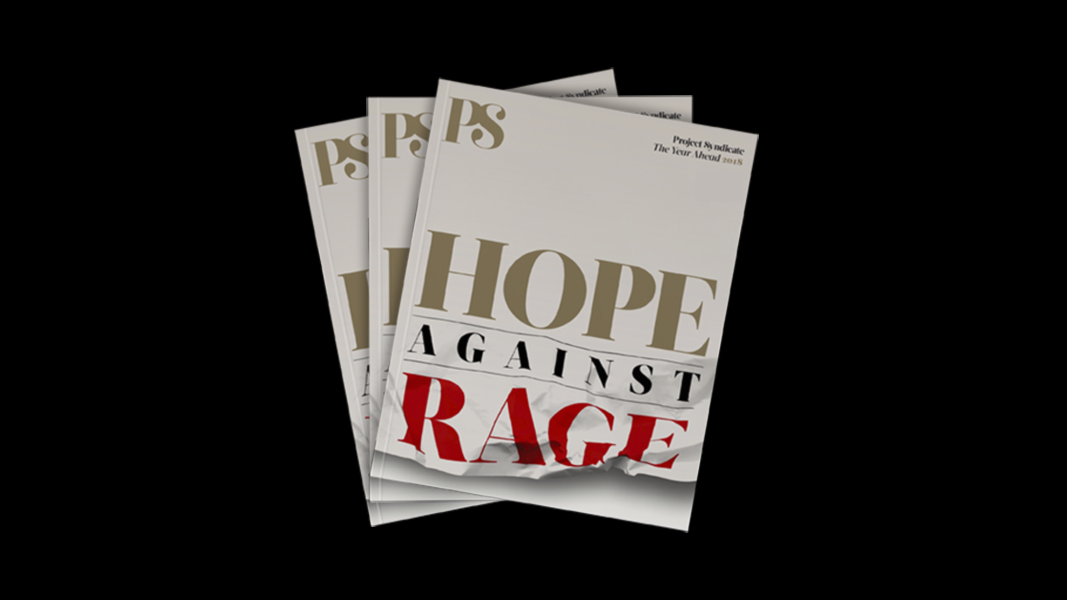 The Year Ahead 2018
The world's leading thinkers and policymakers examine what's come apart in the past year, and anticipate what will define the year ahead.
US-Präsident Donald Trump scheint entschlossen, dafür zu sorgen, dass sich Amerika zumindest teilweise aus seiner globalen Führungsrolle zurückzieht. Doch kann es wie im Falle des britischen Pfundes während der Zwischenkriegszeit vorkommen, dass eine Währung weltweit dominant bleibt, obwohl das ausstellende Land seine wirtschaftliche, finanzielle und geopolitische Hegemonie einbüßt. Auch heute sollte die Welt davon ausgehen, dass der US-Dollar die wichtigste Reservewährung bleibt und noch lange zur Fakturierung und Abwicklung internationaler Handelsgeschäfte verwendet werden wird.
Was freilich die internationale Finanzdiplomatie angeht, ist die Stellung des Dollars möglicherweise weniger sicher. Die Frage ist, ob das Ende der "Dollardiplomatie", das der Ökonom Barry Eichengreen vorhersagt, notwendigerweise den Aufstieg der Renminbi-Diplomatie mit sich bringt.
Chinas Politiker hoffen bereits seit den 1990er Jahren, die Rolle des Renminbi in der internationalen Finanzwirtschaft auszuweiten, um Chinas geopolitische Stellung zu stärken. Und in den letzten Jahren hat die chinesische Führung konzertierte Anstrengungen unternommen, um dieses Ziel insbesondere durch Internationalisierung der chinesischen Währung zu erreichen.
Doch ist die auf Renminbi lautende Finanzwirtschaft nicht annähernd so weit, dass sie mit der auf Dollar lautenden konkurrieren oder ihr gar gefährlich werden könnte. Tatsächlich hinkt der Renminbi anderen Reservewährungen (dem US-Dollar, dem Euro, dem japanischen Yen und dem britischen Pfund) im internationalen Finanzwesen noch immer derart hinterher, dass ein vom Renminbi angeführtes internationales Währungssystem bis Mitte des Jahrhunderts in etwa so wahrscheinlich erscheint wie eine dystopische Welt im Stile von Blade Runner 2049.
Ein Grund für die anhaltende Schwäche des Renminbi in der internationalen Finanzwirtschaft ist, dass er trotz der seit 2010 erzielten deutlichen Fortschritte eine unfertige internationale Währung bleibt. Der Renminbi ist eine illiquide Währung und außerhalb designierter Offshore-Märkte nicht konvertierbar. Infolgedessen ist sein Gewicht in den Portfolios der internationalen Anleger winzig.
Sogar China selbst nutzt den Renminbi nur für rund ein Viertel seines internationalen Handels, und sein internationales Finanzwesen lautet weiterhin auf Dollar. Chinas Blue-Chip-Unternehmen – Alibaba, Baidu und Tencent – sind an den Börsen von in New York oder Hongkong notiert, wo ihr Kurs entweder in US-Dollar oder in Hongkong-Dollar angegeben ist. Und der größte Teil der schnell wachsenden Kredite und Auslandsinvestitionen Chinas lautet auf Dollar.
Der überzeugendste Grund jedoch, warum man auf absehbare Zeit kein vom Renminbi dominiertes internationales Finanzsystem erwarten sollte, ist, dass Chinas Führung nie ein nachhaltiges Bekenntnis an den Tag gelegt hat, den Renminbi zu einer echten Alternative zum Dollar auszubauen. Stattdessen verfolgt das Land bisher einen kooperativen Ansatz zur Reform des internationalen Währungssystems, das – so die Chinesen – nicht von einer einzigen Währung abhängig sein sollte.
Den Chinesen schwebt für die Zukunft ein internationales Währungssystem vor, in dem mehrere nationale Währungen Wahlmöglichkeiten in Bezug auf Fakturierung, Bezahlung und Vermögensallokation bieten, um die Exponiertheit des Systems gegenüber der nationalen Politik zu verringern. Zudem wäre ein derartiges System, bei dem mehr Notenbanken Liquidität bereitstellen und internationale Finanzzentren Liquiditätspools bieten, einem geringerem Risiko von Liquiditätsengpässen ausgesetzt. China experimentiert bereits mit der Entwicklung von Offshore-Renminbi-Märkten in wichtigen Finanzzentren, um die begrenzte Liquidität seiner Währung zu überwinden.
Um ein derartiges Mehrwährungssystem aufzubauen, müsste die Welt die internationalen Institutionen freilich in umfassender Weise reformieren. Genau darum ging es, als der Gouverneur der chinesischen Volksbank Zhou Xiaochuan in einer Rede im Jahr 2009 die Ansicht in Frage stellte, dass nur die USA, durch den Dollar, das Funktionieren des internationalen Währungssystems garantieren könnten.
Zhou wies darauf hin, dass die geldpolitische Dominanz des US-Dollars durch die nach dem Zweiten Weltkrieg ins Leben gerufenen Bretton-Woods-Institutionen gestützt wird. Eine Reform des internationalen Währungssystems bedeute daher eine Reform der Steuerung der multilateralen Finanzinstitutionen – ein Argument, das China während seiner G20-Präsidentschaft im vergangenen Jahr betont hat.
Es mag durchaus sein, dass sich das internationale Währungssystem mit dem Rückzug der USA von der Weltbühne verändert – aber vermutlich nicht hin zu einem vom Renminbi dominierten System. Sei es aufgrund der dem internationalen Finanzwesen Chinas innewohnenden Schwäche oder der Sicht, dass eine echte internationale Währung stärker marktgesteuert sein müsse als der staatlich kontrollierte Renminbi das sein könnte: Nicht einmal China geht davon aus, dass in näherer Zeit das Zeitalter der Renminbi-Diplomatie anbrechen wird.
Aus dem Englischen von Jan Doolan