El solitario modelo de desarrollo de China
BERKELEY – Parece que la dirigencia china olvidó el consejo de Deng Xiaoping: tao guang yang hui ("mantener bajo perfil"). Al declarar una "nueva era" para China, durante el 19.º Congreso Nacional celebrado en octubre en Beijing, el presidente Xi Jinping presentó el sistema de gobernanza chino como un modelo digno de que otros países lo imiten. En palabras de Xi, los líderes que deseen "acelerar el desarrollo manteniendo la independencia" deberían ver en China una "nueva opción".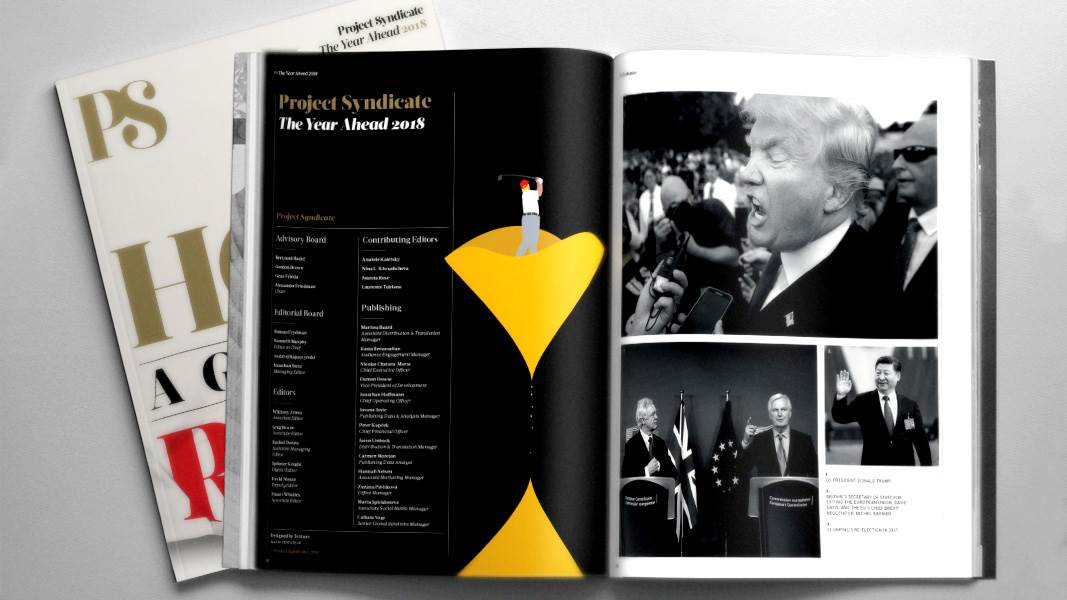 The Year Ahead 2018
The world's leading thinkers and policymakers examine what's come apart in the past year, and anticipate what will define the year ahead.
Una posibilidad que al parecer entusiasma a los países en desarrollo, en particular los del sudeste asiático y África subsahariana. La agencia oficial de noticias china, Xinhua, llegó a insinuar que en momentos en que el modelo occidental está sumido en el caos y la confusión, la "democracia de estilo chino" puede ofrecer una salida.
Ante semejante retórica podemos preguntarnos: ¿en qué consiste, precisamente, el modelo chino de desarrollo económico y político? ¿Y es realmente preferible a las alternativas?
Algunos de los elementos esenciales del modelo chino son: una gobernanza autoritaria que se apoya en la percepción de estabilidad; dirección estatal de la política industrial y las finanzas; inversión masiva en infraestructura; industrialización rural respaldada por la agricultura en pequeña escala; y apertura al comercio internacional y a la tecnología. Es indudable que este modelo trajo a China un veloz crecimiento económico en las últimas tres décadas y sacó a cientos de millones de personas de la pobreza.
Pero insinuar que el primer ingrediente (el autoritarismo) es necesario para un desarrollo veloz es un error. En realidad, es la característica del sistema chino en la que más deberían detenerse los otros países.
Pensemos en los vecinos de China en el este de Asia, en particular, Japón, Corea del Sur y Taiwán. Todos ellos alcanzaron un alto crecimiento por medio de una política industrial dirigida por el Estado, industrialización rural y apertura comercial. Pero Japón lo consiguió en el marco de la democracia de la posguerra, y Corea del Sur y Taiwán son democracias hace tres décadas. Es decir, el autoritarismo no fue necesario para la modernización.
Es verdad que la democracia es exasperantemente lenta y a menudo contenciosa. Pero sus procesos deliberativos y electorales ayudan a aliviar tensiones, especialmente en sociedades heterogéneas y conflictivas. Incluso en un país más homogéneo como China, la ausencia de un discurso público abierto conduce a lo contrario, como deja de manifiesto el mal manejo estatal de los conflictos étnicos con tibetanos y uigures.
La falta de una sociedad civil fuerte o un sistema judicial independiente que pusiera límites al poder del gobierno llevó muchas veces a la dirigencia china a cometer errores catastróficos. Basta pensar en el Gran Salto Adelante o la Revolución Cultural en tiempos de Mao Zedong.
Xi también se equivocó. Por ejemplo, su decisión de ordenar a las empresas estatales chinas que intervinieran para sostener al mercado bursátil en 2015 fue un error de cálculo garrafal.
En cuanto el flujo de reservas extranjeras del Banco Popular de China a las sobrecargadas empresas estatales se cortó, el mercado volvió a hundirse a los niveles de antes de la intervención. Pero para entonces, se habían dilapidado cifras astronómicas.
La ausencia de controles políticos y mecanismos institucionales de escrutinio público también alentó abusos de poder y altos niveles de corrupción; esto contribuyó a una gran desigualdad, expropiaciones arbitrarias de tierras, condiciones de trabajo inseguras, alarmas alimentarias y contaminación tóxica, entre otros problemas. Si bien la enérgica campaña de Xi contra la corrupción en el seno del Partido puede erradicar algunas injusticias, de no mediar reformas políticas fundamentales, es probable que termine siendo una labor de Sísifo (si no es una mera estratagema para controlar a posibles rivales políticos).
La gestión económica es igualmente opaca. Por el momento, las empresas estatales o con conexiones políticas tienen casi total libertad para hacer inversiones a crédito, una deficiencia que en la medida en que provoca una asignación errónea de grandes sumas de capital, es y seguirá siendo fuente de importante incertidumbre macroeconómica para China.
A la par que la economía china aumenta en complejidad, la ausencia de procesos de gobernanza transparentes y sometidos al escrutinio público (combinada con frecuentes campañas represivas sobre la sociedad civil y la imposición de conformidad y disciplina) terminará asfixiando el emprendedorismo y la innovación. Para colmo, pese a que la inversión china en investigación y desarrollo como proporción del PIB es bastante alta, se concentra sobre todo en el sector público. Mientras el gobierno proteja a las empresas estatales fallidas, esto será otro lastre a la innovación, cuya solución será cada vez más importante conforme China complete la fase "igualadora" del desarrollo económico.
La falta de apertura y transparencia también puede poner a prueba la estabilidad política. Ante una crisis, es común que la dirigencia china sobreactúe reprimiendo el disenso. Este problema estuvo bastante contenido en las últimas décadas porque hubo un liderazgo colectivo y pragmático, pero la consolidación del poder de Xi y el culto a la personalidad que lo rodea pueden ser causantes de inestabilidad.
Los gobiernos democráticos, con todos sus problemas, son menos frágiles, porque sus fuentes de legitimidad son el pluralismo y la competencia política, en vez del crecimiento económico acelerado o la incitación al nacionalismo. Los límites judiciales a las arbitrarias restricciones migratorias de Trump en Estados Unidos o a los intentos del primer ministro indio Narendra Modi de criminalizar el disenso son ejemplos de cómo la autonomía institucional fortalece la resiliencia de los sistemas políticos democráticos, algo de lo que China carece.
Mal que le pese al relato oficial, la mayoría de las características del sistema de gobernanza chino que Xi promueve tienen poco que ver con él. Son vestigios de los antiguos gobiernos imperiales y de los primeros gobiernos comunistas: un sistema de promoción meritocrático basado en el desempeño; un marco organizacional verticalista que sin embargo, no pone en riesgo la calidad de la gobernanza local; y un exclusivo sistema de centralización política y descentralización económica y administrativa.
Es decir, más allá de su atractivo, el modelo chino es deficiente en algunos aspectos básicos, y difícil de reproducir en otros. Cualquier país que se tome en serio la propuesta de Xi de imitar a China, sin una historia organizacional similar, se llevará una decepción. China no sólo es políticamente única, sino que también posee un mercado interno voluminoso y cada vez más próspero que le permite atraer inversiones extranjeras bajo sus propias condiciones.
Así que diga lo que diga el nuevo emperador del Reino del Medio, el desarrollo con características chinas sólo funciona en China.
Traducción: Esteban Flamini