El milagro desmitificador de China
PARÍS – Hace cuarenta años, el 29 de diciembre de 1978, el 11.º Comité Central del Partido Comunista de China emitió el comunicado oficial de su tercera sesión plenaria, dando inicio al mayor experimento de crecimiento económico de la historia de la humanidad. En neolengua comprensible para los iniciados del PCC, la dirigencia del país (actuando como transmisora de los deseos de Deng Xiaoping) anunció una serie de "modernizaciones" inéditas que transformarían a uno de los países menos desarrollados del mundo en una de sus principales potencias económicas.
En 2014 China superó a Estados Unidos como mayor economía del mundo (por paridad del poder adquisitivo). Su PIB per cápita, que en 1980 era 40 veces inferior al de Estados Unidos, se multiplicó por 58, y ahora es apenas 3,4 veces inferior (según datos del FMI). Es decir que en la práctica, alrededor del 15% de la humanidad ha visto sus ingresos crecer a un promedio del 10% cada año durante cuatro décadas.
Pero el vertiginoso ascenso de China también refutó tres de los más grandes mitos referidos a los efectos del crecimiento económico. El primero es que el crecimiento reduce la desigualdad y aumenta la felicidad. En 1955 el economista Simon Kuznets postuló que conforme los países atraviesan el desarrollo económico, la desigualdad de ingresos primero debería aumentar marcadamente y luego reducirse, siguiendo la forma de una "U" invertida o campana. Pero dado el ritmo de crecimiento económico que tuvo China desde 1978, su experiencia es la mayor refutación que haya habido de esta afirmación.
Al fin y al cabo, China ahora es uno de los países más desiguales del mundo. Los últimos diez años su coeficiente Gini osciló en torno de 0,5, cuando en 1980 era cercano a 0,3 (el valor 1 implica que una sola persona lo posee todo). De hecho, con el correr del tiempo, la relación entre crecimiento y desigualdad ha seguido un patrón peculiar: el coeficiente Gini de China aumentó en períodos de crecimiento y se redujo en períodos de desaceleración.
Además, según datos de la World Inequality Database, la participación en el ingreso nacional del 10% más rico de la población china aumentó de 27% a 41% entre 1978 y 2015, y se duplicó para el 1% superior. Paralelamente, la participación del 50% más pobre se redujo del 26% al 14%. Estos datos se condicen con otras fuentes que muestran que aunque el PIB per cápita se multiplicó por 14 entre 1990 y 2010, la participación en el ingreso nacional del quintil superior aumentó y se redujo la de los cuatro quintiles inferiores.
Son, claro está, desigualdades relativas, y es innegable que China redujo la pobreza absoluta. Antes la mayoría de los chinos vivían en condiciones de extrema igualdad y extrema pobreza; hoy viven en una sociedad desigual donde los ingresos del 10% más pobre crecieron casi 65% entre 1980 y 2015.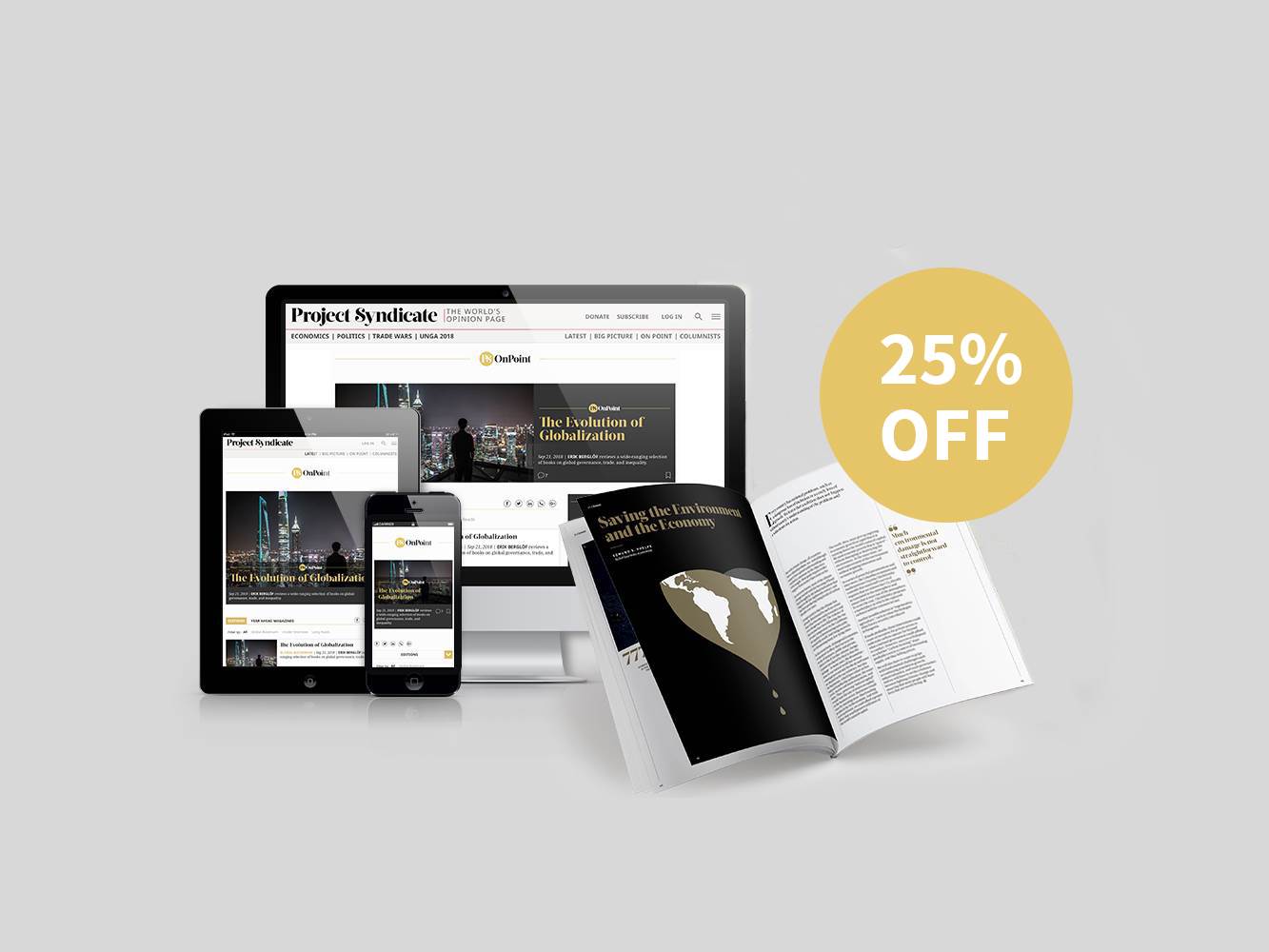 Subscribe now
For a limited time only, get unlimited access to On Point, The Big Picture, and the PS Archive, plus our annual magazine, for just $75.
Este progreso daría motivos para pensar que los chinos también deberían estar más felices. Pero parece ser lo contrario. En un capítulo del Informe Mundial de Felicidad 2017, Richard A. Easterlin, Fei Wang y Shun Wang sostienen con sólidos argumentos que a pesar del inmenso crecimiento del PIB de China, el bienestar subjetivo declarado por sus ciudadanos se redujo, especialmente entre los sectores más pobres y ancianos de la población. Lo más sorprendente es que aunque el bienestar subjetivo de los chinos se mantiene por debajo de su nivel de 1990, de hecho aumentó en la última década, cuando el crecimiento fue más lento que en el período 1990‑2005.
El segundo mito refutado por el veloz crecimiento de China es que el liberalismo económico engendra a la larga liberalismo político. Recordemos que en 1989, pocos meses antes del triunfo aparente de la democracia liberal occidental sobre el comunismo soviético, China aplastó una revuelta de estudiantes en la plaza Tiananmen y mató a unos 10 000 conciudadanos. Desde entonces, la trayectoria política del país no ha cambiado; a lo sumo puede decirse que el ejercicio arbitrario e injusto del poder por parte del Estado chino se ha vuelto mucho más eficiente.
El capitalismo con características chinas implica una fuerte presencia estatal en todas las áreas de la vida nacional. Mientras la tecnocracia facilita la expansión económica, el inmenso aparato de seguridad del Estado asfixia las libertades civiles y los derechos políticos. En vez de democratizarse, China fue precursora del tipo de neoliberalismo autoritario que ahora vemos en Turquía, Brasil, Hungría, la India y otros lugares.
Finalmente, ya no es posible decir que el crecimiento económico es la mejor política medioambiental. En 2007 el entonces premier Wen Jiabao señaló que el modelo de desarrollo de China adolecía de falta de equilibrio, de estabilidad, de coordinación y de sostenibilidad, debido en particular a su perjudicial impacto ecológico. Pero siempre se dio por sentado que el crecimiento económico seguiría una "curva de Kuznets medioambiental" que prevendría o al menos mitigaría un desastre total. Pero no ha sido así.
Datos recientes muestran que China es ahora el mayor extractor de recursos naturales en una economía global que los consume en cantidades cada vez mayores. En 2010 China representaba el 14% del PIB global, pero consumía el 17% de toda la biomasa, el 29% de los combustibles fósiles y el 44% de los minerales metalíferos. Hoy su consumo interno de todos los recursos naturales equivale a un tercio del total global, mientras que el conjunto de los países desarrollados consume apenas una cuarta parte.
Además, China contribuye el 28% de las emisiones globales de dióxido de carbono: el doble que Estados Unidos, el triple que la Unión Europea y el cuádruple que la India. Entre 1978 y 2016, el nivel anual de emisión de CO2 de China creció de 1500 millones de toneladas a 10 000 millones de toneladas, y de 1,8 toneladas per cápita a 7,2 toneladas per cápita, contra un promedio mundial de 4,2 toneladas.
Está bien documentado que la contaminación del agua superficial y subterránea y del aire en China llegó a un punto crítico. Y dicho sea de paso, eso también es un problema para quienes creen que el capitalismo es el principal motor de la destrucción medioambiental. Al fin y al cabo, el país ecológicamente más insostenible de la historia es nominalmente comunista.
En el 19.º Congreso Nacional del PCC celebrado en octubre de 2017, el presidente chino Xi Jinping habló de una contradicción fundamental "entre un desarrollo desequilibrado e inadecuado y la creciente necesidad del pueblo de tener una vida mejor", y confirmó el compromiso de China con la transición a "una civilización ecológica" comenzada por el 13.º Plan Quinquenal en 2016. Parece que el mayor episodio de crecimiento económico en la historia de la humanidad ha llegado a su fin.
Traducción: Esteban Flamini