A China está a matar a sua galinha dos ovos de ouro da tecnologia
CLAREMONT, CALIFÓRNIA – Os políticos dos EUA de ambos os partidos do Congresso estão preocupados com o facto de a China poder estar a ultrapassar os Estados Unidos como líder mundial na área da ciência e tecnologia. Numa rara demonstração de bipartidarismo, o Senado que normalmente se encontra numa situação de beco sem saída aprovou um projeto de lei no início de junho para gastar cerca de 250 mil milhões de dólares na próxima década para promover investigações inovadoras. Mas os legisladores podem estar a preocupar-se desnecessariamente, porque o governo chinês parece estar a fazer todos os possíveis para perder a sua corrida tecnológica contra os Estados Unidos.
O exemplo mais recente da tendência da China para a autoflagelação é a ação reguladora repentina e arbitrária tomada pela Administração do Ciberespaço da China (CAC) contra a Didi Chuxing, uma empresa de transporte que recentemente aumentou 4,4 mil milhões de dólares numa oferta pública inicial (OPI) na Bolsa de Valores de Nova Iorque. A 2 de julho, apenas dois dias após a oferta bem-sucedida da Didi, que valorizou a empresa em mais de 70 mil milhões de dólares, a CAC, um departamento do partido que está no poder, Partido Comunista da China (PCC), disfarçado de agência do governo, anunciou uma verificação de segurança de dados da empresa. Dois dias depois, a CAC ordenou abruptamente a remoção da Didi das lojas de aplicações, uma medida que aniquilou quase um quarto do valor de mercado da empresa.
A medida repressiva do PCC contra a Didi, sob o pretexto de segurança de dados, parece ser apenas o começo de uma campanha mais ampla para afirmar o controlo sobre o próspero setor de tecnologia da China. A 9 de julho, a CAC chocou ainda mais os empresários de tecnologia e os seus investidores ocidentais com um anúncio oficial de que todas as empresas com dados provenientes de mais de um milhão de utilizadores têm de passar pela sua verificação de segurança antes de qualquer cotação de ações em bolsas de valores estrangeiras. Uma vez totalmente implementada, esta nova política poderá paralisar o acesso das empresas chinesas de tecnologia ao capital estrangeiro.
Ironicamente, os falcões dos EUA em relação à China há muito sonham em fazer exatamente isso. Em dezembro do ano passado, o Congresso aprovou uma lei a autorizar a retirada de empresas chinesas das bolsas de valores dos Estados Unidos se elas não cumprirem os padrões de auditoria dos Estados Unidos. Agora, parece que o Congresso não precisava de se ter preocupado. O seu arqui-inimigo, o PCC, fará o mesmo trabalho de forma muito mais eficaz e completa de agora em diante.
Qualquer ação com o nome "verificação de segurança de dados" que seja conduzida por uma agência partidária sigilosa com pouca experiência técnica, nenhuma responsabilidade legal e uma responsabilidade apenas para os seus mestres políticos levantará outro obstáculo regulador imprevisível dissuadindo a maioria, ou até todos, os investidores estrangeiros. Uma vez que os financiadores estrangeiros de empresas de tecnologia chinesas em fase de arranque geralmente planeiam sair dos seus investimentos através de uma cotação de ações no estrangeiro – de preferência em Nova Iorque – a perspetiva de uma agência do PCC exercer poder de veto sobre futuras cotações de ações pode torná-los extremamente relutantes em investir.
Os investidores estrangeiros, normalmente firmas de capital de risco bem estabelecidas, trazem não apenas o financiamento muito necessário, mas também conhecimentos valiosos e as melhores práticas de administração que são essenciais para o sucesso das empresas de tecnologia em fase de arranque. Quase todos os gigantes tecnológicos chineses dominantes, incluindo Alibaba, Tencent e Baidu, contaram com financiamento estrangeiro para crescerem e se tornarem empresas espetacularmente prósperas. Se o PCC tivesse exigido uma verificação de segurança de dados semelhante há duas décadas, nenhum desses gigantes teria existido – e o panorama tecnológico da China hoje estaria desolado.
Subscribe to Project Syndicate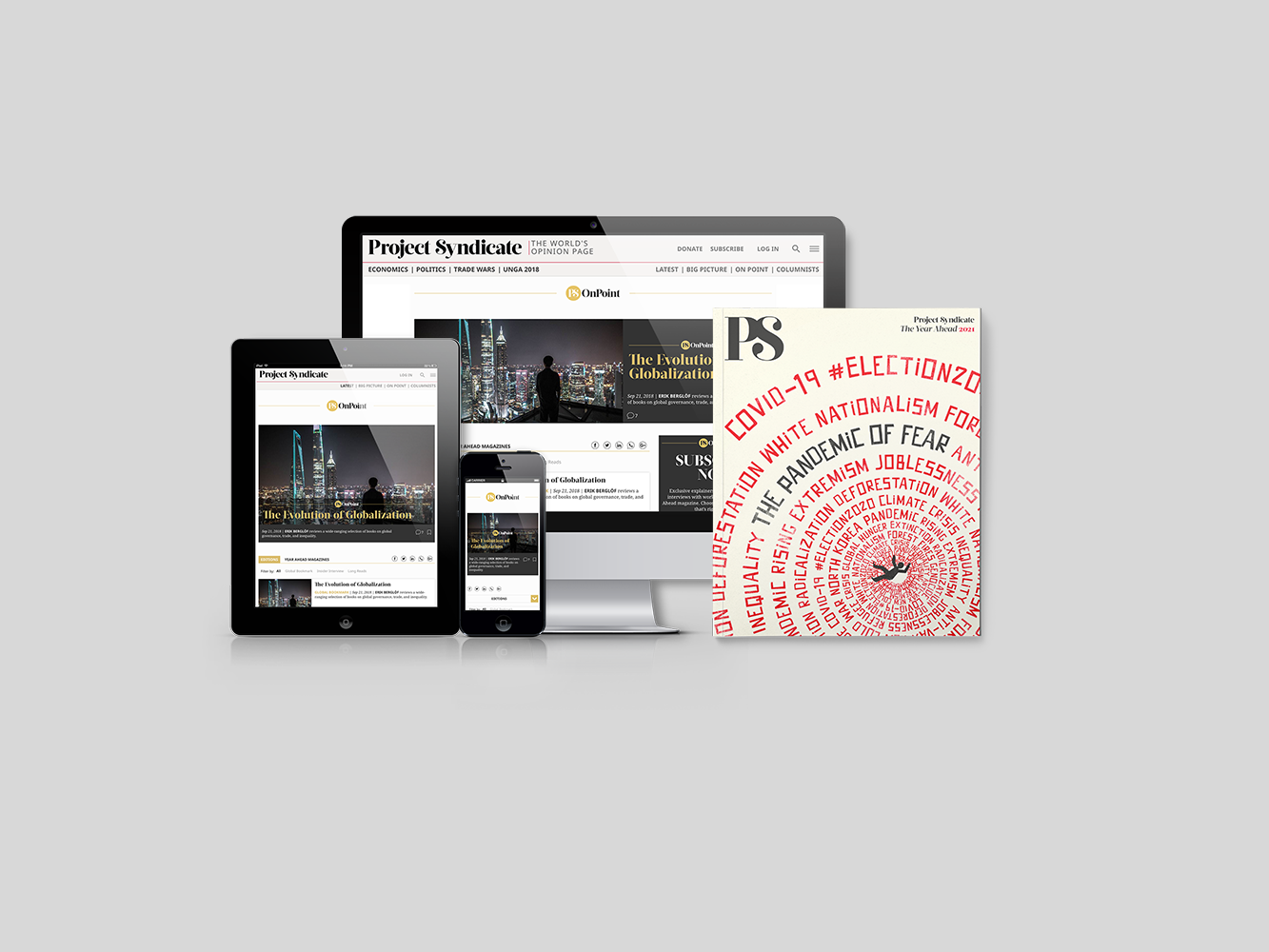 Subscribe to Project Syndicate
Enjoy unlimited access to the ideas and opinions of the world's leading thinkers, including weekly long reads, book reviews, topical collections, and interviews; The Year Ahead annual print magazine; the complete PS archive; and more. All for less than $9 a month.
A medida repressiva da CAC contra as empresas de tecnologia mais bem-sucedidas da China não é motivada por preocupações com a segurança de dados. O estado de vigilância da China não oferece aos cidadãos segurança de dados ou privacidade. E dado que a lei de segurança de dados da China já exige que todas as empresas de tecnologia armazenem os seus dados dentro das fronteiras do país, as preocupações do governo sobre uma possível fuga de dados através de uma plataforma de partilha de veículos como a Didi, dificilmente merecem mudanças radicais nas regras e restrições arbitrárias. Pequenos ajustes reguladores seriam mais do que adequados para lidar com as preocupações legítimas de segurança nacional dos governantes.
Mas os investidores estrangeiros que esperam que os líderes chineses percebam a sua loucura e invertam o curso, devem pensar novamente. Matar a proverbial galinha dos ovos de ouro parece ser uma especialidade do PCC. Na verdade, nem a Didi nem a Alibaba – que em abril recebeu uma multa recorde antimonopólio de 2,8 mil milhões de dólares do governo chinês – estiveram perto de ser o maior animal desse género que a China abateu recentemente. Essa distinção indesejada pertence a Hong Kong, cuja autonomia e prosperidade estão em grave perigo após a imposição do governo de uma lei de segurança nacional draconiana no ano passado.
Paranoia, instintos de intimidação e desprezo pelos direitos de propriedade estão profundamente enraizados no espírito coletivo do PCC, predispondo o governo chinês a políticas autodestrutivas, independentemente de conselhos bem-intencionados ou mesmo indícios das suas consequências prejudiciais. E a supercentralização do poder sob o governo do homem forte na China hoje tornou a autocorreção quase impossível.
Para os empreendedores tecnológicos da China, as dificuldades da Didi devem servir como um inclemente "abre olhos". Muitos podem pensar que podem prosperar sob uma ditadura, desde que fiquem fora da política e se concentrem em ganhar dinheiro. Mas, parafraseando Leon Trotsky, eles podem não estar interessados ​​na ditadura, mas a ditadura está muito interessada neles.
Um conhecido provérbio chinês aplica-se ao PCC. O interesse partidário continua a "magoar entes queridos e a encantar o inimigo" (qintong choukuai). Os patrões da tecnologia da China estão a aprender da forma mais difícil que podem muito bem ter mais a temer do seu próprio governo do que da sinofobia bipartidária dos Estados Unidos.