Las ambiciones de modernización de China
BEIJING – En octubre pasado, cuando inauguró el 19 Congreso Nacional del Partido Comunista de China, el Presidente Xi Jinping anunció que el país tendría una economía "totalmente moderna" para 2035, y alcanzaría el estatus de altos ingresos para 2049, cuando se cumpla un siglo de la fundación de la República Popular. Cabe esperar que tenga más éxito que el primer premier de China, Zhou Enlai, que en 1964 prometió "cuatro modernizaciones" para fines del siglo XX.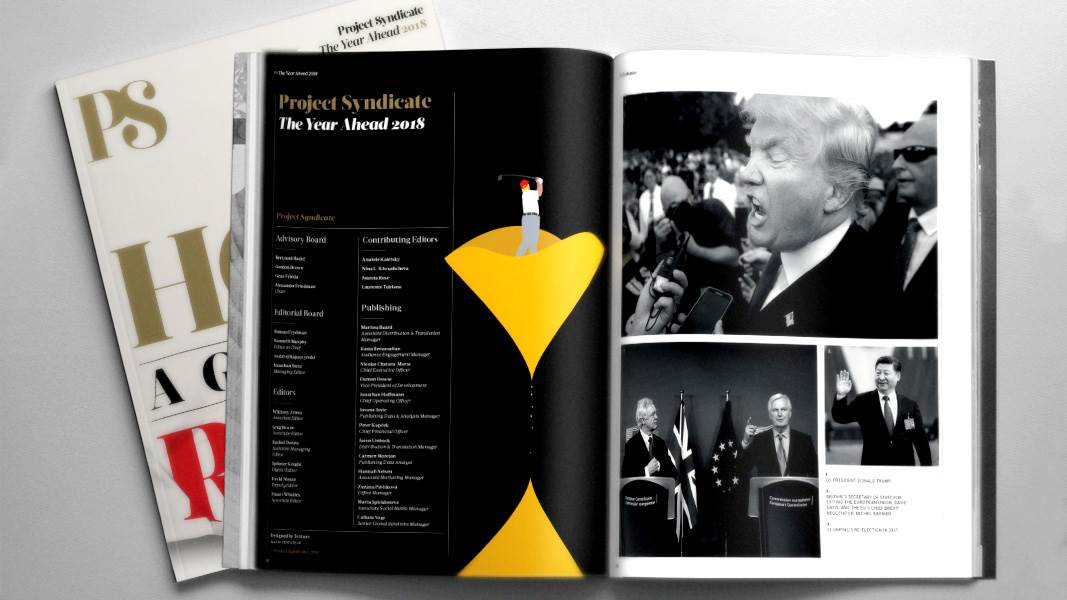 The Year Ahead 2018
The world's leading thinkers and policymakers examine what's come apart in the past year, and anticipate what will define the year ahead.
El plan de Zhou se centraba en reformar cuatro sectores clave: agricultura, industria, defensa y ciencia y tecnología. No fijó un objetivo de ingresos específico, pero es seguro decir que esperaba que a China le fuera mejor que la calificación de país de ingresos medio-bajos según los estándares del Banco Mundial que recibió a fines de siglo.
En realidad, esta vez alcanzar los objetivos de ingresos de China podría ser la parte fácil. El PIB per capita real de China representa cerca del 25% del de Estados Unidos. Para unirse al club de altos ingresos, la OCDE, China tendrá que elevar esa cifra hasta al menos un 45% (dependiendo de cómo se mida el ingreso real), nivel logrado hasta ahora por entre 36 y 40 economías.
China podría unirse a estas filas para 2049 si su economía crece al menos 1,7 puntos porcentuales más que la estadounidense cada año a partir de ahora. Suponiendo que la economía de EE.UU. mantiene su índice de crecimiento de largo plazo de un 2%, China tendría que crecer un 3,7% al año, muchísimo más lento que la actual tasa de un 6.5%. Incluso si su PIB se desacelerara constantemente a un 2% para 2049, la tasa promedio sería de al menos un 4%.
Pero la modernización es más que los ingresos, sino un completo proceso que el último término transformaría a China en una sociedad con los tipos de beneficios (oportunidades, comodidades personales y servicios públicos) que ofrecen las democracias avanzadas de hoy. No será fácil completarlo.
Para comenzar, China tendrá que limpiar su medioambiente, algo que hoy los chinos ven no solo como un lujo, sino como un imperativo. El gobierno ha dado algunos pasos positivos: la calidad del aire alrededor de Beijing, por ejemplo, mejoró notablemente este invierno, gracias a los esfuerzos por cerrar fábricas contaminantes y reemplazar el carbón por gas natural para la calefacción de los hogares.
Pero es un cambio que ha venido a un alto coste, como los crecientes precios del gas natural. El coste de mejorar la calidad del aire en todas las ciudades chinas, por no hablar de los ríos, lagos y suelos contaminados en el país, será enorme.
Un segundo reto que ha de enfrentar China al buscar la modernización es reducir la brecha entre campo y ciudad. A pesar de que se han ido aminorando las diferencias de ingresos, los residentes rurales siguen enfrentando un acceso inferior a la educación, la infraestructura y los servicios públicos.
La continuidad de la urbanización será de ayuda, pero incluso las previsiones más optimistas estiman que más de 300 millones de personas seguirán viviendo en áreas rurales en 2035. Ningún país se puede considerar como moderno, no importa lo brillantes o dinámicas que sea sus ciudades, si el campo se queda atrás.
Para hacer más complejos todavía los retos que enfrenta China para su modernización, su población en edad laboral está comenzando a declinar y podría bajar en más de un 10% para 2040, de acuerdo al Banco Mundial. Si bien la automatización puede protegerla de insuficiencias graves de la fuerza de trabajo, el envejecimiento demográfico aumentará la carga económica de la seguridad social.
A pesar de la introducción de cuentas individuales hace 20 años, el sistema de pensiones chino sigue funcionando en la práctica como un reparto. Cuando la generación del "baby boom" de China (los nacidos entre 1962 y 1976) se comience a jubilar, los déficits del sistema crecerán. De hecho, algunas provincias donde el proceso de envejecimiento se ha vivido con mayor rapidez y ha habido menor crecimiento ya dependen de subsidios del gobierno central. China necesita desesperadamente un sistema más unificado e integral para equilibrar la cobertura de seguridad social a lo largo del país.
Por supuesto, la creciente renta nacional de China le ayudará a enfrentar estos retos. Pero la riqueza, si bien necesaria, no es suficiente. Por una parte, el estado de derecho se debe fortalecer considerablemente, y no solo para limitar la corrupción oficial. Debe haber un cambio cultural en que los ciudadanos aprendan a funcionar en una sociedad gobernada por reglas fiables y estructuras legales, en lugar de vínculos geográficos o familiares.
Son buenas noticias el que Xi reconozca la importancia del estado de derecho. En su informe al Congreso Nacional mencionó la frase más de 20 veces, recalcando "el objetivo general de profundizar la gobernanza integral basada en las leyes" para "construir un país con un estado de derecho socialista". Sin embargo, para transformar las maneras tradicionales de vivir en China será necesario algo más que retórica exhortativa.
Un obstáculo clave radica en el sistema político chino. Es una amplia creencia el que la democracia es indispensable para una sociedad civil dinámica. Sin embargo, las autoridades chinas parecen decididas a no introducir la democracia electoral en ninguna manera o forma. Los recientes acontecimientos políticos en las democracias avanzadas (en particular, el ascenso de los movimientos y líderes populistas de derecha, como el Presidente estadounidense Donald Trump) han reforzado su determinación.
En la medida que eleve los estándares de vida, el "Modelo Chino" satisface algunos requisitos de legitimidad política. Pero, una vez que estos estándares lleguen a un cierto nivel, el pueblo chino exigirá con casi completa seguridad más libertad personal y un mayor nivel de rendición de cuentas políticas. Entonces el reto más fundamental al que se enfrenten los líderes chinos será un modelo de gobernanza que satisfaga estas exigencias y, al mismo tiempo, siga excluyendo la democracia electoral.
Traducido del inglés por David Meléndez Tormen