Je s čínskou výjimečností amen?
,
NOVÉ DILLÍ – Rozvíjející se trhy, od Argentiny po Turecko a od Jižní Afriky po Indonésii, opět rozechvívají finanční turbulence. Neztraťme však ze zřetele největší a potenciálně nejproblematičtější z nich: Čínu.
V posledních několika desetiletích vznikl dojem, že růst Číny porušuje určité základní ekonomické zákonitosti. Steinův zákon například říká, že když něco nemůže trvat donekonečna, ustane to. Čínský dluh přesto dál stoupá.
Podle Mezinárodního měnového fondu se zadlužení čínských firem, vládních orgánů a domácností jen v posledním desetiletí zvýšilo o zhruba 23 bilionů dolarů a tamní poměr dluhu k HDP vystoupal o přibližně 100 procentních bodů, na víc než 250 %. To o několik řádů překračuje úroveň, na níž obvykle dochází k finančním krizím.
Ovšemže, část čínského dluhu byla využita k rozšíření průmyslové základny a infrastruktury země. Jenže velká část šla také do udržení ztrátových státních podniků a nekonečných investic do nadbytečné veřejné vybavenosti a bydlení.
Čínské vnitrostátní nevyváženosti poukazují na další ekonomickou zákonitost, již se zemi podařilo rozbít. V každé normální zemi by hromadění rozsáhlých přebytečných kapacit vedlo ke strmému poklesu investic a růstu HDP. To by dále vyvolalo finanční těžkosti, následované krizí, pokud by se varovné signály přehlížely. Čína má ale jinou zkušenost. Tamní růst HDP sice zpomalil, ale investice zůstávají mohutné a bankovní soustava není vůbec pod náporem.
Zdánlivá nezranitelnost Číny se běžně vysvětluje poukazem na její rozsáhlé zásoby domácích úspor a obrovské devizové rezervy (přes tři biliony dolarů), které lze utratit s cílem odvrátit finanční paniku. A protože vládní bilance má stále dost sil, aby sanovala neživotaschopné finanční firmy, se zdroji stresu v této zásadní oblasti si dokáže poradit už v zárodku.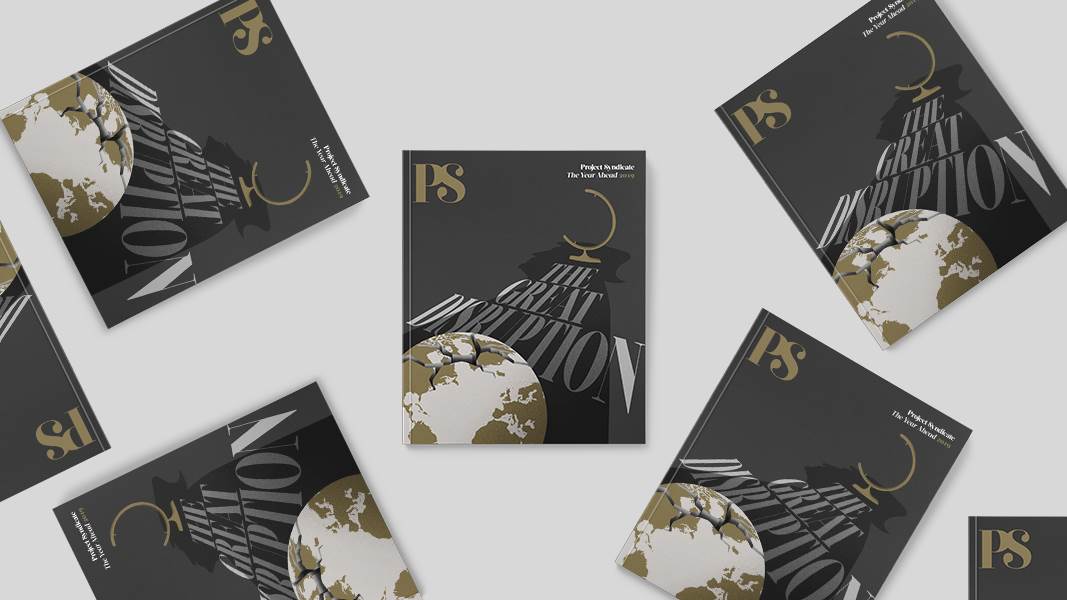 The Year Ahead 2019
Featuring commentaries by Joseph Stiglitz, Sri Mulyani Indrawati, Angus Deaton, Célestin Monga, Jean-Claude Juncker, and other leading thinkers. Now available for pre-order.
Další běžné vysvětlení čínské houževnatosti je politické. Vysoce centralizované rozhodování umožňuje bryskní, soustředěné jednání, třeba tvrdé úřední zátahy proti odlivům deviz. V tak jedinečně řízené – a kontrolovatelné – společnosti jsou obvyklá sociální pnutí pramenící z hospodářských poruch skvěle zvladatelná.
Vzdor přesvědčivosti těchto argumentů je načase je přehodnotit. Sen Číny o ekonomické výjimečnosti teď ohrožuje třaskavá směs stávajících pnutí – konkrétně hromadění domácího dluhu – a nových komplikací, mimo jiné amerických obchodních bariér, geopolitického náporu proti čínské Iniciativě pásu a stezky (BRI) a zpřísňování měnových podmínek, zejména ve Spojených státech.
Po finanční krizi roku 2008 Čína svůj ekonomický model odklonila od vývozu k vnitřním zdrojům růstu. Takový posun rovnováhy ale vyžaduje další a další dluh a investice, čímž vytváří vyšší rizika zhroucení. Vláda proto musela našlapovat opatrně a podle potřeby přihazovat do ekonomiky jen nevelké porce stimulace. Neexistuje však žádná příručka, jíž by se při takovém balancování mohla držet. Zásahy do politik, které se v daném okamžiku jeví jako umírněné, by se mohly ukázat jako přehnané. Jednou se Steinův zákon prosadí.
První mezi nastupujícími hrozbami pro čínský růst je obchodní politika USA. Cly Trumpovy administrativy byl zatím dotčen čínský export v hodnotě pouhých asi 50 miliard dolarů. V červenci však Trump oznámil nové kolo cel, které si berou na mušku čínské zboží za dalších 200 miliard dolarů, což představuje zhruba 15 % celkového exportu do USA. Vědoma si své rostoucí zranitelnosti, Čína doposud na Trumpovy vytrvalé pohrůžky reaguje pozoruhodně smírně.
Druhá hrozba pro vnější poptávku pramení z vyčerpání čínských merkantilistických politik. V devadesátých a nultých letech si Čína vybudovala mimořádně rozsáhlý exportní průmysl zčásti tím, že umožnila podhodnocení své měny. V poslední době však tento přístup udržuje jinými prostředky, jmenovitě pomocí BRI, skrze niž v cizích zemích financuje nákupy čínského zboží a služeb. Říkejme tomu čínský merkantilismus 2.0.
Potíž tkví v tom, že merkantilismus 2.0 je teď pod palbou, politicky i ekonomicky. V politické rovině vůči BRI a závanu neoimperialismu kolem ní brojí příjemci čínských půjček – od Srí Lanky přes Malajsii po Myanmar. V ekonomické rovině tíživé podmínky financování BRI podle Centra pro globální rozvoj vyústily nejméně v osmi zemích ve zneklidňující kumulaci dluhu.
Malajsie už například musela zrušit Číňany podpořené projekty v hodnotě 22 miliard dolarů. Srí Lanka se musela obrátit o pomoc na MMF, kvůli dopadům nadměrného čínského dovozu na platební bilanci. Pákistán bude možná brzy nucen učinit totéž. Jak poroste ostražitost dalších zemí před BRI, budou si z Číny méně půjčovat a méně dovážet.
Z vytrvalého vzestupu úrokových sazeb v USA současně plyne třetí šok. Až americké sazby převýší ty čínské, bude z Číny odtékat kapitál, jak už letos odtéká z jiných rozvíjejících se trhů. Čínští předáci tak budou stát před klasickým dilematem rozvíjejícího se trhu. Umožní-li oslabení žen-min-pi, mohli by v krátkodobém horizontu zhoršit únik kapitálu a zavdat USA důvod k obvinění z měnové manipulace. Budou-li ale chtít měnu podepřít, budou možná muset z rezerv utratit další bilion dolarů, jak se stalo už v roce 2015.
Popřípadě by vláda mohla znovu zavést drakonickou kapitálovou regulaci. Ta by ale dusila vnější poptávku, obecněji ohrozila řízení ekonomiky a zdiskreditovala nárok země na vůdčí úlohu v globální ekonomice (včetně internacionalizace žen-min-pi).
Uprostřed této třaskavé směsi ekonomických výzev se rovněž objevují sílící otázky, zda má čínský prezident Si Ťin-pching události tak pevně v rukou, jak by rád každému vštípil. Si by měl mít na paměti nejen Steinův zákon, ale i zákon Rüdigera Dornbusche, který říká: "Krize přichází mnohem déle, než si myslíte, a pak nastoupí mnohem rychleji, než byste si mysleli."
Čínská výjimečnost dříve či později podlehne ekonomickým zákonitostem. Svět by se na to měl připravit. Důsledky by mohly být krušné – nesrovnatelné s čímkoli, co jsme v nedávných dějinách zažili.
Z angličtiny přeložil David Daduč