Expliquer l'absence d'un « Consensus de Pékin »
,
HONG KONG – Après l'avoir observé pendant quatre décennies, nous devrions a priori être en mesure d'identifier la logique sous-jacente du modèle de développement de la Chine. Or, quarante ans après le lancement de la « réforme et ouverture » du pays par Deng Xiaoping, un véritable « Consensus de Pékin » – réciproque chinoise du consensus néolibéral occidental de Washington – reste encore à déterminer.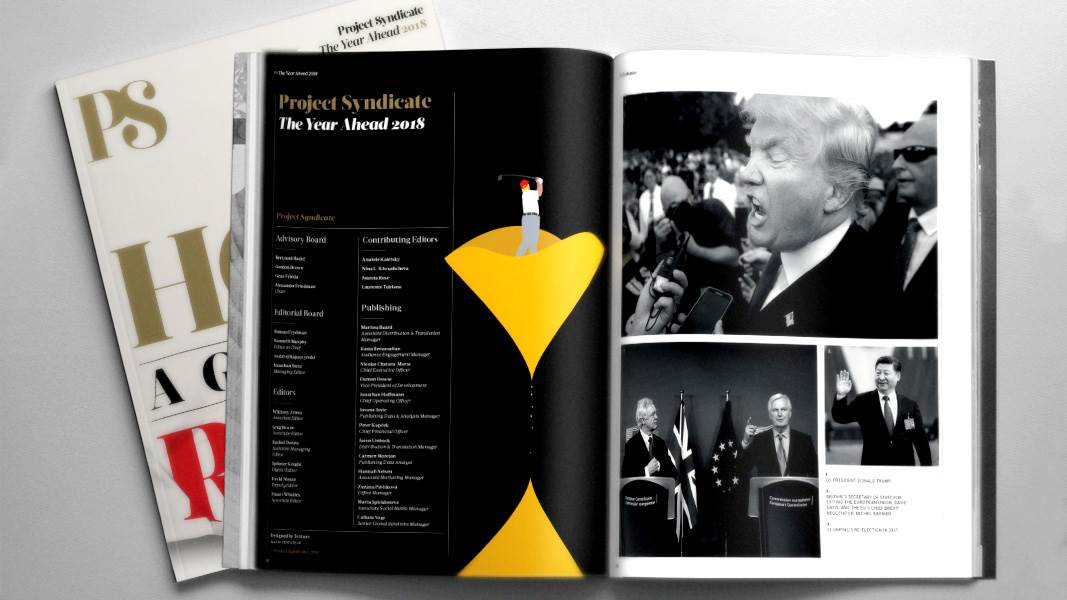 The Year Ahead 2018
The world's leading thinkers and policymakers examine what's come apart in the past year, and anticipate what will define the year ahead.
Au fil des années, la Chine a œuvré pour transformer son économie fermée et planifiée en un système plus ouvert, fondé sur le marché. L'industrie, et progressivement les services, sont venus remplacer l'agriculture en tant que principaux moteurs de croissance, de même que le pays est passé du statut de simple imitateur technologique à celui d'innovateur mondial. Dans le même temps, la Chine est parvenue à surmonter plusieurs défis majeurs, qu'il s'agisse de sa dette excessive, de sa surcapacité, de la pollution majeure qui l'affecte, ou d'une importante corruption parmi ses responsables publics.
Ce processus s'est révélé extrêmement complexe. Selon l'économiste Cai Fang de l'Académie chinoise des sciences sociales, cette évolution ne peut être comprise qu'au regard de l'histoire unique du pays, de sa démographie et géographie, ainsi que des plus larges tendances mondiales et technologiques. Tous ces facteurs se sont en effet conjugués pour façonner la gouvernance et les institutions chinoises.
Par opposition, l'observateur et grand connaisseur de la Chine Bill Overholt – l'un des premiers à avoir prédit la montée en puissance du pays – affirme dans son dernier ouvrage, intitulé            China's Crisis of Success, que les réformes du pays ont été inspirées par « la peur et la simplicité ». Selon lui, ce sont également ces facteurs qui ont fondé le développement est-asiatique d'après-guerre.
D'autres entités observatrices – dont la Banque mondiale, l'OCDE, et plusieurs think tanks comme le Centre Fairbank pour les études chinoises de l'Université d'Harvard – ne parviennent pas à trancher entre ces deux analyses. Elles n'ont pas l'habitude d'analyser des économies dont les influences majeures – héritage historique, valeurs et idéologies, traditions institutionnelles et de gouvernance – diffèrent si profondément de celles de l'Occident.
Songez à la gouvernance. Selon le dogme économique occidental, l'État doit intervenir le moins possible dans le fonctionnement des marchés. Pour les dirigeants chinois, en revanche, la question n'est pas même tranchée de savoir si l'État doit être dissocié conceptuellement ou matériellement du marché.
Pendant des siècles, le contrôle étatique a constitué par défaut la stratégie de gouvernance de la Chine, un solide gouvernement central assurant la stabilité tout en empêchant les rivalités régionales et factionnelles de provoquer le désordre. Ainsi, lorsque la Chine entendait par exemple renforcer la responsabilité de ses dirigeants, elle ne se focalisait pas sur la création d'un système de marché, et encore moins démocratique, mais plutôt sur l'introduction de réglementations visant à combattre les abus de pouvoir, ainsi qu'à faciliter la circulation des produits, capitaux, personnes et informations.
Contraintes par cette approche paternaliste, l'expérimentation et l'adaptation – si indispensables à la croissance chinoise – ont dû être menées par les gouvernements locaux, qui jouissaient pour ce faire d'une autorité considérable, bien qu'incertaine. L'idée était la suivante : en tirant parti de l'expertise (et du marché) des gouvernements locaux, la Chine pourrait créer de la croissance sans pour autant perturber la cohésion sociale ou compromettre l'intégrité nationale.
La gouvernance chinoise n'est toutefois pas exempte de tout reproche. En termes de loyauté de la concurrence sur les marchés, des interrogations persistent s'agissant de la domination du secteur étatique, de l'efficacité des réglementations, ainsi que de l'adhésion aux lois, normes et pratiques internationales. De même, si la Chine excelle dans la construction d'infrastructures « lourdes » de type réseaux autoroutiers, chemins de fer et aéroports, il lui reste beaucoup à accomplir dans le développement  d'infrastructures plus légères, liées notamment à l'éducation, la santé, l'énergie, l'environnement et la finance.
Ainsi la Chine demeure-t-elle confrontée au défi d'un juste équilibre entre État et marché, lui permettant d'assurer la responsabilité, la concurrence sur les marchés, et l'apport suffisant de biens publics à une population qui représente un cinquième de la planète. Changements technologiques rapides, mondialisation (et révolte qu'elle suscite), et considérations géopolitiques viennent par ailleurs alourdir le défi.
Mais ce n'est pas comme si l'Occident avait définitivement prouvé que son approche de libre marché fonctionne. Le rôle de l'État – mesuré par exemple en termes de part du secteur public dans le PIB, ainsi qu'au regard de l'abondance et de la complexité des lois qui régissent les activités privées – s'est en effet renforcé dans la quasi-totalité des économies depuis le début du XXe siècle.
L'exemple américain fournit un support de comparaison particulièrement utile. À l'instar de la Chine, les États-Unis sont une puissance économique continentale. Mais ils se démarquent également comme la référence mondiale dans de nombreux domaines parmi lesquels la technologie, la défense, ou encore la recherche et développement.
Contrairement à l'héritage étatiste de la Chine, l'expérience historique de l'Amérique suscite chez ses citoyens et dirigeants un attachement pour la liberté, y compris du marché, et l'autonomie locale. L'envergure et la puissance du gouvernement fédéral américain ne se sont que lentement développées jusqu'aux années 1930, époque à laquelle le New Deal – incluant programmes fédéraux, projets de travaux publics, réformes et réglementations financières – a été entrepris en réaction à la Grande Dépression.
Le gouvernement fédéral américain s'est à nouveau développé au cours et au lendemain de la Seconde Guerre mondiale, représentant d'une nouvelle hégémonie mondiale et de la prospérité de sa classe moyenne (née en grande partie du soutien du New Deal à la syndicalisation et la propriété immobilière). L'État a ainsi endossé un plus grand rôle dans des domaines incluant défense, politique étrangère, santé et sécurité sociale.
Mais tandis que le gouvernement fédéral renforçait les réglementations dans certains domaines, l'Amérique a continué de dépendre considérablement du marché, ce qui a entraîné le creusement des inégalités, la détérioration des infrastructures publiques, ainsi qu'un déficit budgétaire et une dette intenables. La récession mondiale provoquée par la crise financière de 2008 est venue accentuer les doutes croissants autour du Consensus de Washington.
Ainsi, certains des défis les plus fondamentaux de l'Amérique – réduction des inégalités, maintien de conditions budgétaires et financières stables, effort de durabilité environnementale – sont les mêmes que ceux de la Chine, et aucun des deux pays n'a clairement élaboré ni éprouvé de véritable « consensus » qui puisse le guider. Dans ce contexte, une coopération créatrice de biens publics planétaires – notamment la paix – doit être possible.
La clé pour les deux camps consistera à travailler sur des objectifs communs, tout en acceptant d'être en désaccord sur certains principes idéologiques. Sur ce point, les États-Unis doivent comprendre que la coopération internationale n'est pas un jeu à somme nulle, et que l'ascension de la Chine ne doit pas être considérée comme une menace. Au contraire, la Chine – aux côtés d'autres économies émergentes comme l'Inde – peut contribuer à un rééquilibrage mondial qui en réalité renforcerait la stabilité économique et géopolitique.
Traduit de l'anglais par Martin Morel