Čína prohrává v nové studené válce
HONGKONG – Když se v roce 1991 zhroutil Sovětský svaz, začala být Komunistická strana Číny posedlá snahou pochopit důvod. Vládní mozkové trusty pověřené tímto úkolem připisovaly obrovskou porci viny Michailu Gorbačovovi, reformnímu vůdci, který jednoduše nebyl dostatečně nelítostný na to, aby udržel Sovětský svaz pohromadě. Čínští lídři však zdůrazňovali i další důležité faktory, přičemž současné vedení Číny se ne všemi řídí.
Jistě, KS Číny si nepochybně vzala k srdci první klíčové ponaučení: nezbytnou podmínkou získání legitimity je silný hospodářský výkon. A cílevědomé zaměření KS Číny na rozdmýchávání růstu HDP v posledních několika desetiletích vedlo k "hospodářskému zázraku", kdy se nominální příjem na obyvatele raketově vyšvihl z 333 dolarů ročně v roce 1991 na loňských 7329 dolarů ročně. To je zdaleka nejvýznamnější důvod, proč si KS Číny udržela moc.
Přehlížení churavějící ekonomiky však zdaleka nebylo jedinou chybou, jíž se sovětští lídři dopustili. Také se nechali zatáhnout do nákladných závodů ve zbrojení se Spojenými státy, v nichž nemohli vyhrát, a stali se oběťmi imperiálního sebepřecenění, když bezhlavě investovali peníze a zdroje do režimů s malou strategickou hodnotou a dlouhou bilancí chronicky špatného ekonomického řízení. V době, kdy Čína vstupuje do "studené války" s USA, hrozí riziko, že její komunistická strana zopakuje tytéž katastrofální omyly.
Na první pohled se může zdát, že Čína se do závodů ve zbrojení s USA vůbec nezapojuje. Oficiální čínský rozpočet na obranu pro letošní rok – přibližně 175 miliard dolarů – se koneckonců rovná pouhé čtvrtině rozpočtu ve výši 700 miliard, který schválil americký Kongres. Odhaduje se však, že skutečné vojenské výdaje Číny jsou mnohem vyšší, než oficiální rozpočet prozrazuje: podle Stockholmského mezinárodního institutu pro mírový výzkum vynaložila Čína v loňském roce na armádu přibližně 228 miliard dolarů, což je zhruba 150% oficiálního údaje ve výši 151 miliard.
Problémem každopádně není množství peněz, které Čína vynakládá na zbraně jako takové, ale spíše související vzestup vojenských výdajů, z něhož vyplývá, že země je připravená vstoupit do dlouhodobé opotřebovávací války s USA. Čínská ekonomika však není nastavená tak, aby dokázala generovat dostatečné zdroje a takovou úroveň výdajů, jakou by vítězství na této frontě vyžadovalo.
Kdyby Čína měla trvale udržitelný růstový model tvořící základ vysoce efektivní ekonomiky, možná by si mohla dovolit umírněné závody ve zbrojení s USA. Země však nemá ani jedno.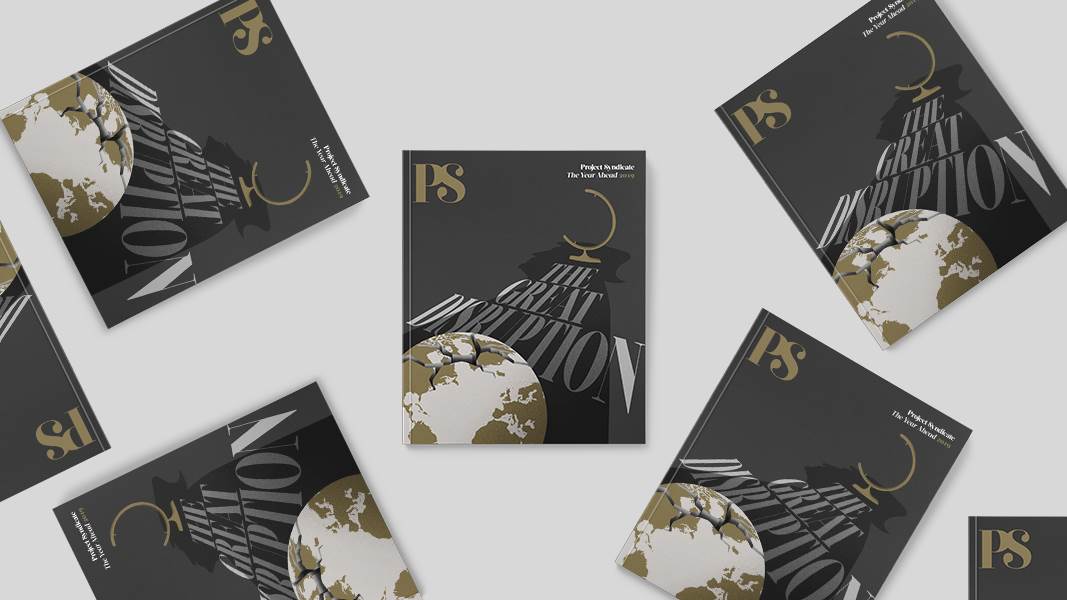 The Year Ahead 2019
Featuring commentaries by Joseph Stiglitz, Sri Mulyani Indrawati, Angus Deaton, Célestin Monga, Jean-Claude Juncker, and other leading thinkers. Now available for pre-order.
Na makroúrovni bude růst Číny pravděpodobně dál zpomalovat kvůli rychlému stárnutí populace, vysoké úrovni zadlužení, nesouladům mezi splatností aktiv a závazků a eskalující obchodní válce, kterou rozpoutaly USA. To vše bude odčerpávat omezené zdroje KS Číny. Například s růstem poměru starších osob odkázaných na stát se budou zvyšovat i zdravotnické a penzijní výdaje.
Ačkoliv je navíc čínská ekonomika možná mnohem efektivnější, než byla kdysi sovětská, ani zdaleka se efektivitou nemůže měřit s ekonomikou USA. Hlavním důvodem je přetrvávající vliv čínských státních podniků, které spotřebovávají polovinu všech bankovních úvěrů v zemi, ale na přidané hodnotě a zaměstnanosti se podílejí jen z 20%.
Problémem pro KS Číny je skutečnost, že státní podniky hrají klíčovou roli při udržování vlády jedné strany, neboť slouží jak k odměňování věrných, tak i jako prostředek k vládním intervencím v zájmu oficiálních makroekonomických cílů. Rozbití těchto přebujelých a neefektivních firem by se proto rovnalo politické sebevraždě. Jejich ochrana však nakonec možná jen oddálí nevyhnutelné, protože čím déle bude těmto podnikům dovoleno vysávat z ekonomiky vzácné zdroje, tím finančně nedostupnějšími se stanou závody ve zbrojení s USA – a tím ohroženější bude autorita KS Číny.
Druhým ponaučením, které si vedoucí čínští představitelé nevzali dostatečně k srdci, je potřeba vyhnout se imperiálnímu sebepřeceňování. Zhruba před deseti lety, kdy obrovské obchodní přebytky přinášely přemíru tvrdé měny, začala čínská vláda přebírat nákladné zahraniční závazky a dotovat vyčerpané "spojence".
Nejpádnějším důkazem je tolik vyzdvihovaná iniciativa Nová Hedvábná stezka (BRI), bilionový projekt zaměřený na dluhově financovanou výstavbu infrastruktury v rozvojových zemích. Navzdory prvním příznakům problémů – které by v kombinaci se zkušeností Sovětského svazu měly vést KS Číny k přehodnocení situace – se zdá, že je Čína odhodlaná pokračovat v prosazování BRI, kterou vedoucí představitelé země založili jakožto pilíř své nové "velkolepé strategie".
Ještě křiklavějším příkladem imperiálního sebepřeceňování se je velkorysá čínská pomoc zemím, které toho na oplátku mnoho nenabízejí – od Kambodže přes Venezuelu po Rusko. Podle organizace AidData při College of William and Mary získaly Etiopie, Kambodža, Kamerun, Kuba, Pobřeží slonoviny a Zimbabwe v letech 2000 až 2014 čínské granty nebo silně dotované úvěry v celkové hodnotě 24,4 miliardy dolarů. Angola, Laos, Pákistán, Rusko, Turkmenistán a Venezuela obdržely ve stejném období 98,2 miliardy.
Nyní se Čína zavázala, že poskytne úvěry v objemu 62 miliard dolarů na "Čínsko-pákistánský hospodářský koridor". Tento program pomůže Pákistánu řešit rýsující se krizi platební bilance; zároveň však vyprázdní čínské pokladnice v době, kdy obchodní protekcionismus ohrožuje jejich doplňování.
Podobně jako Sovětský svaz platí i Čína za nové přátele nehoráznou cenu, získává za to jen omezený prospěch a stále více se zapojuje do neudržitelných závodů ve zbrojení. Čínsko-americká studená válka sotva začala, a Čína už má zaděláno na prohru.
Z angličtiny přeložil Jiří Kobělka.