Können die Russland-Sanktionen ohne Chinas Beteiligung funktionieren?
NEW YORK – Nun, da westliche Mächte nach dem russischen Einmarsch in die Ukraine weitreichende Wirtschafts- und Finanzsanktionen gegen Russland verhängt haben, fragt man sich vielerorts, ob diese Sanktionen weniger wirksam sein werden, weil sich China nicht daran beteiligt. Darüber hinaus sollte man sich auch fragen, ob die reichen Länder nicht mehr für die armen Menschen in vielen Entwicklungsländern tun könnten, die die Kollateralschäden dieses Krieges und der Sanktionen abbekommen werden. 
Wie die Daten aus dem Jahr 2019 (dem letzten vollen Jahr vor der Pandemie) zeigen, ist China Russlands größter Handelspartner, auf den etwa 14 Prozent der russischen Exporte und 19 Prozent der Importe entfallen. Diese Zahlen erwecken den Anschein, dass es einen großen Unterschied machen könnte, ob sich China an den Sanktionen beteiligt oder nicht. Zwei weitere Überlegungen relativieren diese Schlussfolgerung jedoch erheblich.
Erstens handelt es sich bei mehr als 60 Prozent der russischen Ausfuhren nach China um Rohöl und raffiniertes Erdöl, die - zumindest vorläufig - von den Sanktionen der Europäischen Union ausgenommen sind. Eine Entscheidung Chinas, sich den Sanktionen anzuschließen, würde somit weniger als 40 Prozent der russischen Exporte nach China blockieren, also insgesamt weniger als 6 Prozent der gesamten russischen Exporte.
Zweitens präsentiert sich Russlands Handel mit Europa insgesamt um ein Vielfaches höher als das Handelsvolumen mit China. So überstiegen allein Russlands kumulierte Exporte in die Niederlande und nach Deutschland (vor den Sanktionen) seine Ausfuhren nach China. Auch dies legt nahe, dass man den potenziellen Beitrag Chinas zur Gesamtwirksamkeit des Sanktionsregimes nicht überschätzen sollte.
Russland kann seine für Europa bestimmten Exporte nicht einfach nach China umleiten. Die Ausfuhr seiner wichtigsten Exportgüter Öl und Gas wäre durch Pipeline- und Raffineriekapazitäten begrenzt. Die drastische Abwertung des Rubel könnte zwar dazu beitragen, russische Exporte außerhalb des Energiebereichs nach China anzukurbeln, doch Chinas viel stärkere Produktionsbasis begrenzt seinen Bedarf an derartigen Importen.
Befürworter noch strengerer Sanktionen müssen auch mögliche sekundäre wirtschaftliche Folgen bedenken. Sollte der Westen beschließen, Russlands Energiesektor ins Visier zu nehmen, und sollte China seine Energieimporte aus Russland durch Einfuhren aus dem Nahen Osten oder anderen Regionen ersetzen, würden die Gas- und Strompreise in den Vereinigten Staaten, Europa und anderswo wahrscheinlich weiter ansteigen.
Secure your copy of PS Quarterly: The Year Ahead 2023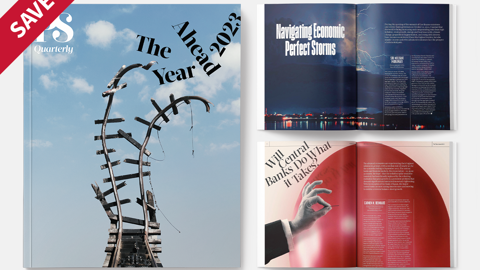 Secure your copy of PS Quarterly: The Year Ahead 2023
Our annual fourth-quarter magazine is here, and available only to Digital Plus and Premium subscribers. Subscribe to Digital Plus today, and save $15.

China mag einer Beteiligung an den Sanktionen gegen Russland zwar aus geopolitischen Gründen eine Absage erteilen, doch könnten auch wirtschaftliche Überlegungen eine wichtige Rolle spielen. Vor der Pandemie wies der Handel zwischen China und Russland ein dreimal höheres Volumen auf als der Handel zwischen den USA und Russland und er lag fast siebenmal höher als der Handel zwischen dem Vereinigten Königreich und Russland. Deshalb wären die wirtschaftlichen Kosten umfassender Sanktionen, auch im Energiebereich, für China (und Deutschland) wesentlich höher als für die USA oder das Vereinigte Königreich. Diese zusätzlichen Kosten könnten das BIP-Wachstumsziel der chinesischen Regierung (von rund 5,5 Prozent im Jahr 2022) zu einem Zeitpunkt in Gefahr bringen, da in China demographische Kräfte, strengere Regulierungen und geopolitische Spannungen mit dem Westen ohnehin schon enormen Abwärtsdruck auf das Wachstum ausüben.
Eine Möglichkeit, China zur Beteiligung an den Sanktionen zu bewegen (und andere Länder wie Deutschland davon zu überzeugen, keine russische Energie mehr zu importieren), bestünde darin, dass die USA jenen Ländern, die einen unverhältnismäßig hohen Anteil der daraus resultierenden wirtschaftlichen Belastung auf sich nehmen müssten, dafür einen teilweisen finanziellen Ausgleich anbieten. Das scheint in Amerika allerdings politisch nicht machbar zu sein.
Ein weiterer möglicher kleiner Anstoß für China wäre eine Resolution der Vollversammlung der Vereinten Nationen, in der ausdrücklich umfassende Wirtschaftssanktionen gegen Russland gefordert werden. Die Vollversammlung hat in der Vergangenheit bereits derartige Resolutionen verabschiedet und die ständigen Mitglieder des UN-Sicherheitsrates (darunter Russland und China) können dagegen kein Veto einlegen. In dieser Hinsicht wurde in der kürzlich von den USA konzipierten Resolution, in der die russische Invasion verurteilt wird, eine Chance vertan, weil darin keine Empfehlung zur Verhängung von Sanktionen gegenüber Russland enthalten war. Damit wären die aktuellen Sanktionen des Westens unter das Banner der Vereinten Nationen gestellt worden.  
Freilich können große Länder UN-Resolutionen immer noch ignorieren. So stimmt die Vollversammlung beispielsweise jedes Jahr – oft mit überwältigender Mehrheit – für die Forderung, dass die USA ihr Wirtschaftsembargo gegen Kuba beenden. Die USA ignorieren dieses Votum und niemand kann an dieser Situation etwas ändern.
Möglicherweise veranlassten UN-Resolutionen dieser Art die USA, in ihrer jüngsten Resolution gegen den russischen Einmarsch in die Ukraine keinen Bezug auf Wirtschaftssanktionen zu nehmen. Doch andere Länder wie Kanada oder Australien könnten das tun. In Anbetracht der Tatsache, dass China darauf beharrt, eine Weltordnung zu unterstützen, die sich an den Vereinten Nationen und nicht an den USA orientiert, könnte dies zumindest eine gewisse Rolle spielen, wenn es darum geht, die gewöhnlichen Menschen in China zu beeinflussen.
Auch die verteilungspolitischen Folgen umfassender Sanktionen könnten gravierend ausfallen. Eine Wirtschaftsblockade mit maximalem Druck, die zu einem Regimewechsel in Russland führt oder den Krieg in der Ukraine auf andere Weise beendet, ist die eine Sache. Etwas ganz anderes sind Sanktionen, die diese Ziele verfehlen und trotzdem die Lebensgrundlagen der gewöhnlichen Menschen in Russland zerstören, von denen viele gegen den Krieg sind. Einkommensschwache Russinnen und Russen sind wohl schlechter in der Lage, die Belastung durch die Sanktionen zu bewältigen als die Oligarchen. Da die Sanktionen die Preise für Gas und andere Rohstoffe, sowie auch Versorgungskosten in die Höhe treiben, könnten sie auch die Menschen in vielen anderen Entwicklungsländern in Bedrängnis bringen, die sich von den pandemiebedingten Einkommensverlusten noch nicht vollständig erholt haben.
Angesichts der herzzerreißenden Szenen in der Ukraine sind die Forderungen nach einer Verschärfung der Wirtschaftsblockade gegen Russland verständlich. Dass sich China daran nicht beteiligt, wird am Ende keinen großartigen Unterschied machen. Die nachteiligen verteilungspolitischen Folgen des Krieges und der Sanktionen für die armen Menschen in den Entwicklungsländern sind jedoch real. Die reichen Länder sollten in Erwägung ziehen, jene Menschen in den Entwicklungsländern finanziell zu unterstützen, die über weniger Mittel verfügen, um die zusätzlichen Härten zu bewältigen.
Aus dem Englischen von Helga Klinger-Groier