De strijd der verblekende supermachten
CAMBRIDGE – Bijna tien jaar geleden voorspelden China-volgers zoals Martin Jacques en ik de opkomst van de Volksrepubliek ten koste van een aftakelende Verenigde Staten. Vandaag de dag, nu de twee supermachten schaamteloos om hegemonie strijden (en waar hun handelsoorlog nog maar een teken aan de wand van is) is het tijd voor een nieuwe beoordeling.
Het is verleidelijk om de rivaliteit tussen China en de VS te bekijken als de zoveelste overgang van wereldmachten in een lange lijn die teruggaat tot de klassieke machtswisseling van Athene naar Sparta. Maar dit is een ander geval.
Traditioneel gezien heeft een sterke opkomende macht altijd een verzwakte gevestigde macht uitgedaagd, waarmee de uitkomst van tevoren vastlag. De enige vraag was of de transitie vreedzaam zou zijn of gewelddadig.
Deze vraag is ook van toepassing op de strijd tussen de VS en China. Maar de uitkomst is nog verre van zeker, omdat de macht van zowel de opkomende als de gevestigde macht aan het eroderen is – ofschoon op verschillende manieren.
Late we beginnen met de duidelijker casus, Amerika. Eerdere voorspellingen over de aftakeling van de VS waren gebaseerd op ongunstige binnenlandse economische sociale trends zoals een vertragende productiviteitsgroei, afnemende sociale mobiliteit, en een groeiende inkomensongelijkheid.
De afgelopen jaren echter heeft Amerika te maken gekregen met het extra probleem van een steile daling van zijn zachte macht, door Joseph S. Nye gedefinieerd als het vermogen van een land om andere landen ook te laten willen wat het zelf wil. Momenteel is deze valuta van zachte macht, waardevoller dan de dollar zelf als bron van Amerikaanse hegemonie, onherkenbaar gedevalueerd. Het mondiale leiderschap van de VS wordt nu geassocieerd met rampzalige oorlogen, de verwerping van het collectieve engagement om klimaatverandering aan te pakken, de sabotage van het wereldhandelssysteem, en desintegrerende internationale veiligheidsafspraken.
Subscribe now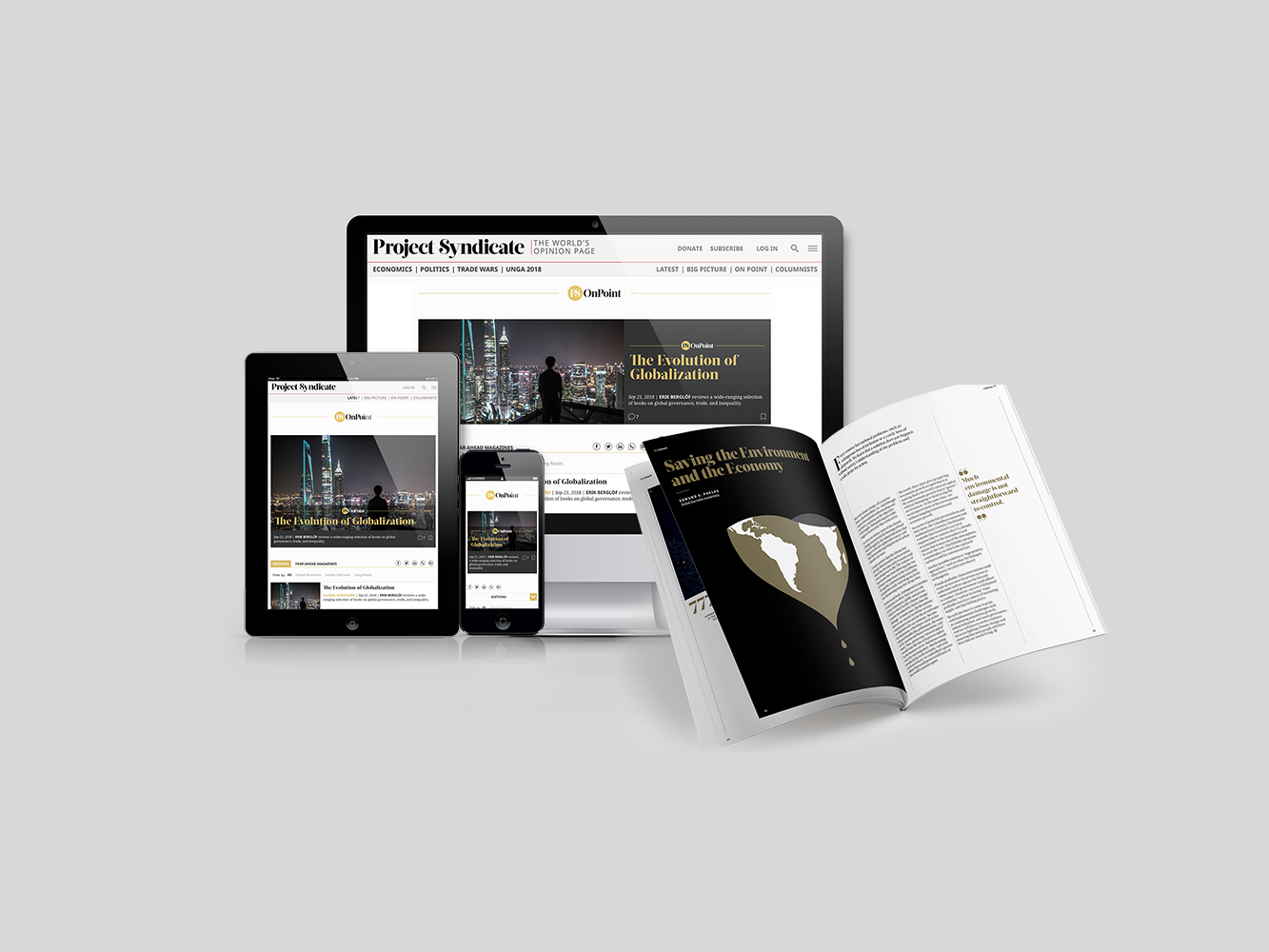 Subscribe now
Subscribe today and get unlimited access to OnPoint, the Big Picture, the PS archive of more than 14,000 commentaries, and our annual magazine, for less than $2 a week.
Daarbij heeft Amerika ook nog zijn eigen politieke instituties beschadigd. Het heeft momenteel een grillige en instabiele president, een Congres in patstelling, een gepolitiseerd hooggerechtshof, en een systeem van regelgeving gemanipuleerd door de elite. De afgelopen eeuw hebben Amerikaanse instituties vaak bewondering gewekt en navolging gevonden in een groot deel van de wereld. Nu zijn ze onderwerp van spot geworden, terwijl de mondiale financiële crisis van 2008 het Amerikaanse model van door geld gedreven winner-takes-al kapitalisme al evenzeer bezoedeld heeft.
Bovendien zal wie de presidentsverkiezingen van 2020 dan ook wint het moeilijk krijgen krijgen om de glans van de politieke en economische instituties in de VS te herstellen, dit als gevolg van de diepe Amerikaanse polarisatie en ideologische verschansing in plaats van de wil om negatieve economische trends af te zwakken. Dit werpt steeds grotere vragen op over het Amerikaanse vermogen om zijn macht extern te projecteren.
En China dan? Als de Chinese economie op het juiste spoor blijft dan zal deze de Amerikaanse economische suprematie op middellange termijn uit weten te dagen. Het risico op een Chinese economische ontsporing is echter gegroeid, en de binnenlandse schuld is gestegen tot duizelingwekkende en onhoudbare niveaus terwijl de exportmogelijkheden zijn gedaald.
Maar wellicht het meest zorgwekkend is dat de Chinese president Xi Jinping zich bizar genoeg heeft afgekeerd van het door de private sector geleide groeimodel dat de afgelopen veertig jaar heeft gediend als 's lands kip met de gouden eieren. Als resultaat hiervan zijn de Chinese economische vooruitzichten een stuk minder rooskleurig dan een paar jaar geleden.
Omdat China een ondemocratische en gesloten samenleving is is zijn groeiende hegemonie altijd gehinderd door een gebrek aan zachte macht. In een poging dit tekort te rectificeren heeft China zijn initiatief tot een nieuwe Zijderoute (Belt and Road Initiative ofwel BRI) gelanceerd om de internationale overdracht van zijn indrukwekkende expertise in het efficiënt en voortvarend opbouwen van infrastructuur te promoten.
Tegelijkertijd heeft China de Aziatische Infrastructuur Investeringsbank opgezet om de internationale financiële instituties uit te dagen die het (net zoals veel andere opkomende machten) als steeds meer in diskrediet beschouwt door hun achterhaalde bestuursvormen. Alsof de VS en Europa deze visie willen onderschrijven hebben ze hun monopolie op de controle van respectievelijk de Wereldbank en het Internationaal Monetair Fonds maar weer eens veiliggesteld door middel van een ondemocratisch proces dat 75 jaar geleden werd ingesteld. Alhoewel er geen formele bezwaren waren tegen de recente veranderingen in leiderschap bij beide instituties is dit in de rest van de wereld niet onopgemerkt gebleven.
Tragisch genoeg echter wordt al deze accumulatie van Chinese zachte macht dodelijk ondermijnd door de politieke en strategische ommekeer onder Xi. De persoonlijkheidscultus is terug, anti-corruptiecampagnes treffen vaak politieke tegenstanders, en de Chinese acties in Hong Kong en Xinjiang rieken naar politieke onderdrukking.
Zelfs het BRI riskeert te verzuren omdat deelnemende regeringen worstelen onder het gewicht van enorme Chinese leningen. In de magisch realistische roman De herfst van de patriarch van Gabriel Garcia Marquez betaalt een failliete Caribische dictator zijn 'gringo' schuldeisers door de zee op te geven, stuk voor smaragdgroen stuk. In de echte wereld echter zou het verwerven van land, natuurlijke hulpbronnen, en zeeroutes het einde van China als schuldeiser kunnen blijken.
Om kort te gaan: in de huidige strijd om mondiale overheersing put China zijn verwerving van zachte macht uit, terwijl Amerika hetzelfde doet – en in dit proces economische kracht verliest.
Deze hegemonistische rivaliteit verschilt dus scherp van eerdere historische episodes, Van de Atheens-Spartaanse transitie tot de verschuiving van het Verenigd Koninkrijk naar de VS in de twintigste eeuw waren de referenties van de uitdager altijd onmiskenbaar, als ware het een jonge, krachtige bokser die een uitgezakte, middelbare opponent uitdaagt en verslaat.
Nu daarentegen zien China en Amerika er beiden uit als twee vermoeide boksers die elkaar al vijftien uitputtende ronden te lijf zijn gegaan, niet om te bepalen wie er zal blijven staan, maar eerder om uit te vinden wie de eerste zal zijn om niet neer te gaan. Is het met dit soort aspirerende en regerende wereldmachten een verrassing dat de wereld zichzelf terugvindt in een stuurloos afdrijven zonder kapitein?